Livestreaming Beauty And Fashion Platform Buywith Raises $9.5M In Seed Funding
Buywith, a beauty and fashion livestreaming startup enabling hosts to shop alongside users in real time, has closed a $9.5 million seed round.
IgniteXL Ventures, the global seed fund specializing in technology-driven beauty and wellness investments with Alleyoop, Bubble, Dr. Elsa Jungman and Good Light in its portfolio, led the round. Other investors include FAB Co-Creation Studio Ventures, Regah Ventures, True, Irani CVC, and John Caplan and Kevin Ambrosini, the former North American president and former North American general manager, respectively, of Alibaba. Following two pre-seed rounds, the round brings Buywith's total funding to over $11 million.
The seed funding comes from 18 female investors, a point of pride for CEO Adi Ronen Almagor, who founded the company with CTO Eyal Sinai. "As a female founder, it's sometimes been a challenge to raise money," she says. "To be backed by female VCs was really important for me, and it really shows the changing landscape in fundraising."
The money is expected to go toward expanding Buywith's research and development team, marketing and reach in the United States and Europe. The Tel Aviv-based company will soon open offices in the U.K. and U.S., where it's just starting to gain momentum. Buywith is currently working with 15 global beauty brands on livestream sessions. Charlotte Tilbury and MAC Cosmetics are among them. Walmart is the platform's largest partner.
Buywith faces a growing pool of players in the livestreaming arena. Shop LIT Live, Livescale, Supergreat, Flip, Newness and the soon-to-launch Trendio are joining the ranks of e-commerce and social media giants like Amazon, Facebook, Instagram, TikTok and Pinterest to capitalize on the segment many industry insiders believe will be the future of digital retail. Coresight Research predicts that the U.S. livestreaming market will hit $25 billion by 2023.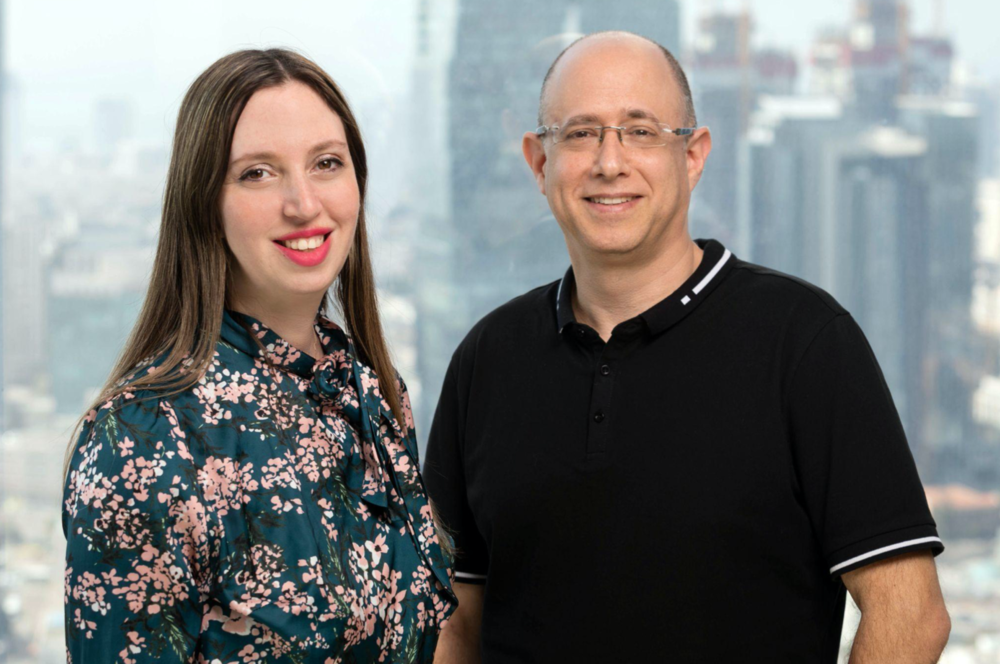 "Given the explosion of livestream shopping in Asia, we are about to witness the rapid growth of this channel in the West," says Claire Chang, general partner at IgniteXL Ventures, in a press release. "Unlike other livestream shopping solutions, Buywith hosts live shopping sessions directly on the brand's website, meeting the customers where they are and increasing the conversion rate to unprecedented levels in e-commerce."
Buywith's model allows brands to capture the traffic, data and engagement they often lose on social media platforms. During a period of comparative difficulty acquiring customers via social media, Ronen Almagor views it as a key differentiator for the platform. "We're giving power back to the brands by enabling them to bring traffic back to their site," she says. "They can boost their customer acquisition rates and first-party data simultaneously."
Ronen Almagor emphasizes that integration is designed to be frictionless for brands. After an initial setup, brands can host live sessions on their e-commerce channels without code integration. The web-based format is designed to be frictionless for the user as well. It doesn't require an app download like Supergreat and Flip do. Buywith offers a white-label service option permitting brands to outfit live experiences with their logos and branding.
Buywith's patent-pending screen-sharing technology is another key offering. It facilitates hosts shopping along with users in real time. "We're the only player in the entire live shopping landscape that enables a shop-with-me experience," says Ronen Almagor. "In addition to hosts showing or demoing products live, they can also take users on a live shopping journey throughout the site."
On average, conversion rates have risen at least 10% for livestream sessions in which brands tap Buywith's screen-sharing technology. Some have achieved up to a 40% conversion rate. The industry standard for e-commerce conversion sits under 4%. Average order values can increase by 70% during livestreams, and user engagement generally jumps by about 67% on a brand's direct-to-consumer platform. Typically, 60% to 70% of users who register for a livestream session attend the session, per Ronen Almagor.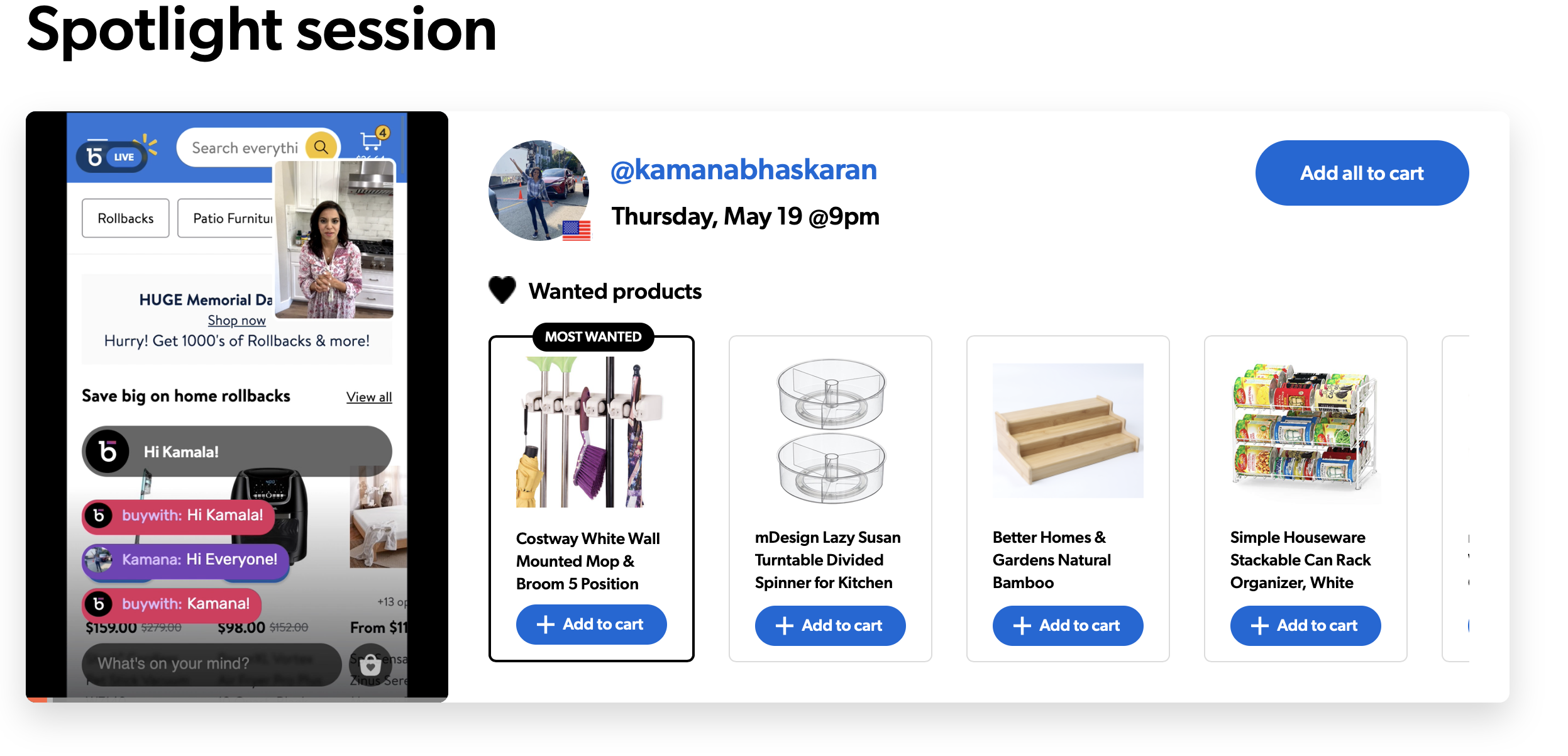 MAC partnered up with Buywith early on and helped the startup to hone its services. "As one of the first brands to use buywith's livestream shopping platform, we are extremely proud to be an industry leader in this field," says Alexandra Perry, head of retail marketing, omnichannel, and innovation at The Estée Lauder Cos. Inc., in a statement. "Our makeup artists and social media influencers conducted dozens of live shopping sessions. By utilizing the technology, we achieved very high sales conversion and engagement rates. We also engaged with our audience in a unique way."
Walmart has been critical in advancing Buywith's business. Ronen Almagor shares the mass-market retail giant connected with the platform last year with an inquiry about its white-label service. The partnership officially kicked off as a pilot in November 2021. Buywith is now looking to scale its partnership with Walmart to hundreds of livestreaming sessions per month, and it's looking to deepen its bench of retail and brand partners.
"For us, it's important to be part of the beauty ecosystem," says Ronen Almagor. "We're targeting all the big beauty groups, and we're in touch with all of them, both brands and retailers."
While Buywith doesn't work with smaller indie brands at the moment, Ronen Almagor predicts that will change in the future. "We have in our roadmap a solution that would be more suitable for SMBs [small- and mid-sized businesses]," she says. "It would enable faster integration, faster onboarding and offer something that's more off-the-shelf." There's no timeframe set for the SMB solution, however.
Buywith has basic monthly packages for its partners encompassing setup, one weekly live session and technical support, and custom packages with advanced features, integrations and access to its influencer marketplace. It takes a commission on livestream session sales, although Ronen Almagor declines to comment on the commission rates.