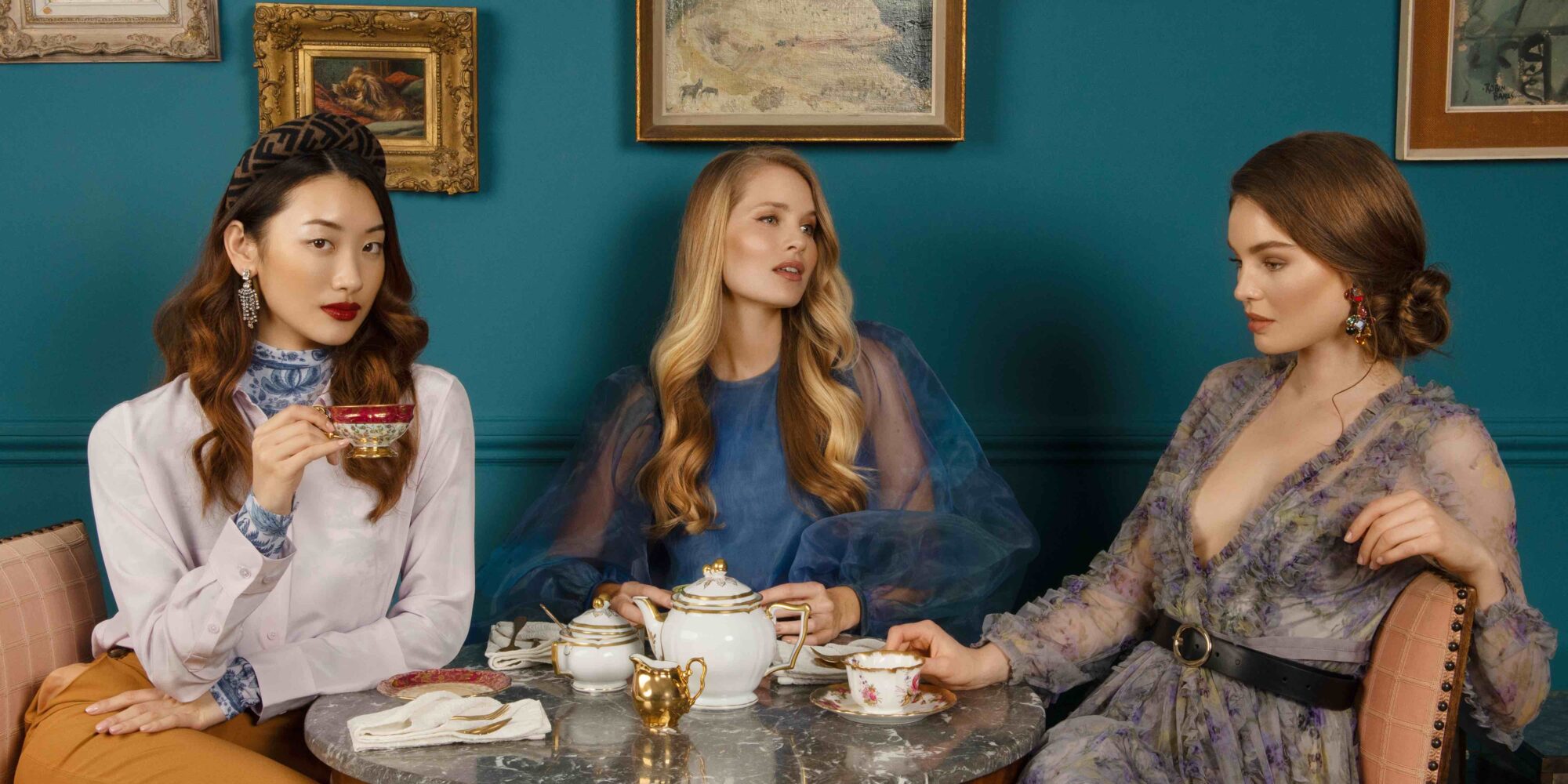 New Luxury Brand Monpure Takes A Skincare Approach To Scalp Care
As consumers wake up to the importance of scalp health, Monpure is staking a claim to being an upscale, sustainable solution for them.
The new London brand joins an expanding roster of beauty companies such as Briogeo, Canviiy, Sunday Riley, Better Not Younger and Philip Kingsley getting to the root of hair troubles. Powered by plant-derived ingredients and packaged in glass or post-consumer plastic, its debut selection spans six products priced from 36 to 96 pounds or about $45 to $120 at the current exchange range: Strengthening Silk Protein Shampoo, Strengthening-Essence Conditioner, Clarifying Scalp Scrub, Nourish And Stimulate Scalp Mask, Follicle Boost Hair Density Serum, and Hydrate And Soothe Scalp Serum.
"It's quite interesting how sophisticated the skincare world has become. You look to Korea, and they have a 15-step skincare regimen, but that stops at the hairline, and you ask yourself why," says Natanel Bigger, founder and CEO of Monpure. "I wanted to find kinder alternatives and bring the skincare approach beyond the hairline and make sure people care as much for their scalp as the skin on their face."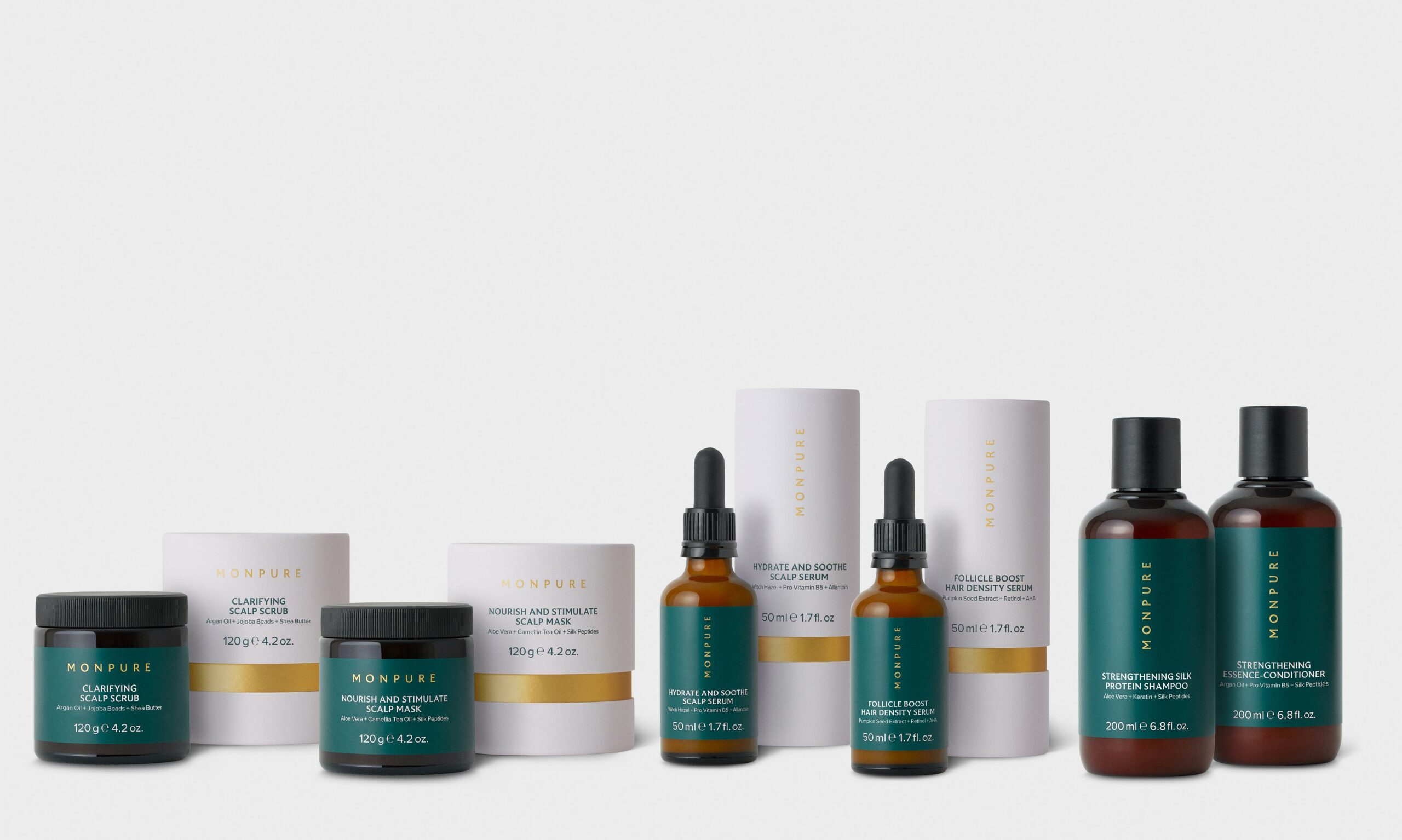 Monpure's serums epitomize the brand's skincare approach to scalp care. Follicle Boost Hair Density Serum contains the skincare stars retinol to compel cell turnover on the scalp and alpha hydroxy acid to stimulate collagen production. Hydrate And Soothe Scalp Serum features softener and healer allantoin and moisture booster pantothenic acid. For people with hair loss and thinning—40% of women experience hair loss by the age of 40, according to the American Academy of Dermatology, and, by the age of 35, nearly 70% of men confront hair loss—Monpure offers options without minoxidil.
Monpure's core audience is largely professional women 25 years old and above dealing with stress-induced hair loss and thinning, and possible scalp irritation. Bigger describes them as people understanding that "prevention is better than the cure." He elaborates, "We want to prevent hair loss and thinning early on, and we know now that the scalp is the reason for a lot of hair loss and hair thinning issues. At the same time, we get a lot of consumers with scalp discomfort. We see people with alopecia, itchiness, dryness, flakiness and psoriasis asking us for help. We're not a pharmaceutical product, but, with our dermatologist on board, we make sure to give them the right ingredients to sooth certain conditions."
"We care more about the correct distribution than super-fast growth."
The dermatologist Bigger refers to is Sue Ann Chan, who is based at the Beckenham Beacon and the Princess Royal University Hospitals. She advises the brand, which aims for its formulas to be greater than 80% natural, on ingredient choices. "I don't believe in less is more. If you have good ingredients, I believe in more is more," says Bigger. "We are trying to create a full range to target overall scalp and hair health. What you do with styling is up to you, we just want to make sure the hair is as healthy as possible from the get-go." And he's not the only one interested in scalp health. In a British Vogue article on the topic in 2018, writer Daniela Morosini mentions Google searches for targeted scalp solutions had increased 310% year-over-year.
Bigger has long had entrepreneurial aspirations, and his education and career set the stage for his entrepreneurial pursuit. He studied Chinese and business at the University of Hamburg. After his studies, he learned about brand building at Pentland Brands, owner of Speedo, Ellesse, KangaROOS and Red or Dead, where Bigger was executive assistant to CEO Andy Long before becoming a business development manager. Later, he learned about managing at team at fashion and accessories e-commerce destination Zalando, where he oversaw 30 people in its marketplace division, and beauty e-tailing and M&A at The Hut Group, where he was involved in the acquisition of the cosmetics brand Eyeko.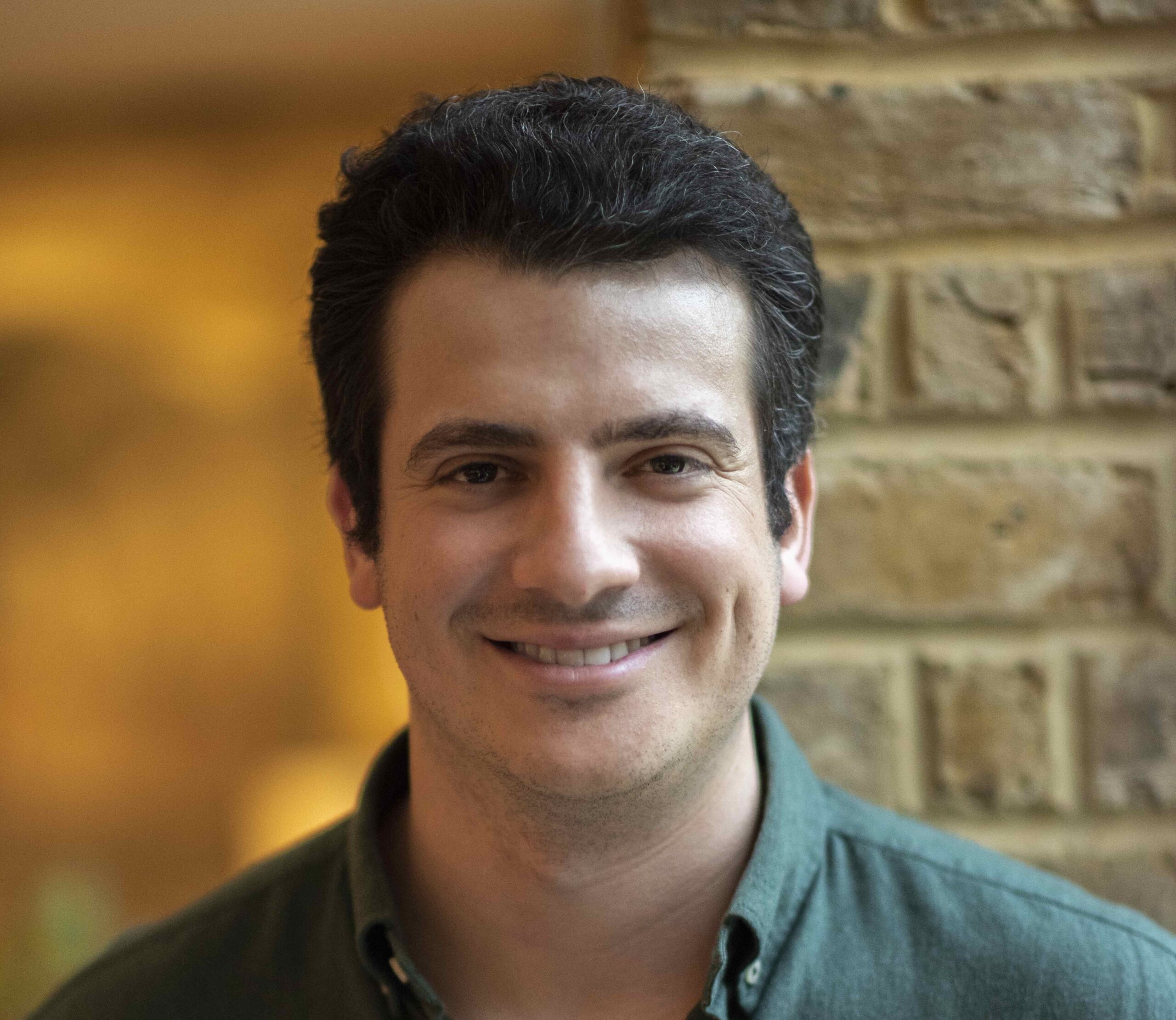 Bigger took a chance on himself and poured his savings—an amount he shares was less than 50,000 pounds or around $62,500—into starting Monpure. "It was quite a significant decision to take and say, 'I'm not going to try to buy a flat. I'm going to put all of this into the business,'" he says. "You go back to a flat share, and you pay yourself a minimum because you believe so strongly in your idea." Bigger wasn't the only believer in the idea of Monpure. Mark Adlestone, chairman of Beaverbrooks the Jewellers, and undisclosed investors have backed the brand with 950,000 pounds or almost $1.2 million.
Bigger envisions high-end retailers, particularly in the Middle East, Asia, United States and United Kingdom, playing significant roles in Monpure's future. However, he notes, "We care more about the correct distribution than super-fast growth." Thankfully, he says the brand's investors aren't in a rush for it to explode sales. Questioned about first-year revenues, Bigger replies, "We really aren't focusing on sales for the first year because we are in a lucky position of having investors that are interested in us doing the right thing. We have a best- and a worst-case scenario. In the first 12 months of trading, it could be anything between 200,000 to 1 million pounds. [or roughly $250,000 to $1.25 million.]"
"I saw a gap in a quite competitive market in scalp and hair health, and sustainable luxury."
In terms of doing the right thing, Bigger points out using post-consumer plastic for Monpure's shampoo and conditioner bottles bumps up the cost by a pound per bottle. "We hope that the consumer will understand that, from the product itself and what it does all through the packaging, we are trying to make it as sustainable as possible," he says. Bigger continues, "I saw a gap in a quite competitive market in scalp and hair health, and sustainable luxury. Name one brand in the luxury sector that is doing everything they can do in a sustainable manner. In the beauty space, I'm struggling to think of any."
At the beginning of next year, Bigger plans to add to Monpure's assortment. Currently, he's familiarizing customers with regimens from the brand's products focused on hydration, hair and scalp rehabilitation, restoration and relief, and strand strengthening. "Penchant Brands was all about growing slowly, and The Hut Group was very aggressive online," says Bigger. "Ideally, we will be in between. A lot of brands go into the market with one or two products, but I knew it would make it easier to trade online with product bundles and giving people built-in savings."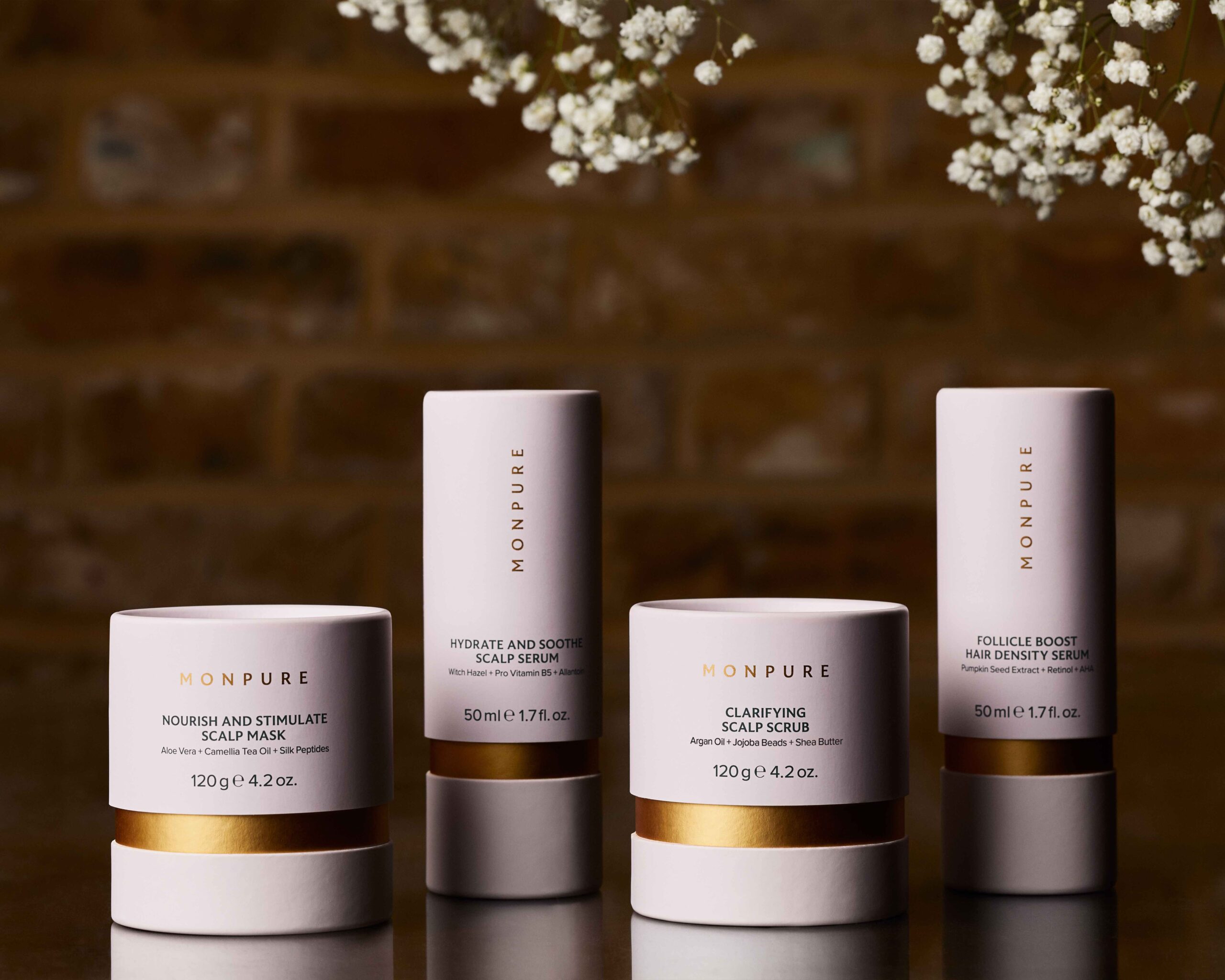 He elaborates, "I've built an extremely agile supply chain. I can get new products tested in nine months if I want to and, with consumer feedback, we can adapt existing products quickly. It's really a way to do social commerce to include the customer in improving the product over time." As for forthcoming products, Bigger emphasizes they'll be developed to achieve Monpure's goal of becoming "an authority in the scalp and hair health space."