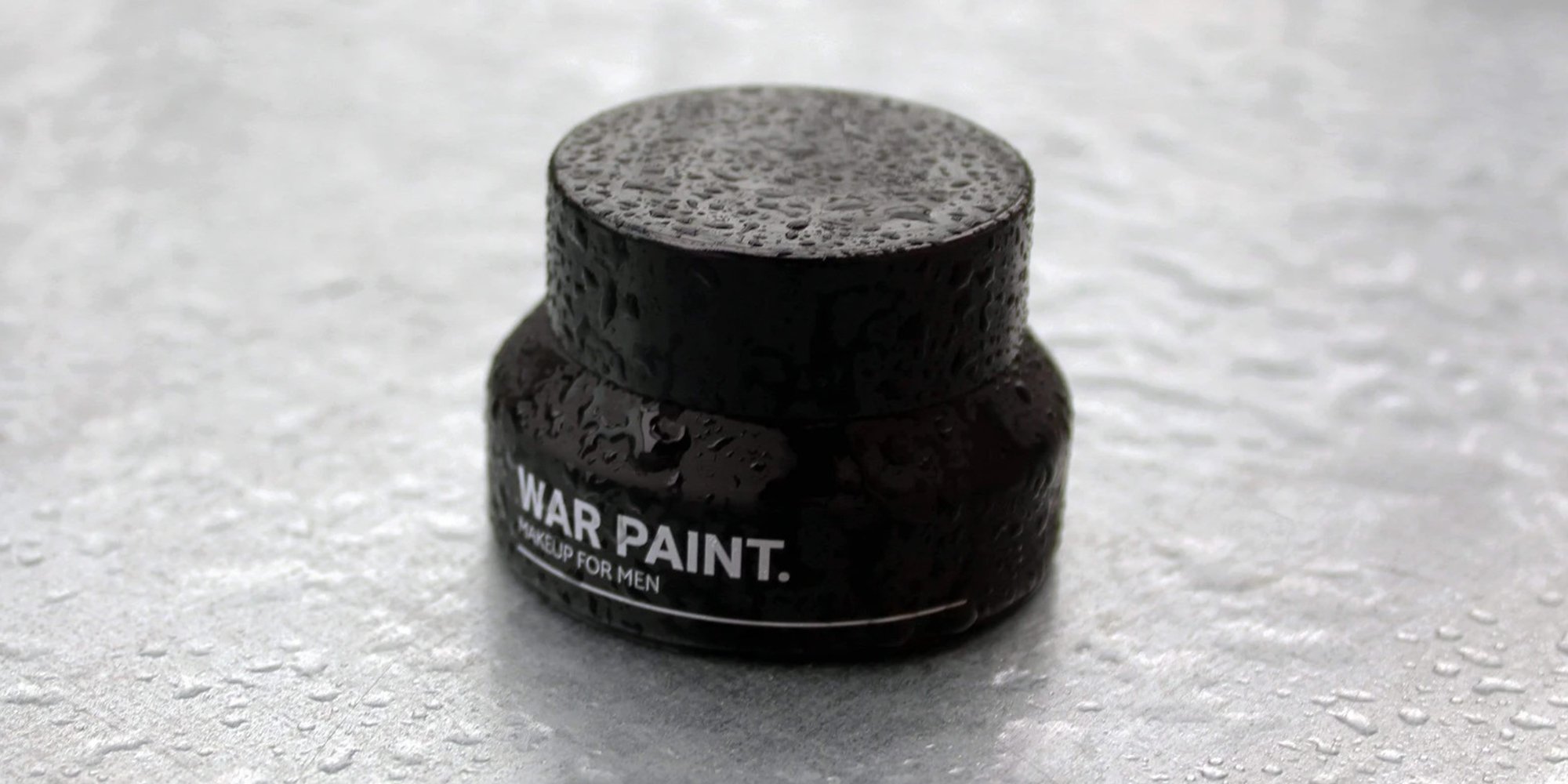 Men's Makeup Brand War Paint Secures More Than $1M To Propel Expansion
War Paint is on a path to major expansion.
Armed with an investment of 1 million pounds or $1.27 million, the London-based men's makeup brand has set its sights on spreading beyond the United Kingdom to become a leader in its nascent segment globally. True, a retail- and consumer brand-focused investment firm with the beauty companies Bleach London and Magnitone London in its portfolio, joined Redrice Ventures, a seed-stage investment firm backing purpose-driven consumer brands and led by former Saatchi & Saatchi CEO Robert Senior, and angel investors to participate in War Paint's funding round.
"We didn't want just money. We wanted the right investors who really get the brand, who feel as passionate as we do about the potential of the brand and who have a wide network of contacts to help with the growth of the brand," says War Paint CEO Matt Lumb. "We want to become the brand that, if anyone is asked about a men's makeup brand, the one they will say is War Paint."
In a statement to Private Equity Wire, Claire Cherry, investment principal at True, says, "At True, our seed fund looks to invest in disruptive businesses that are at the forefront of the consumer behavioral shift, we are delighted to be partnering with War Paint for their next stage of rapid growth. The business is ideally positioned to drive growth in the men's makeup market due to its customer centric and relatable brand positioning, digital-first business model and high-quality product range."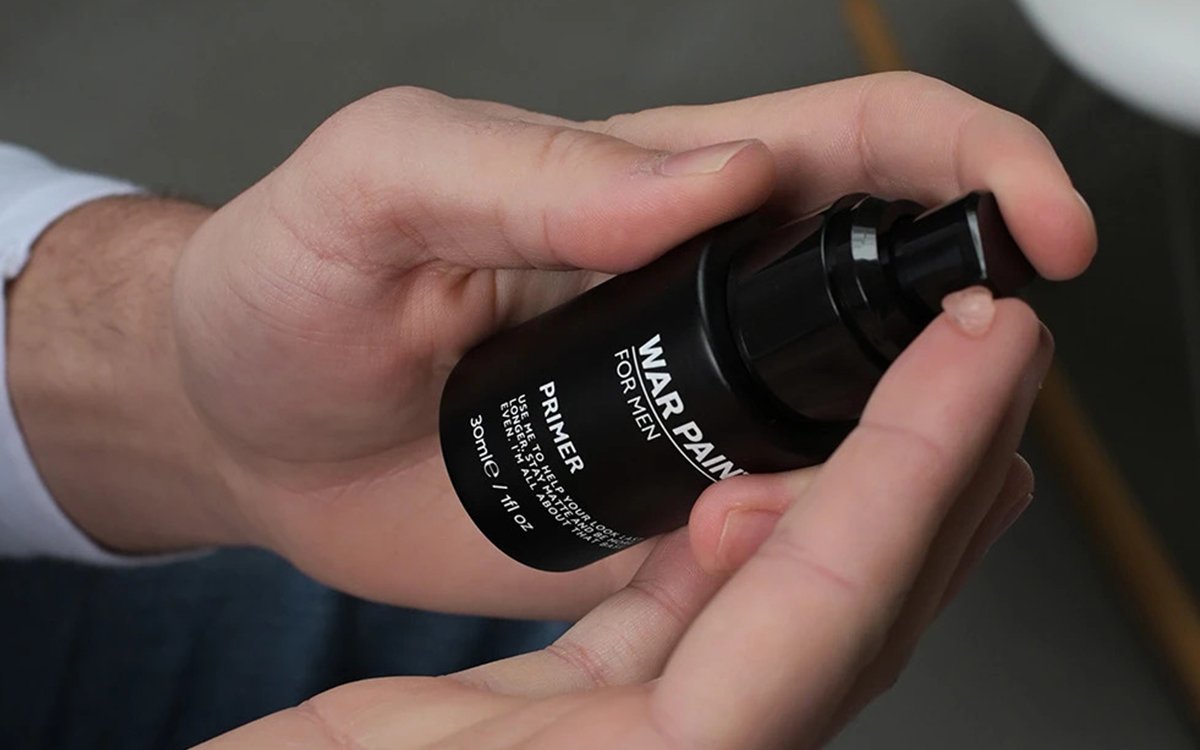 In 2018, Danny Gray, former head of contract hire and daily rental at car leasing and management company Tuskerdirect, launched War Paint with 50,000 pounds or $63,675 from savings and remortgaging his house. It kicked off with six products: Concealer, Tinted Moisturizer, Anti-Shine Powder, Foundation, Bronzer and Application Brush. To support the launch, he received an offer of 70,000 pounds or almost $89,000 on "Dragon's Den," the British version of "Shark Tank," but turned it down. Gray's introduction to makeup came many years before when he borrowed foundation and concealer from his sister to hide his teenage acne. "That honestly gave me such a massive confidence boost," he told the BBC. "It made me the real me."
Suffering from body dysmorphia—he had his ears pinned back as a preteen after being bullied for them sticking out and, at 30 years old, he had a hair transplant to address a receding hair line—Gray, who's 35 this month, constantly picks apart his looks. Makeup enables him to face the public. Lumb, former CEO and director of Tangle Teezer, a hairbrush brand he guided from generating 1 million pounds in sales in 2010 to 30 million in 2016, admits most men at the moment aren't going to follow Gray in dabbing on makeup daily, but says, if a guy puts on a bit of makeup for a wedding, date or big presentation, he says, "Fine, why shouldn't he? Why should there be a stigma around guys using makeup if they want to?"
In South Korea, men's makeup doesn't have the stigma it has elsewhere and is increasingly mainstream. Nearly two years ago, Chanel debuted its men's makeup line Boy de Chanel in the country to capitalize on South Korean men's strong appetite for beauty products. Still, the category is niche around the world. The men's makeup market stands at $1.1 billion, according to JUV Consulting, but it's projected to explode as much as fivefold within a few years. A poll conducted by Morning Consult last year discovered one-third of young men are open to wearing makeup. The customer demographic of War Paint is split roughly evenly between 25 to 34 year olds, 35 to 54 year olds, and customers 55 years old and above. About 30% of its customer base is women buying gifts for the men in their lives.
"Why should there be a stigma around guys using makeup if they want to?"
As men warm up to makeup, War Paint intends to be their preferred choice. In January, it broke into John Lewis in the experimental pop-up The Pitch section. It sold a month's worth of makeup in a week, exceeding expectations by 50%, and landed a permanent spot at the department store, a first for a men's makeup brand. Now, War Paint is placed at the end of the beauty hall near men's wear, a spot Lumb lauds for exposing the brand to its target customers. In addition to John Lewis, War Paint is available at eight Harvey Nichols locations in the U.K. and men's upscale fashion destination Mr Porter. It's slated to soon enter travel retail with Virgin Atlantic in another men's makeup first.
Year to date, Lumb discloses War Paint's sales are up 71% from a year ago. Its direct-to-consumer platform drives a majority of revenues, and the brand has sold more than 50,000 units. Its concealer is the bestseller. Since War Paint's initial six products, it's rolled out a Makeup Remover, Primer, Metal Powder Brush, Face Sponge and Charcoal Sponge. The brand's prices range from $9 to $32 for single items. Lumb says the brand is planning to stick to makeup releases through 2021.
Last year, a War Paint advertisement with a tattooed man sporting its products drew criticism for promoting toxic masculinity. The controversy demonstrates the difficulty of trying to broaden the audience for men's makeup in a culture in which traditional definitions of what it means to be a man are resilient. However, the definitions are shifting as evidenced by men's willingness to purchase skincare products.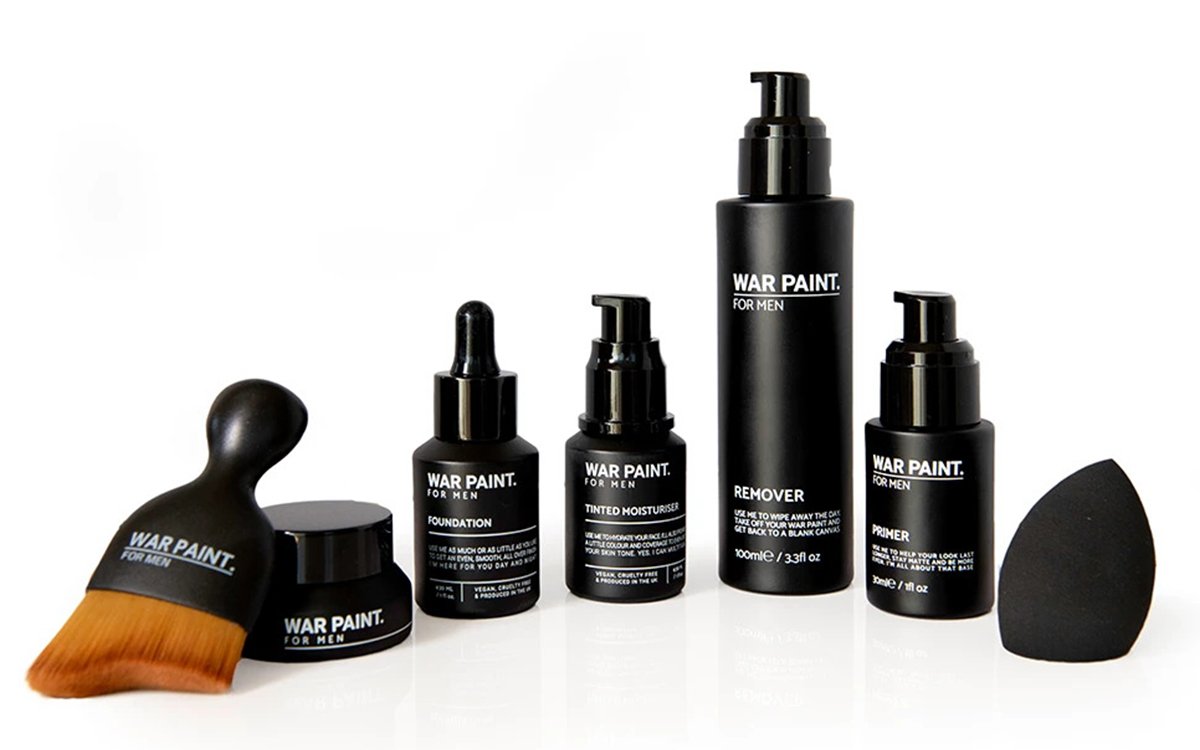 "The world has changed a lot in the past few years. It's acceptable for guys to do things they might not have done before. Ten to 20 years ago, many men may not have had any kind of grooming routine at all," says Lumb. "My gut feel is that this space—men's cosmetics—is going to go the same way. We are very heavy on content creation, and it says, 'We are very proud of what we do.' We know that we are not for everyone, and that's OK. We don't need to be the brand for everybody."
War Paint recently ran inserts in magazines like Men's Health, GQ and Esquire, and it's ramping up influencer outreach. The funding it's garnered is expected to be dedicated to further enhance marketing and other customer acquisition strategies, build War Paint's team, currently at six members, and allow it to amass inventory and sales materials as well as elevate its international profile. War Paint is in discussions to extend distribution in South American, European and Asian countries. Breaking into retailers in the United States such as Sephora, Ulta Beauty, Saks Fifth Avenue and Neiman Marcus is an ambition for the brand.
War Paint will encounter competitors as it escalates its reach. In the U.S., Stryx, Menaji, Evolutionman and Elysian Cosmetics are among the brands vying for men's makeup dollars. In the U.K., Shakeup Cosmetics and Altr London play in the men's makeup field with War Paint. "The more that brands launch in men's makeup, it proves to me that it's becoming more acceptable," says Lumb. "As long as we can remain the brand that everyone is talking about, there's no harm in competition. We just need to make sure we are the brand people can relate to that has packaging, branding and tone of voice on pointe."