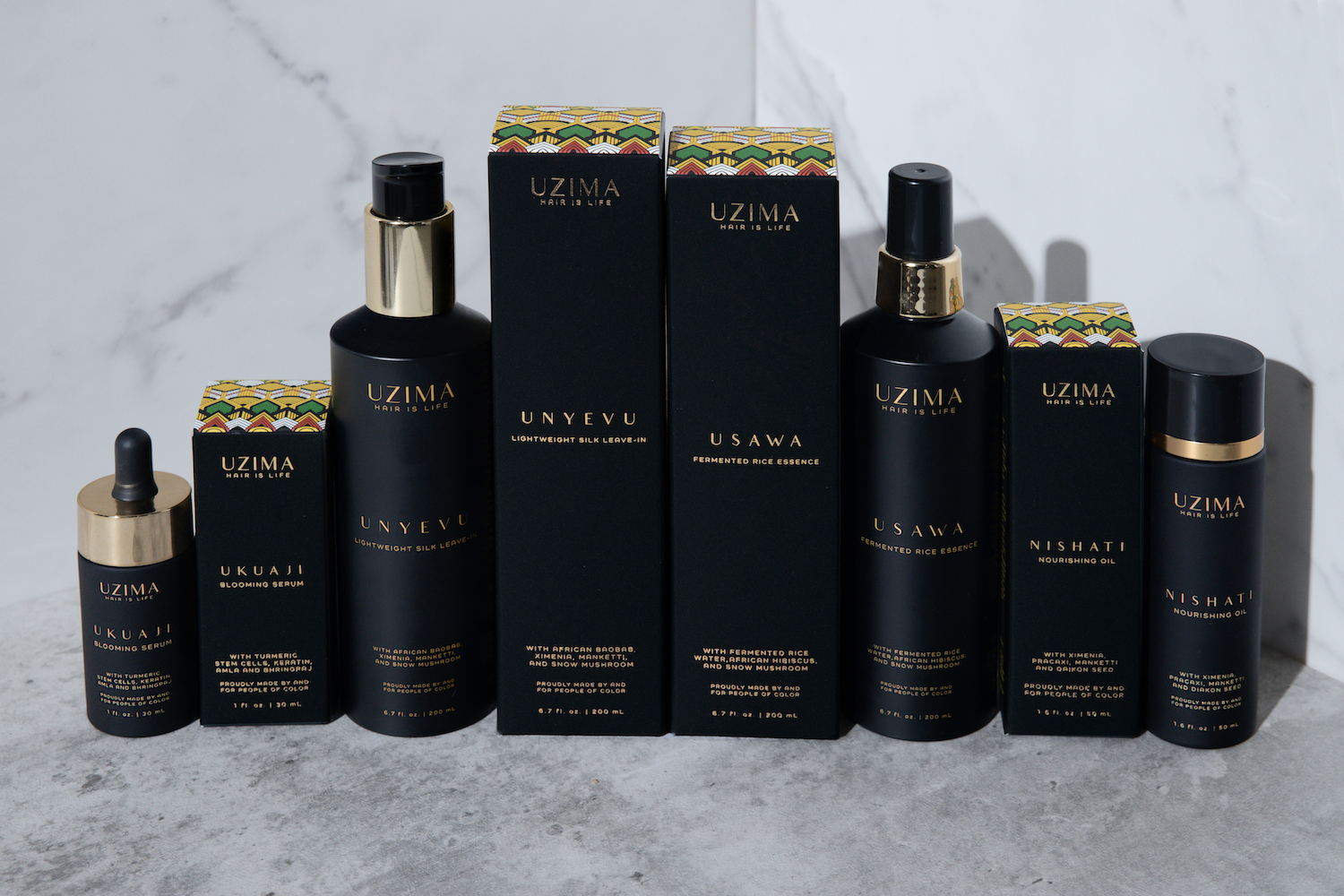 New Brand Uzima Raises The Luxury Profile Of Textured Haircare And Scalp Care
Leona Dondi tinkered with around 13 beauty brand prototypes over the course of a decade before landing on the idea for her new textured haircare and scalp care brand Uzima during a 2018 business trip to South Korea.
"I got to tour a lot of the retail and beauty district, and what I realized was there's so much focus on this leading-edge culture of cosmetics and the face, but there wasn't much going on with the scalp," recalls Dondi, who was a Netflix senior product researcher at the time, a job she still holds. "I just thought, why do we not have products that work similar to skincare, but for our scalp, especially for Black people? Our scalp is not so far from the face."
Specifically designed for the scalp and consumers with Type 3 and 4 curl patterns, Uzima is launching with four products priced from $45 to $70: Usawa Fermented Rice Essence, Nishati Nourishing Oil, Unyevu Lightweight Silk Leave-In and Ukuaji Blooming Serum. The products, which incorporate a cocktail of South American and African oils, are packed with moisturizing components. The hero product, Ukuaji Blooming Serum, is formulated to calm and cool the scalp as it supports hair growth.
"We basically want to use products that are part of nature, they're bringing nutrition and health to our hair and our scalp, and also providing sustenance for the people who are working at the very local point of harvest," says Dondi. Of consumers with type 3 and 4 curl patterns, she adds, "We have this unique haircare experience, we have this unique hair, and we want to celebrate it and acknowledge that we exist, and that that's enough."
Uzima is the Swahili word for "full of life," according to Dondi, a Kenyan immigrant who lives in the Bay Area. She says the brand represents "vitality, wellness and health," and highlights that it exclusively teams up with manufacturers guaranteeing fair and equitable wages for local producers.
"While we benefit from the fruits of Africa, we are also contributing to sustaining the people, mostly women, who work hard to harvest quality raw ingredients—and these are hard, labor-intensive jobs," she says. "We know that supporting women in Africa means supporting whole communities and helping them thrive, and we see our manufacturers as partners in our efforts to lift communities out of poverty."
Along with ingredients cultivated in traditional natural ways, Uzimi is turning to ingredients cultivated by science. It incorporates AminoSensyl HC, a conditioning compound from personal care ingredient company Inolex created to boost hair strength and define curls. Dondi says, "Our stance is really to think about and look to ingredients that are coming from these new avenues and these new innovations to elevate our formulas and bring new and unique value to our target audience, but also to increase the level of sustainability and efficacy."
"The goal is to have a minimal range with maximal benefits."
Uzima's packaging is a nod to Dondi's birthplace. It features a print on the top of its boxes in the Pan-African color palette. Otherwise, it's sleek black and gold is meant to evoke luxury and signify that the brand is made by a Black woman for Black people.
In a haircare market often characterized by white and bright packaging, Dondi points out the black and gold stands out. However, it wasn't her first choice for the packaging. She says that choice was "more clinical and less warm." A focus group of women convinced her to leave it behind in favor of the black and gold direction. Dondi says, "While the ladies loved the original packaging, the feedback that we got was that it didn't feel like it was made for them."
Inside the boxes are sturdy black and gold bottles. Uzima relies on aluminum and lightweight glass for its packaging. "The product feels dense in your hand and it feels really easy to move around and take with you wherever you are, and that was done on purpose," says Dondi. "I really wanted it to feel like this is something that you can travel with, but you can have in your shower on your bathroom counter and really appreciate."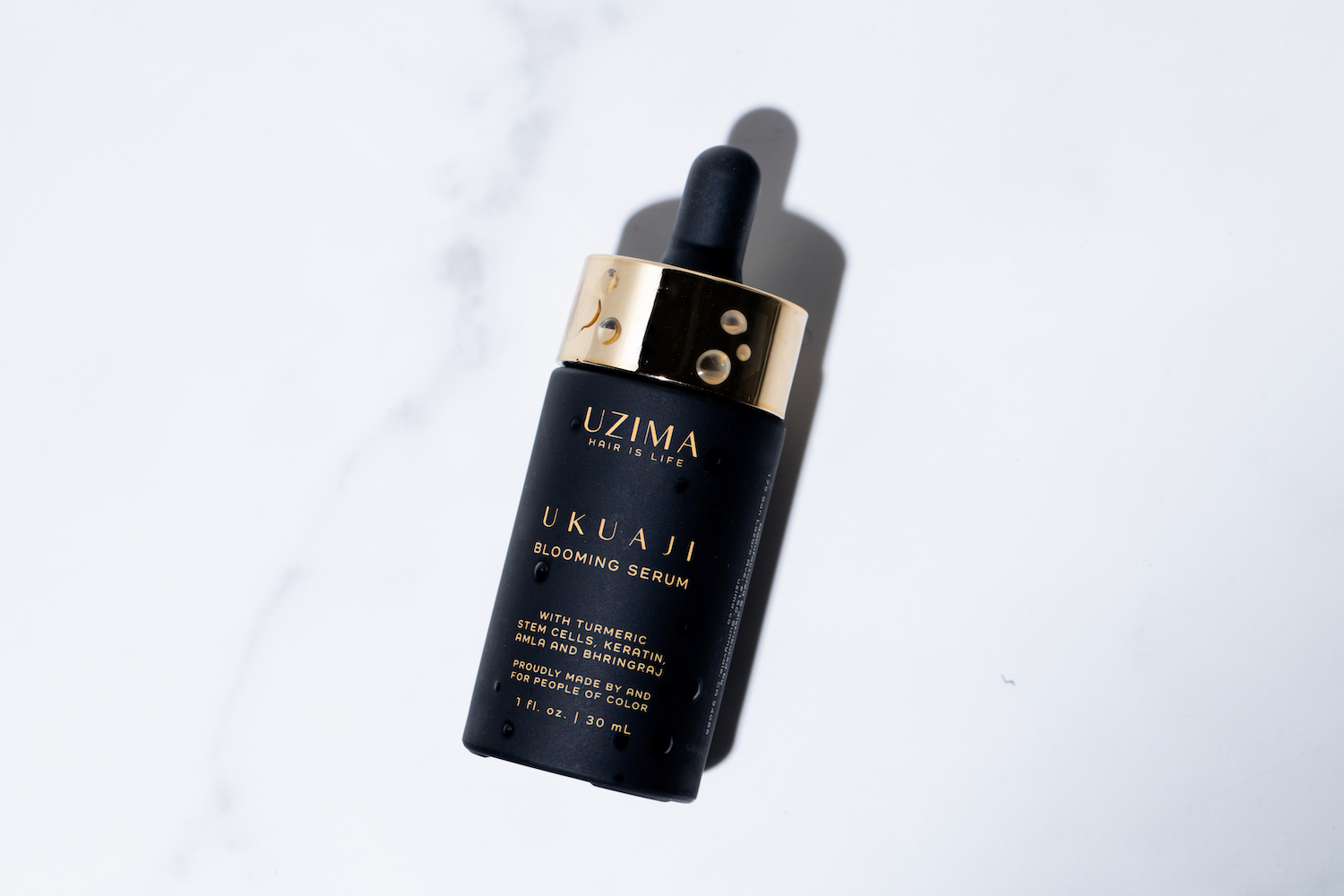 At the outset, Uzima's distribution strategy centers on placements at independent boutiques. In the future, the brand is interested in expanding to clean beauty and luxury retailers such as Violet Grey, Thirteen Lune, Beauty Heroes and Credo.
Uzima is starting out in the haircare and scalp care treatment product category, but it will quickly extend outside of it. Cleansing and styling products are slated for release later this year. "In the end, the goal is to have a minimal range with maximal benefits," says Dondi. "So, really targeting around the issues that our hair faces with the different products that we use specifically combating dryness, scalp itchiness, hair loss or excessive shedding and style longevity."