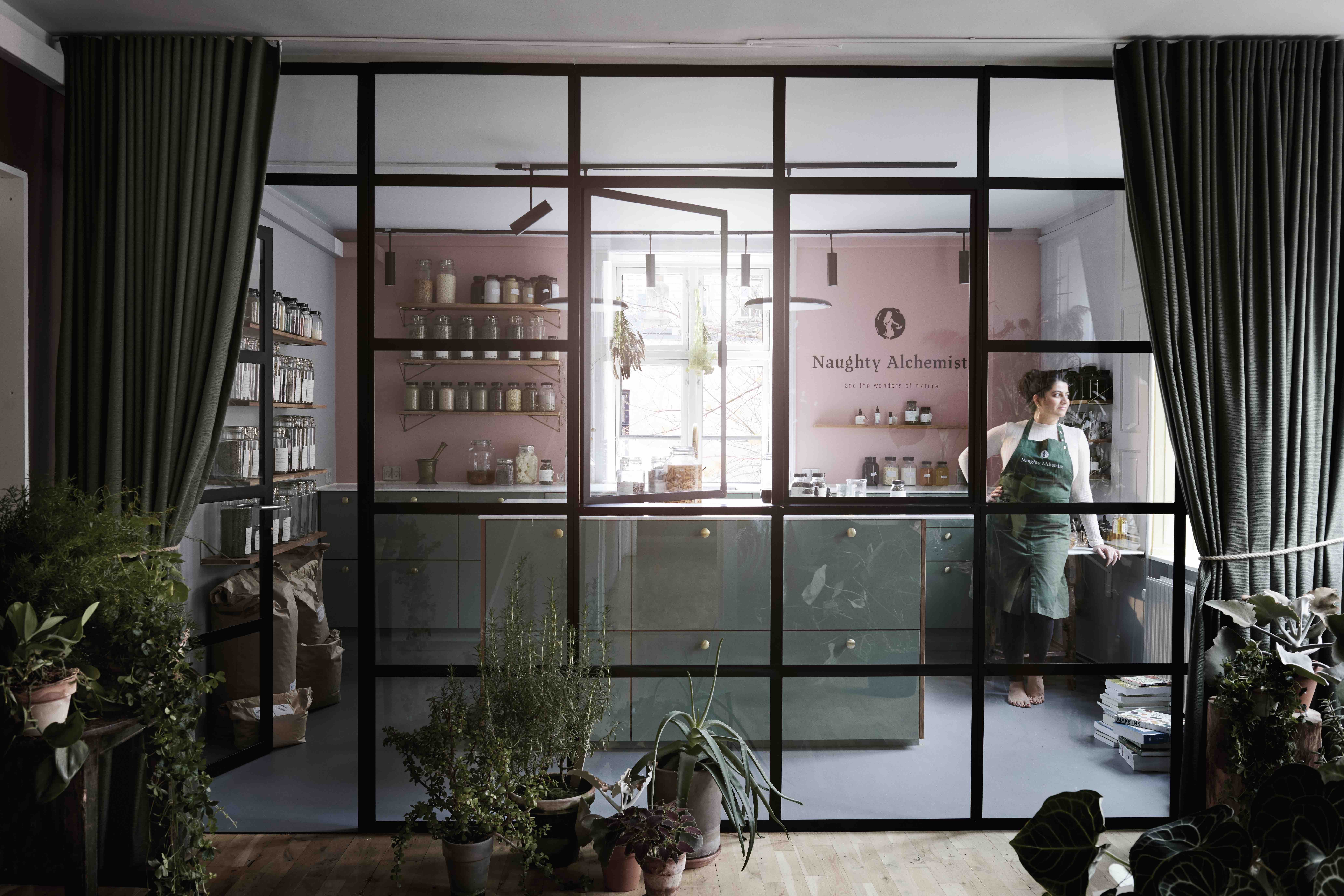 New Natural Brand Naughty Alchemist Lets Consumers In On How Its Products Are Made
In her hometown of Copenhagen, foodie Stella Nisreen Kanaan has enjoyed experiences at the world-leading restaurants Noma and Geranium that go well beyond eating. She says, "I was fascinated by how you could see the chefs working."
Kanaan has brought their open kitchen format to beauty by carving out 300 square feet from her three-floor, nearly 5,400-square-foot salon and spa Beauty Avenue in the Frederiksberg neighborhood to create an apothecary lab where she whips up recipes for her new brand Naughty Alchemist. It's kicking off with four products priced from $60 to $87: Brow Nourishing Serum, Moonlight Renewing Serum, Self-Love Herbal Blend and Sacred Elixir.
"I want to educate people about cosmetics, how they're made and what the ingredients are, and I want to spark their curiosity about natural ingredients," says Kanaan. "Our guests can actually see me experimenting. The majority of them have never seen how cosmetics are made, and they love the idea of knowing where their products are coming from."
Trained in organic cosmetic formulation at Formula Botanica, she incorporates plant oils, extracts and essential oils in Naughty Alchemist's products that are crafted slowly with temperature-controlled methods. For example, Kanaan infuses seven herbs, including calendula, jasmine, milk thistle and St. John's wort, in apricot seed oil for a complete moon cycle and pairs them with nine cold-pressed botanicals oils from the likes of borage, blue tansy, rose hip, camelina and black cumin to perfect Moonlight Renewing Serum's replenishing skincare offering.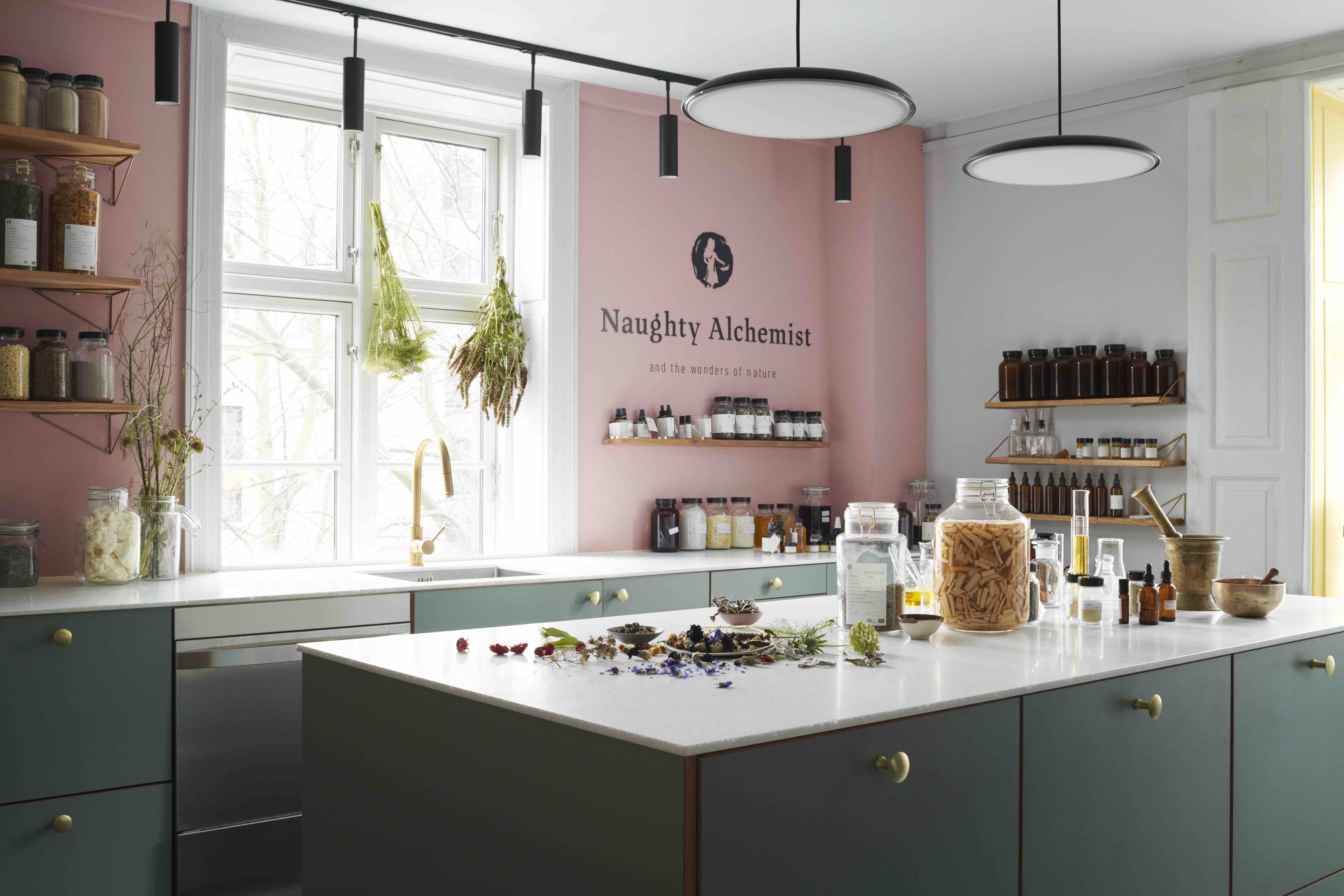 "I start my extraction when there is a full moon. It's a great way to reconnect back to nature and remember we are part of a much bigger universe," says Kanaan. "We are all part of the cosmos. We are all connected." She adds, "I'm the one formulating all my products. I'm producing them, labeling them and bottling them. Everything takes so much time, but I'm a perfectionist, and I want to create something I can feel proud of putting out into the world."
Two of the initial four products Kanaan decided to put out into the world—Brow Nourishing Serum and Sacred Elixir—relate directly to services provided at Beauty Avenue. She says the salon and spa introduced the concept of an eyebrow bar to Denmark. Half of its eight chairs are dedicated to brow services. For years, Kanaan has been searching for a natural brow growth product, but couldn't identify an option she adored. She concocted Brow Nourishing Serum with rice bran, castor, jojoba and coconut oils to stimulate blood flow in the eyebrow area. Kanaan is quick not to overpromise on results, emphasizing the serum won't resurrect dead hair follicles, but reports Beauty Avenue's clients have found it keeps their brows healthy.
"I'm a perfectionist, and I want to create something I can feel proud of putting out into the world."
Beauty Avenue performs more than 10,000 Brazilian treatments annually and around 150 customers flock to its location daily. A dozen therapists in the spa and salon handle services, and they're always interested in making them as painless as possible. Feedback from the therapists was crucial in developing Sacred Elixir, which is rubbed on following Brazilians to soothe skin. It contains nettle leaves, calendula flower extract, shea butter, and tea tree, rose hip, jojoba, hemp seed, camenila, black cumin and neem oils. The product is Naughty Alchemist's early bestseller.
Born in Libya, Kanaan, who is of Palestinian descent, lived in the United Arab Emirates, where her mother operated a perfumery in Abu Dhabi, and Cyprus before she moved to Denmark at 12 years old. Growing up, her mother and grandmother would invite friends and family members to partake in hair removal rituals using a paste made from sugar, lemon and water.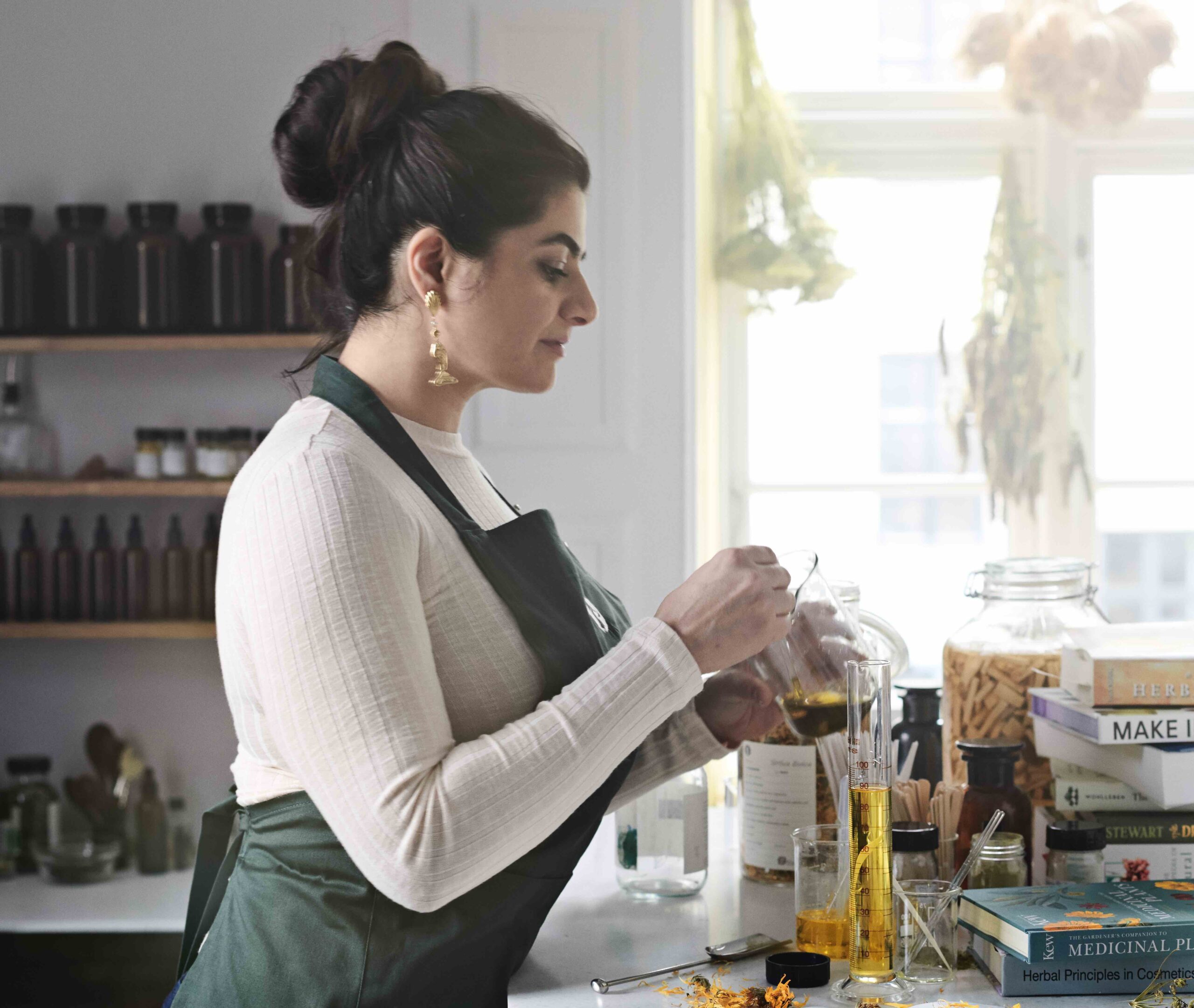 Speaking of her grandmother, Kanaan says, "Plants were her best friends. She really loved them. Many of us have forgotten the ancient wisdom of herbs, but she made me curious about them. So, I educated myself as an herbalist. That's where my inspiration comes from when I'm formulating my products today."
Originally, Kanaan didn't set out to be in the beauty industry. She was going to enter the hotel and restaurant sector. While pursuing hospitality, she would do beauty treatments on the side, and a chic friend of hers she had done a hair removal treatment on raved about it. Kanaan recalls, "She said, 'Why don't you do these kinds of treatments? You are so good at them.' I remember thinking, 'Doing treatments is my hobby, and I love doing them, so maybe I can earn money on them and do what I love.' That's when I started studying beauty therapy."
"We want to push the industry to higher standards."
In 2000, Kanaan launched Beauty Avenue. It wasn't a natural beauty destination at the outset, and evolved into a natural beauty destination from deep conversations she was having with women coming in for services. "I would ask them about the changes in their life and, often, I would have women crying in front of me about what was happening deep down," she says. "That's when I started digging deeper myself into holistic approaches instead of just, 'Here's a cream, apply it and it will help you.'" Aveda founder Horst Rechelbacher became Kanaan's role model, and she collaborated with Aveda on Beauty Avenue. That collaboration, now over, marked the brand's salon and spa debut in Denmark.
In January, Kanaan unveiled Naughty Alchemist's apothecary lab at Beauty Avenue and began selling its products. She estimates she poured $161,000 into getting the brand off the ground. The objective is for it to cross into profitability within the first year. However, the pandemic has presented obstacles. Beauty Avenue was shuttered for six weeks for coronavirus precautions. The government of Denmark paid 75% of the salaries of its 25 employees to assist the spa and salon during the tough stretch. It didn't lay off a single employee.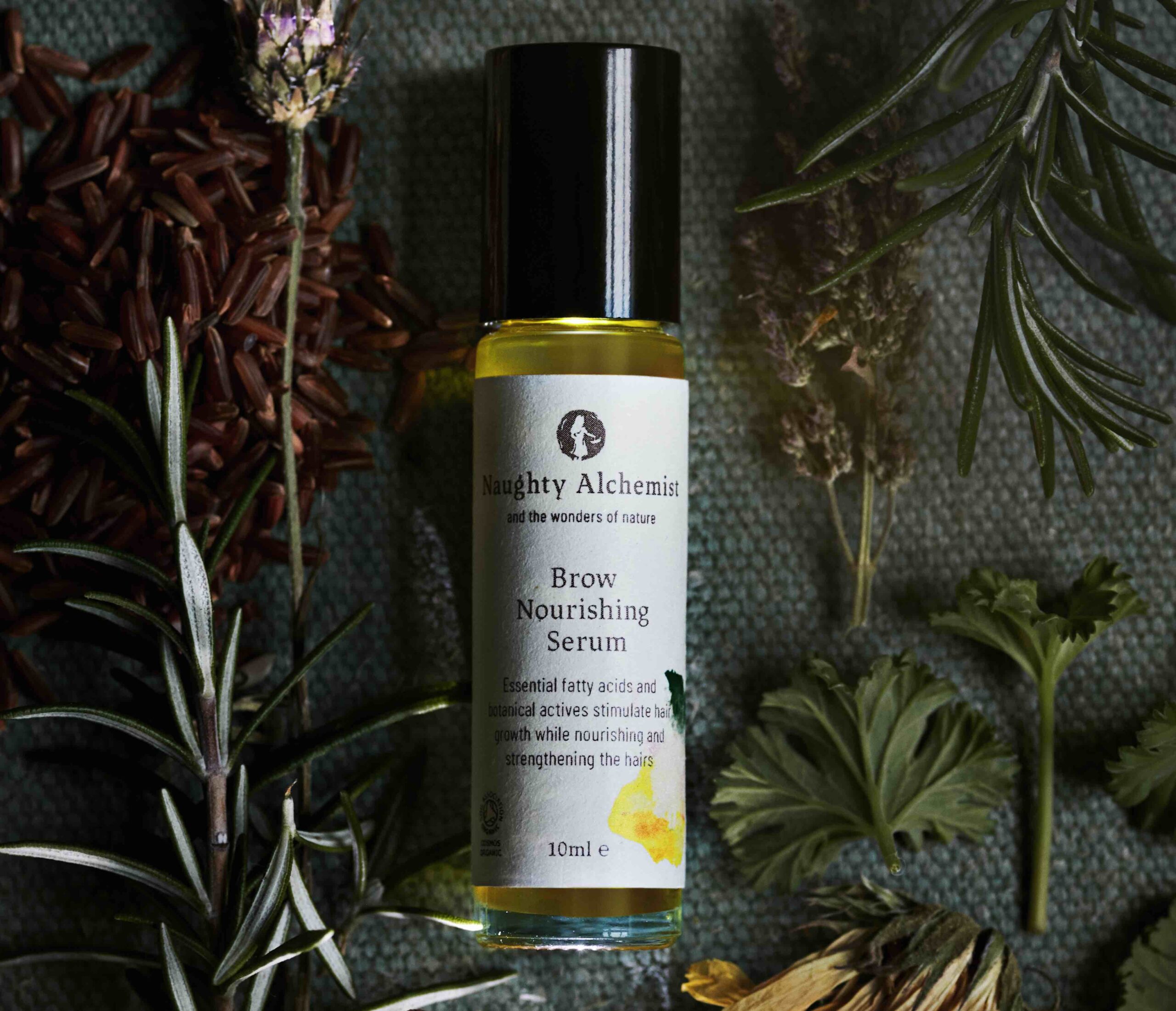 The upside of the pandemic is Kanaan believes consumers are exploring self-care in an extensive way they hadn't previously. "They are learning more. They are tired of how things have always been, and they really want to go more into natural and organic products," she says. "At least in Denmark, people are so much more aware."
Kanaan hired agency AM Copenhagen to design Naughty Alchemist's packaging. The logo features a depiction of her as a girl collecting jasmine flowers. Each Naughty Alchemist product is stamped with an expiration date and batch number to convey its freshness. Next up for the brand are cleansers, exfoliators and face masks that Beauty Avenue can integrate into facials. Naughty Alchemist ships products globally and is considering wholesale opportunities with stores across the world that share its philosophy.
"We want to try to set new standards all the time for how we do things and constantly challenge the industry. We want to push the industry to higher standards, and the goal is to get all beauty brands to rethink the ingredients they use," says Kanaan. "Our ultimate goal is to inspire big beauty to change how they do their business."