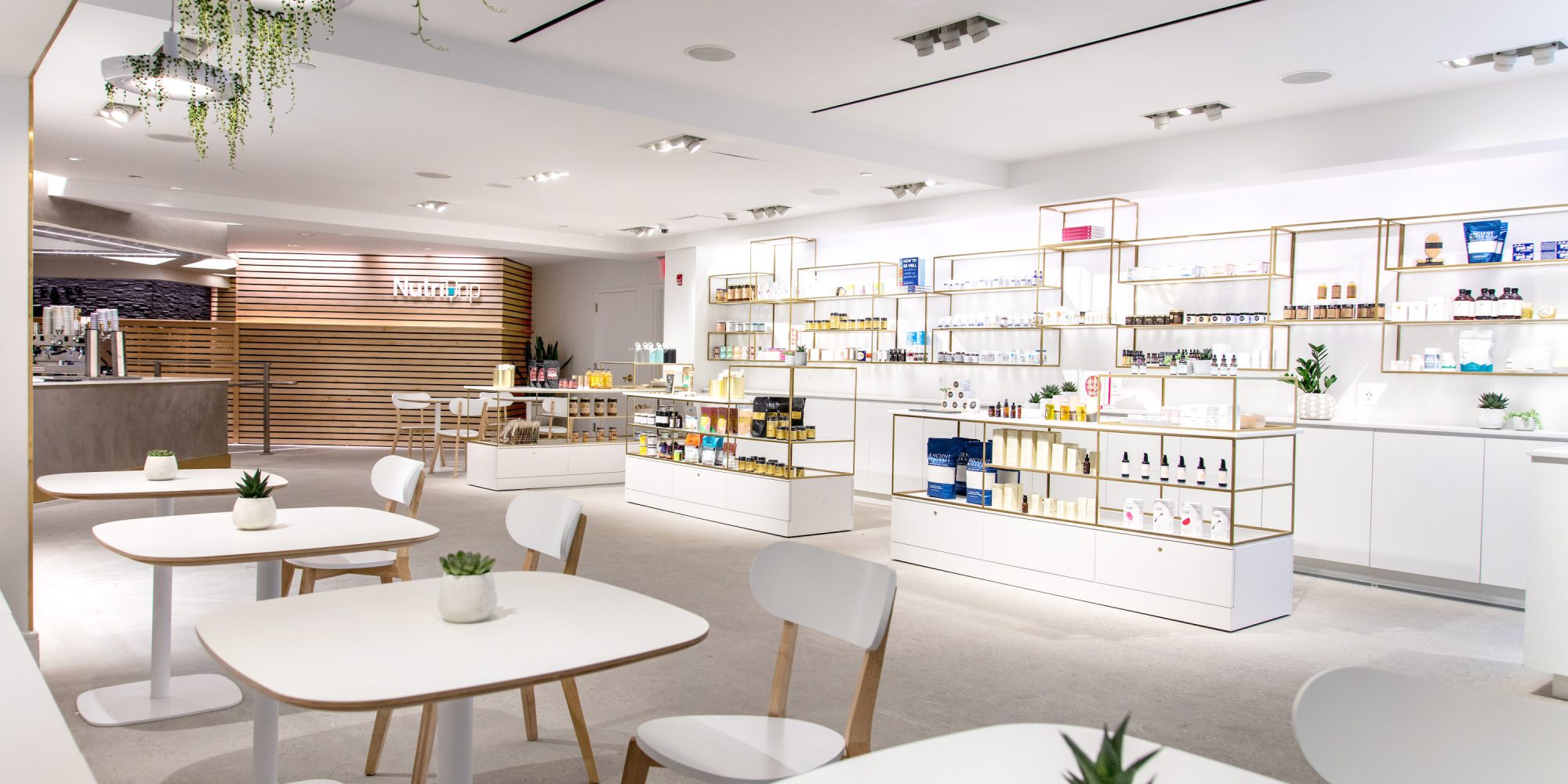 One Year In, New York Detox Destination Clean Market Cooks Up Plans To Add Two Locations
New Yorkers in the know wouldn't peg Midtown as the nabe to find a healthy living oasis, but, in the year since it's opened there, Clean Market has been consistently luring the city's Lululemon-clad wellness warriors above 14th Street. Co-founded by cook, nutritional coach and blogger Lily Kunin with backing from Jack Terzi, a real estate investor who owns the East 54th St. building housing Clean Market, the 3,800-square-foot treatment center, cafe and boutique offers customers everything from cryotherapy to chai lattes to CBD body balms in an equal parts clinical and comfy environment. By next year, Clean Market will dip downtown, adding two more Manhattan locations: a 2,800-square-foot Brookfield Place branch and a 2,600-square-foot NoHo outpost in the 40 Bleeker luxury condominium compex. Beauty Independent chatted with Kunin about Clean Market's expansion, the consumer revelations found by diving into data points and where the wellness industry is headed next.
What was the inspiration for Clean Market?
We wanted to bring all these different wellness modalities together under one roof. For us, that meant services, but it also meant a cafe and retail. The food we're eating and the products we're using at home can create that full 360 experience. The inspiration was from my health journey. My background is in food and functional medicine. I have celiac disease, and I would run around the city picking up supplements, getting B12 shots, then going somewhere else for a healthy meal on the go, then somewhere else for infrared sauna. It felt counterintuitive to be running around the city in a stressful way for your health.
We created [Clean Market] to be an oasis from the hustle and bustle. If you're feeling stressed out, you can come in for my favorite supplement, RelaxMax, and an herbal tea, or you can come in for a whole afternoon, make a day of it. Before an event, if you're looking for glowing skin and energy, you can do the infrared sauna, IV drip, pick up glutathione on your way out and our glow smoothie. You can create your own package, and we're there to help you do that.
I've found it really interesting over the past year to think through how people essentially create their own journey in the store. You can come in and really tailor your experience to whatever you're looking for.
What's the mission of Clean Market?
Our goal is to connect our community with products and services that make them feel good. We never want to lose sight of that. What drives us to keep expanding is people coming into the store, trying something for the first time like an IV drip and coming back the next day or the next week being like, "Wow, that was amazing, I had so much energy." Or someone coming in that can't sleep, trying one of our supplements and getting the best sleep they've had in the last year. All of those anecdotes are so amazing. They're conversations that you wouldn't typically have in a retail setting. It's so important to us that we're making this type of wellness accessible in a retail setting.
Who's your customer?
There are so many different customers that walk through our door. In Midtown East, we get the best of both worlds because we're residential and commercial. It's residential to the east of us [with] luxury residential buildings. The, to the west, we have all these offices. At 3 p.m., we'll get a ton of men that come in for a coffee break. On the weekend, we'll get couples and people in the neighborhood. It's probably skewed slightly more towards women, a little bit older, late 30s, 40s. There's such a mix, and I imagine that will change as we go downtown.
What have emerged as popular treatments and products?
Nutridrip is our IV drip partner. It's been very popular from day one. They were an already existing business in the city. They have two other locations and a concierge. We're their new flagship location. Then, infrared and cryotherapy. They're meant to be used synergistically. They really enhance the benefits of each other, but, as to be expected, they're seasonal.
We opened in late summer, so cryotherapy was really popular. Then, we saw a wave through winter where infrared became really popular because it feels amazing to be in this heated space. You get diehard people who really love infrared, and people who really love cryotherapy, but, what's nice is that you can try both and see how the effects really begin to multiply.
In terms of retail, we have seen CBD be incredibly popular. We have gel caps, droppers and, then, we have a lot of topical creams. Anything in the edible CBD category is super popular.
How much education do you need to do around CBD and other specialized products you sell?
It's a lot of education. We  pride ourselves on the products we put on our shelves and making sure they're vetted and trusted. We train our staff heavily with education, and a lot of our retail team are certified health coaches, so they have a strong background already in these functional supplements. It's a mix of customers coming in already knowing specifically what they're looking for or working one-on-one with someone in retail, one of the certified health coaches or even one of our nurses and functional nurse practitioners to discuss like, "I'm really stressed. Is there a supplement or protocol you think would be helpful?" or "I'm looking to boost my energy."
There's a whole other subset of people coming in, and it's a total discovery for them. They may have never heard of CBD or explored these types of supplements before. We love to do educational series, most of our events are educational. When we saw CBD was so popular, we put together a three-part series with Plant Alchemy all about CBD. That was a super popular event series.
How are you able to carry the supplements usually only sold at doctors?
We're able to have nurses on staff and sell supplements through our medical practice that oversees Nutridrip. It's essentially a medical license overseen by a functional doctor [Maurice Beer] that's been practicing here in the city for many years. Our functional nurse practitioner who works with him at his clinic also oversees the IV drip practice, and she's on the grounds a lot as well. [We have] our nurses in the store administering the drip. Because my background is in functional medicine, it was so important to me to make sure there were supplements on the shelves that people can trust. There's clinical testing behind all of those supplements like Designs for Health. They're such high quality. I didn't want to put anything less on the shelf.
What are some of your favorite products?
As I mentioned before, I love RelaxMax [by Xymogen]. It's a supplement that's changed my daily life. It promotes GABA brainwaves. There's some magnesium, so it's a natural relaxant. It takes a little edge off, similar to what CBD might do. I find that it works a little bit better for me [than CBD]. I recently started taking Moon Juice's Super You and Super Hair, and have been loving that.
We've seen a big demand for beauty products, and we're about to bring in a couple more lines. Two products I've really been loving are the Ursa Major Golden Hour Recovery Cream. Then, Marie Veronique, I love her whole line, but I'm addicted to the Balancing Hypotonic. It's a toner.
If brands want to pitch Clean Market, what's best way for them to do so?
We're constantly doing product discovery. I find that things always end up on my desk. We receive many inbound requests for carrying products. I would say the highest category right now is CBD. We have an email, retail@cleanmarket.com. We have a pretty large curation right now. So, we're looking at the brands or products that are performing well, looking at those categories and the price points, and making sure we have what people are looking for. For example, Ursa Major does really well for us, and they're a really friendly price point, creams in the range of $50 rather than $200. We're making sure we have that sweet spot and expanding the lines we're already carrying. Creating relationships with companies is important to us. We're always looking at other stores, and we're always planning ahead. We're reaching out to brands to see what's coming down the pipeline. A lot of our brands will send decks a year out of what they have coming down the pipe.
Some of your brands sell on Amazon. Would you prefer they didn't?
Our sister brand, Fortress Brands, specializes in selling health and beauty on Amazon. The founders Matt and Alex [Beer] are brothers and the sons of Dr. Beer. That's how they got into functional medicine and supplements. They sell medical grade supplements on Amazon and, now, have expanded much more to the beauty category.
My concern with buying supplements and products on Amazon is you want to know that the product has been taken care of, that it's been stored properly, shipped properly. That's a bit hard. There's a number of retailers on Amazon that I fully trust, including Fortress. I know exactly what they sell, and they're able to maintain quality control and price control and all of that, which is equally important from a brand perspective. It's really hard when you have a product, and you go on Amazon and search for it, and there's a hundred listings at all different prices. It creates a lot of confusion.
We've had some people come in and say, "I love this product, but I'm not going to purchase it here because it's cheaper on Amazon." That's just the nature of the beast. We're a small retailer. We're currently one store. In the next year, we will be three, but we have to maintain margins that are appropriate so that we can keep the product on our shelves. In an ideal world, I wish we could match Amazon prices, but that's not realistic right now. That's also where brands like Fortress come into play with price control and quality to make it an equal playing field [on Amazon].
Tell us about the upcoming locations.
One is going to be in Brookfield Place, opening up this fall or winter. We're just starting construction on it. It's directly across from Hudson Eats and next to Amazon Go. It's going to be a similar expression of the space we currently have. It's a little bit smaller, about 2,800 square feet, but we'll have infrared saunas, cryotherapy, IV drips and, then, a slightly different expression of our cafe and retail. It will be a bit more focused on grab-and-go, which I'm excited about. With two and, then, three stores, we're going to be launching our commissary kitchen and building out our healthy grab-and-go program. There [are] many people working in Brookfield Place and around the area, it's an easy way to pick up something super healthy. Our third store will also be in Manhattan, opening spring of 2020.
Do you plan on expanding beyond New York City?
Yes. There's a couple of things in the works that haven't been totally signed yet, but we're in talks with a couple of cities for projects outside of New York City, one on the West Coast. We're looking for places that are similar to New York in terms of a desire and need for wellness under one roof, with the people there to utilize the services and foot traffic. After we've started to prove out a concept in New York, then it's about looking to other markets to see if it works there as well.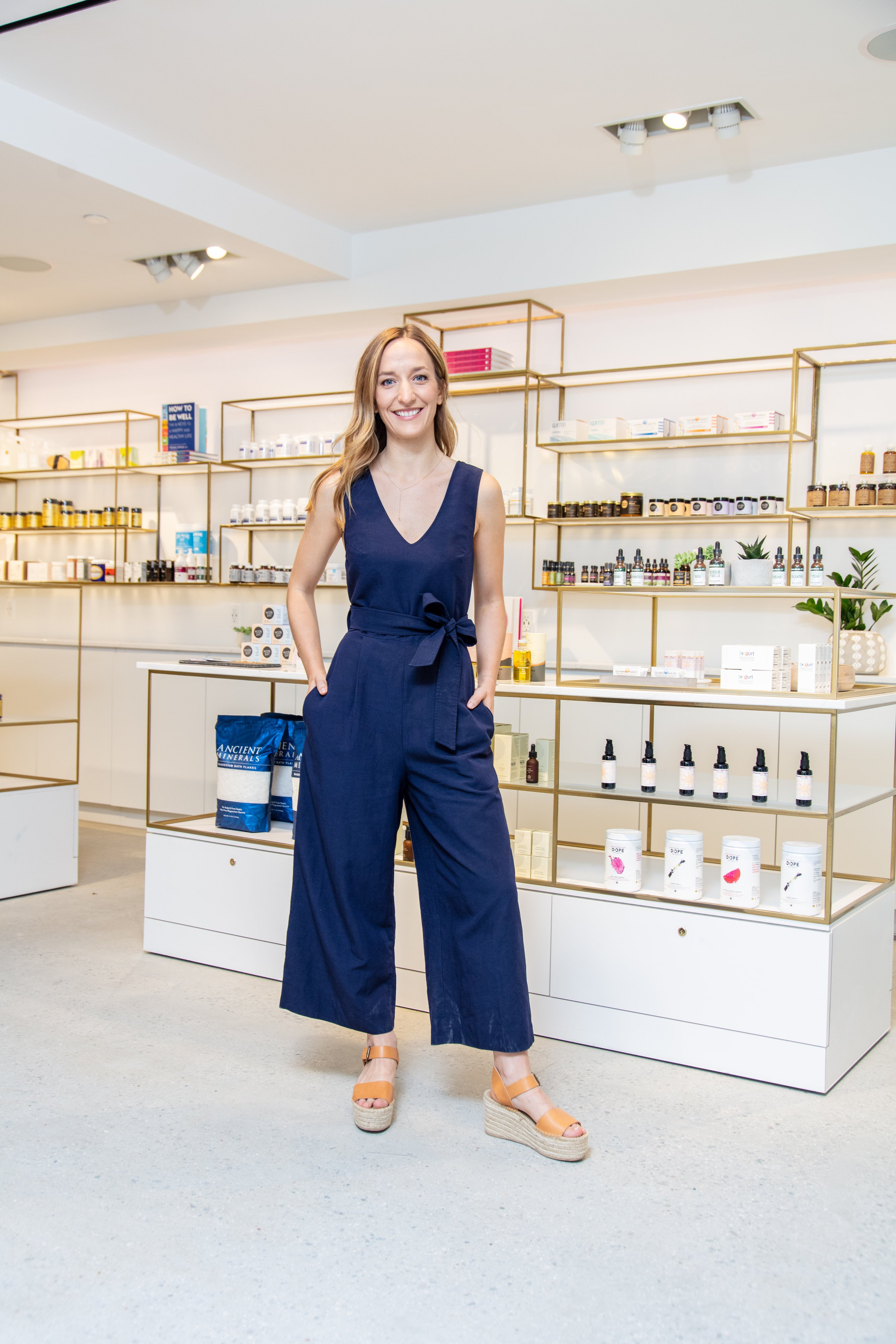 Have you been surprised by how revenues are breaking down between treatments, retail and the cafe?
We made some predictions before launching and the percentage breakdown of where revenue is coming from in the store is pretty much what we predicted. Our retail business has grown more rapidly than I predicted, and that's great. We're thinking about ways to expand the retail offering. We'll be rolling out e-commerce soon, and some product collaborations with partners we already have in store, dipping our toe into creating products.
One thing we did realize, but maybe we didn't want to realize at the time [is] we were really launching four different businesses all under one roof. That's great, but it's also challenging because you want to give each business equal attention to grow. We have focused a lot on retail and services. The cafe is amazing, but, until we roll out the grab-and-go program, it's not the full expression of what we envisioned. I imagine that, once we do that, the growth in the cafe part of the store will take off even more.
It's interesting to think through what the point of entry is. Even if cafe has a smaller percentage of revenue, it doesn't mean less people are frequenting it. So, it can still be the point of entry that people convert to services from. That's the data that we're digging into. We have a summer intern that's working on data and looking at where people are entering the store. Are they entering to get coffee and, then, moving on to services? Or are they coming into the store because they already love infrared sauna and, then, shopping retail?
We're always learning and gaining new information. Because we're in Midtown East, we're going to have a different consumer than at Brookfield Place in terms of what they want to buy, and the exact price points they're looking for. By store six or so, we'll be able to more accurately say cafe should take up X amount of square feet in this location because it's an amenity versus a core offering.
What have you learned about your membership program?
I'm diving into them this summer because, last summer, we started with a membership offering [with] too many options. Because we have so many services, we were trying to wrap our head around what people would really want. Then, Nutridrip also has a membership option. We haven't perfected exactly what our membership is going to look like as we roll out more stores.
Our current iteration that's been much more successful is a credit-based system. Essentially, you buy in at membership at one of three levels, and you receive a certain number of credits that month. Then, each service has a number of credits assigned to it, so you can mix and match to create your own experience. You can change that month to month, you can change it seasonally or you could use it on just infrared saunas or just cryotherapy. We're looking at different options to make it easier to understand what the membership is and why it's valuable because we also offer packages.
"By store six or so, we'll be able to more accurately say the cafe should take up X amount of square feet in this location because it's an amenity versus a core offering.
How is it being located on the Upper East Side?
What's fun and unique for us is we were the first of the kind in the area, and we were the last tenant to come in to complete that block. We have SoulCycle, Skin Laundry, Equinox. It's this little wellness hub. We envision that, everywhere we go, creating a wellness hub in the places we're going into. We envision wellness under one roof. Then, we have these other amenities right next door, so you can get everything done in very close proximity.
What is the next big thing in wellness?
I'm trained as a health coach and, from day one, we always talked about bio-individuality, that you're a unique being and what works for you doesn't necessarily work for someone else. I think people are really thinking about that, adopting that and becoming comfortable with that being true. Rather than being like, "This is the best face cream ever, everyone must have it," it's like,"This is the best face cream ever for someone that has dry skin, that's sensitive and has mild acne." It gets more specific, into subsets. It's going to be a total wave of personalization, whether you're personalizing your products and services or if you get into what we can do in our IV drip practice, really personalizing through IV drips, blood work and supplementation. Really custom personalization I think is the wave of the future.