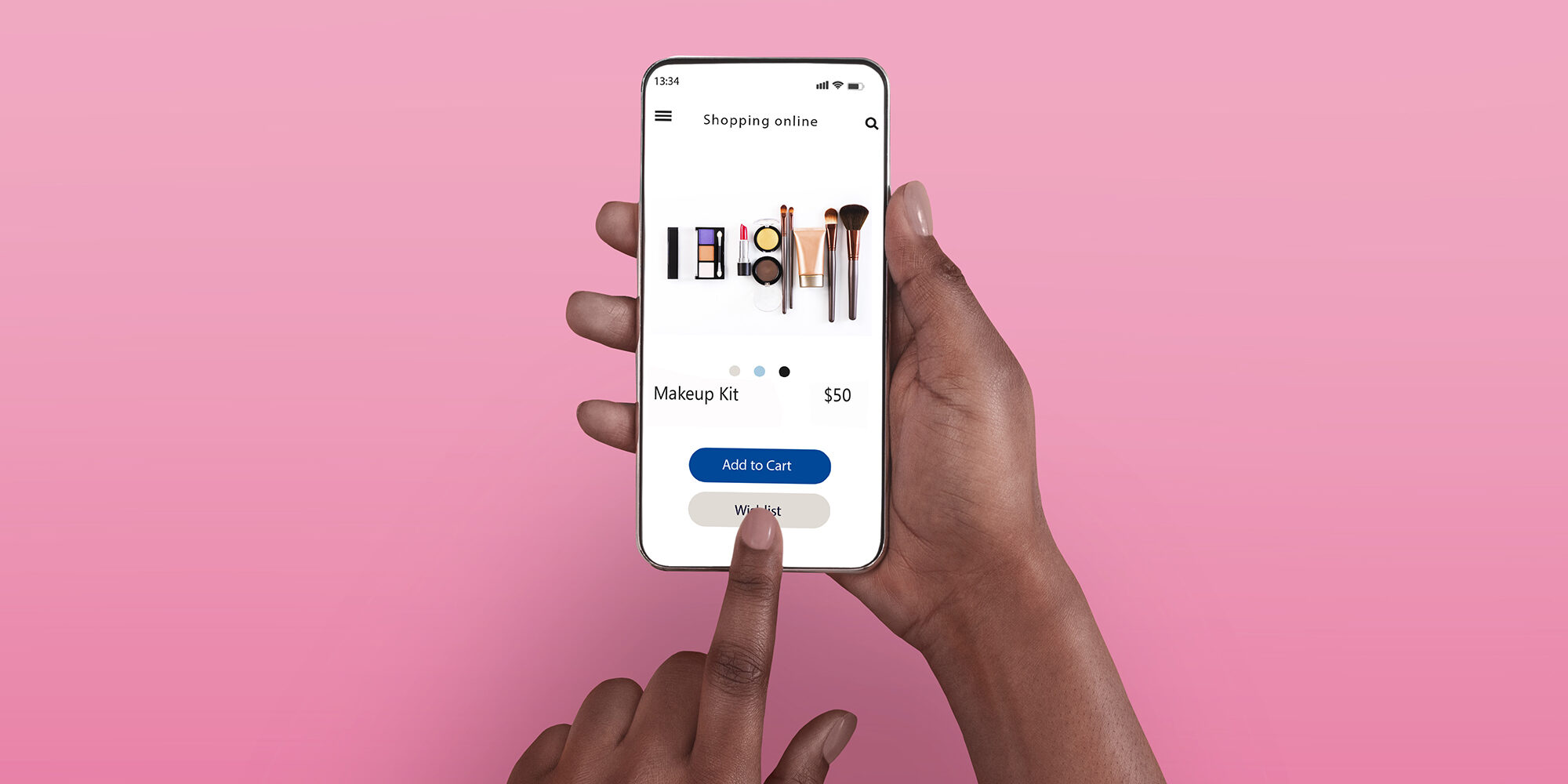 What's The Outlook For Beauty With The Pandemic Easing In The US?
The near-term outlook for the beauty industry is bright. 
Consumer research from management consultancy McKinsey & Co. shows American consumers are generally optimistic about the country returning to normalcy after more than a year of the pandemic. Over 50% plan to treat themselves and 37% of those set splurge anticipate doing so specifically on beauty and personal care purchases. 
Already, the prestige beauty segment has perked up. Sales in it amounted to almost $4.2 billion in the first quarter, a jump of 11% from last year, according to market research firm The NPD Group. However, the comparable year-ago period was characterized by store shutdowns, making the surge less impressive than it may seem. The 11% hike translates to a 5% dip from the first quarter of 2019, when business in the United States hadn't yet been disrupted by the coronavirus.
In last Wednesday's episode of Beauty Independent's In Conversation webinar series, Larissa Jensen, VP and beauty advisor at NPD, divulged that prestige beauty sales evaluated as recently as the week before last reveal single-digit growth. "As consumers are coming back to brick-and-mortar, online sales are not slowing down," said Jensen, reporting online prestige beauty sales rose 33% in the first quarter. She continued, "You've got the resurgence of brick-and-mortar along with the stronger performance of online, and it really is creating a winning formula."
For the webinar, Jensen was joined by Emma Spagnuolo, a partner at McKinsey, and Nini Zhang, director of beauty, fashion and e-commerce at Credit Suisse, to discuss rising beauty industry trends, category strengths and weaknesses, and the distribution channels that resonate with post-pandemic consumers.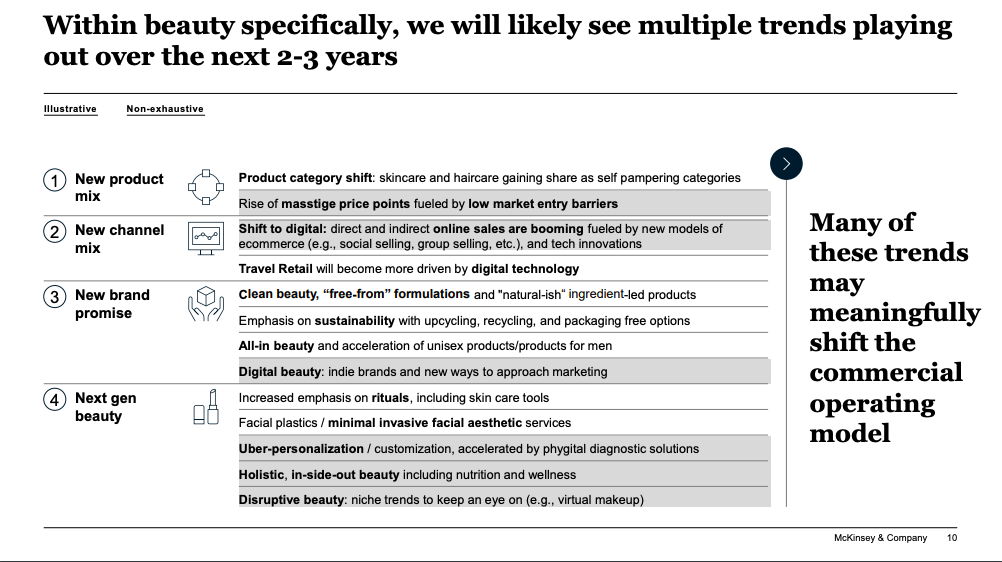 Category Winners And Losers 
While the level of beauty spending is similar to what it was in 2019, there's been changes in the beauty industry as skincare and haircare gain traction. Skincare is commanding a greater share of prestige beauty sales than it did previously. It holds 34% share of the dollar volume and may soon surpass makeup, a category that holds 36% share. 
Spagnuolo said McKinsey, which assesses both the mass and prestige segments of the beauty industry in the U.S., expects a rebound in color cosmetics, but the rebound may not be large enough to overcome the category's 2020 sales implosion. Spagnuolo is bullish on skincare, haircare and personal care, and posited that skincare and haircare will flourish beyond 2022 to realize the most growth. She elaborated, "The way that we think about it is the consumer trends that are actually behind these data points are going to be pushing them into an S-curve very similar to what we would have seen in color cosmetics from 2015 to 2017." 
Hair product sales have spiked 48% so far this year, marking a staggering 70% jump from the first quarter of 2019. Treatment products such as masks account for the majority of sales growth as people have been maintaining their hair at home, but an uptick in sales of styling products indicates they're beginning to go out once again. Jensen suggested haircare brands should take note that online has become the channel of choice. She said, "Once the pandemic hit in March sales, of course, things pivoted online, but online volume actually very quickly surpassed the volume that was being generated in stores for the hair category, and no other category had this happen." 
Prestige skincare sales advanced by 12% in the first quarter. Body serums, facial exfoliators and sunscreens were robust performers, and sales of hand soaps and hand lotions doubled from the year earlier. Makeup sales slumped 9% in the first quarter and were down 29% from 2019, but there was upward trajectory due to the resurgence of brick-and-mortar businesses. Highlighters, bronzers, mascara, brow merchandise and false lashes all posted sales leaps, but applicators showed the biggest growth at 17%. 
Prestige fragrance sales are exceeding expectations, and fragrance has emerged as a category to watch. "This particular category is kicking A and taking names," said Jensen, adding, "We have never seen numbers like this across the major categories makeup, skin and fragrance." Product formats that tend to carry higher prices such as home scents, large sizes and concentrated fragrances are propelling growth in the category. 
According to NPD surveys, 50% of consumers are purchasing fragrances for themselves and 20% are gifting them. McKinsey's consumer research discovered fragrances are more important to millennials consumers than to consumers in previous generations. Fragrance sales have been climbing since August and, although long-term prospects for the category remain uncertain, the analysts predict 2021 will be a banner year for it.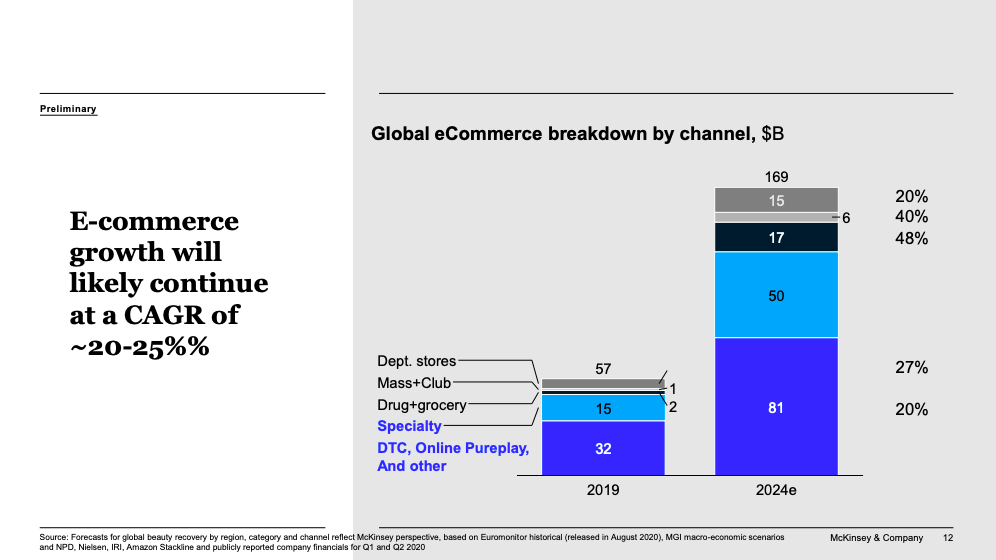 The Acceleration of E-commerce 
There has been a clear shift to digital, and skincare and makeup transactions are going to stay sticky in e-commerce, said Spagnuolo. Still, brick-and-mortar outlets remain integral to the beauty industry relative to apparel, electronics and books. "People do want to continue shopping online, but this net intent to continue to purchase at the same rate is slightly lower than other categories, meaning that they will want to go back into stores for one reason or another, whether that's discovery or because they prefer that experience," explained Spagnuolo.
McKinsey analysts anticipate e-commerce growth across consumer goods categories over the next five years, including beauty, and forecast a compound annual growth rate for it at 20% to 25%. Online sales of consumer goods in the U.S. are projected to hit $81 billion globally by 2024. Permanent department store closures and retail investments in digital platforms are factors in the expected acceleration of e-commerce sales. 
"You really do have to make sure that you have the right capabilities behind you to be able to drive digital sales if you want to be successful going forward. Even if you are selling through a partner, you have to be able to resonate online and provide them with what they need to sell you online because we can see the penetrations across all of the channels skyrocketing between now and what we expect to see in 2024," said Spagnuolo, remarking, "Frankly, we question whether or not this estimate is actually too conservative." 
Roughly 35% to 40% of specialty store sales are forecast to occur in digital channels post-pandemic. Direct-to-consumer, online pure-play destinations (for example, Amazon and Tmall), salons and direct selling are outpacing physical retail and boosting e-commerce penetration. The anticipated sustained success of social selling and direct-to-consumer brands will further buoy e-commerce. The major social media channels allow for shopping. Some have had better luck than others with it, but analysts suggest purchasing via social media will become increasingly impactful. They recommend brands aim for 30% of sales to be sparked by digital chatter to remain competitive in the future.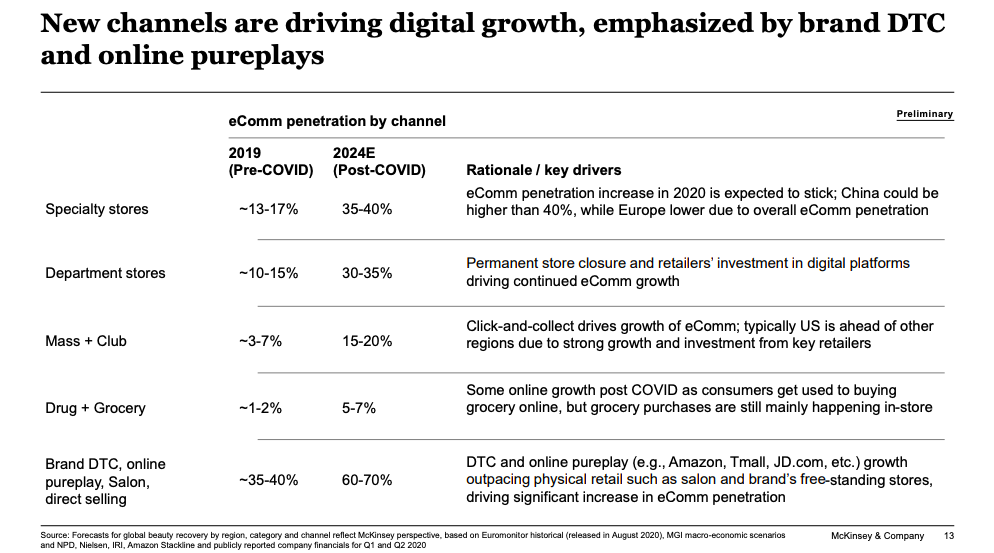 Beauty trends with Staying Power
The analysts pointed out clean beauty products with free-from formulations and decks stacked with natural ingredients stand out in the market, and emphasize there will be a focus on sustainability in every nook and cranny of the supply chain moving forward. Spagnuolo said demand for unisex items, and products designed for all ages and shade ranges is escalating. Consumer interest in rituals, including those involving skincare tools, rooted in beauty as a vehicle for self-care isn't disappearing. 
"There's an emotional approach to skincare routines now because it's actually something that they are doing for themselves to feel good," said Spagnuolo. Data-fueled customization has been trending, and it's momentum isn't projected to slow as "ph-igital" or physical and digital diagnostics solutions like personalized formulas determined by combining consumer and clinician inputs become more sophisticated. If customization becomes the norm, the value of extensive beauty assortments could decline, and the draw of shopping in person at multi-brand retailers could diminish. 
"The fact that, in Zoom, I can actually apply a lipstick filter is interesting," said Spagnuolo. "Does that mean that I'm less likely to buy lipstick at the store if I'm doing a large portion of my work remotely?"
To watch a replay of last week's episode of Beauty Independent's webinar series and others visit our In Conversation library.