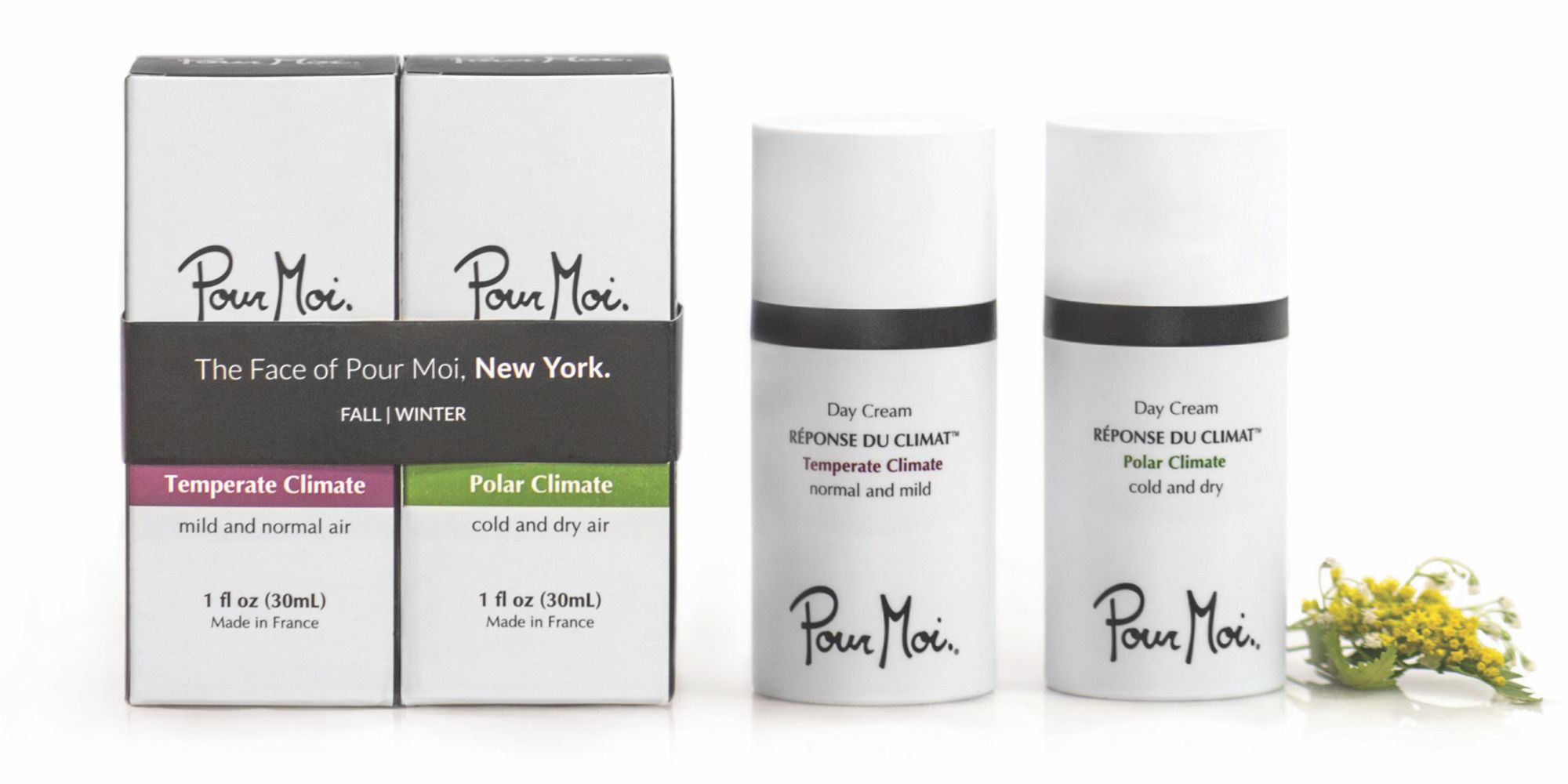 Pour Moi Brings Premium Product At Attainable Prices To Climate Conscious Millennials
After a year rife with natural disasters, Pour Moi founder and president Ulli Haslacher feels the world is ready for her brand's climate-smart skincare.
"We have the wildfires here [in California]," laments the Vienna, Austria native. "We've lost some of the most amazing wineries and landscapes. It's horrific what's going on this year. Why [do] I think climate is so trending with the consumer? Well, everybody is affected by it. You can't ignore it. All this controversy that has come up about climate within the U.S. has really helped the trending of the subject." Though Haslacher has worked in the beauty industry since moving to the U.S. at 27, it wasn't until this summer that she launched premium skincare brand Pour Moi at the New York edition of Indie Beauty Expo. Beauty Independent spoke to Haslacher about the beauty industry's reluctance to embrace new ideas, the painstaking patent-filing process, landing at Neiman Marcus a few weeks post-launch and why it won't be her face you'll see representing Pour Moi on QVC.
You've been in the beauty industry for a while. What made you start your own brand now?
The leap for me was two things. There really was no premium skincare line that really targets the millennials and what they can afford. Really good skincare seems to be unnecessarily so expensive that you need to turn a certain age before you can afford it, and it shouldn't be like that, because it really does make a difference. Secondly, my background, from my father [a chemist], I've always been into surfaces and how they are affected by climate. I had this theory a long, long time ago that I felt the impact of the climate, where you are in the world and what season it is affects skincare.
I found a real ignorance in the business about dealing with new ideas. Everyone wants to do the same thing again, let's do another ingredient. A real shift in thinking is often not welcome because it costs a lot of money to educate the consumer. That's what everybody's afraid of. So eventually I decided to do it myself, because I felt it was a big idea. There is so much proof in medical journals all over the world that skincare functions change, the way the skin stays moist and flexible, varies in different climates. That's absolutely proven. And skincare really affects the surface of the skin. I know everybody's always talking about the derma, but it would [have to] be a drug that gets absorbed by the body, otherwise it cannot get into the derma. What we are really dealing with in skincare is the epidermis and the upper part of the epidermis. Then there's the skin barrier. What skincare should do is promote a healthy skin barrier and visibly influence the appearance of the surface of the skin, but it has to be in harmony with the climate [the skin] is actually facing. So if there's humidity in the air, take advantage of it. If there's no humidity in the air, you need a completely differently formulated everything. That's where the idea [for Pour Moi] came from, that skincare should work every day, everywhere in the world. We're in the 21st century, we can fly to the moon, I don't know why skincare can't work everyday.
"I found a real ignorance in the business about dealing with new ideas. Everyone wants to do the same thing again, let's do another ingredient. A real shift in thinking is often not welcome because it costs a lot of money to educate the consumer. That's what everybody's afraid of."
It's that simple, but I've found that it's in one way too simple. The truth is, it's the base, the hydrator, that is used. It's the base of the product, how it's manufactured, that will really give you what you need in [a] climate, because skin is constantly adjusting to climate. Skin changes when you change climate, and there's no skincare ingredient that can adjust with every climate. What I've experienced myself, what I know from everybody else, plus all the medical journals, is that skincare does not work consistently if you do not change it according to climate. And it was so interesting that the industry thought it was too simple, but at the same time too complicated to educate the consumer on it. Also, people felt that climate didn't matter to the American consumer, which I completely disagreed with. As an industry, they felt that Americans don't really think about climate as much as maybe people outside the United States do, and I disagreed with that. Everybody I knew was very aware about climate.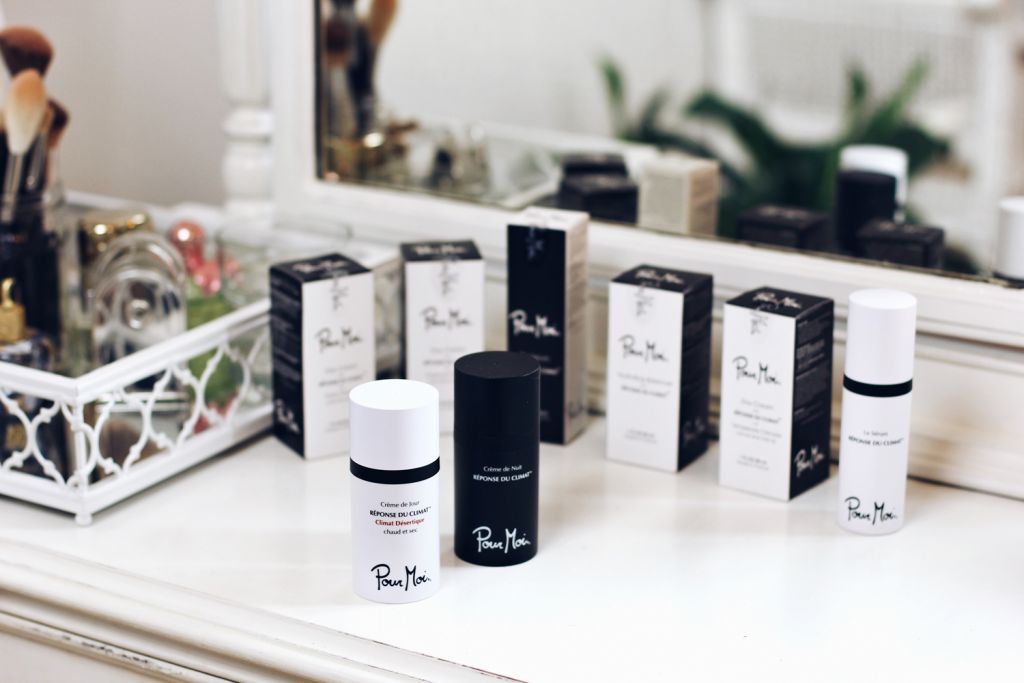 What was a roadblock you came up against in launching Pour Moi?
When I started out and I did all this research, I filed a patent for the method of changing skincare when climate changes, a method utility patent. Initially, I got what's called highway with the patent office, that they would rather quickly approve the patent. But then they still made me go though all the hoops. It also took five years before we were able to come out with the brand, just to follow the procedures today with the internet, where you cannot go out before the patent office completes [its] review. They [the patent office] really tried to find more and more time to find something that would have been a problem. It took longer than I initially thought, and when you have a lot of money invested, it was a long time to wait.
Is Pour Moi self-funded? How much has it cost to get the company launched?
We are majority self-funded, but we do have two strategic investors. So far, we are close to $3 million that has been invested so far, and that mainly has to do with the patent filing all over the world. We already have the patent in Israel, it's already published there. Same thing in Argentina, same thing in South Africa. We spent a lot of money on law firms all over the world. That was a big investment, but I felt, with a small company, when you come out with an innovative idea, you have to protect it, because everyone moves very quickly. You cannot compete with the big guys. That's what I've found. I was involved with a lot of people with very innovative ideas, and [it] ended up, in almost every case, that eventually they couldn't find enough money quickly to compete. So if you showed any traction in the marketplace, the big companies just took it over. That's why the Indie Beauty Expo is an amazing thing, because it drives awareness to the small brands, and then people want to have these small brands. It shifts the thinking. It's changing something that needed changing for a long time. It's supporting the smaller companies so the consumer is now saying I don't want a big company, I want a smaller company. That's an amazing trend in beauty that Indie Beauty [Expo] has taken to another level. It cannot be stopped anymore.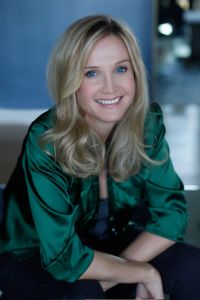 What's your retail strategy for Pour Moi?
The plan is to find key specialty retailers. That is why Neiman Marcus was so amazing for us. Pour Moi launched at Indie Beauty Expo New York and within six weeks we were in Neiman Marcus. This is unheard of. I've been in the retail business for a long time. I don't know of anybody else who has a story like that. It takes a long time to get into retail. Also, personally, I love Neiman Marcus. When I got my first real paycheck, this [Neiman Marcus] is where I went to buy my first expensive skincare. So now having my brand at Neiman Marcus, it's like a dream come true. 
We want to keep retail small. We don't want to be everywhere. We want to be smaller, and be found. We want to drive most of our sales from our website, we want to sell directly. That's the only way to keep this affordable to young women, because otherwise, the truth is, when you create premium skincare for retail to be sold everywhere, it has to be double the cost. That's just how it is. Otherwise you [the brand] can't afford it. The distribution for retailers is very expensive. So what we did, as of October 1st, Molly Nover-Baker joined us. She was previously the beauty director for Women's Health Magazine. She's now the editor in chief of Beauty Forecast, our blog, and we're going to be dedicated to educating women about climate, skincare and skin, how it's all interrelated, how it works, what you need to care about. So we are trying, through education, to drive women to our website and sell online, to keep the cost low.
She's going to go on TV for us now. We're with a big PR firm, but you can have a big or small [PR firm], if you don't have newsworthiness they can't help you. But because we are so unique we have been in Shape, Real Simple, Marie Claire, People Style [Watch]. We've gotten a lot of traction from the editors because they've never seen climate smart skincare. They have really included us in a nice way. Now we have gotten a lot of inquiries from the morning shows to come on. Climate is trending. There's no question about it. People are talking about the climate, talking about the effects and looking for products that are climate related. Climate and skincare is something that is absolutely new, so we are getting really good opportunities. She [Nover-Baker] will be the face, but what we wish for our brand is to go on HSN or QVC, hopefully. That will be an incredible way to educate. [On home shopping] you can tell your story, you can explain, and our brand does have a lot of content around it.
So you won't go on air at QVC for Pour Moi?
No. [Laughs.] That would be Molly Nover Baker. She was on Dr. Oz and the morning shows, I think consumers are already familiar [with her]. She was with Women's Health for over eight years. She's such a good communicator and that's what you need with interesting content that's educational. She's the right person. She's seen everything, as a longtime beauty director — what works what doesn't work. She has a different perspective that really helps to educate [the consumer].
Pour Moi already has over 33,000 Instagram followers. How did you build your following so quickly?
We started [on social] a year-and-a-half before [our products] were even for sale. Social media is a great way to pre-market because you can try different things. The way we finalized our formulation had a lot to do with consumers trying them. We did a pilot run of about 1,000 units of each of the products and gave them to influencers that contacted us and said they would try the products and post about them. Because we gave it [the product] away, it was not for sale, it was so much more interesting to the influencers to talk about it, and we literally grew through this process of having people try it and talk about it with their audience.
What's your stance on discounting?
We haven't had to run any promotions because we're getting enough organic sales. We already sell for the most inexpensive price possible because I want everybody to afford prestige skincare that you usually buy for hundreds of dollars. How people think of discounts, they use retailers and it always comes out tremendously expensive. At the end of the day, the [brand] only makes a portion of that money. I wanted a model to cut all this out in between and give it to [the customer] for the best price possible.
Amazon — yes or no?
We are not on Amazon now, but I am not against Amazon. The reason why we are not on Amazon is because we want to be on the shopping networks, and the shopping networks do not like Amazon. So, strategically, we are getting ready to present to the shopping networks, and so I wanted to wait.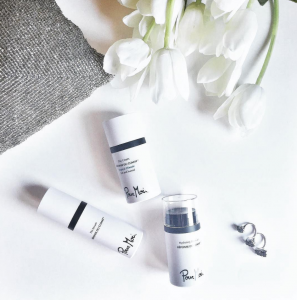 If you could get Pour Moi products into anyone's hands, who would it be?
Definitely somebody that travels a lot, someone who has traveled the world, like Melinda Gates. She travels the world, to Africa, to Asia, and she does so much good. The Gates Foundation is amazing. That's somebody who could really benefit from my skincare. She also lives in Seattle which is a very challenging climate. She's not a millennial, but she travels the world, is always in different places, does good, so I think she'd see tremendous benefit. I think she would love to get some good skincare.