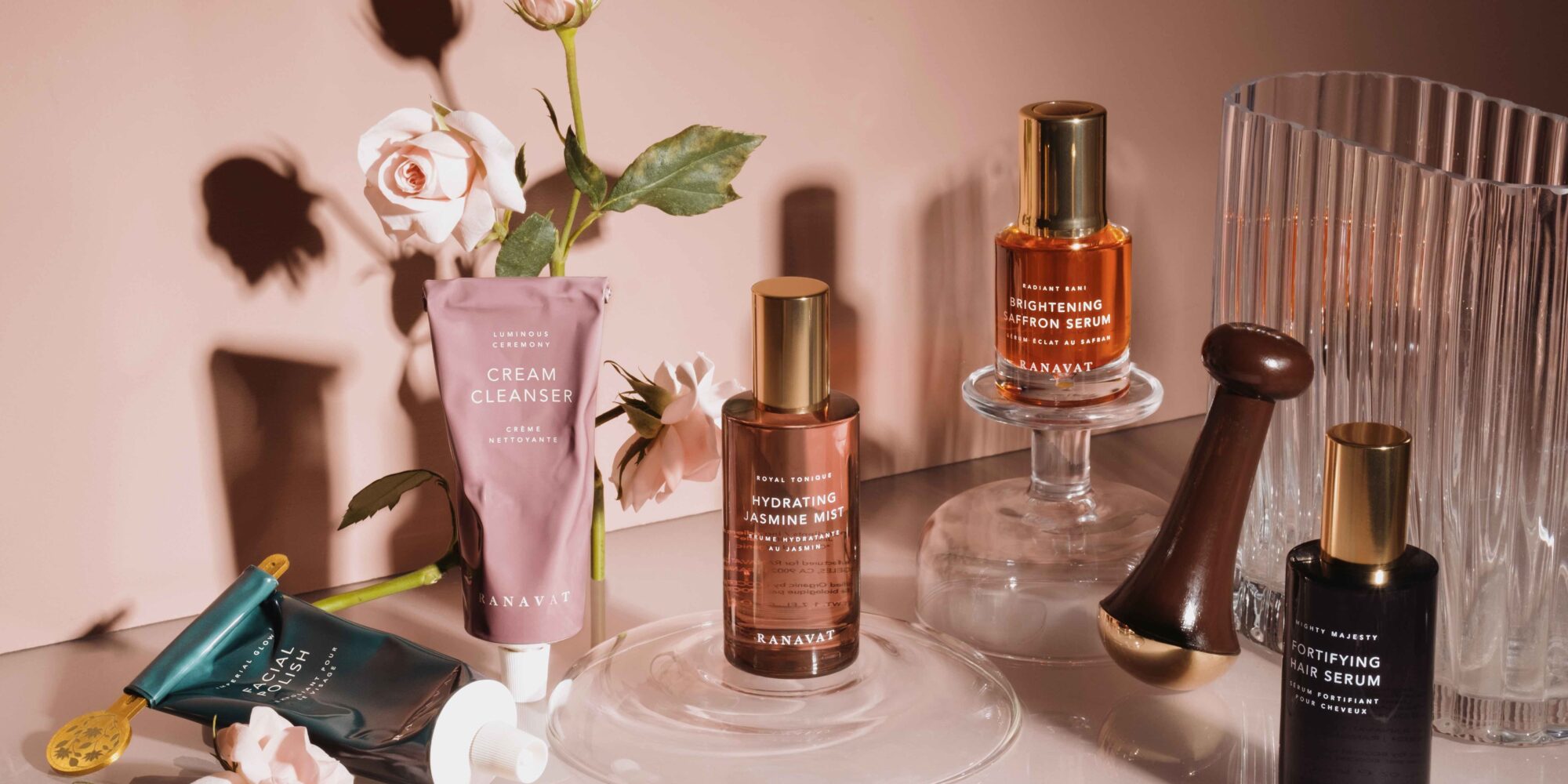 Ranavat Elevates Its Packaging, And Enters Bluemercury And Free People
Nearly three years into the life of Michelle Ranavat's namesake Indian-inspired brand, the pandemic forced the busy beauty entrepreneur to stop an incessant stream of in-store events and in-person meetings. The stoppage enabled her to turn her full attention to giving Ranavat packaging that speaks to its future.
"It's interesting that, during those days of more intense isolation, I was thinking really creatively," she says. "So many times, you're like, 'I have a meeting,' and you might have one or two hours to really think. At that time, I wasn't running around. Somehow, this moment of calm was a way of clearing out my schedule so I was able to focus on this."
That focus has paid off with a new look dialing up Ranavat's modern take on ancient Ayurvedic rituals and intentional ingredients. The brand moved from primarily white boxes to embossed deep green boxes with closure stickers on them reading "claim your crown," and from dark glass bottles with labels to clear screen-printed glass bottles to reveal the vibrant colors of its formulas. It tweaked product names to highlight what's inside the bottles as well. For example, Radiant Rani Serum has been changed to Brightening Saffron Serum to spotlight the reparative saffron that constitutes 5% of its formula.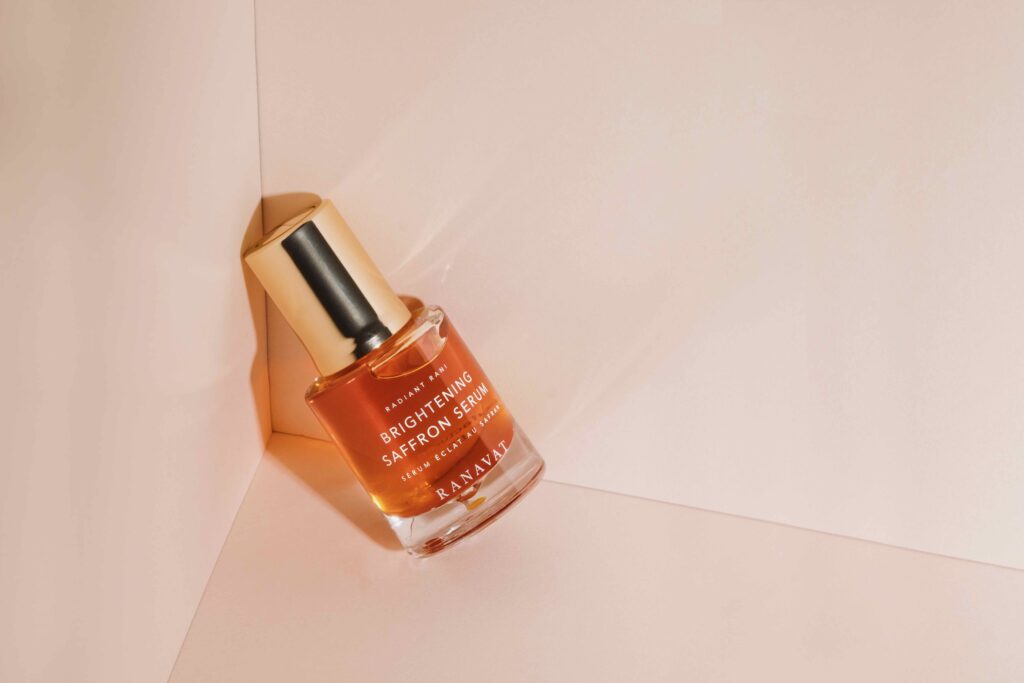 "The idea of the elevation was to really tell the story a little bit more eloquently through the packaging," says Ranavat. "Now that the formulas have been around for three years, it was time to invest in the packaging and take the brand one step further." Referring to Brightening Saffron Serum, she continues, "It communicates the efficacy of the product by seeing its golden color and having it against a solid backdrop of the green boxes makes it pop. It's about scaling it back from a visual standpoint to be more elegant."
Elegance doesn't require exorbitant expense. Ranavat stayed away from costly agencies in the rebrand and spent $10,000 to $15,000 on the design. The brand's scrappiness allowed it to not pass on steep price hikes to customers. Radiant Rani Serum was $90 for a 20-ml. size and the updated Brightening Saffron Serum is $135 for a 30-ml. size, but the prices of other products haven't gone up above $5. They range from $20 to $135. Ranavat says, "The product is not changing. It's the same product you love and have been purchasing, just elevated in terms of the look."
In April and May, Ranavat started informing her brand's retail partners of the revamp. She says it was important to keep them in the loop. Although Ranavat is confident the refresh will improve business, she's not sure exactly how much it will lift. "I want to put my best foot forward in the packaging and, whatever incremental investment it takes, I don't think, 'Oh I have to make X amount off of it.' I really believe in this idea that, if I can communicate the story in the way I want, the rest of it will come," she says. "Do I expect sales to increase? Yes, I do because this is going to tell the story so much more, and I've seen it resonate."
"Now that the formulas have been around for three years, it was time to invest in the packaging and take the brand one step further."
Ranavat is telling its story in a greater number of retailers. It recently added Bluemercury, Free People, Standard Dose and Secret Skin to a retail network that includes Credo, The Detox Market, Beauty Heroes, The Indie Shelf and Neiman Marcus. Ranavat says her brand's largely gen X and millennial customer base is varied, and its retail roster reflects that. She elaborates the customer base has strong contingents of South Asian consumers, clean beauty enthusiasts and luxury shoppers.
"Free People and Bluemercury are very different retailers. They have different customers, and that makes me really happy because it shows Ranavat is for everyone. That's been something I've been passionate about," says Ranavat. "When you think about K-Beauty, you don't think it's about Koreans only. When you think about Indian beauty, there may be more hesitancy around it because Americans aren't as familiar with it, but I think launching at Free People and Bluemercury—retailers with different vibes—shows that it and Ranavat have a lot of versatility."
Ranavat currently has seven products: Brightening Saffron Serum, Royal Tonique Jasmine Hydrating Mist, Fortifying Hair Serum Mighty Majesty, Luminous Ceremony Cream Cleanser, Illuminate Tea, Kansa Wand and Imperial Glow Facial Polish, its latest release. Brightening Saffron Serum is the bestseller judging by dollar volume, but contends closely with Fortifying Hair Serum Mighty Majesty and Luminous Ceremony Cream Cleanser for the top spot judging by unit volume. Next up for Ranavat is skincare expansion followed by haircare and hygiene extensions. Ranavat is dreaming up several Ayurvedic lifestyle products to reinforce the brand's philosophy of age-old practices being relevant to contemporary existence.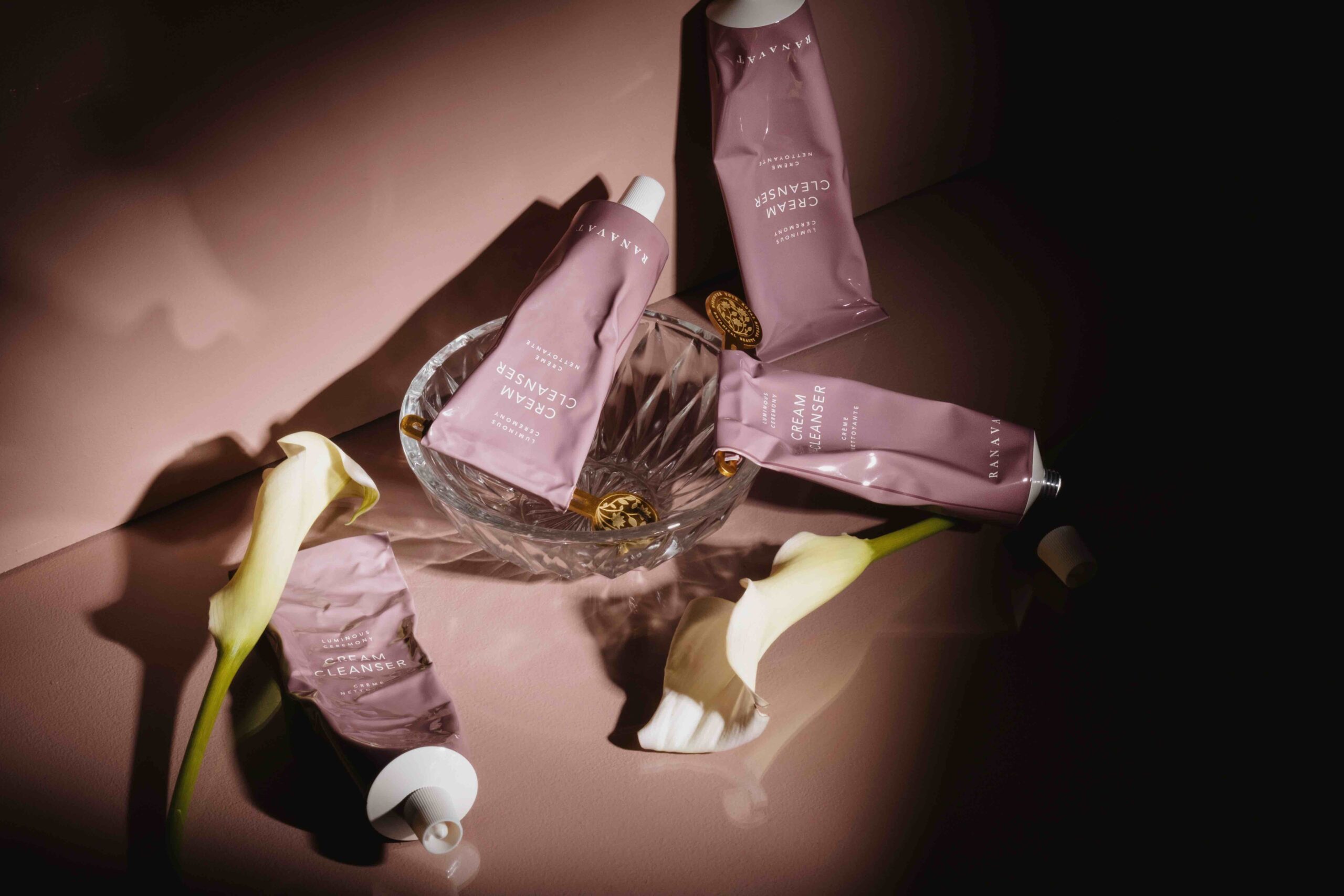 In March and April as the coronavirus took root in the United States, Ranavat had among its biggest months ever for sales. Prior to the pandemic, its sales were roughly evenly split between its direct-to-consumer channel and wholesale accounts. After the crisis hit, Ranavat's DTC platform drove 60% of sales. The brand doubled down on its digital presence with a "Claim Your Crown" IGTV series featuring Ranavat interviewing influential people. Early on in the pandemic, she held 30-minute consultations to educate customers via Zoom on Ranavat's products and the rituals they can perform with them. She anticipated as little as three people signing up, but 60-plus people did.
Ranavat asserts the trends that helped raise the brand's sales amid the pandemic aren't going away, making its prospects bright. "People want to be healthy as much as they can. They know that stress surfaces in many ways, and the idea of mind and body is resonating with them deeply," she says. "There's also this idea of escape. When people are using these products, some of them think of different locations, which is great. They just take you somewhere, and make you feel more connected through the textures, scent profiles and history behind them."