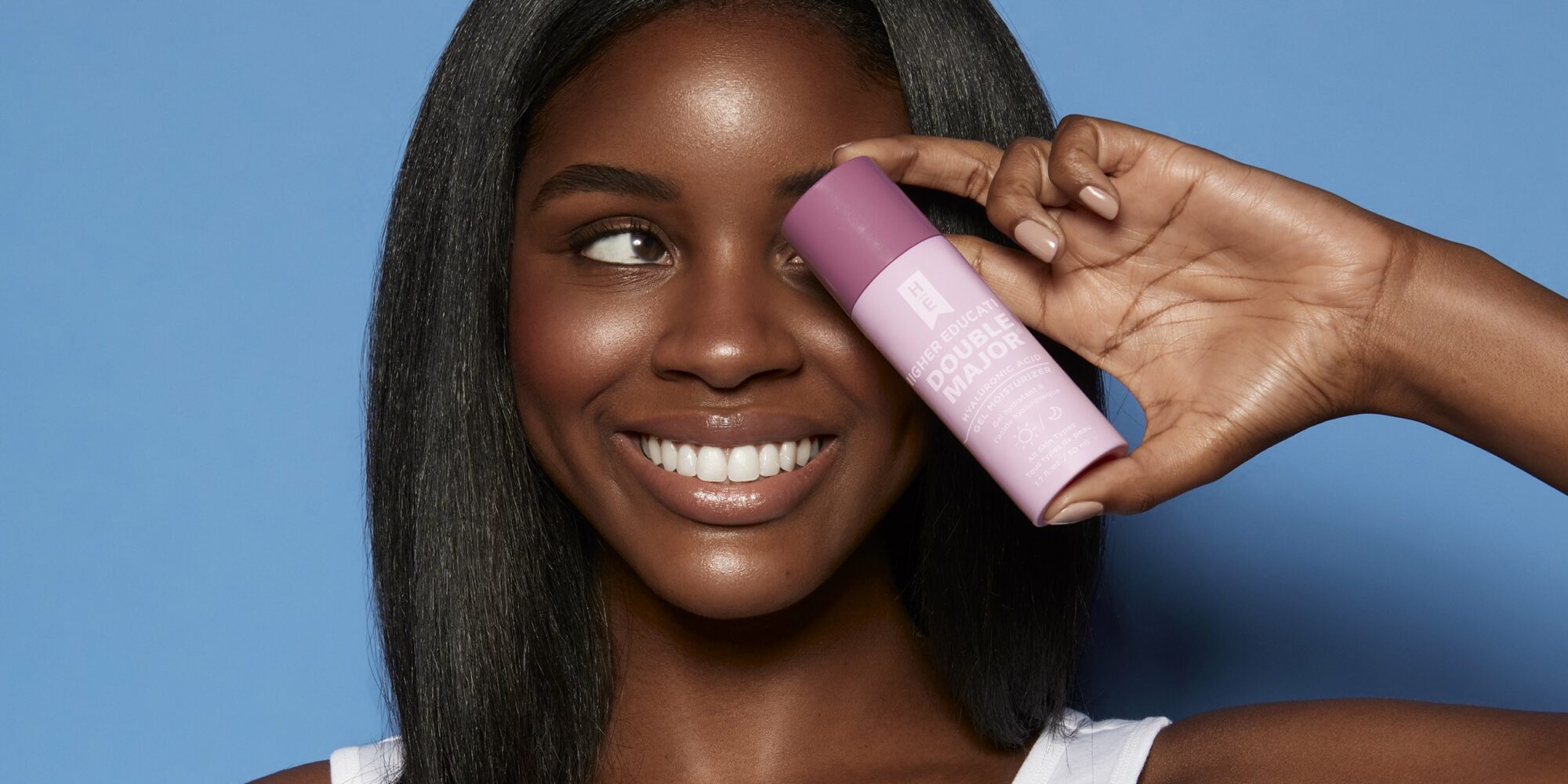 As Students Return To School, Gen Z Brand Higher Education Skincare Has A Vibrant New Look To Entice Them
Higher Education Skincare has a new look to wow the co-eds returning to college campuses.
Launched in 2018 before gen Z beauty caused a big to-do in the beauty industry, the brand aimed at 18- to 29-year-old consumers has brightened its previously light blue and white packaging—its bottles and jars are now splashed with vivid pinks, blues, oranges and greens—to enable it to pop on shelves, and in e-commerce and TikTok videos. It's also lessened its environmental footprint for younger consumers increasingly thinking about the earth when it comes to purchasing decisions by switching to around 75% post-consumer recycled (PCR) materials.
"Every product has a different colorful packaging design. The reason we did it is we thought it would be fun and our demographic would like it—that's the cornerstone of the redesign," says Higher Education Skincare CEO and president James Headley. "Along the way, we improved about seven products to make sure they're vegan and clean. The line is clean, nontoxic and vegan." He adds, "We are on a quest to eventually be totally sustainable. Part of the problem with sustainability in skincare and cosmetics, though, is there's really no clear definition of what it is. As we evolve, we may never be completely PCR, but we will be as close to it as we can possibly be."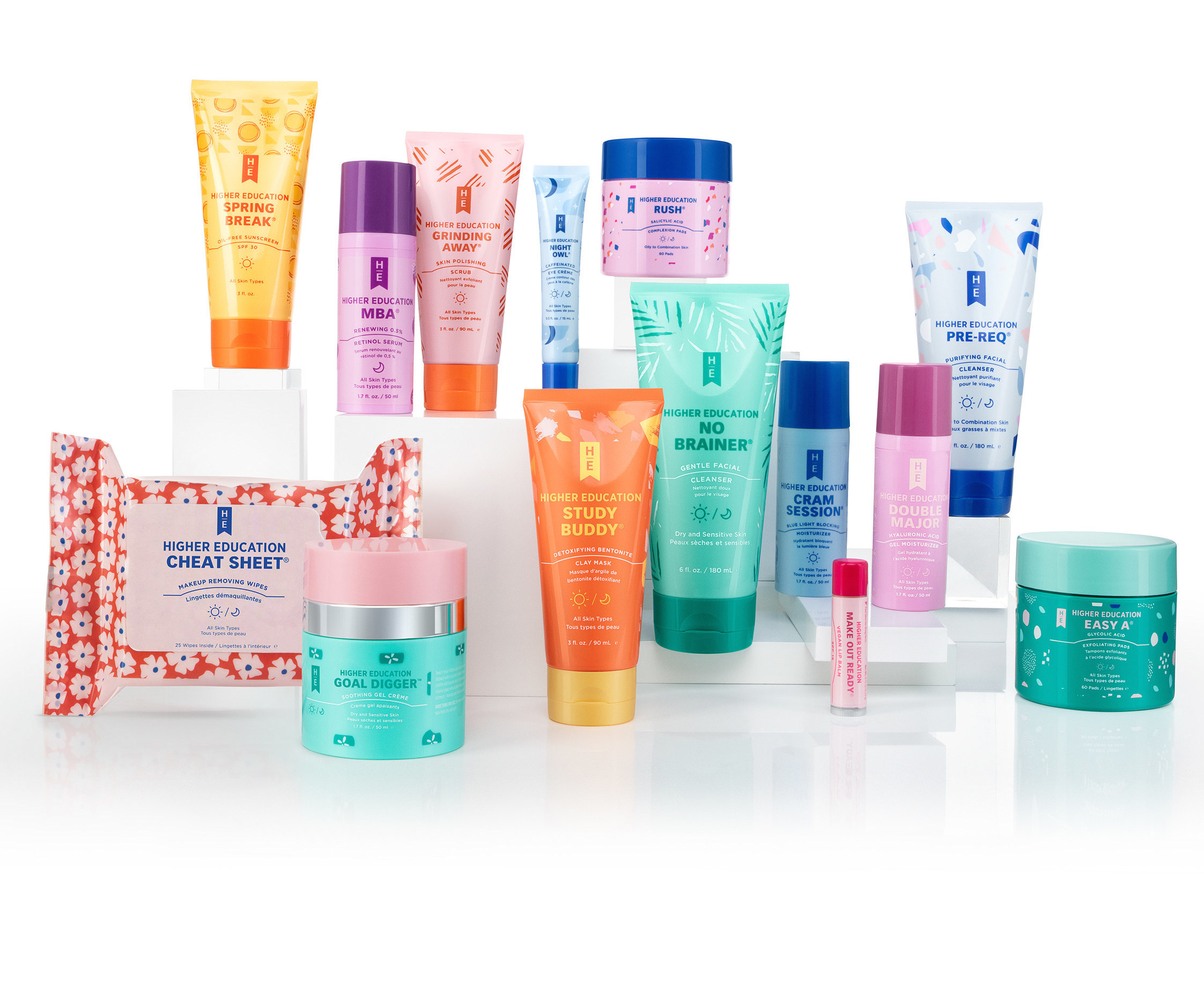 Higher Education Skincare hasn't changed its product assortment with the rebrand. The assortment is based around regimens epitomized by its three Power of 3 kits priced at $39. The Power of 3 kit for combination skin contains Pre-Req Purifying Facial Cleanser, Rush Salicylic Acid Complexion Pads and Cram Session Blue Light Blocking Moisturizer. The Power of 3 kit for sensitive skin contains No Brainer Gentle Facial Cleanser, Easy A Glycolic Acid Exfoliating Pads and Goal Digger Soothing Gel Crème. The Power of 3 for oily and acne-prone skin contains Pre-Req Purifying Facial Cleanser, Rush Salicylic Acid Complexion Pads and Double Major Hyaluronic Acid Gel Moisturizer.
Higher Education Skincare's individual products are priced from $9 for Make Out Ready Vegan Lip Balm SPF 15 to $52 for MBA Renewing 0.5% Retinol Serum. The brand did a ton of competitive research to land on prices acceptable to gen Z consumers. Comparable to Glossier's Universal Pro-Retinol, MBA Renewing 0.5% Retinol Serum is formulated to be an entry-level retinol product for consumers seeking to elevate their skincare games while avoiding the irritating effects of souped-up retinol products intended for older consumers. Applicable to a wide variety of regimens, Higher Education Skincare's $12 Cheat Sheet Makeup Removing Wipes is its bestseller.
"We are on a quest to eventually be totally sustainable."
"There are many retailers pulling makeup removers from their shelves because of the lack of sustainability. We know that ours stand out because they are effective and because they are sustainable. They are biodegradable and compostable," says Emily Wollenman, VP of education and specialty accounts at Higher Education Skincare, and former sales and education executive at Tata Harper and Chanel. "Gen Z loves their quick and easy wipes on the go." She continues, "We know that this customer is not loyal to a specific brand. What she is loyal to are products that are effective and deliver the results that they are promising. Our ingredients and formulas deliver on what they say they are going to do."
College bookstores have been central to Higher Education Skincare's distribution strategy. In the United States, women constitute roughly 60% of the students at institutes of higher education, which are hubs for gen Z, a generation that overindexes as beauty enthusiasts. As the pandemic hit the U.S. last year, however, colleges scaled back in-person classes, and college bookstores largely closed. In the summer this year, as colleges began to plan for the resurrection of in-person classes, Higher Education Skincare appeared in 30-plus college bookstores. It has its sights set on expanding its college bookstore reach, and the goal is to ultimately place the brand in key brick-and-mortar retailers such as Ulta Beauty, Neiman Marcus, Nordstrom and Sephora, too. Already, it's rolled out to department store chain Von Maur. International distribution is an objective as well, and Headley is targeting for it to constitute 20% of sales.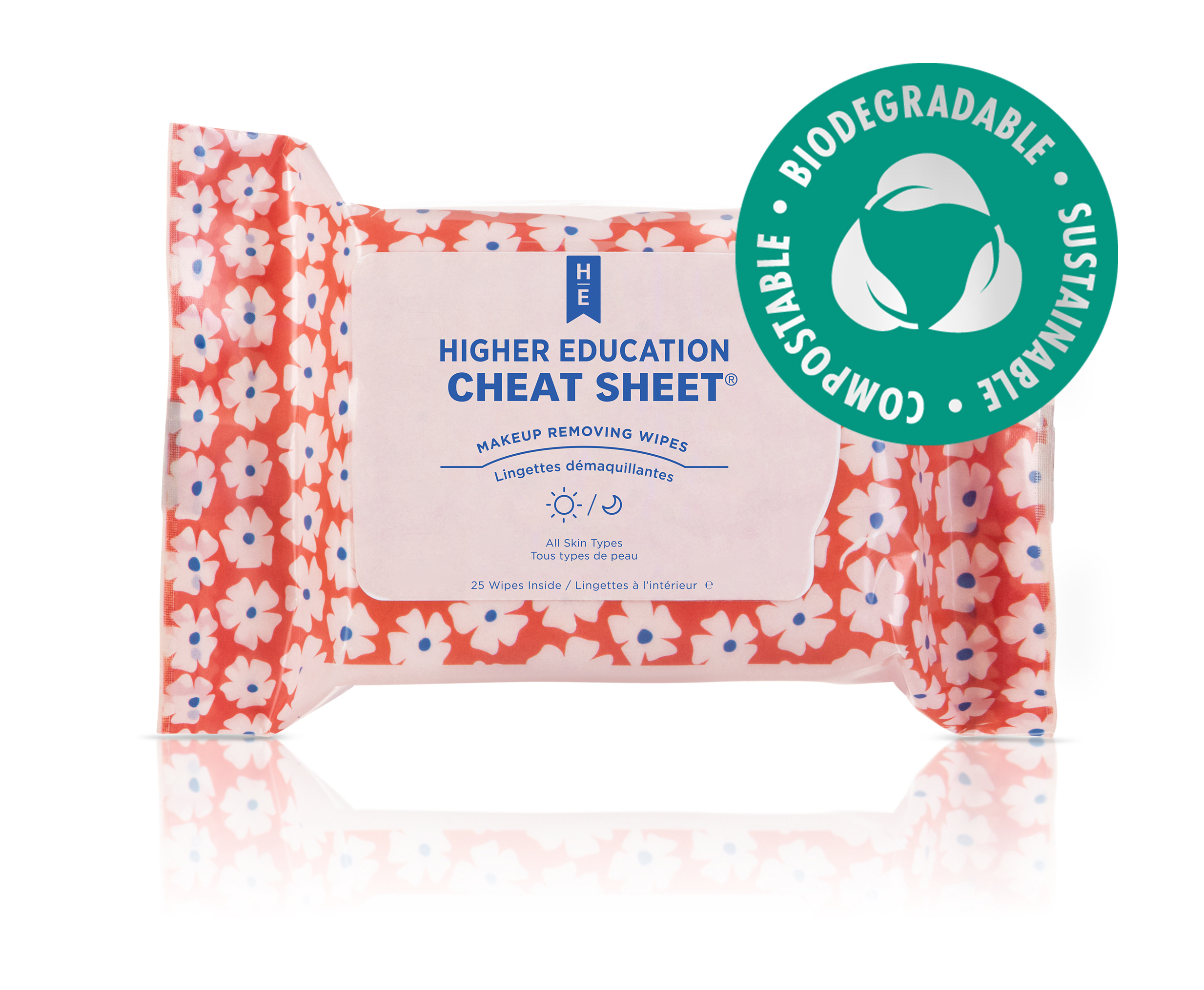 Direct-to-consumer distribution is important to Higher Education Skincare, and Headley details the brand will be investing in advertising on Facebook, Instagram, Snapchat and TikTok to ramp up DTC sales. To draw people to purchasing online, Higher Education Skincare has a digital skin analysis feature powered by Revieve to guide them to routines that are right for them, and it offers a $5 set with samples of Study Buddy Detoxifying Bentonite Clay Mask, Double Major Hyaluronic Acid Gel Moisturizer, Spring Break Oil-Free Sunscreen SPF 30 and Pre-Req Purifying Facial Cleanser for consumers to try the products without committing to full-size items.
"At the beginning of 2019, we implemented a group of very experienced and talented sales specialists to service the bookstore locations, the same kind of freelance sales support you would see in retailers. We saw exponential growth in a very short period of time, but that unfortunately came to a halt," says Wollenman. "For us, the blessing in disguise of COVID was that it gave us time to really step back, assess the brand and make changes to engage consumers. With the university bookstore business looking similar to what we would consider business as normal in the university space, it's a perfect time for us to bring in the new packaging."
"This generation wants to know where their dollars are going. They want to know the brand from a 360-degree perspective. We are confident we are checking all their boxes."
Higher Education Skincare is the brainchild of aesthetician Deb Nash. When her two daughters entered college, she couldn't find skincare products available they were smitten with that suited their unique skincare concerns. She figured she could tap her experience (in addition to being an aesthetician, she manufactured and sold collegiate apparel) to fill the gap she spotted in the skincare category. Drawn to the potential of the gen Z market, Headley, former president of Genesis Pharmaceuticals, president and CEO of Obagi Medical Products and VP of sales for Ralph Lauren Fragrances, joined Higher Education Skincare in 2017.
"We created all the products from scratch. Deb, the founder, felt we needed products and ingredients specifically for the demographic," says Headley. "So, she went out and formulated products with ingredients she thought would work best for their skin. We created 14 products. We own all the processes and formulas. Then, we decided to create fun names. All of the names are very gen Z and collegiate."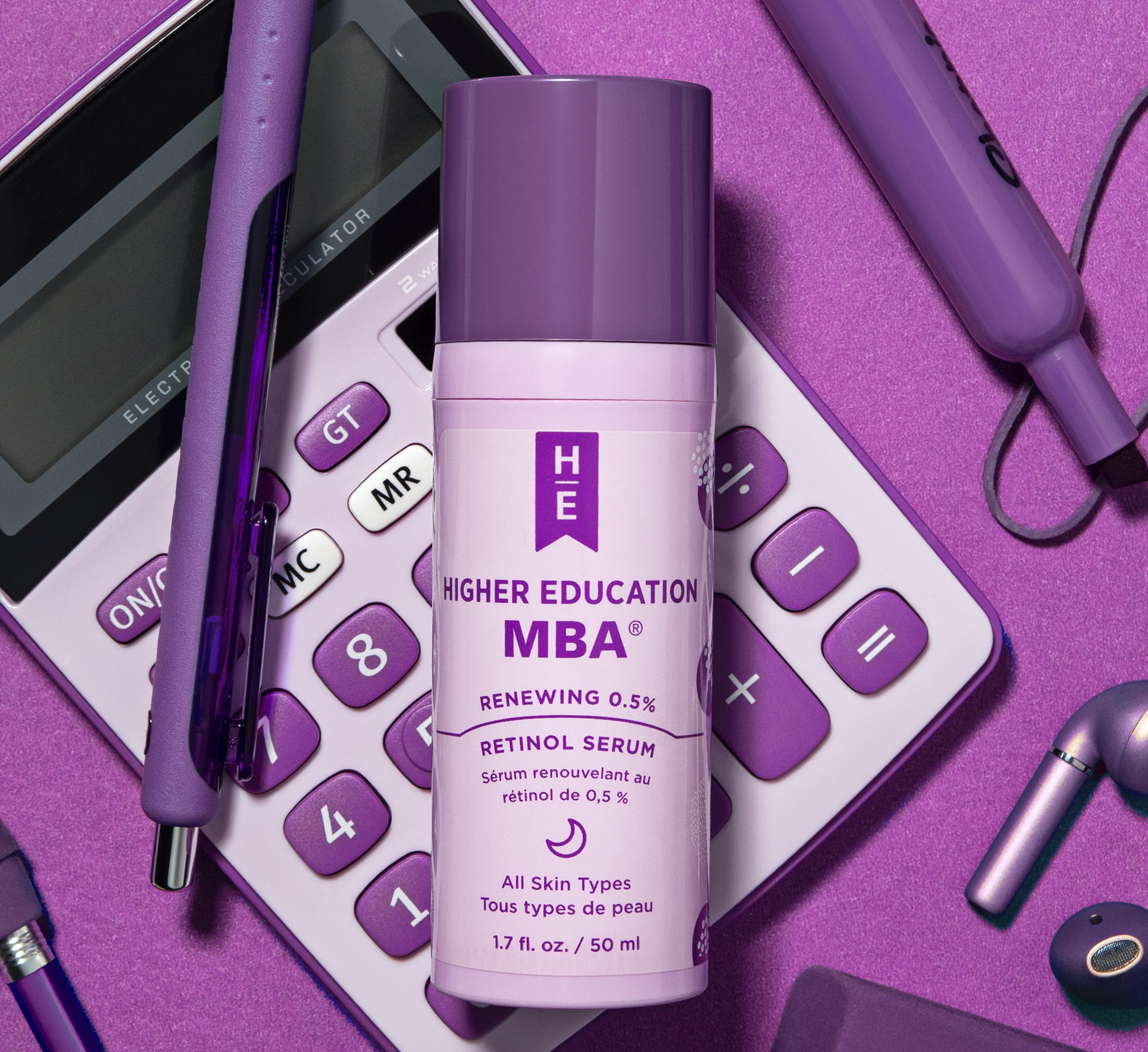 On top of its sustainability drive, Higher Education Skincare supports the organization Ocean Conservancy's Champions for Sea Change program to protect the oceans and partners with SEO (Sponsors for Educational Opportunity), a nonprofit that mentors and provides career development assistance to historically excluded communities nationwide.
"To gain the attention and buy-in of this consumer, who is very discerning, it's not just about incredible products and visible results—of course, those are things that have to be done to gain loyalty—but there are so many boxes you have to check. You need to be clean and nontoxic. You need to be vegan. You have to have an ethos and heartbeat as a brand. It's not just about buying skincare and putting it on your vanity. This generation wants to know where their dollars are going. They want to know the brand from a 360-degree perspective," says Wollenman. "We are confident we are checking all their boxes."