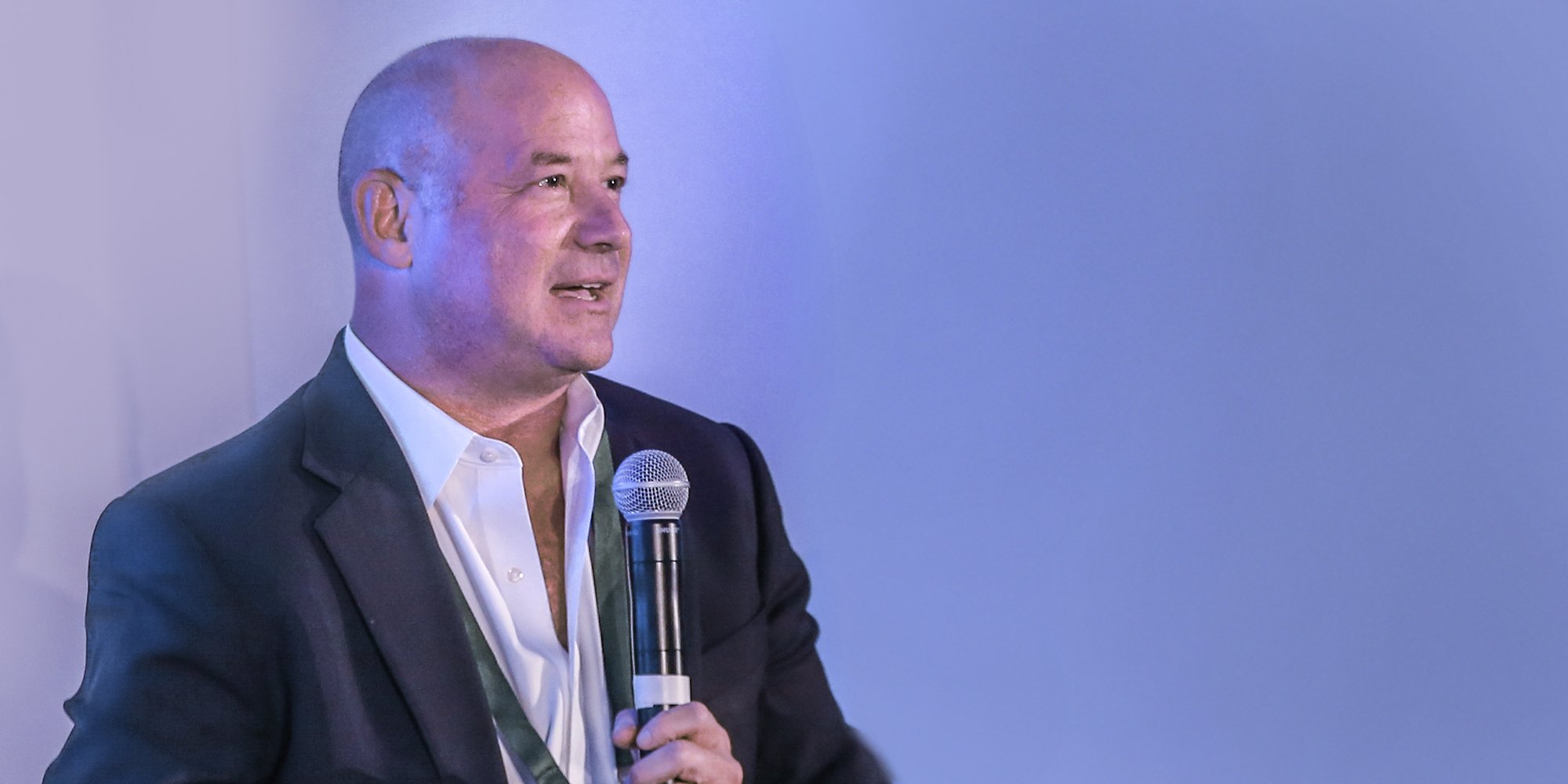 Rich Gersten On His New Firm True Beauty Capital And Finding Investment Opportunities In A Challenging Time
Last year was a record-breaking one for beauty investment. According to Capstone Headwaters, there were 148 personal care deals, up from 118 in 2018. 
Big-name targets such as Tatcha, Drunk Elephant and Elemis fetched jaw-dropping sums of $500 million to $900 million, and plenty of smaller brands like Herbivore, ZitSticka and Beekeeper's Naturals 
received cash infusions. 
Early signs pointed to 2020 continuing apace. In the second week of January, clean color cosmetics brands Kosas and Ilia both revealed new funding rounds. The industry had its eye on rising stars like Moon Juice, Milk Makeup, Pat McGrath Labs and Glossier as possible strategic pickups or IPOs at hefty valuations. In mid-March, though, beauty M&A ground to a halt when Americans woke up to
 the severity of coronavirus, which had already been roiling Asia and Europe. Within two weeks, most U.S. business was at a standstill, where it predominantly remains. 
The conditions may not be ideal for launching a private equity firm specializing in emerging beauty and personal care businesses, but, if anyone can ferret out quality opportunities in an uncertain market, it's Rich Gersten. The veteran investor recently departed Tengram Capital Partners and formed True Beauty Capital, a firm focused on budding beauty brands requiring injections of less than $10 million. 
Beauty Independent caught up with Gersten to discuss what he's looking to accomplish through True Beauty Capital that he couldn't accomplish before, his new company's partnership with private equity outfit North Castle Partners and, of course, the impacts of the pandemic. 
Why did you choose to strike out on your own with True Beauty?
The idea around True Beauty and creating my own entity was to allow myself to be more opportunistic and have less constraints than I could being a partner in a fund. The way I think about it ultimately comes down to capital and resources in terms of how everything is pursued. I want it to be able to invest in things I thought made interesting investments regardless of their size and stage. In the past, I've been constrained by not being able to do smaller stuff because the funds had minimum investment amounts as part of their mandate and criteria. In theory, I don't have those types of constraints anymore, although I have other types of constraints. 
In the near term, I think my time will primarily be spent working on my portfolio companies with Tengram, which was an important part of this transition for me. I wouldn't have wanted to not maintain those. It's important for me to be able to maintain those relationships and fulfill my obligations. With North Castle Partners, any deals that involve $10 million or more, I'd bring to them on an exclusive basis. They make a good partner for me because I was a partner there for nine years. I know the people, the culture, the process, and the types of things they're interested in line up well with me. 
The things I haven't been allowed to do in the past because I was a partner in a fund are being an advisor to a business [and] sitting on the boards of a business. I get asked that very frequently. It's something I don't think I can spend the lion's share of my time on because I have other responsibilities and other, better ways of creating value for myself, but I don't have the constraints on those [anymore]. I've had a couple of conversations with brands who are potentially interested in me joining as a board member and maybe following that up at some point in the future with an investment. Those things can also ultimately feed the investment side of the business. 
What size deals will True Beauty be looking at?
Any investments that are less than $10 million. There's no current home for those. I can do a couple of things there. I can find another partner for those like I have for the larger ones with North Castle. I can try and do a couple [deals] early on by functioning as an independent sponsor and reaching out to my network to get funds raised for those deals [that will] be smaller by definition or, some point down the road, think of raising a small fund just to do those. That would involve me building out a team and infrastructure, and likely identifying someone to build and run that effort for me. 
Historically, I haven't been thought of for those small rounds. I've met lots of founders who are in that size range that haven't thought of me for investing, and I've passed up interesting opportunities in my past to do smaller deals because I'd never been allowed to do them. The creation of True Beauty Capital hopefully allows me to exploit any opportunity in the beauty space within reason that I think is interesting because the constraints or mandate requirements of the fund have been removed.
North Castle has the right of first refusal with the $10 million and over deals. What if they want to pass on a deal?
Let's not look at a sample size of one. If I bring them a couple of deals and it turns out they don't like the things I'm bringing, I assume, at that point, there's a problem with the partnership. Then, we'll move on. I'm not anticipating that. It's a part of why I wanted to partner with them. I think partnering with a firm I didn't have that type of preexisting relationship with would have been far more risky for me in terms of appetite and desire. 
I led investments in three beauty brands in my last five years at North Castle. All three of those ended up being very successful investments. Two of them were sold before I left, and one of them was sold after. In the 12 years I've been gone, they've made one investment in the [beauty] industry. Meanwhile, in the last eight years at Tengram, I made eight investments in [beauty]. The view was, whatever I would bring to them will likely be incremental to what they would be doing on their own, and I think having done deals in this space there before it makes it a little less risky.
Are there certain subcategories within beauty and personal care you are particularly interested in?
I would say no. Clearly, I'm going to prefer things that have a growth trajectory and are on trend. Things that are way out of favor would likely be less interesting. With that said, tell me what the next six months look like. If any of us had the crystal ball and it gave us the right answer, we'd be in different jobs. 
There's a lot of uncertainty. With uncertainty comes enormous opportunity, and I wouldn't preclude myself from any of that if I thought it made sense. I have a history of investing in more luxury or premium in these channels, but that doesn't preclude me from doing [investment in the] food, drug and mass channels. In fact, those channels could be more interesting in the near term than the higher-end channels because those stores are open. 
My first investment I made at North Castle was in a company that had two brands, Avalon Organics and Alba Botanica. Those were health food store channel, and food, drug and mass channel. It's not that I have no experience in that space. I have less experience in the most recent past, but I think people are looking at distribution models and business models, and what changes might arise from [the pandemic]. With that also comes opportunity.
"There is a lot of uncertainty. With uncertainty comes enormous opportunity, and I wouldn't preclude myself from any of that if I thought it made sense."
How has coronavirus impacted Tengram portfolio brands? 
The first three weeks after the doors were closed and the economy was shut down, everybody was in full triage, and I was 24/7 with my portfolio companies trying to make sure we put in place the plans to preserve cash. It became a very cash-focused strategy. Our businesses tend to be small and relatively under-capitalized, so trying to figure out the levers we can pull to extend and improve liquidity is important. Now that we've passed through that early pinch of what do we do now, it's been much more reading and reacting to the market and the data as it comes in as a comparison to our initial forecast and making the changes on the fly that need to be changed. For me, as an investor, it's probably less intensive than it was in the first three weeks. [For] the executive team, it's probably still as intensive in some respects.
Are you looking at deals for True Beauty now?
I'm starting to get a bunch of new things coming in. The new things are interesting because they are new things to me. It's [often a] company that's liquidity challenged and desperate for money. Those are harder to do because it usually means their business is under duress. The other are businesses or business models that may be benefiting from the current changes and may be perceived or looked at differently than in the past. I think those are opportunistic in nature. Brands that have a strong presence on Amazon, obviously, brands that have a strong presence on DTC or even third-party e-commerce are all weathering this storm a lot better than those that were largely reliant on brick-and-mortar distribution.
You've weathered other financial crises. How does this one compare? 
This one's very different. There's a complete shutdown of parts of the economy. The others were losses in value and consumer confidence. I would say the most comparable thing was, in 2001, I owned a high-end travel business that effectively got shut down by 9/11. No one would get on a plane and go anywhere for some period of time. But this is unprecedented. No one knows how long it will last or what the curve of the country looks like. As our companies try to reforecast for the balance of 2020, it's just a total swag. While they were doing the Algenist reforecast  in the back half of March to figure out what the balance of the year could look like, I think we changed the forecast three times in a week and a half because something happened that made us change assumptions.
ReVive basically projected no domestic shipments for April and May, and took a very conservative view on selling to help manage liquidity and cash. Ultimately, we adopted that same philosophy for Algenist. The good news is both brands will beat the forecast for April. The bad news is the forecasts were draconian, so the numbers still aren't good, but it's better to beat your reforecast than to miss it.
We're seeing glimpses [of a comeback]. China's coming back. We see it in the Algenist numbers. We see it in ReVive. The bad news is that those two brands felt coronavirus in January, which is why Elana [Drell-Szyfer, CEO of ReVive,] was reforcasting before others. The good news is that now [China's] coming back and offsetting some of the weakness in the domestic market, but a brand like ReVive that's very reliant on luxury department store distribution really has to revisit its distribution strategy. It's critical.
Do you have any advice for independent brands trying to make it through the next six months to a year?
Our philosophy has been around shared pain and partnership. Whether your retail partner is asking you or not even asking you, [but] telling you they're extending their terms, that's hurting your cash flow. You're going back to your vendors and doing the same. At some point, someone's at the bottom of that chain getting it the worst. Your customers are asking you; we're asking our vendors; we're asking our lenders; we're asking our employees, in some cases, to be furloughed and, in some cases, to take reduction in compensation. We're asking our agencies and other vendor partners to lower their retainers or go on pause for a couple of months.
You try and trim as much non-essential spend as you can, and you revisit your inventory buying plan. I think the good news is, as we sit across a portfolio—Elana has done a great job of creating her own groups of other companies to share their experiences—what we're learning is everybody's effectively doing similar things. We've all coalesced around what the right strategies for survival are, and we're all trying to execute them.
How do you think the coronavirus will impact retail distribution long term?
The fundamental demand drivers for beauty, broadly speaking, haven't changed, and beauty has always been a resilient industry in terms of recovering from economic cycles and even performing well during economic downturns. I think the industry is set up for success and growth over the long term. You've got to think through your distribution strategies and understand if this will permanently change the way consumers shop, or will it change it in the short term and medium term, but people will revert to norms. At some point, people do forget. I get on planes now and don't look around like I used to the first couple of years after 9/11. 
The stores have to sanitize differently. Are testers with human touch by multiple people going to be used or are people going to be concerned? Department store counters who touch people's faces with their hands to apply makeup and skincare, is that going to change? You have to think through your in store strategies. As a result, brands that may have resisted Amazon as a customer are probably revisiting it. Brands that we're trying to prevent channel conflict on your own brand dot-com and your retailer's dot-com maybe looking at other third-party dot-coms as a means to helping grow their business. I do think people are going to look at different ways of reaching the consumer that are more conducive to a new environment.
Direct-to-consumer brands have been hit hard by the current crisis. What do you think of the DTC model? 
There are a lot of people who think stores are dead, and I don't believe that. I don't know what percentage of your business brick-and-mortar sales should be, but I fundamentally believe it's not zero. Direct-to-consumer brand's dot-coms need to complement the retailer's dot-com and the retailer doors in a way that makes sense to grow your business profitably. 
There are a lot of trends happening in beauty. There was an increasing penetration of e-commerce to overall sales. There was a share shift from department stores to specialty stores. There was Amazon slowly growing its presence in luxury and prestige beauty. All of these trends have been ongoing for years. Coronavirus may throw a little accelerant on those trends. It may quicken them or hasten them, but it fundamentally hasn't changed them. I think [coronavirus] will continue to put pressure on the areas that were losing share.
What do you see the next few years looking like for investment in beauty? 
There are a lot of indie brands that have historically had tough times accessing capital. Those may not survive. How long can you go without generating material cash and survive? There are lots of brands that focused only on growth at the expense of profitability. I think profitability matters. That was a trend that was happening that will be accelerated. I think it's important to not grow at all costs. Values hopefully will come down a little bit. As a seller, it hurts me, but, as an investor, it helps me, and I think values have gotten away from historical norms in the pursuit of growth. I think that will change. 
I do think there'll be a new normal, I just don't know what it looks like. A lot of brands raised money at big values, and those investors will realize that was a mistake, and they'll need to raise more money. There'll be down rounds. I think there could be some value for investors if they have the risk appetite to stomach uncertainty.
How do you think the strategics will move forward post-coronavirus?
I don't think it ultimately changes their desire to use M&A as a growth strategy, but they may be chasing different things. They may be chasing brands with a better digital presence. Ultimately, what attracts me will attract them, which is an interesting and uniquely differentiated brand with a unique selling proposition. That's interesting regardless of cycle. It all comes down to that. That's always made me skeptical on influencer-created brands because those were more like celebrity brands. They may have had an interesting founder story, but that's not the same, in my opinion, as some of the other brands that I've invested in the past and brands that make strategics interested.
When might we see the first deal from True Beauty? 
I'm a little skittish because of uncertainty. If I had some visibility as to what stores would open and when, and I had a little bit more conviction in what the recovery curve looked like, it would help. It would help because investors price and underwrite five-year plans and, then, invest in the business. If my portfolio companies today can't, with any reliable precision, forecast what Q3 or Q4 of 2020 looks like, how is someone going to put together a credible five-year plan? So, I think it may take a little bit, but, again, I think investors have to be opportunistic and, if something interesting comes across or if something is growing right now because their digital presence accelerated their growth, those things can fetch capital much easier.