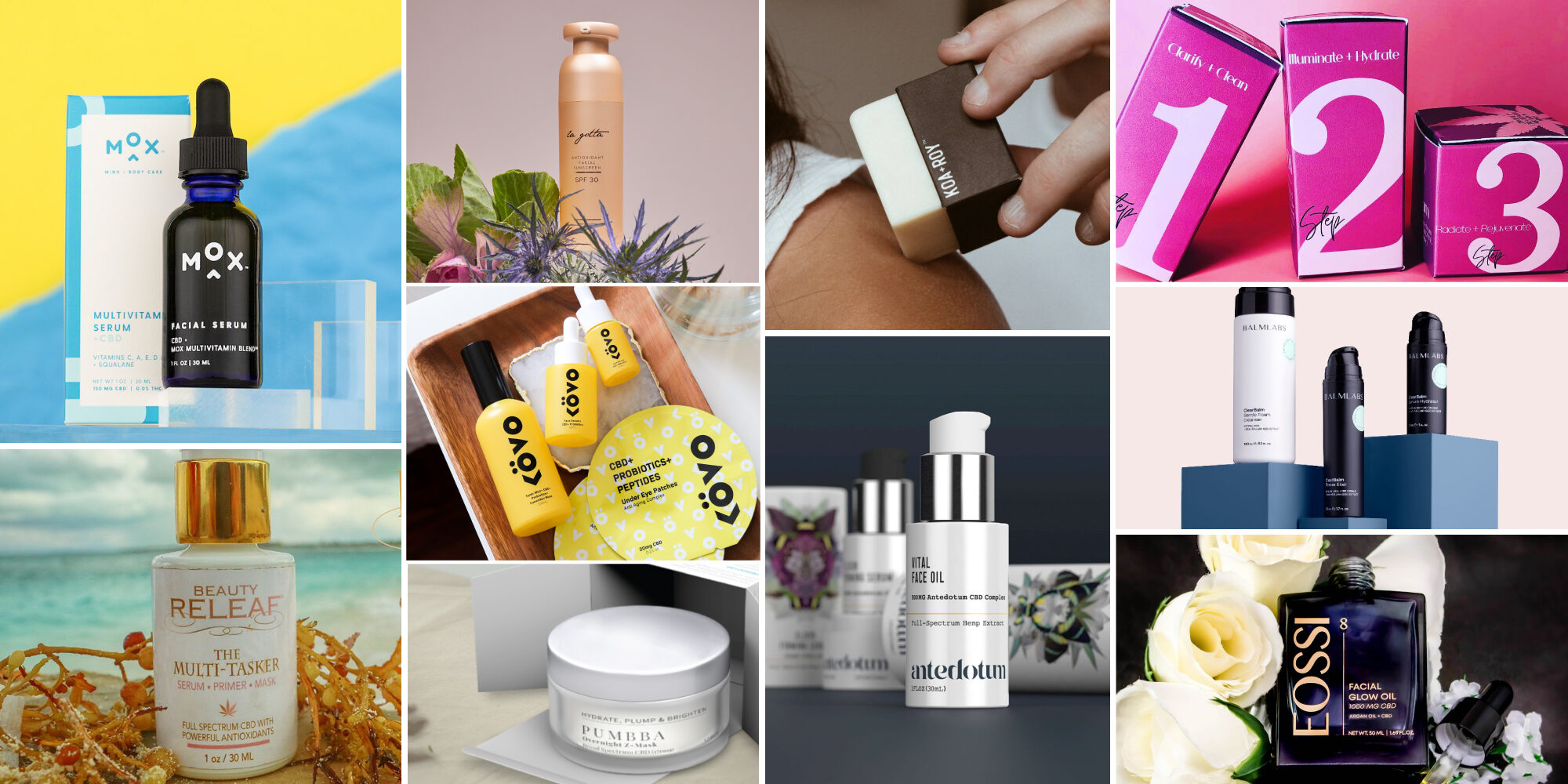 Rising Stars In CBD Beauty And Wellness: Part 2
The hemp plant is known to be highly durable. Certainly, its invasion of the beauty and wellness segment has been a durable trend. The pandemic hasn't stopped new cannabidoil or CBD brands from popping up and being bullish about their prospects—and with good reason. Demand for CBD remains strong. BDS Analytics and Arcview Market Research predict the American CBD market will reach $20 billion in sales by 2024, up from $1.9 billion in 2018. The upward sales trajectory doesn't mean crowding and rocky economic conditions haven't affected the CBD space. Brightfield Group anticipates thousands of CBD companies will shutter during the pandemic. Still, it estimates some 1,500 will be left standing. In a follow-up to our rundown of seven emerging CBD beauty and wellness brands published on Sept. 1, we've identified 10 more startups, including a zero-waste player, probiotic powerhouse, makeup-skincare hybrid, inclusivity champion and swimwear-inspired entrant, that hope to be leaders of the surviving CBD brigades.
Stylish Puerto Rican sustainable swimwear line La Gotta talks about its swimsuits as beauty-enhancing tools that don't muck up the beauty of the environment. They're made of recycled materials. Now, La Gotta is more directly launching beauty-enhancing tools by extending into sun care, haircare and skincare. 
Priced at $45, La Gotta's Antioxidant Facial Sunscreen SPF 30 has 100 milligrams of pure CBD distillate. The anti-inflammatory ingredient is paired with green tea, and vitamins C and E to heighten the sunscreen's antioxidant power. The formula's SPF 30 is from zinc oxide and titanium dioxide. La Gotta touts that it's reef-safe as well as cruelty-free and vegan. 
Beachy hair completes the La Gotta lifestyle package. The brand is expanding from CBD sunscreen to haircare with Hair Oil, a $50 CBD-infused item containing argan and jojoba oils to strengthen tresses, amplify shine, and fight damage and frizz. La Gotta is also releasing a quartz comb priced at $36 to help apply the Hair Oil and stimulate the scalp, and a gua sha priced at $26 to stimulate the face.
La Gotta founder Valeria del Rey has a long history in the fashion industry, and worked for Oscar de la Renta and Tom Ford. She believes beauty is a perfect complement to her brand's beach and pool pieces. "Despite our culture's obsession with attaining a sun-kissed look, sun damage can definitely take a toll on our skin and hair, especially living in a world where ozone depletion is continually occurring," she says. "I want to change the conversation, and refocus our love for swimsuits and outdoors on skincare as well."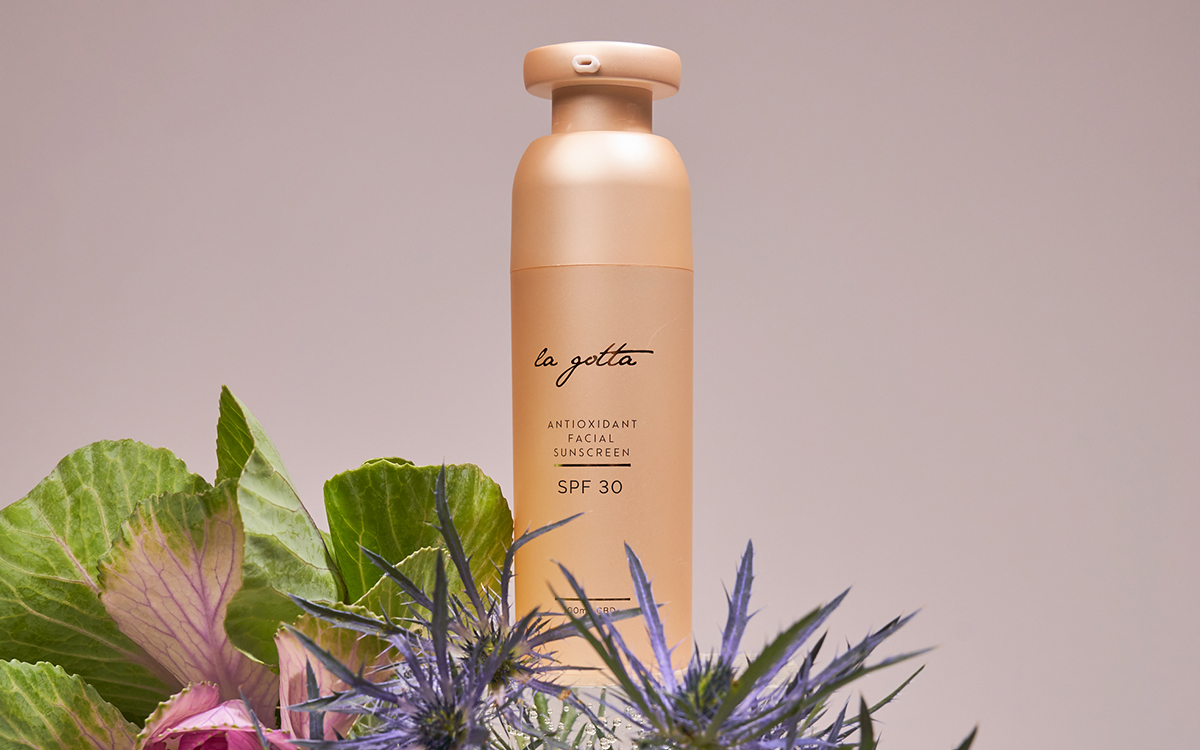 Chatting about their lives over cocktails, Koa+Roy co-founders Adriana Gluyas and Inga Von Wellsheim, who were previously colleagues at a management consultancy, discussed how sore and inflamed their significant others' bodies became following workouts. They figured they could develop a product to provide relief. The result is Koa+Roy's natural and earth-friendly Massage Cube. It's brimming with illipe, cocoa and mango butters, eucalyptus, mint, arnica and CBD. The solid cube, which contains 200 milligrams of CBD, is massaged directly on the skin, and its edges can be used to target particularly knotty areas. 
Priced at $55, the zero-waste Massage Cube has absolutely no plastic. Instead, it's housed in recycled hemp paper that consumers can recycle and compost. "Sustainability is my true passion," says Gluyas. "I dream of reforesting the world." Koa+Roy partners with the organization One Tree Planted to plant a tree for every product sold. In addition to the Massage Cube, Koa+Roy sells CBD Soap Cubes in full or ⅓ Charcoal. The brand's products are sold at the retailers Uncommon Goods, Elevated Essentials and A Market for Good.
"We're not a CBD brand," says Gluyas, pointing out that Koa+Roy is a certified B Corp. "We're simply nerds that did way too much research on natural ingredient properties that offer natural healing benefits." 
Rochonne Sanchez and Shannon Kaygi aren't cannabis neophytes. They've been in the hemp industry for decades. Sanchez, VP at Bank of the West, has been ensuring companies have access to financial services, and Kaygi, founder of SYK Holdings, a network of ingredient manufacturers, is a supply chain specialist. The pair are coming out from behind the scenes with the new brand Eossi Beauty. 
Eossi debuted on July 24 with CBD Facial Glow Oil #8. Priced at $49.95, the 50-ml. oil is packed with organic argan, grapeseed and rose hip oils, and a hefty amount of 1,000 milligrams of full-spectrum CBD. The product is formulated to hydrate the skin without leaving behind an oily residue. 
"We've seen plenty of products flooding the market with misinformation or just plain bad labeling, and that's been incredibly frustrating to us," says Kaygi. "More than anything, we wanted to make sure our products included an efficacious amount of CBD. Many beauty consumers do not understand dosage, and it's been disappointing for us to see so many other high-priced products on the market with barely any CBD. We want to change the way people look at their CBD beauty products, and a big part of that is being transparent about who we are, what we believe in, and what we put into our products." 
Eossi plans to branch out from skincare to haircare and cosmetics products that have been in research and development for over a year. It's not a given that all the brand's future products will have CBD. "We believe in using CBD in our products only when it makes sense," says Sanchez. "We feel strongly that CBD is not just a hot new ingredient, but that it has actual benefits for skin and hair when utilized in the proper dosages. We're excited to soon have a full product line that empowers our customers to let their inner glow shine through, while feeling good about what they're putting on their skin."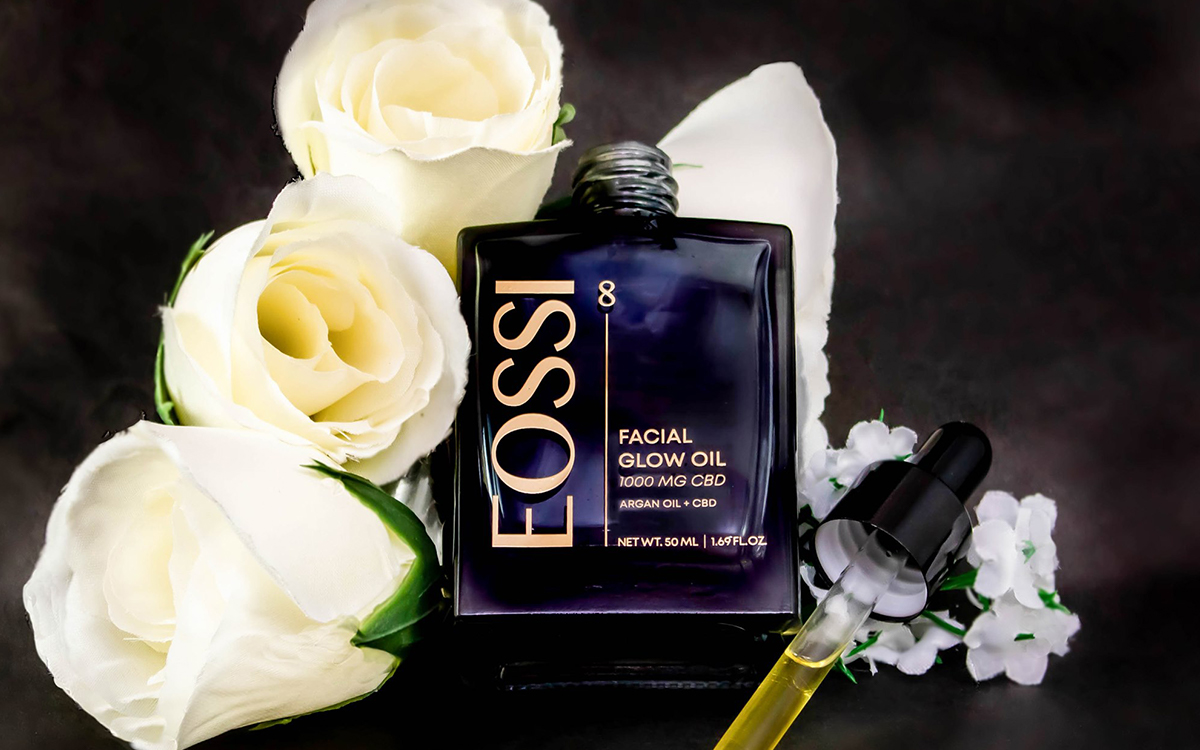 Mox Mind + Body contends the milligram conversation in the CBD space is too limiting. The brand uses CBD from Colorado farms, but is big on combining it with tried-and-true skincare ingredients like hyaluronic acid, honey, salicylic acid and squalene, too, and avoids water to eliminate the need for the fillers and fluff that pervade many skincare formulas. 
"We focus on activity by removing anything that is not a functional ingredient," says Bob Reifsnider, a veteran of the energy and real estate sectors who manages Mox with Peter Murane, chair of design and strategy agency BrandJuice. "This is one of the things that makes Mox unique. We have removed all inactive ingredients like, silicone, preservatives, water, oil, propylene glycol, etc." 
Mox's product lineup consists of Eye Bright ($36), Multivitamin Facial Serum ($48), Peppermint Facial Cleanser ($26), Mineral Hydrating Mist ($22), Triple Action Toner ($26), Restore Balm ($38) and Muscle Roller ($40). The lineup will soon grow with Hyaluronic Honey Cleanser, and a sunscreen with vitamins, minerals and CBD. Mox has rolled out to more than 2,000 retail locations in the last 10 months, including at Urban Outfitters, CVS, Kohl's and Bed Bath & Beyond.
The CBD segment is a ways from being welcoming to everyone. NFZD Beauty founder Briggitta Hardin is out to make it more inclusive. Her CBD skincare brand is created with melanin in mind. "The CBD industry seems to be booming," she says on NFZD's website. "Yet women of color are hardly benefiting. I need to change the narrative."
NFZD's products—a three-step skincare system with Clarify + Clean Oil Cleanser ($21), Illuminate + Hydrate Face Oil ($42) and Radiate + Rejuvenate Face Cream ($27), and CBD Infused Beauty Sheet Mask ($15)—are formulated with botanicals and full-spectrum CBD to tackle hyperpigmentation, dark spots, acne and uneven skin tone. 
For Hardin, developing the brand brought psychological as well as skincare benefits. "Honestly, building this brand has saved me," she says. "I was in such a difficult space last year emotionally and mentally because I never gave myself the time to fully grieve the loss of my sister. That along with being stuck in a corporate career that I was no longer growing in, I fully submerged myself in building [the brand]."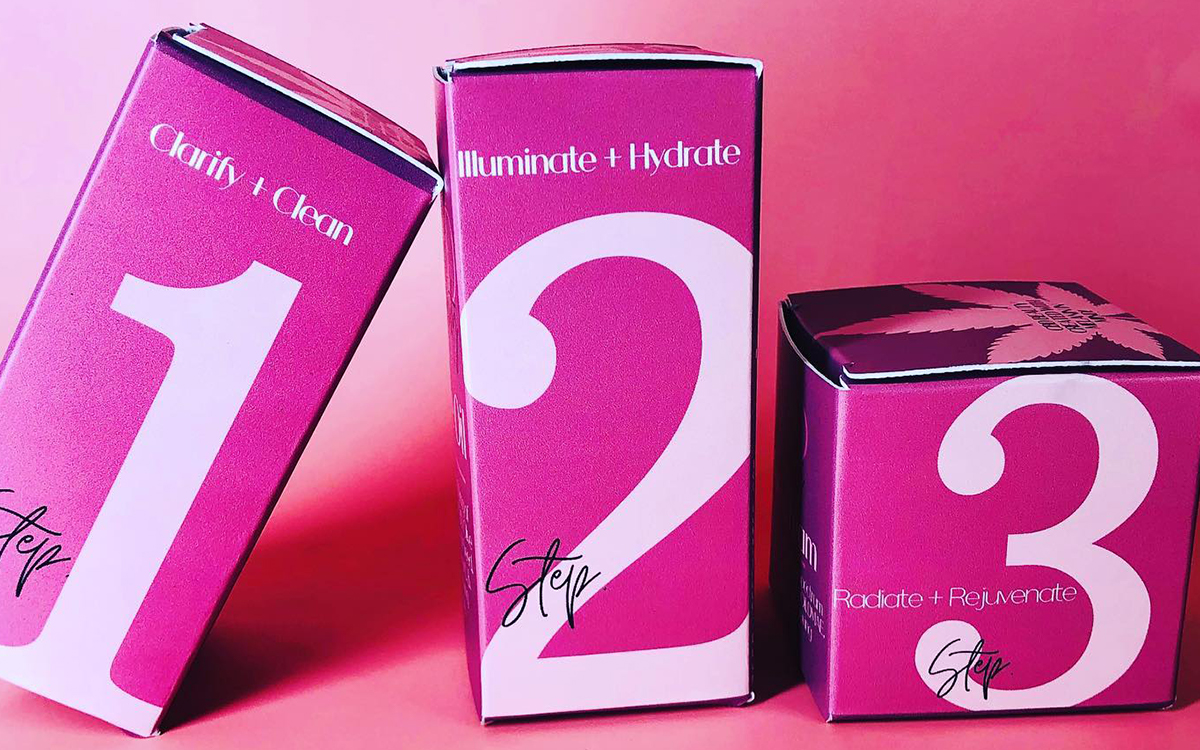 Married co-founders Alejandra Galindo and Nicolas Valderrama pair clean ingredients with CBD in their skincare brand Pumbba. "We saw there was an interesting white space opportunity to develop ad-hoc, clean formulations that would meet different and strict quality standards. That's when we decided to create Pumbba, a worry-free and responsible CBD skincare line aimed at legitimizing CBD as a key ingredient in skincare products," says Galindo, senior investment banking associate at Vendome Global Partners turned beauty entrepreneur. "A brand 100% dedicated to building products for which CBD is not just an add-on, but it's at the core of our product development." Valderrama is behind Smooth Trip Solutions, a cannabis harvest and extraction equipment distribution and consulting company.
Pumbba's first product is the water-based Overnight Z-Mask, which has been devised to boost collagen production and detoxify the skin overnight. The $75 mask boasts reparative and hydrating ingredients like broad-spectrum CBD, squalane and hyaluronic acid. Pre-sales will kick off in October on Pumbba's website. 
The brand emphasizes it makes its merchandise in GMP-certified facilities, adheres to European Union ingredient standards, and sticks to ingredients low on the Environmental Working Group's toxicity scale. Pumbba steers clear of beeswax and silicones.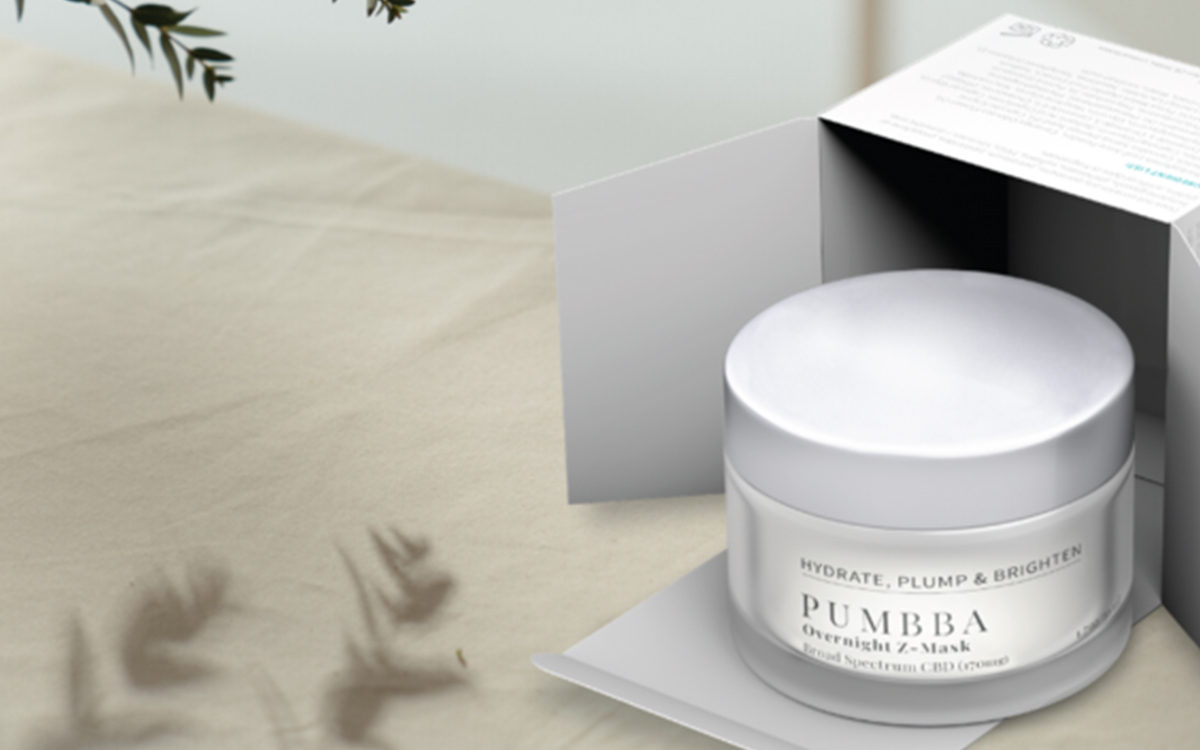 Antedotum is high luxury from the high mountains. The brainchild of Karina Perez-Marconi and her husband Christopher, the Aspen, Colo.-based anti-aging brand currently has two products: $145 Vital Face Oil and $125 Elixir Firming Serum. The former targets lackluster, inflamed skin squalane, argan oil and a citrus oil blend with alpha hydroxy acids. The latter supports collagen with two forms of vitamin C, tetrapeptide-38, 3-glyceril ascorbate, hyaluronic acid, and a combination of cetearyl olivate and sorbitan olivate. Both products contain 500 milligrams of an organic hemp extract with CBD and CBG.
"CBD has had a profound impact on my life and my family," says Perez-Marconi, formerly an account executive at Chanel and chair of Super Tuscan Capital, a firm investing in cosmetics companies, on social media. "So joining it with my experience and background in luxury cosmetics and sharing it with the world has been a natural evolution of my path."
Antedotum is backed by CanopyBoulder, an cannabis industry accelerator and venture capital fund. The investment in the CBD luxury brand came with Antedotum joining CanopyBoulder's 2020 class of 10 early- and growth-stage companies receiving a collective $1.2 million. The brand is only selling on its website at the moment, but aims to put its products in national retailers by the fourth quarter of this year. New products are slated for the quarter as well.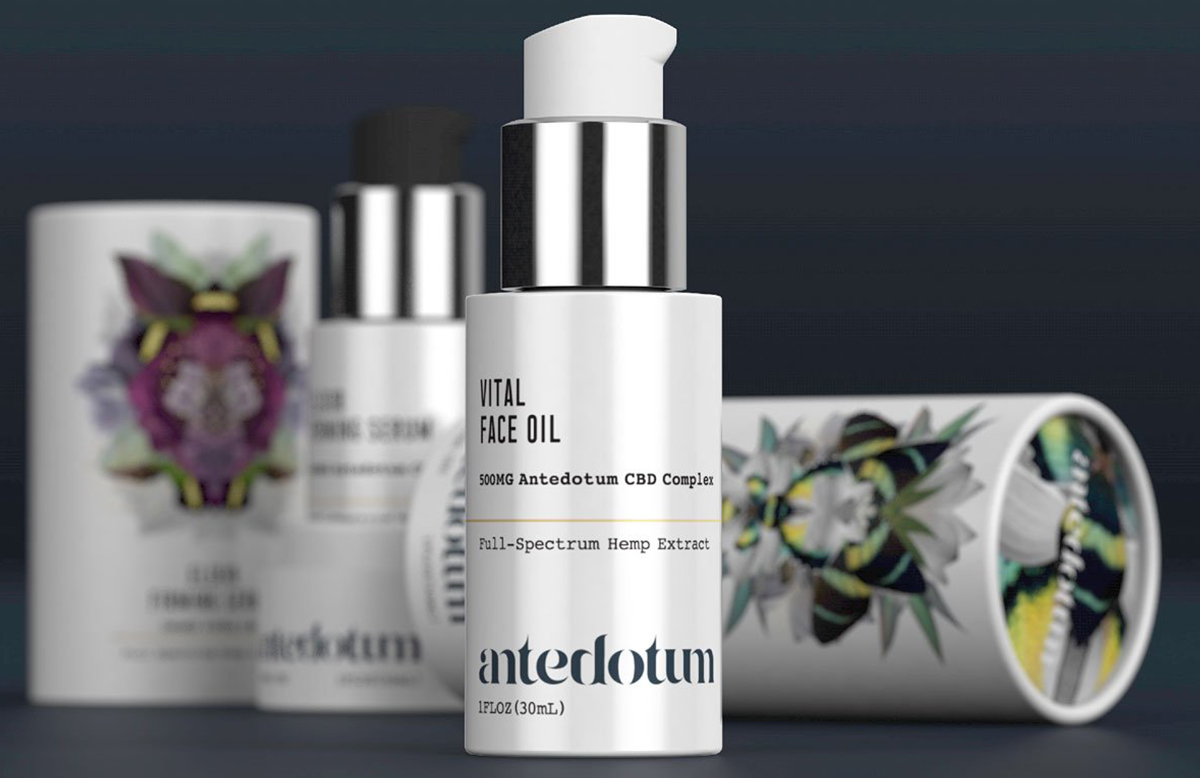 Sarah Waldock, the 44-year-old founder of marketing agency Poke The Bear, peered out across the beauty landscape and didn't see much in it that resonated with her or her friends. The beauty industry's blindspot became her opportunity. In February, she introduced BalmLabs, a brand intent on helping women in their 30s, 40s and 50s battle the acne they wish they could have banished to their teen years. Its products and messages are informed by surveys of 750 gen X and older millennial women. "They are really in their crunch years," says Waldock. "They have young kids, aging parents and burgeoning careers—and are trying to do it all."
In other words, middle-aged women are stressed, and their skin is showing it. BalmLabs is their buddy for breakouts that occur when they're at their wit's end, battling hormonal fluctuations or dealing with other issues of adulting. The brand's merchandise centerpiece is the ClearBalm 3-Step System with the items Gentle Foam Cleanser, Power Elixir and Serum Hydrator. The items can be purchased on an individual basis from $34 to $84 or packaged together for $176. Subscriptions are expected to be primary sales drivers for BalmLabs, and customers save 15% by purchasing the three-item set on subscription for $149.60.
"We like to say, 'Three steps, three minutes,'" says Waldock. "We know these women don't have a lot of time on their hands. It's very quick and easy, and the results that we have seen have been very formidable."
Developed with dermatologist Robin Schaffran, BalmLabs has CBD in its products, but doesn't rely on the cannabis compound to be the sole engine of its formulas. Additional star ingredients include bixa orellana seed extract, niacinamide, hyaluronic acid, squalane and alpha hydroxy acids. "One thing that's really important is that every ingredient that we put in each of our products is very purposeful," says Waldock. She hints that BalmLabs will expand its assortment to respond to an array of concerns women in its key demographic face. Waldock says, "We have a pipeline that's extraordinarily long."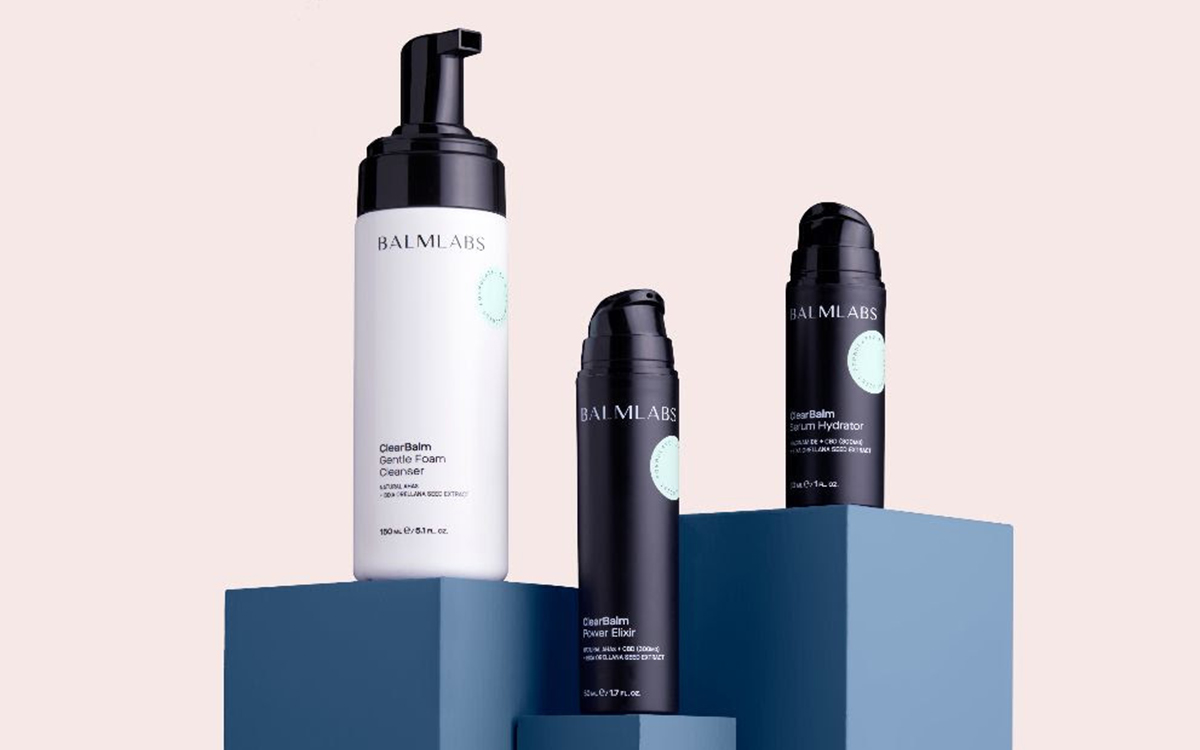 Products bridging cosmetics and skincare are hits with today's increasingly heavy makeup-averse consumers. Beauty Releaf sits precisely at that intersection. Created by Kathryn Weinberger and Julie Weiss Schwartz, makeup artists who together have more than 40 years of experience in the beauty industry and met while they were both working at Guerlain, the brand sells three products priced from $36 to $85: Lip-Tasker, a lip gloss and treatment; Light-Tasker, a CBD-infused highlighter with skin benefits; and The Multi-Tasker, a serum, primer and mask wrapped into one. The products contain full-spectrum CBD, but tons of other ingredients, too. The Multi-Tasker, for example, couples CBD with trans-resveratrol, astaxanthin, sea buckthorn berry and hyaluronic acid, among numerous skincare dynamos.
For sustainability reasons, Beauty Releaf doesn't put its vegan and cruelty-free products in boxes. Instead, they come in reusable sachets. "It is our goal to combine clean and green beauty products with the world of luxury," says Weiss Schwartz. "We want women to feel pampered and special from the moment the product arrives to their door and with each application without sacrifice to the planet or animals."
Beauty Releaf has been breaking into CBD e-commerce portals, spas and salons, and beauty boutiques. Among its stockists are Svn Space, Joseph Anthony Retreat Spa and Salon, SKIN by Georgia and GLOW.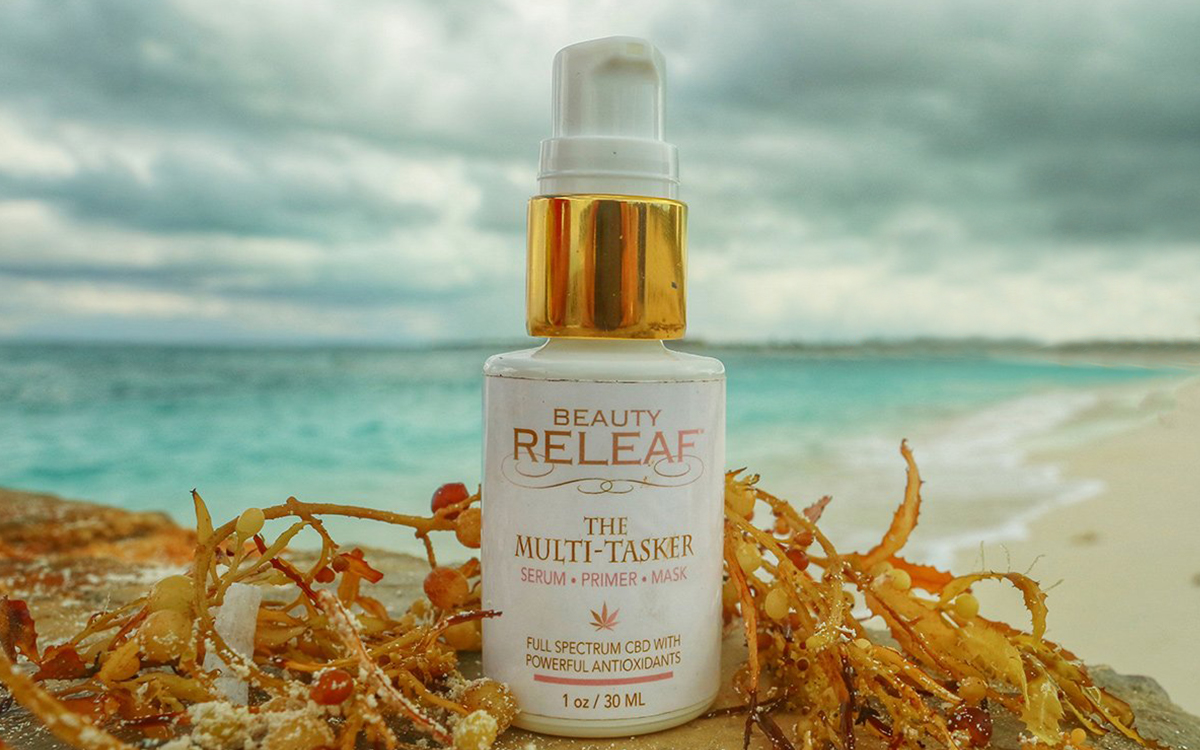 In KÖVO Essentials' clean skincare products, the hero ingredient CBD doesn't act alone. It teams up with probiotics, the retinol alternative bakuchiol oil and more to pack a powerful punch. The brand's debut range features Illuminating Booster Serum 33, Bio-Cellulose Under-Eye Patches, Natural Retinol Repair Serum 11 and Repair Toner Mist. Prices run from $12 to $110. After KÖVO Essentials went live in June, its Bio-Cellulose Under-Eye Patches promptly sold out. Repair Toner Mist has also been extremely popular. A face mask and face cleanser are due to join KÖVO Essentials' assortment in November.
The brand likes its packaging lighthearted—its merchandise is housed in eye-catching yellow bottles designed to be optimistic and energizing—but takes its CBD seriously. On each product, there's a QR code enabling customers to access third-party lab results detailing the amount of CBD in its formula. Co-owner and chief revenue officer Frank Sette says, "KÖVO Essentials is completely transparent to build the confidence and trust of the consumer." Sette, who's handled sales and marketing for spirits, advertising and cannabis companies, started KÖVO Essentials with his son and cannabis entrepreneur Michael, and family friend and cosmetologist Jessica Bongiorno.
KÖVO Essentials is focused on its direct-to-consumer channel along with traditional retailers and e-commerce destinations for distribution. Where's the brand headed next? Sette says, "We continue to innovate and look at trends, listen to consumers to get feedback, then produce quality products that meet our standards, and products the marketplace is lacking and looking for."