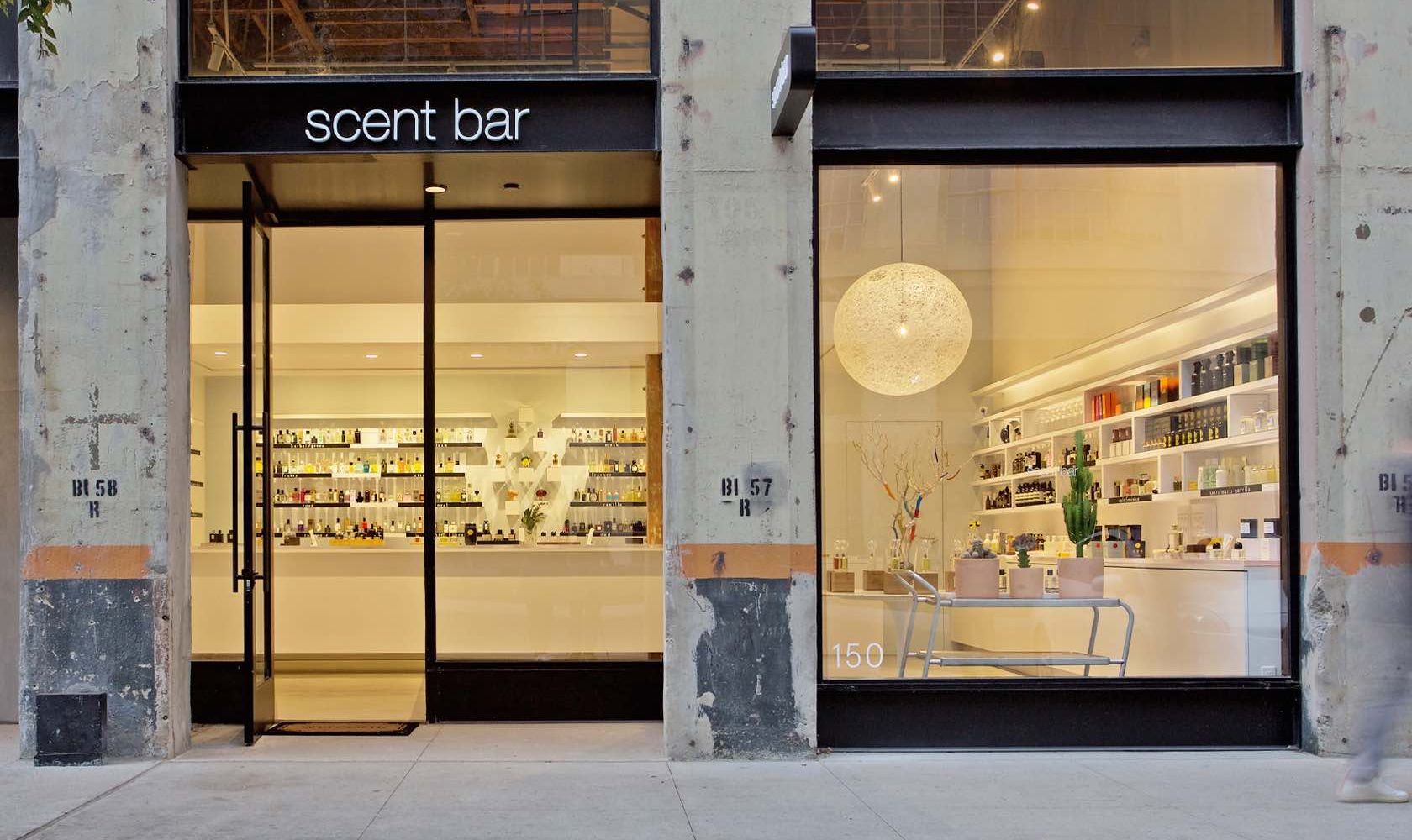 The Founders Of Luckyscent Cultivate The Art Of Niche Fragrance Retailing At Second Scent Bar Location In L.A.
Like the niche fragrances they sell, Adam Eastwood and Franco don't follow convention.
In 2002, when selling perfume online was considered unfeasible, the business partners challenged the e-commerce naysayers with digital destination Luckyscent. Today, as the importance of physical retail is being questioned, they've committed to stores with the opening of their second Scent Bar location in a 600-square-foot space at Row DTLA, a 30-acre development in the Arts District of downtown Los Angeles that's drawn a slew of distinct fashion, food, beauty and fitness concepts such as Erica Tanov, A+R, Bender Yoga, Nova Arts Salon and Ahlem.
"It's a manifestation of who we are. There's a million websites. You can buy fragrance all over the internet, but the store personalizes us, and we can present the fragrances we believe in," says Eastwood. "I always feel at ease in our stores. We are pretty easygoing people, so really translates and shines through. It makes it more real, too, to see your customers, and it's not just emails and orders. Nothing can replace face-to-face interaction."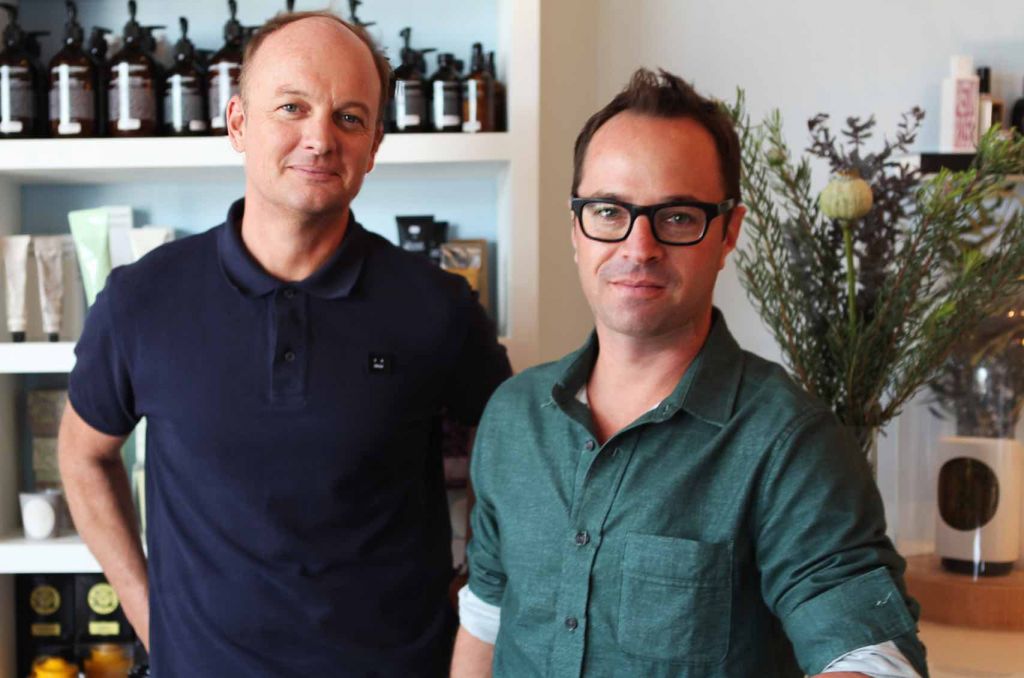 Luckyscent expanded from the screen to the street in 2006 with Scent Bar, originally in a smaller location blocks from where it now sits on Beverly Boulevard. Currently, the store is responsible for slightly above 10% of Eastwood and Wright's business. At the outset, Eastwood wasn't convinced retail was a good move, but European fragrance brands' resistance to distribute to online-only outfits pushed Luckyscent in the brick-and-mortar direction. Since then, he's fully come around to support the role of traditional retail in complementing a digital offering.
"The store is finally gaining steam," says Eastwood. "All we have been hearing this year is news of retailers that are doing great online and their stores are just doing awful. It's weird how you've seen a dramatic imbalance. Because we are so small, we've been unaffected, and the customer base for our store in Hollywood has only grown. That is one of the reasons we felt comfortable with the second store. It enhances our overall experience. People can actually see and touch something, and it's not just online."
Scent Bar encourages shoppers to cozy up to a bar or, to be specific, Lucite countertop at its locations. Other design touches include white cabinetry and a powder blue wall. Luckyscent showcases 400 brands and 2,200 fragrances. Scent Bar contains about one-third the number of scents. A few of bestselling brands are Escentric Molecules, By Kilian, Comme des Garçons, Byredo and Tom Ford Private Blend.
"What sets us apart from department stores is listening and being patient," says Wright. "We guide customers through the fragrance discovery process, and make it fun and interesting so the customer feels really engaged and confident about their purchase. There is not a hard sell in our stores. We are happy to send you home with a sample. This is a place you can come back to knowing you won't feel intimidated, and you can hang out. We are probably the final frontier of the most personal experience you can have."
Luckyscent and Scent Bar were early to the rise of oud as a sought-after fragrance ingredient. With woodiness widespread, leading-edge customers are progressing. Wright senses the emergence of Middle Eastern sensibilities in scents, and budding demand for sophisticated takes on fruity florals. There's been a flood of vegan and cruelty-free fragrances, but Wright cautions fragrance brand owners to be sure of the claims their fragrances are making.
"Fruity florals have a funny connotation in terms of being young, sweet and cheap, but there are some great fragrances that have a fruity element to them in a delicious and intoxicating way," he says. "We are seeing apple, pineapple, peach and strawberry. It sounds juvenile, but when blended with the right tobacco or floral notes, they can be rich, luxurious and comfortable, and exotic at the same time."
Although the assortments at Luckyscent and Scent Bar are extensive, Wright and Eastwood are open to new entrants. "There's always a place in the pool," says Wright. "What's your story? What's your message? Coming out of the gate with a really unusual, forward-thinking fragrance that maybe isn't easy to wear will get you further than something that's lovely, pretty and safe."
Luckyscent's and Scent Bar's fragrance selections have been impacted by conglomerates' appetite for indie scent brands. Le Labo, By Kilian, Maison Francis Kurkdjian and Atelier Cologne, for example, have been snapped up by large firms. As acquired fragrance players ascend to broader exposure, Luckyscent and Scent Bar customers scout out the next big scent brands.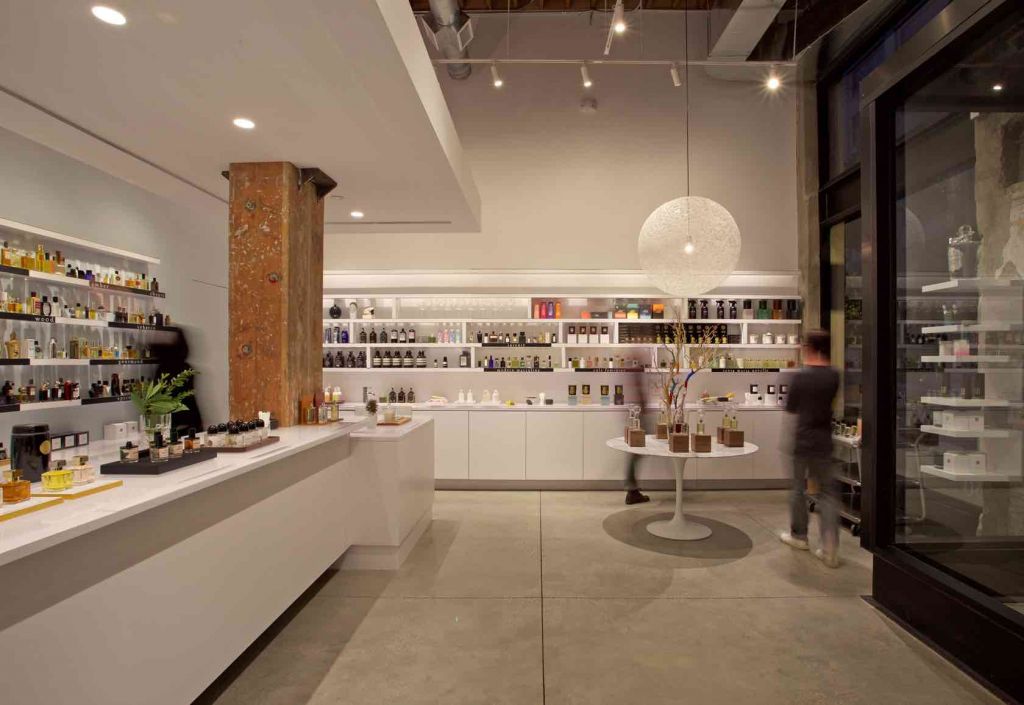 Eastwood explains a fragrance brand purchased by a beauty conglomerate will spread at "department stores and, then, it becomes a little less difficult to find. Therefore, it's less interesting to our customers who are like, that's done already. They might think the brand has jumped the shark."
The niche fragrance boom that Estée Lauder, L'Oréal, LVMH Moët Hennessy Louis Vuitton and Shiseido are reacting to has been a boon to Luckyscent and Scent Bar as well. According to Eastwood, Scent Bar has registered annual revenue leaps in double-digit percentage ranges of late. The Beverly Boulevard store has fostered a loyal customer base that recognizes its penchant for unveiling unusual and rare fragrances, and is also a hit with tourists. Soon, shoppers will be able to check out the results of Luckyscent fragrance collaborations with the brands A Lab on Fire, D.S. & Durga, Imaginary Authors, Mad et Len and Slumberhouse.
Wright and Eastwood aren't stopping with the second L.A. store. The duo foresees placing a Scent Bar in New York and possibly London. "We would like to establish a bicoastal presence," says Eastwood. Wright adds, "Having the retail footprint expand makes us look desirable as a business as we grow. Hopefully, one day, that might look interesting to an investor." He elaborates, "We are self-funded and have never taken outside investment. We have had people come to us with money, but we are so used to the two of us. It would have to be a lucrative situation, which gives us freedom and control.