Sisterwould Aims To Provide People With Visual Impairments—And Everyone Else—A Moment Of Self-Care In The Shower
Family is integral to Sisterwould, a new prestige haircare and scalp care brand from sisters-in-law Rina Gocaj-Bekiri and Floriye Elmazi.
Inspired by their visually impaired mothers, the co-founders incorporated Braille and tactile imprinting on Sisterwould's Give Me Life Shampoo and Give Me Life Conditioner bottles as well as differentiated textures and smells to guide people to the right products in the shower if they can't see them. Globally, over 2.2 billion people have visual impairment, according to the World Health Organization.
The shampoo formula is pink, and has a watermelon scent and a texture that Sisterwould calls "sugaresque" due to exfoliating micro-particles. The conditioner formula is bright green, and has a creamy texture and mint ginger scent. The shampoo is housed in a shiny peach bottle, and the conditioner is housed in a frosted peach bottle. For people not able to read Braille, the imprinting system consists of horizontal lines for the shampoo and dots for the conditioner. Sisterwould developed it with the organization Vision Australia.
"For my mom who wears glasses and can't read in the shower, that actually helps a lot," says Gocaj-Bekiri of the raised imprints. She continues, "We wanted Sisterwould haircare to exist to help everyone turn washing their hair into a moment of self-care. Everyone deserves to bask in the pleasure of washing their hair and scalp."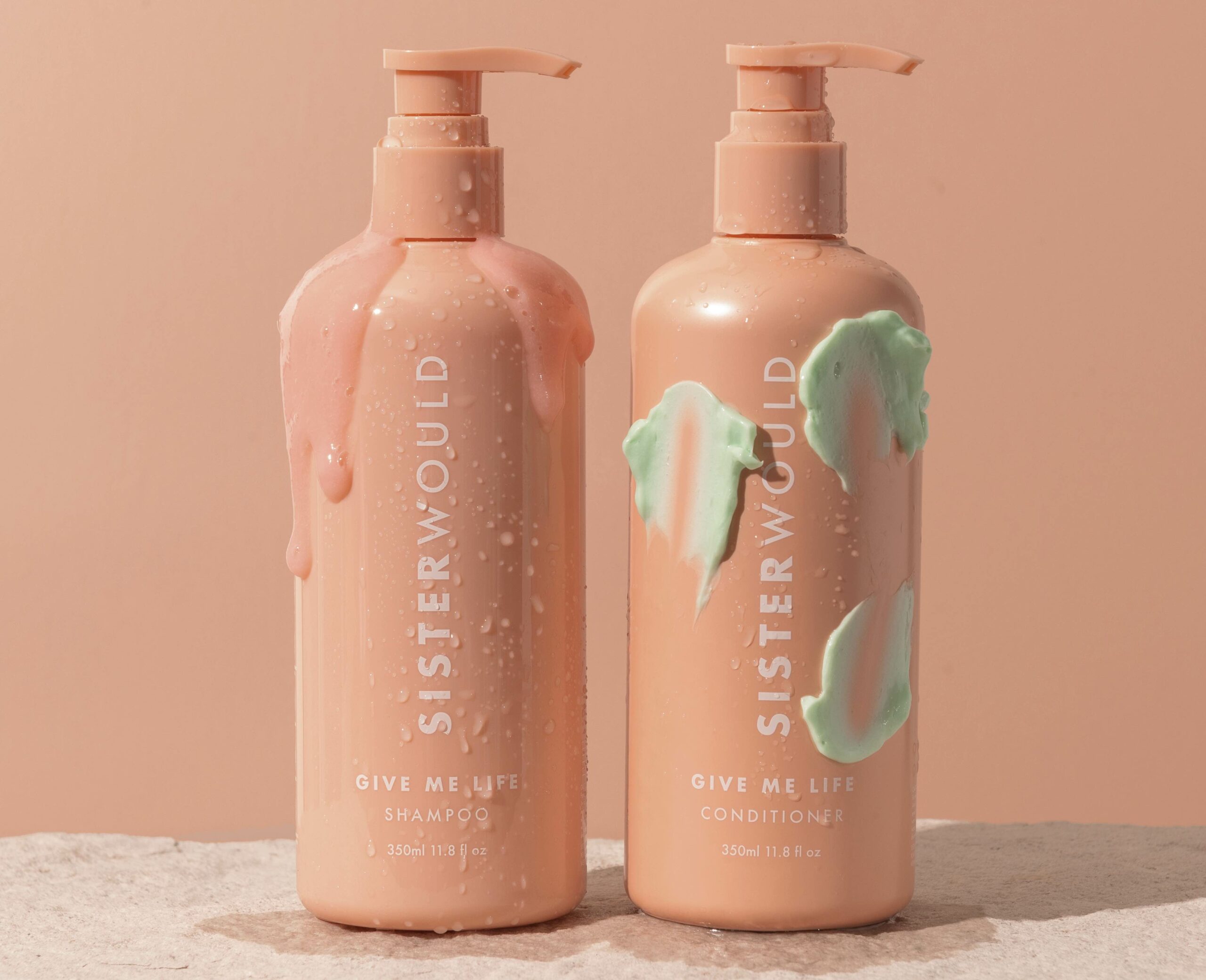 Inspired by Elmazi's father's psoriasis, Elamazi and Gocaj-Bekiri strived for gentle formulas. Among the ingredients Sisterwould includes in its formulas are shea butter, jojoba esters, aloe vera, ginger root and watermelon seed oil. There are the Australian botanicals finger lime and river mint, too. Sisterwould is headquartered in Melbourne and made in Australia.
Elamazi and Gocaj-Bekiri emphasize Sisterwould's shampoo and conditioner formulas can be used by consumers with every hair type—curly, straight, thick, thin, damaged and so on—and even those with no hair at all. The products are priced at 58 Australian dollars or nearly $39 at the current exchange rate.
"We wanted Sisterwould haircare to exist to help everyone turn washing their hair into a moment of self-care."
"Our range is skincare for haircare," says Elamazi. "Because of my dad's severe psoriasis, I would always make creams with nice ingredients for his skin, but his scalp would be dry and itchy. When I was researching haircare, I realized that our scalp needs to be taken care of just like our face."
Elamazi, a makeup artist, hairstylist and aesthetician who owned Inspire Beauty & Laser Clinic, and Gocaj-Bekiri, a former beauty blogger who spent 15 years in the recruitment business before it went south at the start of the pandemic, have long aspired to launch a brand together, and the pandemic prompted them to begin working on it. Initially, Elamazi was interested in launching a skincare brand, and Gocaj-Bekiri was interested in launching a haircare brand.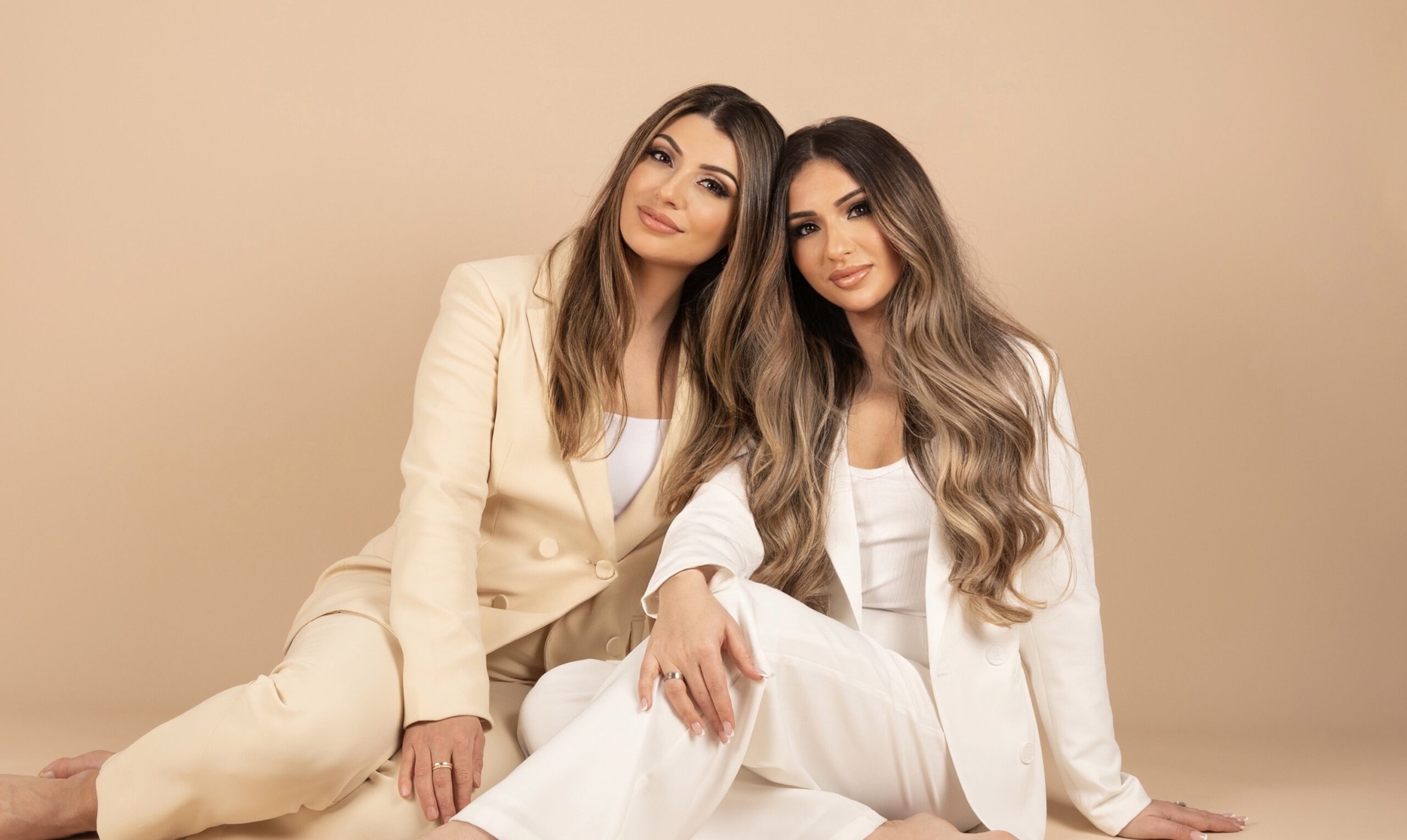 During a discussion with their lab, Elamazi and Gocaj-Bekiri decided Sisterwould would bridge haircare and skincare. Haircare with skincare ingredients and benefits is first up (a hair oil and hair serums are in the product pipeline), but skincare is on the roadmap. Kicking off Sisterwould in haircare made sense in the current market, according to Gocaj-Bekiri, arguing skincare is far too saturated.
She also points out she and Elamazi have a history of tinkering with haircare. "We would both customize our own shampoos," she says. "We would sometimes add drops of oils or crush certain vitamins into our shampoo, which sounds funny, but our friends would copy us and get results. So, we thought, 'Why don't we create our own?'"
"Our range is skincare for haircare."
Gocaj-Bekiri describes Sisterwould as a "performance-driven haircare brand that cares." She says, "#Mysisterwould is going to be our hashtag. We want to share the love between sisters and friends that are like sisters. Flo and I have helped each other dye our hair and bring our hair back to life. We share beauty tips, and with anything going on in life, we help each other."
To solicit advice about erecting a beauty company, Elamazi and Gocaj-Bekiri reached beyond their immediate family to find mentors with established brands. Gocaj-Bekiri names Tara Simich, founder of Mermade Hair, Manny Barbas, co-founder of Alya Skin, and Kate Morris, co-founder of Adore Beauty and Glow Capital Partners, as Sisterwould's mentors. "It's been a big learning curve, and they've been amazing along the way," she says.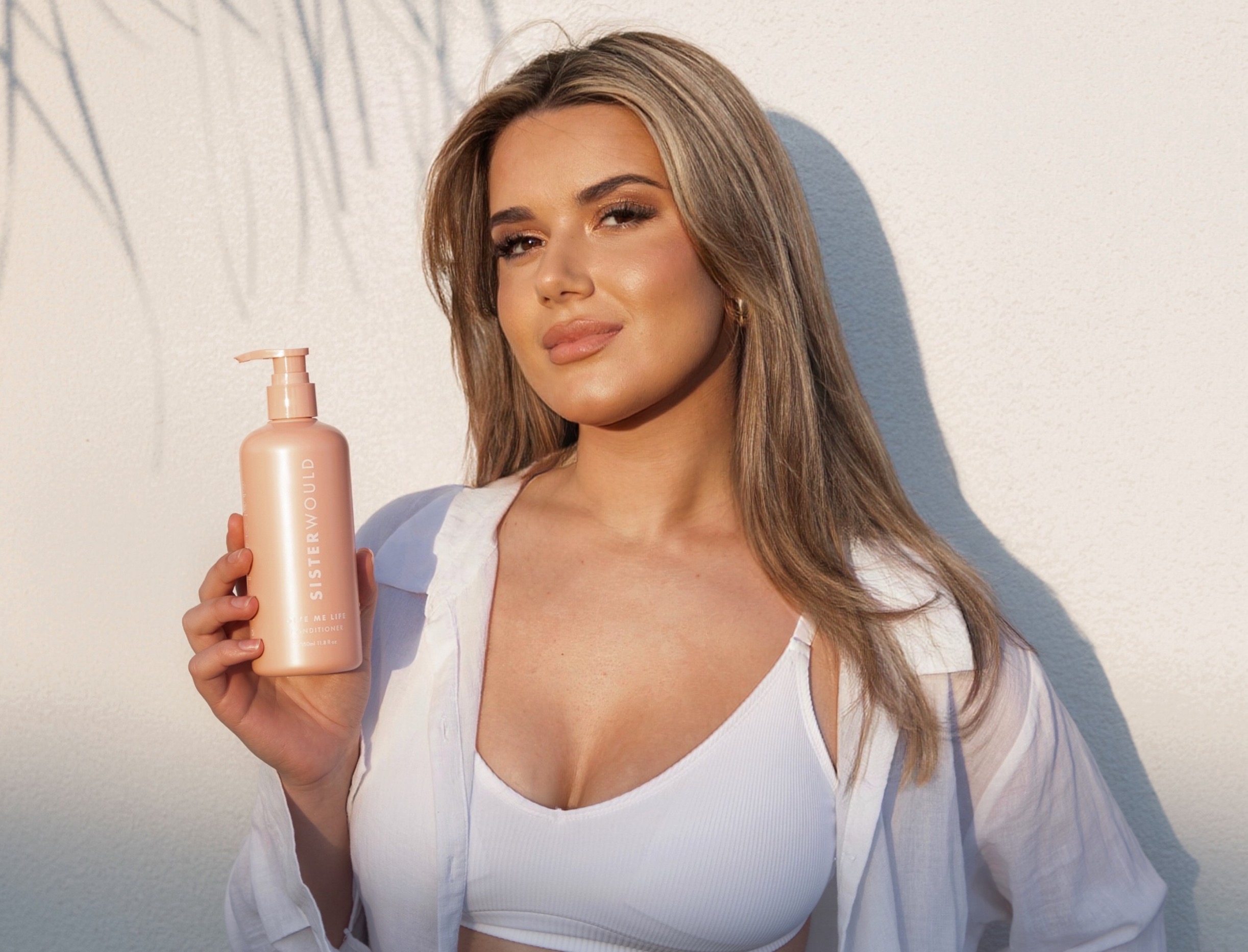 Elamazi and Gocaj-Bekiri are self-funding the brand at the outset. They didn't specify the amount of money required to get it off the ground, although Gocaj-Bekiri compares it to a deposit for a house. She says Sisterwould has connected with investors, but the brand doesn't plan to raise money until it's been on the market for six months to a year. "It's really hard to raise pre-seed capital these days, and we'd like to have a sales trajectory to show," explains Gocaj-Bekiri.
Sisterwould is projected to generate 1.1 Australian dollars or about $735,000 in its first year of availability. The brand is in talks with three retailers, but, similar to its approach to external investment, it's not in a rush to enter retail and expects to wait a few months prior to having a retail presence. It anticipates expanding to the United States in roughly 12 months. Already, it's noticed Americans are intrigued. They constitute 40% of Sisterwould's email list.
Elamazi and Gocaj-Bekiri have been strategically growing Sisterwould's email list and Instagram audience. They relied on their personal followings and product giveaways to boost them. Over the course of two and a half years, Sisterwould has amassed an email list with 12,000 people. The brand had an early pre-launch target of hitting 80,000 to 100,000 followers on Instagram. Today, its Instagram following has surpassed 117,000.
Elamazi and Gocaj-Bekiri aren't shy about their desires to build Sisterwould into a large global brand and eventually exit the company. They believe it can compete with brands such as Briogeo, Oribe and Kevin Murphy. Gocaj-Bekiri says, "We have really ambitious goals for Sisterwould."