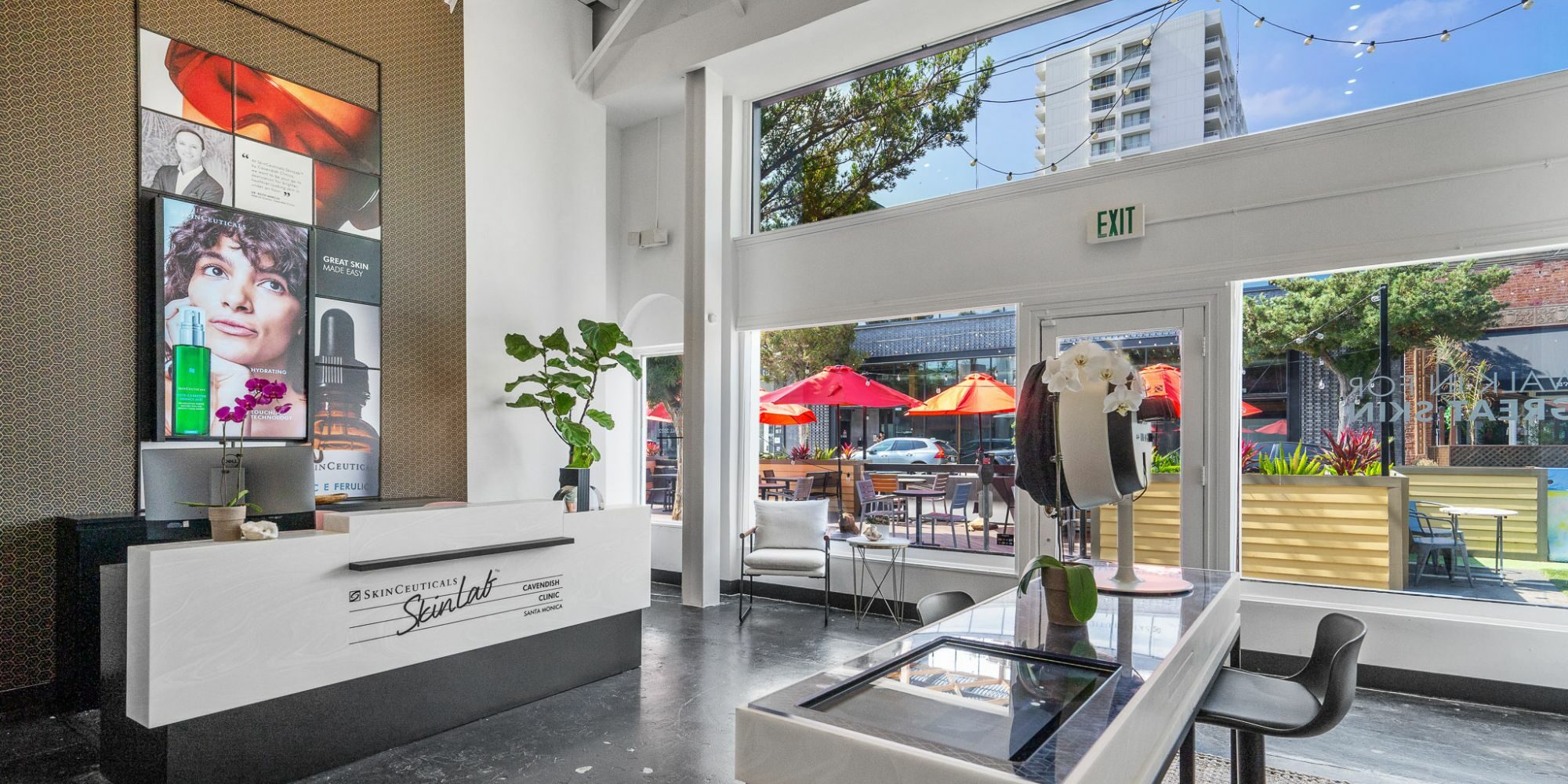 SkinCeuticals Brings Growing Med-Spa Concept SkinLab To Santa Monica
L'Oréal-owned advanced skincare brand SkinCeuticals and aesthetics practice Cavendish Clinic have teamed up on
 a new SkinCeuticals SkinLab outpost in Santa Monica, Calif.
The location is SkinCeuticals SkinLab's tenth in the United States combining the brand's products with in-office treatments guided by physicians. The concept is spreading as the beauty industry is seeing heightened interest in med-spas. According to Expert Market Research, the med-spa market in the United States is projected to accelerate at a compound annual growth rate of 14.2% to reach $12.3 billion in revenues in 2027, up from $5.64 billion in 2021. 
Keith Marcus, a plastic surgeon and medical director for SkinCeuticals SkinLab in Santa Monica, says the treatment menu at the location is designed to be accessible and approachable to clients, including many new to aesthetic treatments, while delivering effective treatments that speak to their specific skin concerns. 
Services are priced from $150 to $400, and they don't take all day. The SkinLab has crafted signature treatments—for example, there's the SkinSmooth that weaves in the products LED Micropeel and Phyto Corrective Gel, SkinBright with a HydraFacial and chemical peel, and SkinFirm combining microneedling with the product Hydrating B5 Gel—that last 30 to 45 minutes. 
But Marcus has a hunch that Skinluxe Signature Facial, a 60-minute service customized to address individual client's signs of aging, is going to be the most popular service. "SkinCeuticals has a high-brand awareness in Santa Monica, and our new patients are so excited to try this new signature SkinCeuticals facial," he says. "It is only available in SkinLab locations and features the brand's top two products, C E Ferulic and Triple Lipid Restore 2:4:2."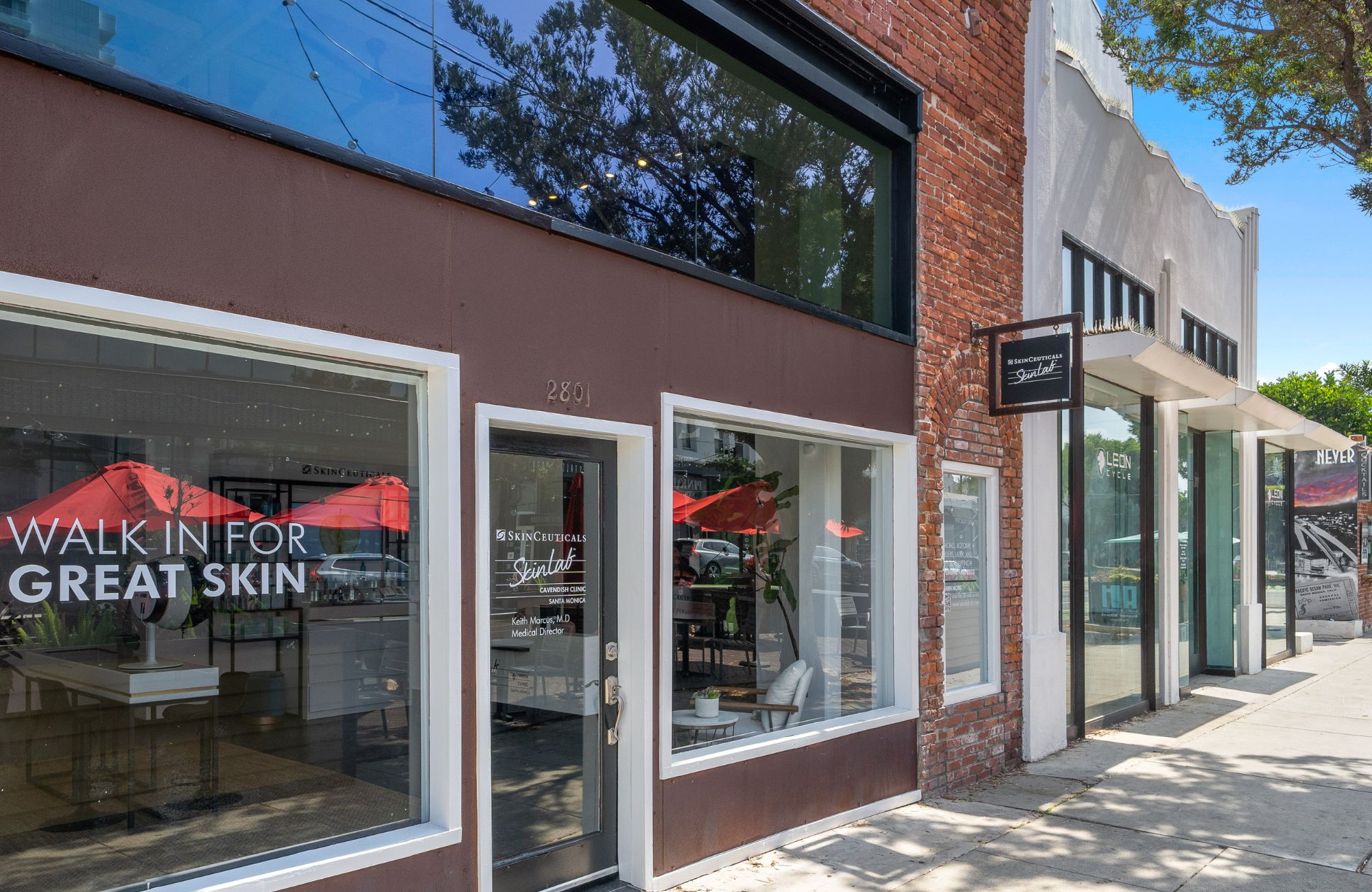 In addition to the signature skincare-driven treatments, SkinCeuticals SkinLab offers aesthetic services with injectables such as neuromodulators and fillers as well as lasers. Additional services are rolled out seasonally. Marcus mentions that treatments focusing on chiseling the jawline and chin have been hot in the past six months. He figures, "Everybody is looking for a defined jawline and the diminished appearance of sagging or jowls." 
Prior to opening in Santa Monica, SkinCeuticals and Cavendish Clinic planted U.S. SkinLab locations in Houston, New York, Charleston, Scottsdale, Miami, Stamford, Conn., Grand Rapids, Mich., and the California cities Palm Desert and St. Helena. The locations serve approximately 7,000 patients and perform over 20,000 treatments annually. The Santa Monica location is expected to serve upwards of 150 clients weekly. Visitors receive expert skincare consultations incorporating SkinCeuticals' SkinScope LED diagnostic.  
Amy Sloan, head of SkinCeuticals U.S., describes Santa Monica, a bustling beach city in the Los Angeles area, as a natural fit for SkinCeuticals SkinLab's entrance into the LA scene. She says Southern California is a top market for the brand and was a "dream" hub for British company Cavendish Clinic's U.S. expansion. She also points out that, as with residents in most beach communities, Santa Monica dwellers are outdoors on a regular basis, increasing sun exposure that can generate unwanted skin discoloration and signs of aging.
"It's a healthy, active population of consumers who are seeking more advanced skin treatments and are ready to take the next step with a trusted brand," says Sloan. In general, she elaborates, "SkinCeuticals SkinLab attracts both younger skincare enthusiasts that are new to medical aesthetics and consumers who are aesthetic treatment champions. Both groups crave education, accessibility, visible results and a customized, premium experience." 
SkinLab's locations have product discovery areas that enable clients to shop SkinCeuticals products and assemble comprehensive regimens recommended by the staff. A Dermablend Professional makeup finishing station is available for touchups following treatments.
SkinCeuticals plans to continue to forge new physician partnerships to open more SkinLab locations across the country. It's not the only skincare brand pursuing spa growth to showcase its products and services in an environment cultivated to highlight its approach and message. Augustinus Bader recently opened Skin Lab at luxury retailer The Webster in New York, and Dr. Barbara Sturm has eight spa locations spanning in Palm Beach, Los Angeles, New York, London, Miami, Dallas and Düsseldorf.