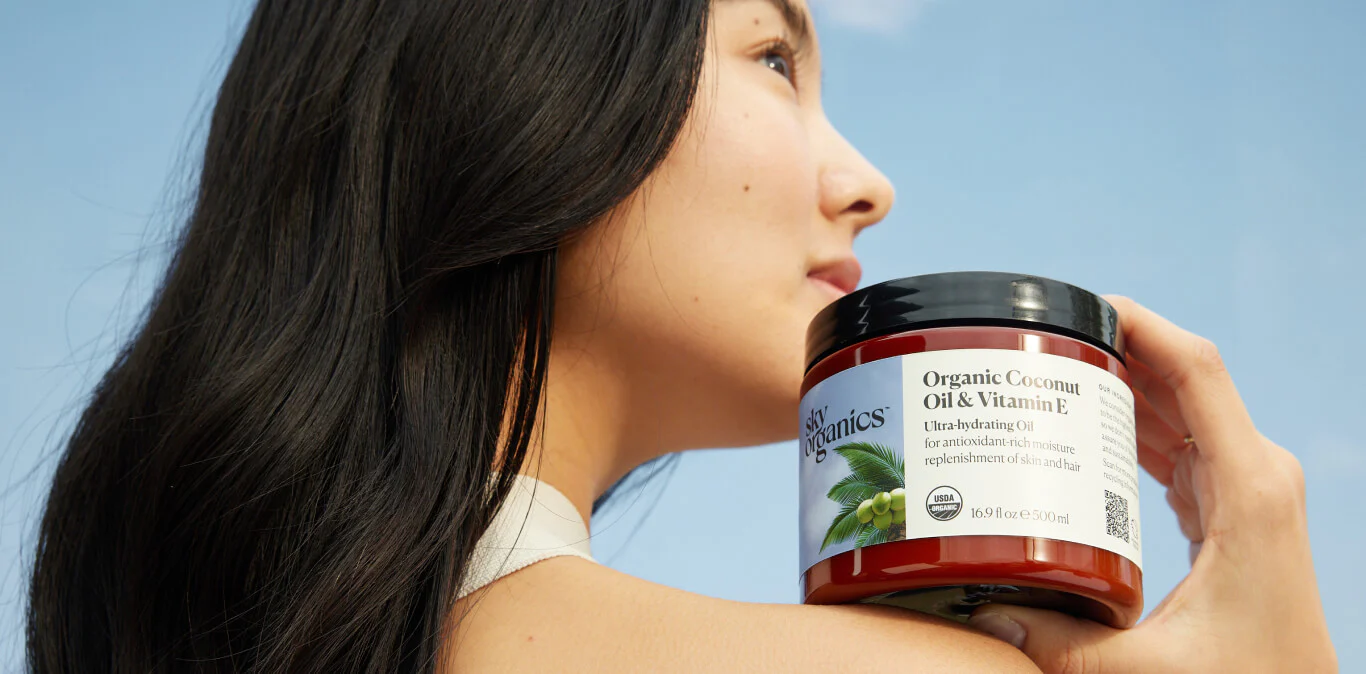 Sky Organics' New Packaging Gives Consumers More Insight Into What's Under The Cap
Curious skincare shoppers are getting a lot more product information from Sky Organics than they used to.
With assistance from Case Agency, which has worked with Clinique, Summer Fridays, E.l.f. Cosmetics and Ouai, the brand has updated its design to convey details about its formulas and packaging such as recycling instructions, ingredient purposes and the reasons for certification on its labels. For example, it has a QR code on the labels that leads to recycling guidelines online. Sky Organics created the QR code with circularity-promoting nonprofit Pact Collective and labeling system How2Recycle.
Delving further into the details, the label for the product Vitamin E Oil spells out the purposes of four key ingredients—vitamin E is explained as a "powerful antioxidant that supports compromised skin"—and mentions the formula has 30,000 IU or international unit, a measurement of fat-soluble vitamins. Sky Organics also communicates that the product's NSF/ANSI 305 certification ensures that it "contains organic ingredients and is made with integrity so we don't need a free from list to assure you of its purity and sustainability."
The design changes are being implemented as Amazon-born Sky Organics pushes further beyond e-commerce into brick-and-mortar stores, where it aims to provide customers and retailers a clear statement about its commitment to sustainability. The new packaging is rolling out to its retailers, including Walmart, Whole Foods, Walgreens, CVS, Rite Aid, Meijer, Hy-Vee, Bed Bath & Beyond and Bartell Drugs, over the next six months.
"About a year and a half ago we decided that sustainability was really going to become a core part of who we are as a company," says co-founder Dean Neiger, who stepped down as Sky Organics' chief strategy officer last year to become its chief sustainability officer. "Organic is already more sustainable than conventional just because of the different farming practices, but we wanted to really become a leader when it comes to sustainable beauty and personal care."
The brand is also verified cruelty-free by Leaping Bunny and incorporates ingredients cultivated under the United States Department of Agriculture's organic stipulations. In an element of the redesign, Sky Organics is shifting from virgin plastic bottles to 100% post-consumer recycled (PCR) containers. Eventually, paper and cardboard constituting secondary packaging will be certified by the Forest Stewardship Council. Sky Organics plants a tree per order through a partnership with social enterprise Ecologi.
The brand imagery has been revamped as well. Everything from the logo to the color palette to the website presentation has been redone to appear lighter and fresher. Sky Organics' principle brand image is a sky dotted with clouds. Neiger says, "Not only mechanically is the packaging different, but also the look and the messaging as well."
"The goal of the rebrand is to share and invite anyone into our journey of organic and sustainable beauty."
Sky Organics instigated the rebrand by investigating its core consumers. Neiger says they can be categorized in two groups: One has determined that organic beauty and personal care is better, and another is still learning about the benefits of organic beauty and personal care. The rebrand could help members of the latter group become members of the former group. Across both groups, 90% of Sky Organics' customers are women.
"The goal of the rebrand is to share and invite anyone into our journey of organic and sustainable beauty," says Neiger. "We're really going all the way with this, and we want to make sure that we bring the utmost integrity and authenticity."
Sky Organics has been teasing its rebrand for the past couple of months. Now that the renovations are being executed, the brand is activating a campaign to spread the word via social media advertising, events and email. It will tap its community of influencers to generate buzz, particularly micro-influencers with engaged followings.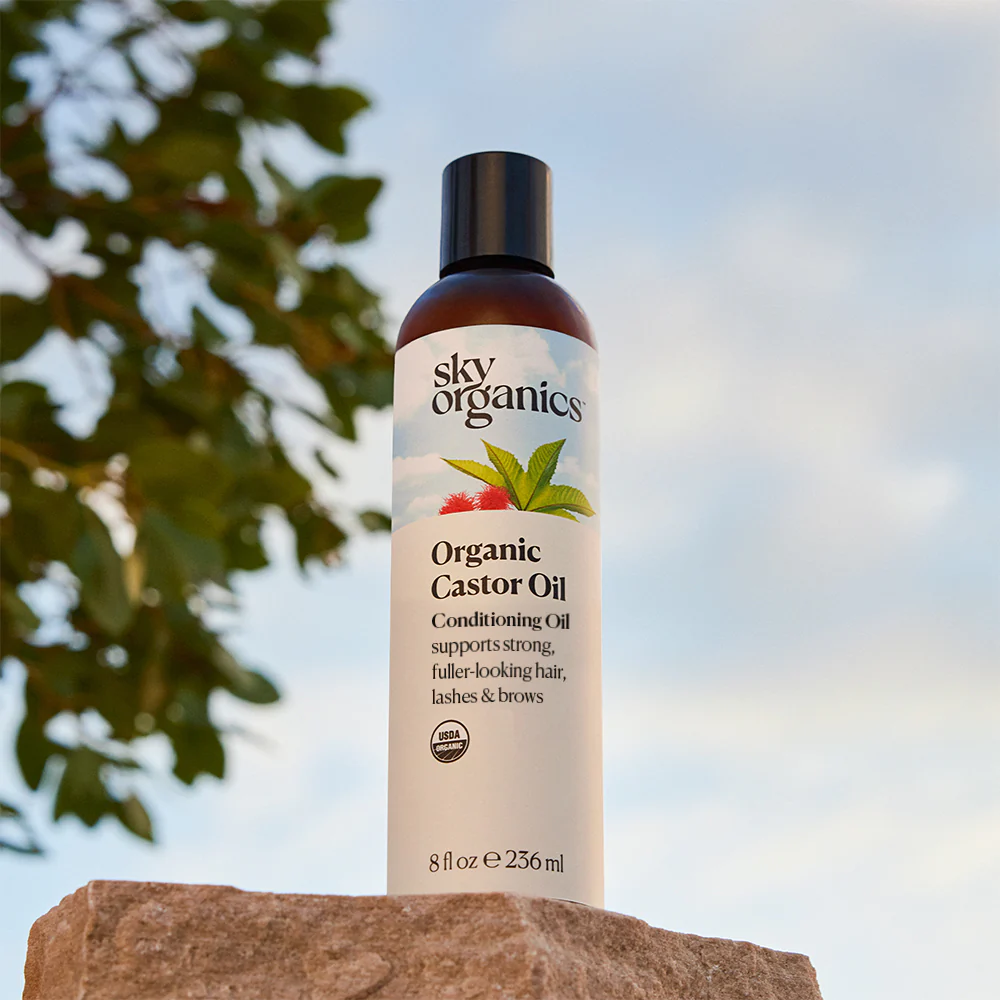 Nexus Capital Management invested in Sky Organics in 2020, when it hit $80 million in retail sales. Since then, the brand shares it's been on a steady growth trajectory. Amazon remains a huge sales driver for it, and it overhauled its Amazon storefront with the rebrand. Sky Organics has 500,000-plus reviews on the giant e-commerce platform. Neiger says, "Having been able to leverage that user-generated content is really something that really has worked in our favor."
Sky Organics is known for single-ingredient beauty oils and butters. Organic Castor Oil is its most popular product, and an Organic Castor Oil is sold each minute. Neiger says, "What really differentiates us is we don't greenwash, we don't fairy dust. If we're going to advertise an ingredient at the forefront of the packaging, it's because that ingredient is there at a potent level. Those are some of the things that we make sure always go into our product development."
Sky Organics' product pipeline is stuffed with upcoming releases in the face, body care, lip and haircare categories. Neiger says, "A lot of the new products that are coming out are going to have one or two hero ingredients, but they're also going to have more ingredients to create products that are more benefits-driven rather than ingredient-driven as we have in the past."