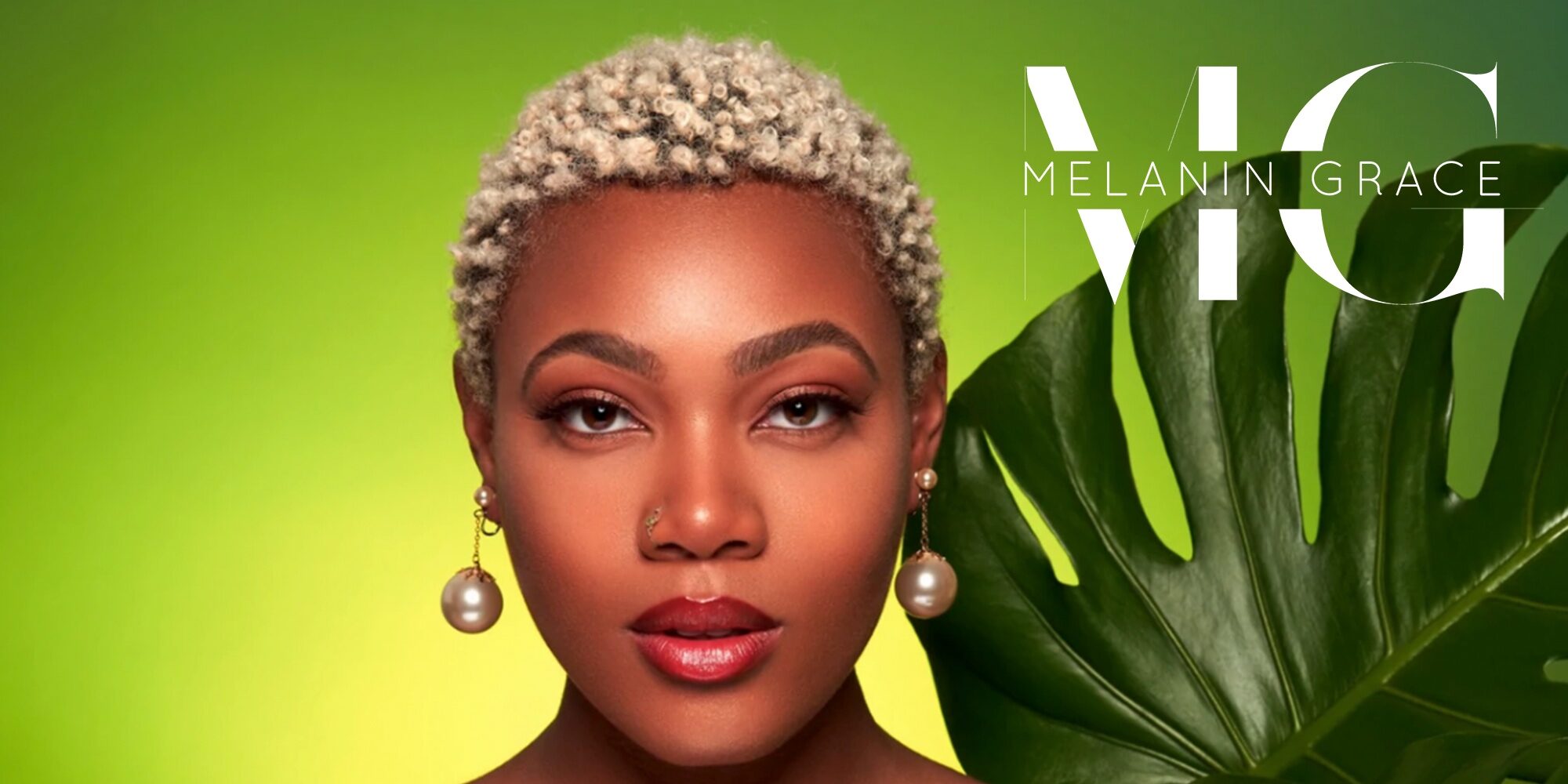 Adit Retailer Spotlight: Why Melanin Grace Founder Marti Moore Prefers The Term "Mindful" To "Clean"
After nearly 15 years as a marketing executive at big retailers like Macy's and Hudson's Bay, Marti Moore felt called to do something completely different: create an indie digital beauty marketplace with brands by and for BIPOC and women. 
"Through my career, I saw how difficult it was being, oftentimes, the only person of color in the room, and how difficult it was for people of color and women to break into this business," says Moore, whose been extremely picky about the products she puts on her skin from a young age as a result of her experience with solar urticaria, a sun allergy causing hives. 
"I wanted to focus on a marketplace that really nurtured and welcomed the BIPOC community as well as women entrepreneurs." 
In early 2020, the The New Yorker signed a lease for a small retail location in the Bedford–Stuyvesant neighborhood of Brooklyn, but the pandemic pushed her to shift gears to e-commerce. In October 2020, she launched Melanin Grace's store online with 15 brands. Since its launch, the e-tailer has grown to 25 brands across skincare, makeup, wellness, home, and bath and body, including Dehiya Beauty, Cheekbone Beauty, Pholk Beauty, Marie Hunter, Lady Suite, Kadalys, Back To You, Angie Watts and Buff Experts. 
Opening a brick-and-mortar space is still a goal of Moore's, and she's scratching the IRL itch by hosting pop-ups in Brooklyn. She hopes to expand the pop-ups to Manhattan and Philadelphia in the near future. Moore says, "

I really love interacting with my customers, and what really energizes me is helping people to find the right skincare products for their particular skincare needs."
Melanin Grace has teamed up with
Adit
, a service owned by Beauty Independent parent company Indie Beauty Media Group connecting independent beauty brands with retailers, to help it sort through brands that could be a good fit. Beauty Independent spoke with Moore about Melanin Grace's bestselling brands, the benefits for brands of launching at a smaller stockist and the gap she's looking to fill in her assortment. 
Who is Melanin Grace's customer?
My core customer is between 25 and 45, and I do have a segment that is 45 to 55. When I initially was developing the business plan, I thought that my core customer would skew a little older, honestly, but that's not the case. So, I work to develop a product assortment that is something a 25- to 45ish-year-old person would want to experience.
You use the term "mindful" rather than "clean." What does "mindful" mean to you? 
"Mindful" to me means being conscious and aware of the products that you're using to support, not just your own personal skincare needs, but our community at large. You can choose from a product that is clean, let's say, and manufactured by P&G or you can choose to purchase a product that is clean and that is manufactured by a woman founder that's independent or BIPOC founder that is a small business. It's about being mindful about your choices, not just for skincare, but for how the product is produced and manufactured. 
What do you make of the current clean beauty debate?
Anything that is new always causes debate, but I also think that clean beauty products don't have to necessarily be plant-based. I believe—and I just draw on my own personal experience—that there is a way that a product can have ingredients that are plant-based and ingredients that are manufactured in a lab, and these two can work together to be as efficacious as possible and still not be toxic. "Clean" is such a toxic, if you will, word at this point in our industry, and it's somewhat polarizing. I say "mindful" because I think there is an intersection between plant-based product and product that is manufactured in a lab, but that can be nontoxic and good for our skin.
When a brand pitches you, what do you want them to come to the table with? 
I am looking for brands with a clear niche, a clear story, and that most importantly are efficient and efficacious. Customers will see visible results. I do want to see that they have a following, so I look at their social media profiles. I look to see how they are already marketing themselves. Are they running ads? When I Google the brand, how relevant are they? Are they the No. 1 result?
Founders don't have to come to me with a super buttoned-up marketing plan, but they do have to have a willingness to want to participate in marketing or co-branded events. I'm only as strong as they are, and they are only as strong as I am, so it behooves all of us to work together. I am always interested in a baby brand with a great idea.
What makes brands successful at Melanin Grace? 
I think it's important that the brand is a successful one on its own. I really like it when brands come with social media content or marketing content that we can partner on. I love it when brands are willing to do personal appearances with me at pop-ups or Instagram Lives and promote themselves.
Why should brands work smaller retailers into their distribution strategy?
It's cost-effective. Having worked for large retailers my entire career, I know that they can single-handedly put a small brand out of business. I know the cost of entry for those retailers. If you open with a small, independent retailer, chances are you will not be asked for those same kinds of financial commitments. Secondly, I will give your brand a lot of TLC. In the big guys, you can get lost within the mass of brands.
For example, I approached a brand to have conversations with me about Melanin Grace when I was just starting to develop the business plan, and the brand said to me, "Oh, we're so excited because we are launching in this big retailer." I went into the retailer to see its launch. Having department store, specialty store buyer experience, I know what a good launch looks like. I walked in, and I couldn't even find the brand. I finally had to ask a sales associate where the brand was. And, when I found it, I was shocked. It was in the very back of the department.
Even though I am an e-tailer, when I launch a brand, it's front and forward. It's because I'm small that it's meaningful to me, and I want the brand to do well.
What is the cost of entry to launch with you?
I want to provide a space where a new brand or an existing brand can come share and succeed. So, there is essentially no cost of entry. I look at my markup, I look at whether you can supply me with testers for when I have pop-ups and I need to show customers the product. I don't charge for marketing, but I do expect a partnership.
I am not looking to carry 50 SKUs of anything. When a brand reaches out to me or if I reach out to a brand and they say our minimum purchase order is 50 or 100 pieces, oftentimes I have to say thank you, but no thank you. I can't afford that. I purchase anywhere from three to 12 pieces of an item to start because I want to ensure that it's going to sell and that our partnership is solid. Then, as we progress, I see what is selling. Ordinarily, I don't purchase everything from the brand. I cherry-pick based on what I know Melanin Grace will sell and where I have white space.
What are some of the bestselling brands? 
Our bestselling brands currently are Marie Hunter, Pholk Beauty, Dehiya and Angie Watts.
Are there any categories particularly interesting to you going forward?
I'm interested in baby and mom or maternity products. I'm kind of toying with ingestibles as a category, too.
What are gaps in your current assortment you're looking to address?
There are two things I am looking for. Tinted moisturizer or tinted serum with an SPF for brown skin tones that are manufactured by a BIPOC company. If you know of one, please tell me! There are few out there that aren't willing to sell to Melanin Grace.
Oftentimes, many brands feel like they have to go with the big guys. They want to be in Sephora or Ulta. And, when I approach them for a wholesale partnership the response is, "We're in Sephora, we have an exclusive with them." So, that's a huge challenge for small retail operations.
I'm also looking for a very efficacious face moisturizer that is very rich in emollient. There are a lot of moisturizers out there that have hyaluronic acid and Aloe and things like that are not as rich as they could be for dry skin, and I'm not looking for a balm, but a cream moisturizer for dry skin.