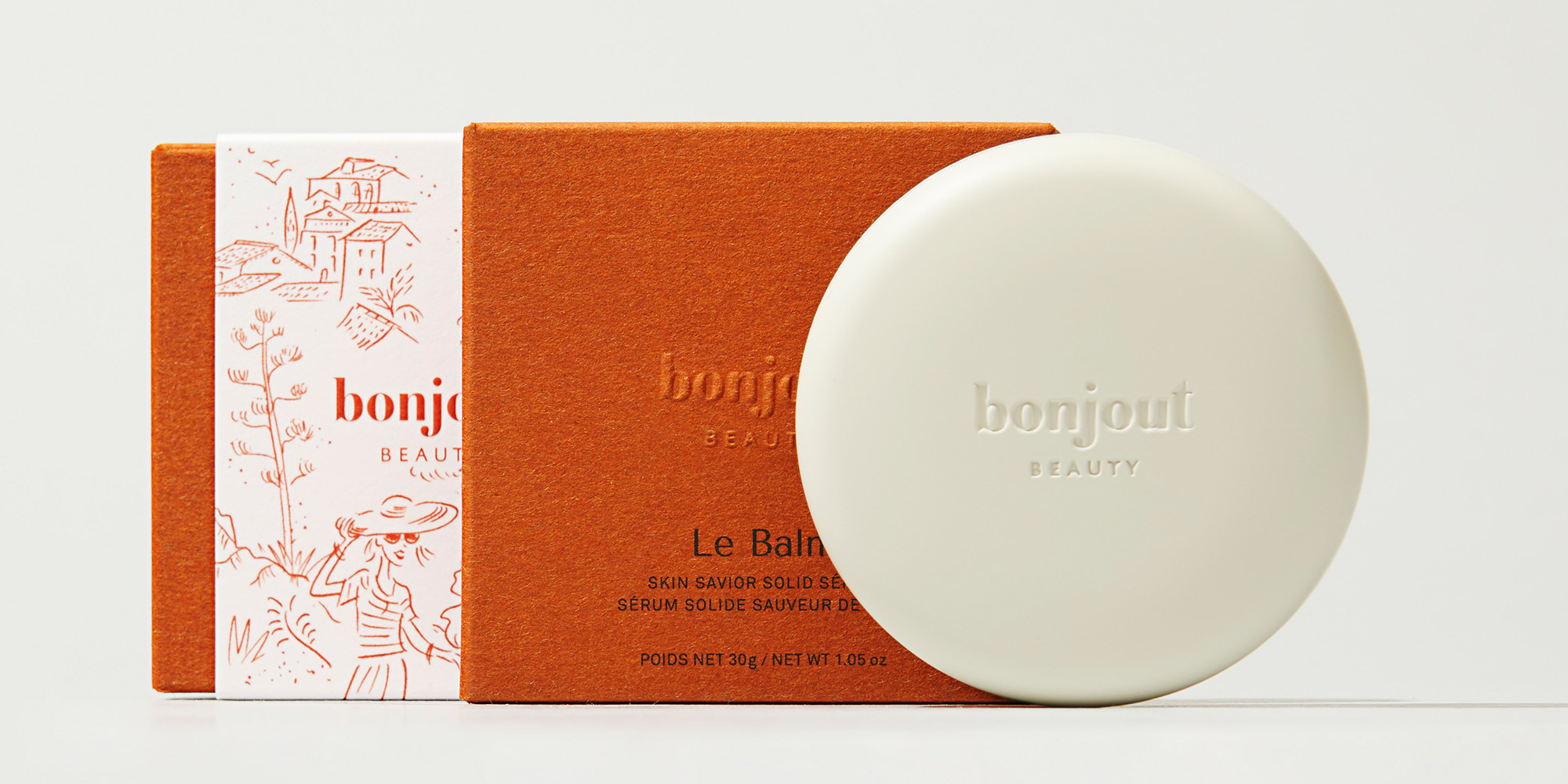 Starting With A Single Product, This New French Pharmacist-Founded Skincare Brand Is Exceeding Sales Projections
Growing up in the South of France, Natacha Bonjout revered the French Riviera's stunning beauty and the region's simple approach to life. Coupled with her professional background in beauty and desire to bring something new to skincare, they inspired her to create the eponymous brand, Bonjout Beauty.
Launched in May, Le Balm Skin Savior Solid Sérum is the brand's first product. It's a waterless, multiuse skincare salve packed with 68 active ingredients, almost all of which are naturally derived, and it's rooted in Bonjout's proprietary 2.6.60 formulation protocol that Bonjout Beauty calls the Bonjout Radiance System. The protocol involves six skin benefits, including moisturization and repair, 1.5 million patented plant cells per formula and actions on two skin levels: the surface and deep epidermis.
"Because of my scientific background and career in the cosmetic industry, I was able to identify not only products, but methods of delivering ingredients to the skin that are both innovative and first to market," says Bonjout, who has a pharmacy doctorate and previously worked for Fareva-owned makeup manufacturer Chromavis and Givaudan-owned natural ingredient supplier Naturex. She moved to the United States in 2010.
Priced at $120 for a 1-oz. size, Le Balm contains peptides, squalane, hyaluronic acid and prickly pear oil. It's primarily made up of lipids that Bonjout explains mimic the skin's structure and penetrate into the dermis for optimal efficacy. It took Bonjout five years to formulate Le Balm to her standards. While its formula isn't minimalist, she points out the product is designed for minimalist skincare consumers. She says its "all-in-one" formula can be used on the face, lips, neck and under the eyes.
Housed in a macaroon-shaped ivory case appearing akin to an expensive bar of soap, Bonjout describes Le Balm as epitomizing "quiet luxury." It's the kind of product French pharmacy skincare aficionados would relish having on their sink. Made from recyclable materials, the container will soon be refillable.
In Bonjout Beauty's initial two weeks on the market, it registered over $50,000 in sales. The brand is expected to reach about $1 million in sales in its first year. "We were able to meet our first-month projections on the first day of sales," says Bonjout. "It's been amazing to see the passionate response from our customers and community and how much they love the product and see a real difference in their skin."
"It's been amazing to see the passionate response from our customers and community and how much they love the product and see a real difference in their skin."
Solid serums are a tiny slice of the $3.1 billion global serum segment, which market research firm Transparency Market Research projects will advance at a compound annual growth rate of 7.4% to hit nearly $6.3 billion by the end of 2031. The few brands that have broken into the solid serum space include DEW Mighty, Tatcha, Live Tinted and Hero Cosmetics. They're responding to consumer interest in sustainability.
For now, Bonjout Beauty is only sold on its website, a decision Bonjout made to build a strong sense of community and momentum before embarking on retail distribution. She says, "We are considering retail expansion in the future, though with the right strategic partner who aligns with our values."
For funding, Bonjout Beauty started with a small circle of friends and family backers, but, once word got out, more people wanted to support the brand. The brand has raised $1.5 million.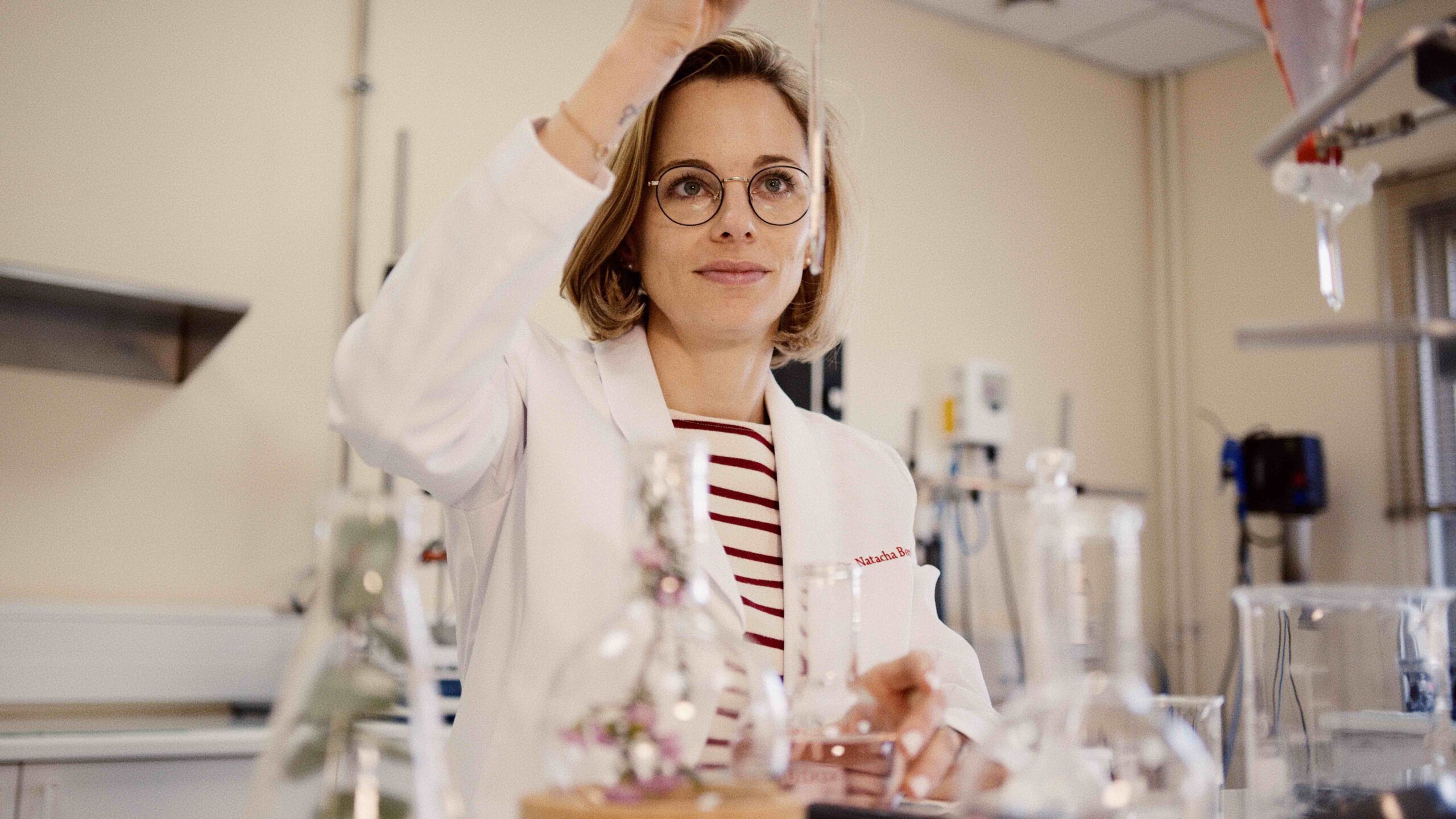 "It quickly turned into friends of friends and other advisors who were so impressed with our technology that we had a long list of people who wanted to invest and help grow the business," she says. "We are also lucky to have some very talented leaders in the beauty industry who have grown and taken several businesses to billion-dollar IPOs and are acting as advisors to us, even investing their own money into the brand."
To raise awareness, Bonjout Beauty has turned to Instagram and is considering establishing a presence on TikTok soon. The brand has hosted two pop-ups in New York. Bonjout says, "Getting in direct and actual contact with customers felt great and the purchase conversions went through the roof."
Bonjout Beauty has several product releases in store for 2024. Bonjout hints that they will focus on optimizing skin radiance. "There is a huge opportunity to expand within both skincare as well as makeup categories to deliver the proprietary Bonjout actives in new and innovative formats," she says. "We are truly developing first-generation, first-to-market skincare technologies, which come with some challenges and complexities. We do not want to rush anything to market if we are not 100% confident in and passionate with its performance."