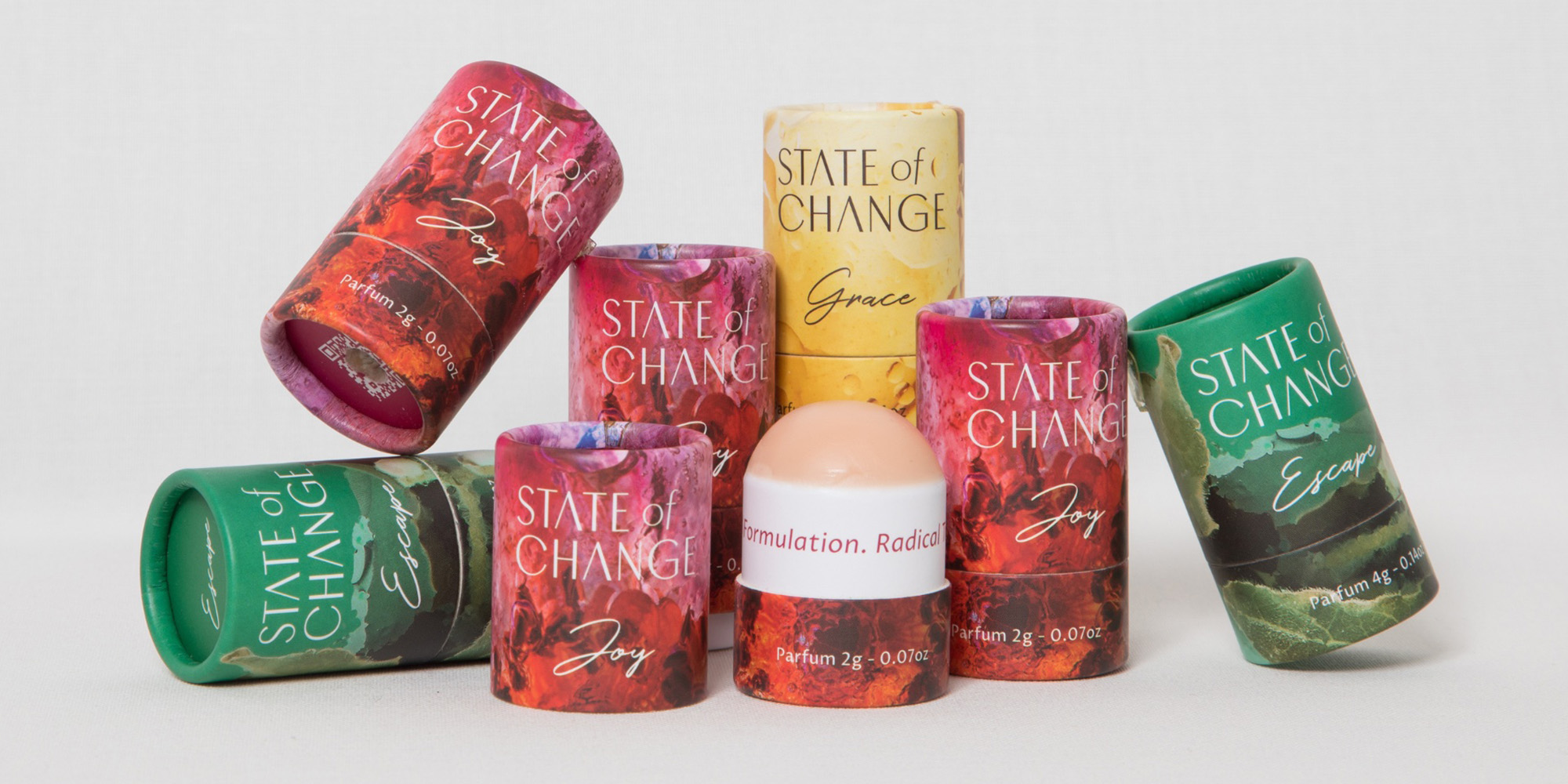 State Of Change Is Completely Transparent About Its Perfume Ingredients—And Wants The Fragrance Industry To Be, Too
When Ashlee Posner, a longtime fragrance entrepreneur who started customization concepts Aromachology and The Perfume & Cologne Bar, asked the fragrance house she was using for safety information on the perfume ingredients in her products, she was promptly denied. "I was like, 'This doesn't make any sense with where the landscape of every other segment of beauty is moving that there's no transparency,'" she recounts.
Posner isn't one to recoil at rejection. If her fragrance house wasn't going to bring transparency to fragrance ingredients—and the industry as a whole, which has relied on legal trade secrets protection to keep 300-plus fragrance compounds in their formulas hidden, wouldn't do it—she decided she would. She's spent the last two years assembling a database of nearly 600 fragrance ingredients along with their safety metrics to provide the backbone for open fragrance formulas.
Now, Posner is paving the way toward greater transparency in fragrance with a new brand, State of Change, and new company, Lucent Labs, assisting third-party brands develop fragrances that can pass muster with label-reading customers conscious about what they're putting on their bodies. State of Change is starting with three solid fragrances priced at $35 each for 4-gram sizes—State of Joy, State of Grace and State of Escape—with about 30 fragrance ingredients available for all to see.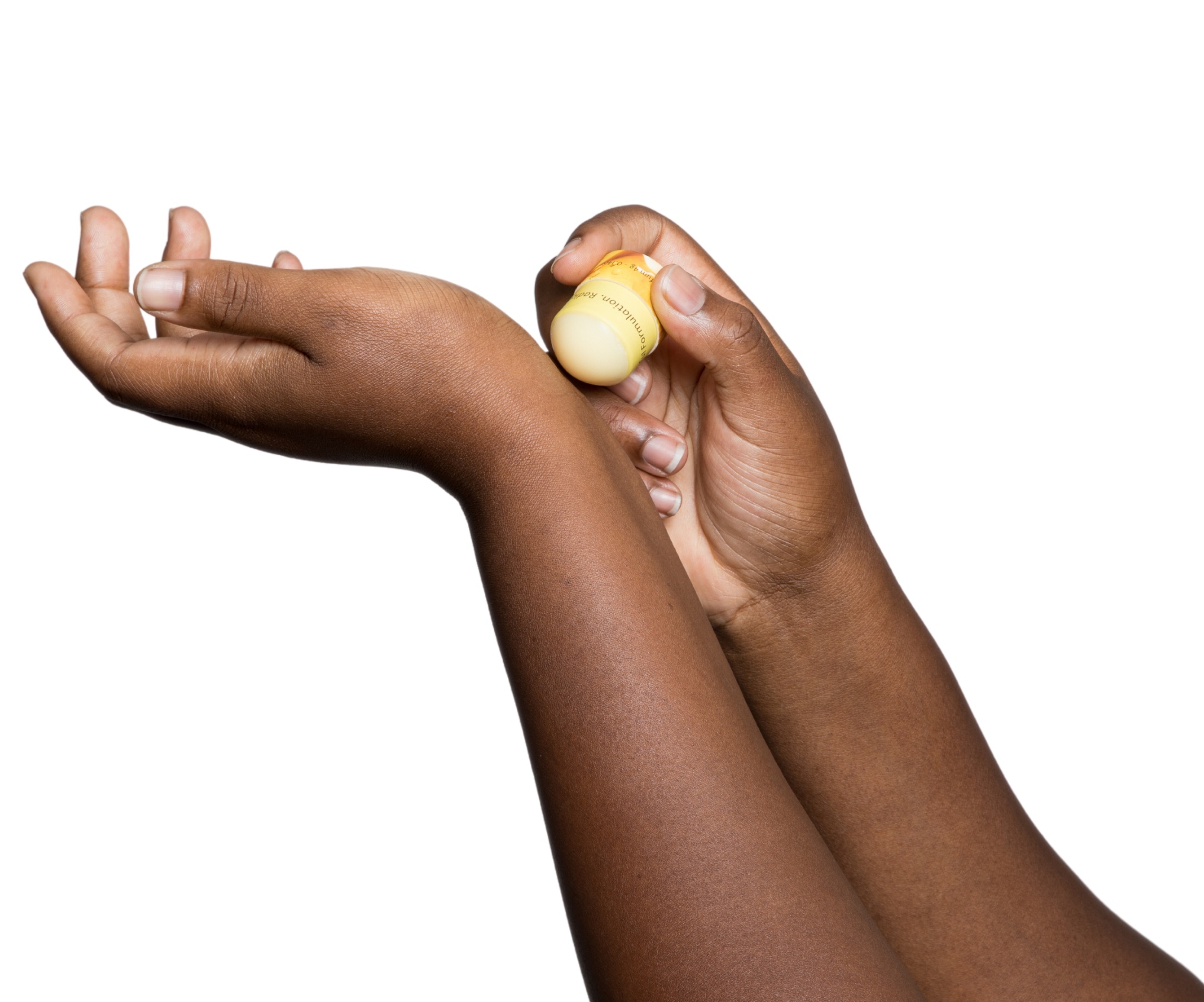 "Our fragrance formulations are completely transparent. We list out every ingredient," says Posner, adding, "My theory was, if you came out and said, 'This is transparent, clean and safe,' the big guys are going to say, 'But it's not a luxurious, beautiful fragrance.' So, the goal was to make a beautiful, sophisticated fragrance, but only use ingredients that were proven safe."
With "quiet luxury" a dominant force in fashion, Posner is convinced that refined solid perfumes are poised for a comeback. She calls State of Change's solid formulas the "no makeup makeup of fragrance." They're designed to be layered and intimate, not cloying perfumes that hang behind in a room when a person wearing them leaves it.
The solid fragrances are housed in push-up Forest Stewardship Council-certified paper tubes for sustainability purposes and to circumvent people having to stick their fingers in the formulas. Refills are in the pipeline for next year, and State of Change is in the middle of clinical testing to verify the longevity of its scents. They have alcohol-free bases containing nourishing skincare ingredients such as coconut oil, squalane and vitamin E.
"Our fragrance formulations are completely transparent. We list out every ingredient."
Out of the gate, State of Joy has picked up an Allure Best of Beauty Award. For customers unfamiliar with fragrance notes, State of Change tries to paint pictures of its fragrances with words. It describes State of Joy as, "Flowers behind the ear, humming that song on the radio, falling asleep in the backseat on the drive home."
State of Grace is illustrated as, "Watermelon eaten down to the rind. Salty skin, silver driftwood, a sun-bleached memory for the books." Lastly, State of Escape is encapsulated by, "A silk scarf. A red lipstick. A love for freesias. The soft spices. The warm woods. The way memories have no shape, but remain a vessel—somewhere to disappear into, something to transport you the beautiful."
Beyond descriptions to persuade people to buy perfumes, Posner is a huge proponent of getting fragrances into people's hands via sampling. State of Change has struck a partnership with Ipsy to disseminate samples in October. In November, it will participate in Allure's beauty box. State of Change has raised $150,000 in friends and family funding to launch and pay for samples.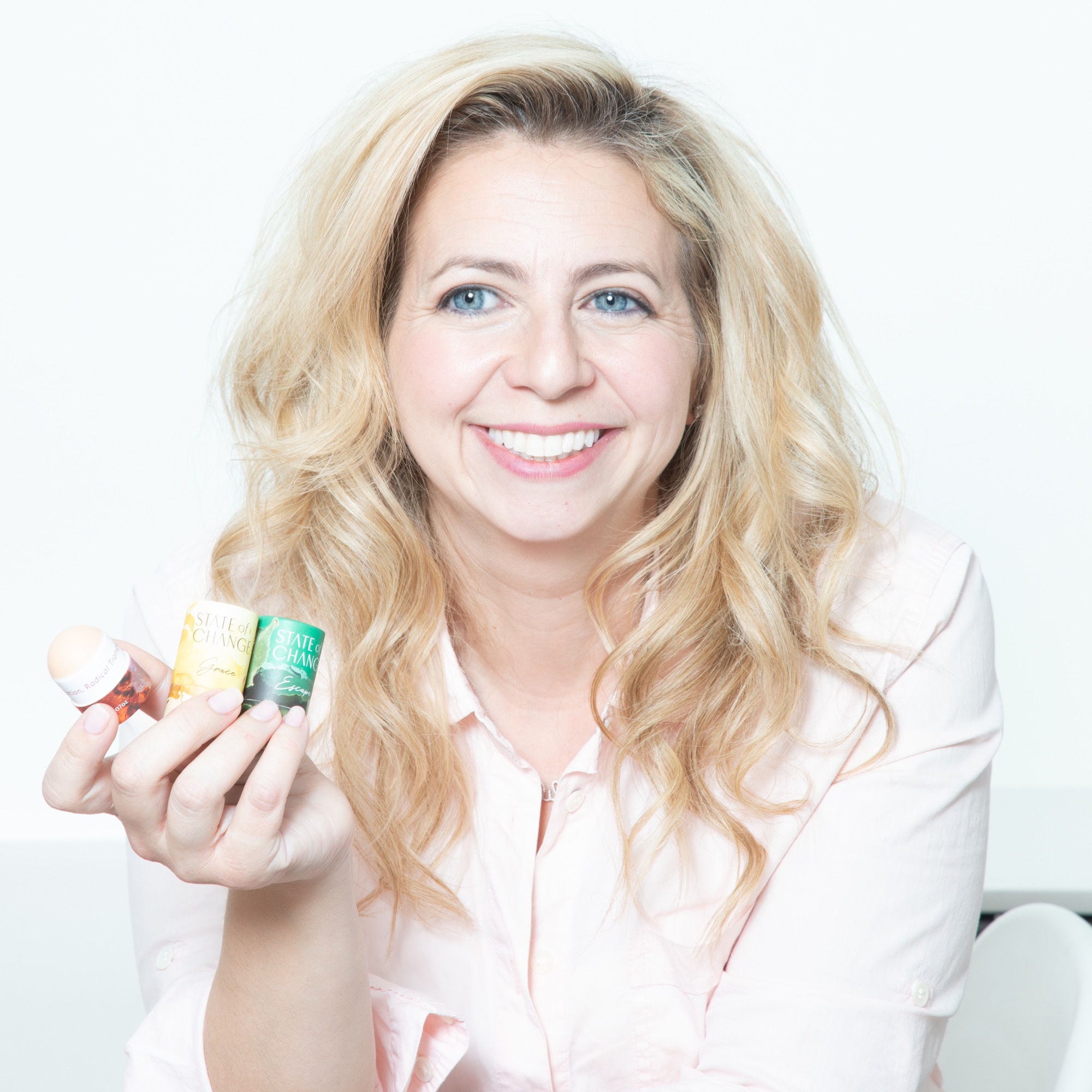 At the outset, the brand will be in direct-to-consumer distribution to enable it to gather consumer feedback to inform assortment expansion. Posner envisions retail in its future, and she has experience guiding a beauty brand into retailers. In the past, Aromachology was at Sephora and HSN.
"We're going to find the right retail partner who wants to help us to be a partner from the education standpoint, too. I think that this is almost in its way a whole new category," says Posner. "The right partner will be a huge piece of our opportunity to grow."
The clean beauty movement made ingredient transparency an important topic in the beauty industry—and there's been progress toward it in fragrance. Clean beauty retailer Credo has enacted a fragrance policy requiring its brands to categorize the fragrances in their products as essential oils, certified organic, natural, naturally derived, synthetic and fragrance free. Many perfume brands have been interested in pushing ingredient transparency further, but they've faced challenges from fragrance ingredient suppliers.
"It's an antiquated, very veiled industry."
Posner blames a concentration of power in the fragrance industry for the lack of transparency and has turned to a small fragrance house to avoid the larger players. "It's an antiquated, very veiled industry…It's an oligopoly in the industry. Sixty percent of what's made is owned by four companies. I get what the industry is," she says. "That doesn't mean that nobody should ever build something that's done better."
For outside brands looking to build transparent fragrances, Lucent Labs charges a fee of $4,500 to construct a formula and complete two rounds of sampling. The company's brand clients receive ownership of the formulas. The next steps for Lucent Labs are to aid brands in tracing the sources of their fragrance ingredients and possibly offer market validation that their fragrance ingredients are safe.
While fragrance transparency has been a topic of conversation among beauty brands and retailers, Posner acknowledges it's not widely known by consumers that companies don't have to disclose fragrance ingredients. Still, there are worries about fragrance ingredients that lead people to steer clear of perfumes during pregnancy or due to allergies that can be assuaged with ingredient clarity. Up to about one-third of people report scents on their fellow humans irritate them. Estimates of the prevalence of fragrance allergies vary from roughly 1.7% to 11% of the population.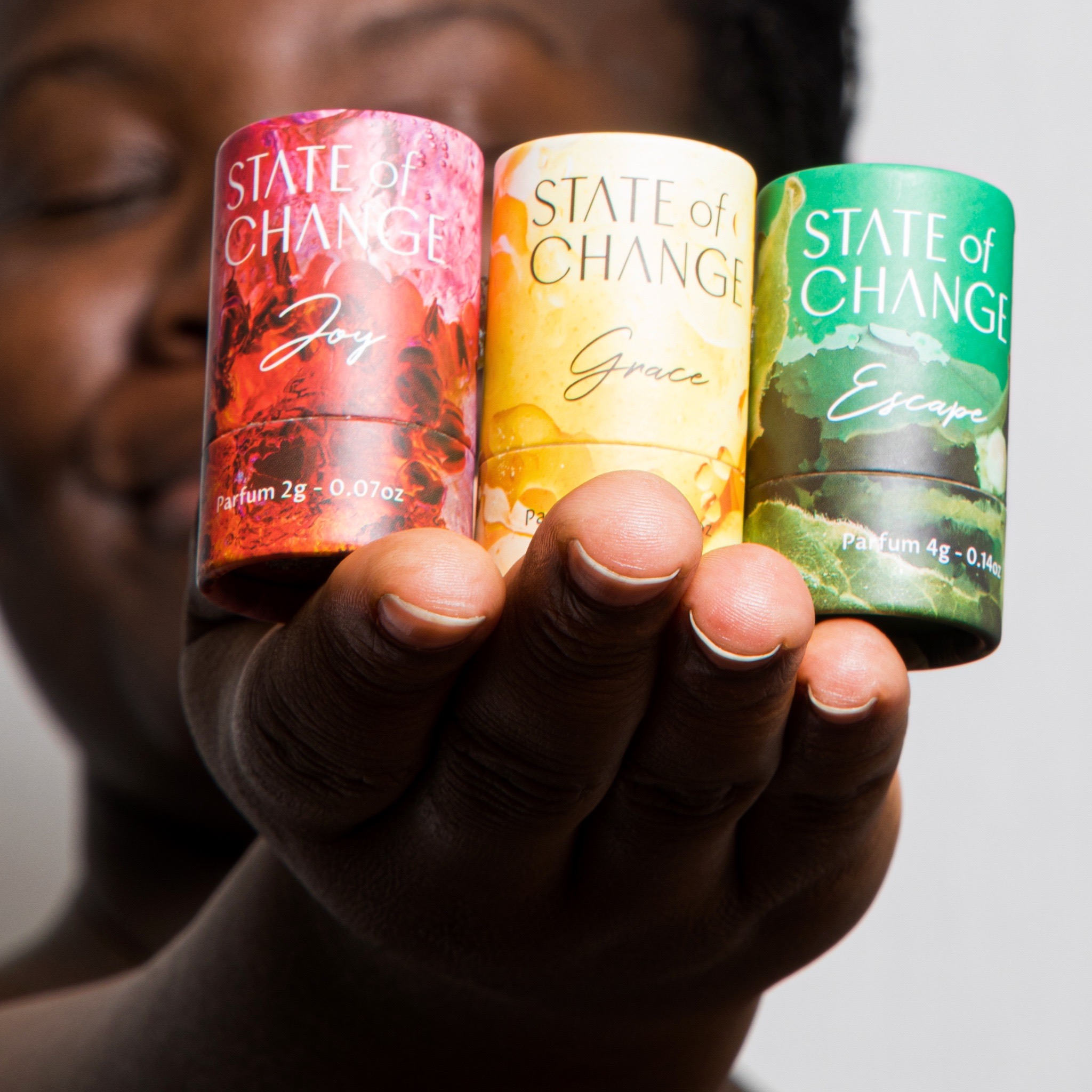 State of Change's early customers—a group Posner surmises will include beauty lovers that covet fresh concepts, low-tox living enthusiasts and people with reasons to be concerned about fragrance ingredients—can be evangelists for its leadership in fragrance ingredient transparency. Posner also invites retailers and brands to join forces to be advocates for the change State of Change is seeking in the fragrance industry.
She says, "I'm a big believer of collaboration over competition when it comes to innovation, and I think genuinely that, for all of these things to change, you need a group of people to push it together."