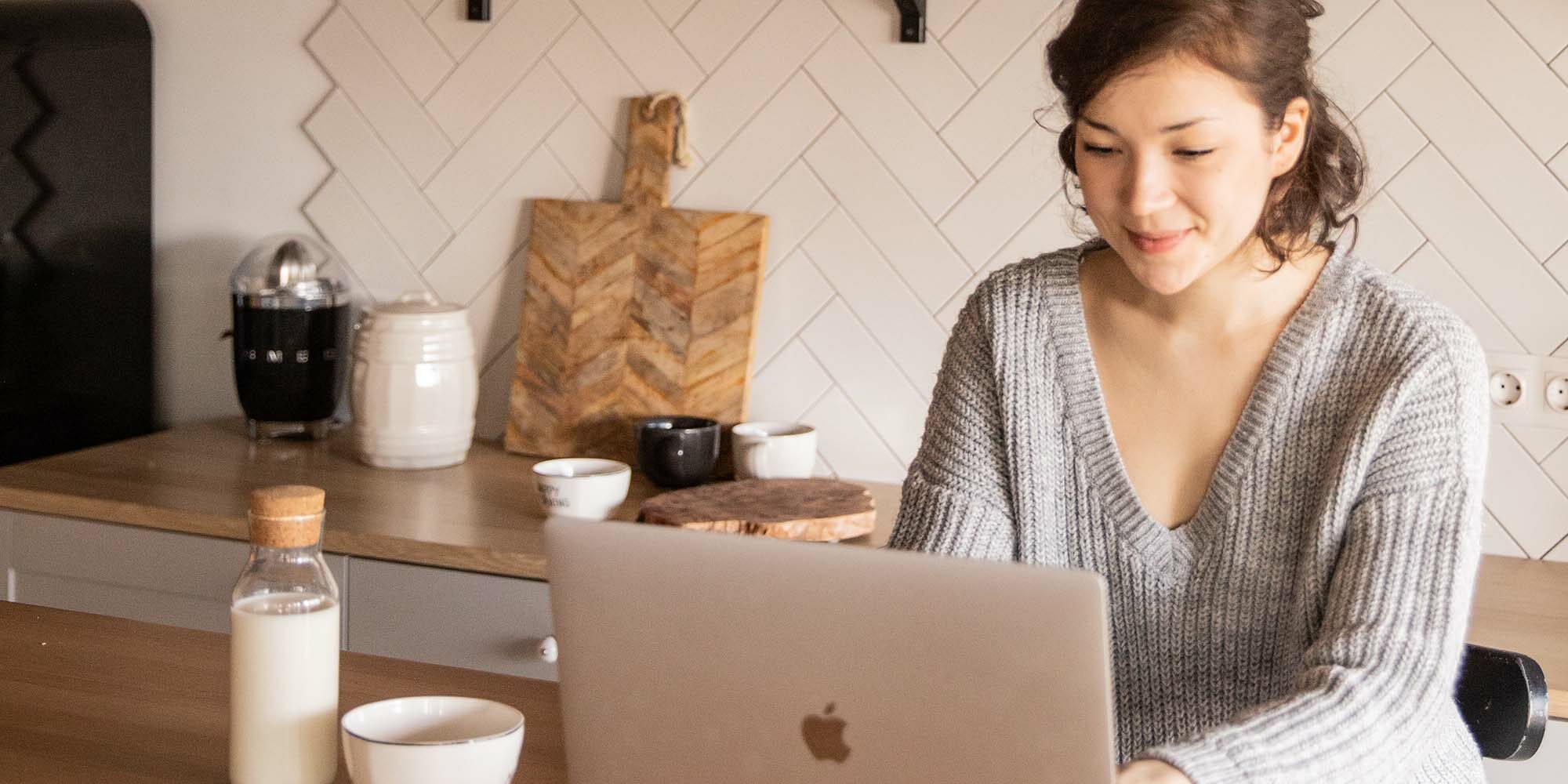 What Consumers Are Searching For When It Comes To Sustainable Beauty
If there's one thing the panelists at Hairstory's recent Sustainability Beauty Summit could agree on, it's that there's a lot of work that needs to be done in the eco-conscious space, w
hether it's combatting greenwashing, advocating for federal regulation or deciding on universal terminology.
Sustainable beauty isn't black and white, but rather is characterized by shades of gray, emphasized Hairstory CEO Eli Halliwell, former CEO and president of Jurlique. He underscored, "Sustainability is a journey, not a destination." On the journey so far, strides are being made by brands and interest is gaining among consumers as Olivier Zimmer, co-founder of data science firm Spate, made clear with Google search information he shared during the summit. Spate's analysis shows that searches for sustainability have increased 18.5% year-over-year from 2018 to today. There was a slight dip in interest in March and February last year due to the pandemic, but there was a quick recovery in the summer.
In general, Zimmer points out that search interest in beauty has been declining—2020 was a particularly tough year for many categories, especially makeup—but, when it comes to searches for vegan and clean beauty brands, there's been a jump of 16% and 12.9% respectively. "These brands are outperforming the benchmark," said Zimmer."It's showing that consumers are shifting toward those brands, they are voting with their money by picking up on these brands that are taking a stand and a positioning when it comes to these values."
Ahead, we highlight key consumer insights from Spate's findings, including the categories and terms garnering the highest search rates, and the sustainable brands consumers seem to be gravitating to. 
The Terms "Reusable" and "Refillable" See Positive Growth
Among the sustainable terms that have experienced the biggest year-over-year growth in search are "reusable" and "refillable." Understandably given COVID-19 precautions, searches for reusable face masks topped the list, but reusable cotton rounds and pads also saw more than 50% growth. Zimmer said that refillable hasn't seen a spike during the pandemic in particular, but it has registered linear growth and is considered a sustained riser, "meaning that it's a real true shift in consumer behavior that is long-lasting."
Deodorant has seen exponential growth in the refillable area (199,405% year-over-year), while perfume bottles and shampoo are ticking up, too, with 26% and 14% increases. Waterless products—specifically shampoo, cleansing foam, soap and hand sanitizer—have experienced strong growth over the past 12 months as well. 
"The opportunity here for brands is to think about what matters from the consumer standpoint," said Zimmer. "There is a pragmatic approach that you want to take toward sustainability: Thinking about how to position yourself with refillable or reusable can also be a way in making a difference and at the same time capturing what's on the mindset of the consumer right now."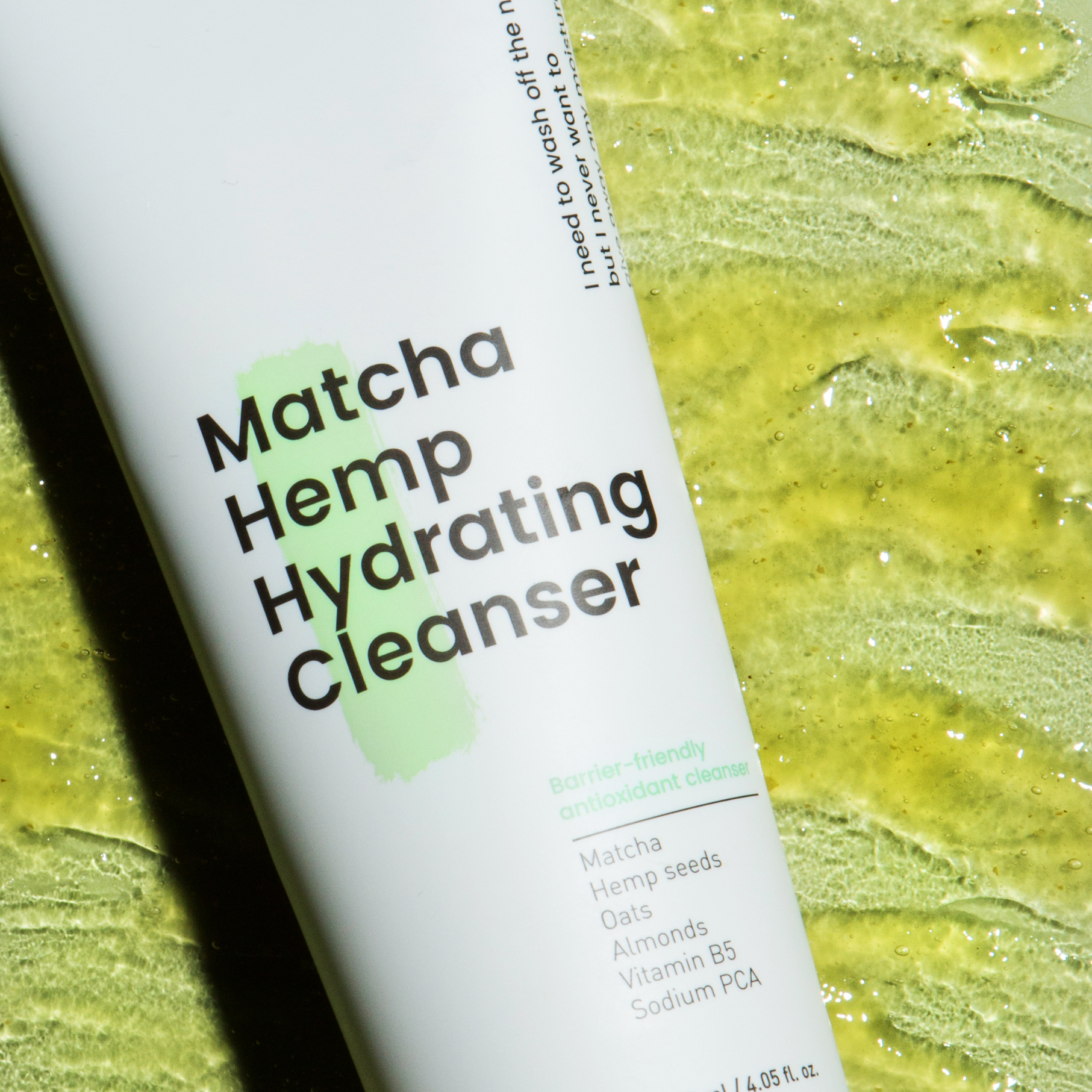 It's Not Always About What's In A Product
When Zimmer looked at searches involving clean haircare and skincare, they revealed consumers are looking for products free of certain ingredients. For haircare, "sulfate-free," "silicone-free," "paraben-free" and "fragrance-free" are important descriptors. For skincare, "cruelty-free" and "fragrance-free" saw big growth. "It's not necessarily about what a product will contain or how a brand is formulated, it's more about what it doesn't have right now," said Zimmer.
He pointed out that, though "organic" is still a pretty popular label, searches for it are on the decline. "Organic ingredients were actually a big trend in the U.S. back in 2018, 2017 and that explains why this is actually not growing right now," said Zimmer. "You can also argue that there's a certain level of consumer education. Somehow, we reach a peak here when it comes to communicating on the organic standpoint of things."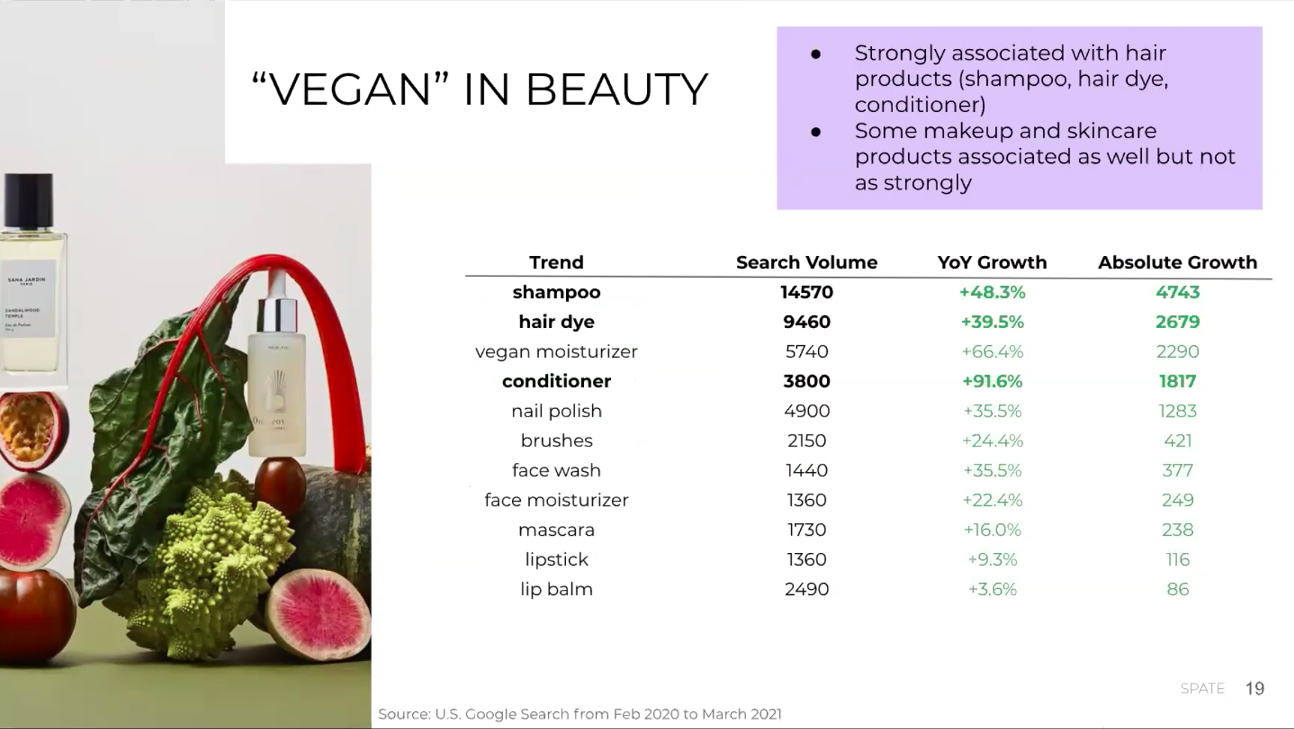 Vegan Haircare IS ON THE RISE
"Vegan" has sparked 16.2% year-over-year growth in beauty and, when Zimmer investigated the term further, he discovered the products searched alongside it the most are shampoo, hair dye and conditioner. "It's not always the case that the hair category would be spearheading these types of searches and so I think that's the noticeable part," he said.
Zimmer has a few theories about the mounting interest in vegan haircare. "In skincare, we have seen the rise in all of the scientific ingredients—hyaluronic acid, retinol, niacinamide—in the last two years," he noted. "Hair is actually very interesting because we still have a lot of natural ingredients that are still really big in the hair space right now and so I think that's why we still see a lot of things related to vegan."
For example, Zimmer mentioned the fastest-growing ingredient in searches this past year was rice water associated with hair, an ingredient linked to people experimenting with DIY hair techniques. Coconut is experiencing a comeback possibly for the same reason. "Suddenly, there's this big massive surge in coconut everything because it's something you can easily do at home," said Zimmer. 
Vegan haircare brand Vegamour was one of three sustainable brands that consumers seem to be searching for the most (it's seen a 427.8% spike, and the brand tells us that their sales for 2020 were 800% above the prior year). Its hair serum in particular has ranked high in searches. Zimmer figured hair loss brought on by the pandemic has lead to that high ranking. "With the rise of stress and anxiety, people are losing their hair and so that's how Vegamour here is uniquely positioned," he said. "They also have products that help with eyebrows and eyelash growth, so that's potentially capitalizing on an existing consumer demand that's doing well." Being Clean Isn't Enough 
Zimmer identified two other brands that rank high in sustainable beauty searches: KraveBeauty, which has seen 237.3% year-over-year growth, and Ilia Beauty, which has seen a 225.8% year-over-year growth. Ilia stands out because makeup has been on the decline. Zimmer hypothesized the interest lies in the brand's blend of skincare and makeup. He said, "Multitasking right now is a big driver of growth."
When it comes to KraveBeauty, the searches that drive the brand are associated with matcha, hemp, beet and kale, all ingredients used in the products. "What differentiates KraveBeauty is that they're using these natural, but effective skincare ingredients…They have a clear differentiating point here that's also what's driving the increase in interest," said Zimmer, adding that the brand's popularity on TikTok has been a catalyst for its search presence.
Zimmer concluded by noting, "It's not only about being clean or having certain values, that's not enough. Brands that have been the most successful in the space also have other areas of key differentiation. That together with the idea of sustainability and clean is the key of success to make a real impact and change."