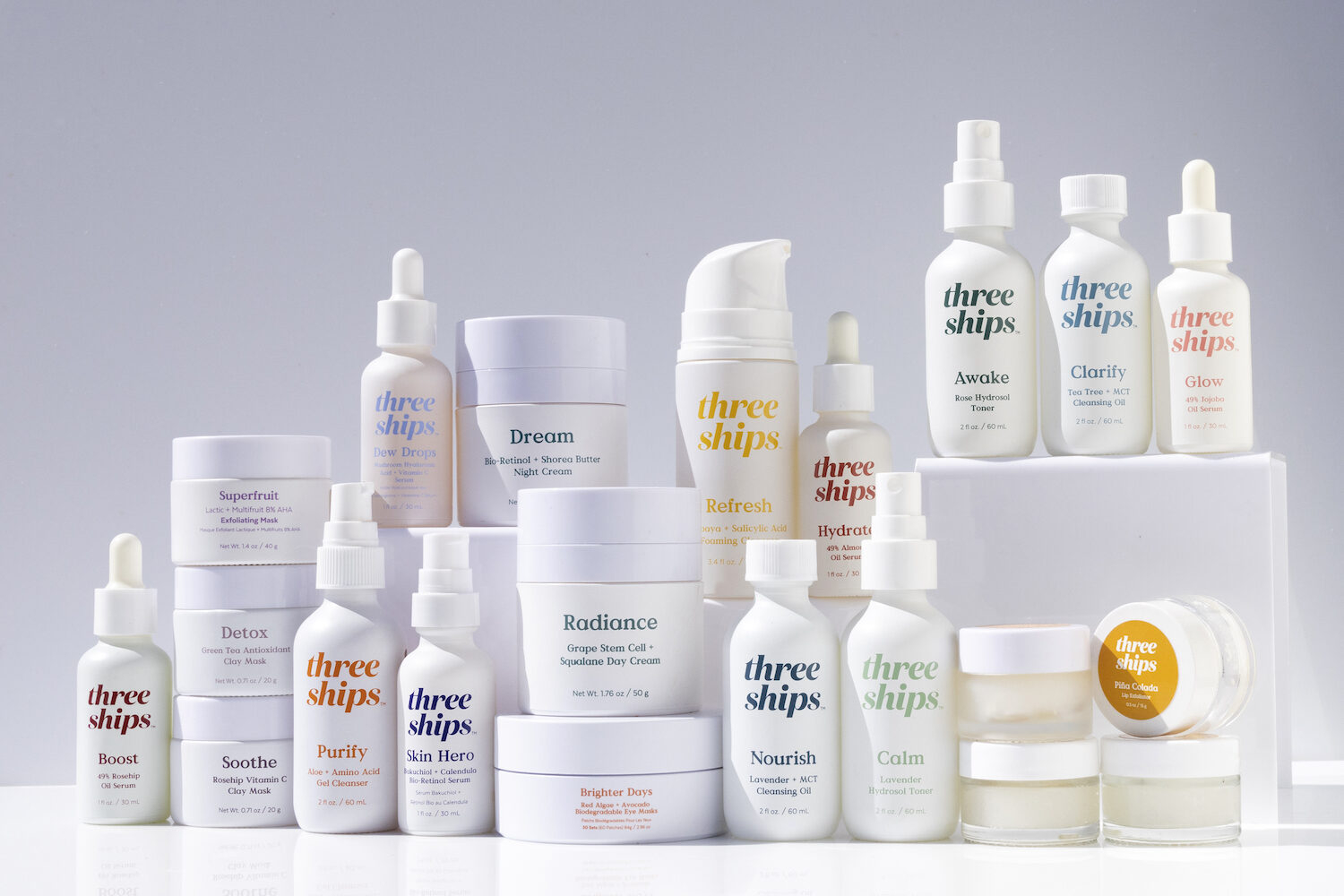 Three Ships' Founders On Raising A $1M Seed Round And Exiting Target
Toronto-based skincare brand Three Ships aims to sail with a new infusion of $1 million in seed funding.
Investors in its latest round include Martin McCourt, former CEO of Dyson, Tara Bosch, founder of SmartSweets, and Arati Sharma, founder of Backbone Angels. The money will be put toward ramping up Three Ships' staff with marketing and sales hires, product development and working capital reserves. The brand, which raised $1.1 million in pre-seed funding two years ago, plans to introduce six products next year, notably a trio of sensitive products in collaboration with a dermatologist, after releasing three in 2022.
"This allows us to make calculated, smart risks during a time when many brands are holding back on their spend because it's very uncertain times right now," says Connie Lo, who founded Three Ships as Niu Body in 2017 with Laura Burget. "That way we're able to grow much faster."
Burget adds Three Ships strives to piggyback on its current momentum to further accelerate growth. The brand's sales have skyrocketed 550% from 2020 to 2021, and it's nearing profitability. Profits were a point of emphasis for investors as Three Ships fundraised. Lo recounts, "The most common phrase they would say is, 'Are you on the path to profitability?'"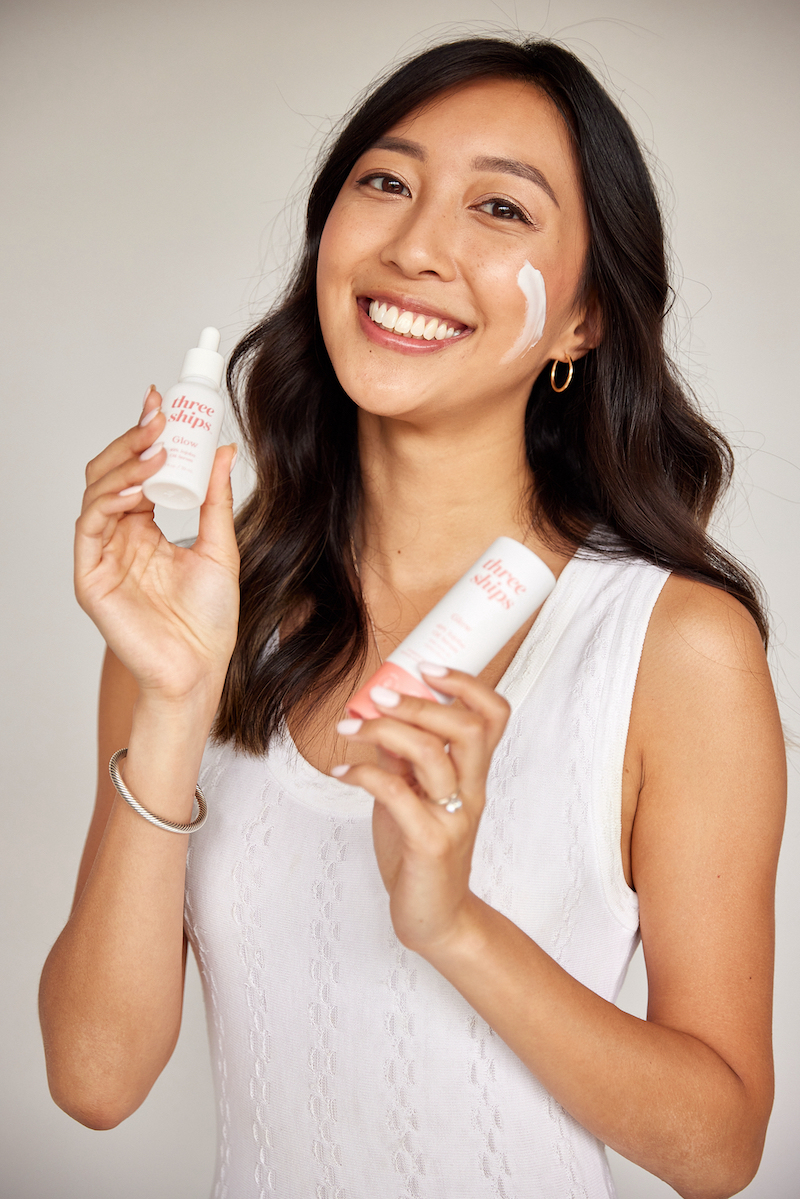 Prior fundraising experience helped Three Ships secure seed funding. Lo and Burget initiated conversations with angel investors in 2019. Back then, they began an Excel database that they've updated regularly with investors they run across. They send out monthly update emails to investors they think could be a fit for their cap table one day to keep Three Ships top of mind. The emails cover the brand's wins, metrics, areas of concentration and where it could use assistance. Opens are tracked by Klaviyo.
Lo says, "When it came time to reach out to this group of potential investors before our seed round this year, Laura and I just quickly dove into the numbers in the back end and saw, OK, this potential investor opened our monthly emails every month or this one kind of dropped off six months ago, let's not reach out to them."
Niu Body was developed with $4,000 from Lo and Burget's personal savings. It was rebranded as Three Ships in 2020 to cater to millennial preferences. Discussing the rebrand as it hit the market, Lo told Beauty Independent, "We really wanted our brand to be ingredient-focused, very transparent and straightforward in our messaging, so we decided we had to change our brand."
Today, Three Ships sells 23 stockkeeping units priced from $13 to $38. Brighter Days, a biodegradable eye mask comprised of red algae and avocado, is a longstanding bestseller. The Dew Drops Mushroom Hyaluronic Acid and Vitamin C Serum are close behind.
Product releases are integral to Three Ships' approach to customer acquisition. "As Three Ships starts to develop and launch more innovative and truly unique products onto the market, it attracts us to a different type of consumer," says Burget, noting the brand has a 50% reorder rate and 48% repeat rate. "Once we acquire customers, they're extremely loyal, and they keep coming back and referring more customers, so word of mouth remains our largest [marketing] channel by far."
Three Ships' strong loyalty and rewards program enable it to redirect customers garnered at its wholesale partners to its direct-to-consumer website, which accounts for 65% of sales, and retain them. Among its wholesale partners are Whole Foods, Hudson's Bay, Indigo, Holt Renfrew, Credo and The Detox Market. The brand broke into Whole Foods in Canada in the spring and will expand to all doors at the grocery chain in the country in February. It plans to raise a series A round in advance of considering rolling out to beauty specialty retailers such as Ulta Beauty and Sephora in the future.
Three Ships' DTC rewards program has 1,177 members. Participants can test products before they launch, shop exclusive sales early and receive discounts on their birthday. So-called Fleet VIP members get everything non-VIP members do and can also participate in Three Ships' affiliate program that grants them a percentage of referred sales, 30% off on their birthday and free full-size products.
Another important element of the brand's marketing is sampling, which it will be pursuing in 2023. Burget says, "It's a great way for us to get our brand out there, and it's led to a really low cost of customer acquisition compared to relying on normal ads that are just static images or videos."
Three Ships' customer base is 65% Canadian and 35% American. The brand launched at Target last year in an attempt to increase its U.S. business. Lo says, "We were thinking, 'Let's find a retailer where people go for discovery and where people look for accessibly priced products.'"
Three Ships' Target tenure didn't turn out as expected. The brand exited in February due in part to a shift in its Target buyer and a strategy misalignment. Lo explains, "The original buyer we had saw a vision for the Target skincare category as being one that will level up in terms of more natural products with slightly higher price points, and then two weeks before our products launched, the buyer switched and the new one was more focused on affordable products."
While Three Ships' skincare products are moderately priced compared to products from other brands in the natural space, they're pricier than conventional skincare products in the mass market. The brand's pricing led to it being overlooked when Target chose to highlight products under $9.99 and under $19.99.
Three Ships suffered at Target as well because it didn't have the ability to train store associates and hand out gratis products. The brand performs better in stores like Credo and The Detox Market where it can educate store associates with its field team. Lo says, "A really important thing for retail sell-through, especially when you're a brand that's newer to that geography, is education and training."
Moving forward, Lo and Burget are zeroing in on Three Ships "being the entry-level accessible brand within masstige and prestige" and "the most effective natural beauty brand on the planet." Right now, the pair's attention is squarely on the holiday shopping season. "We usually do around 40% of our annual sales in the last quarter of the year," says Burget. "It's the best and also busiest time of the year."