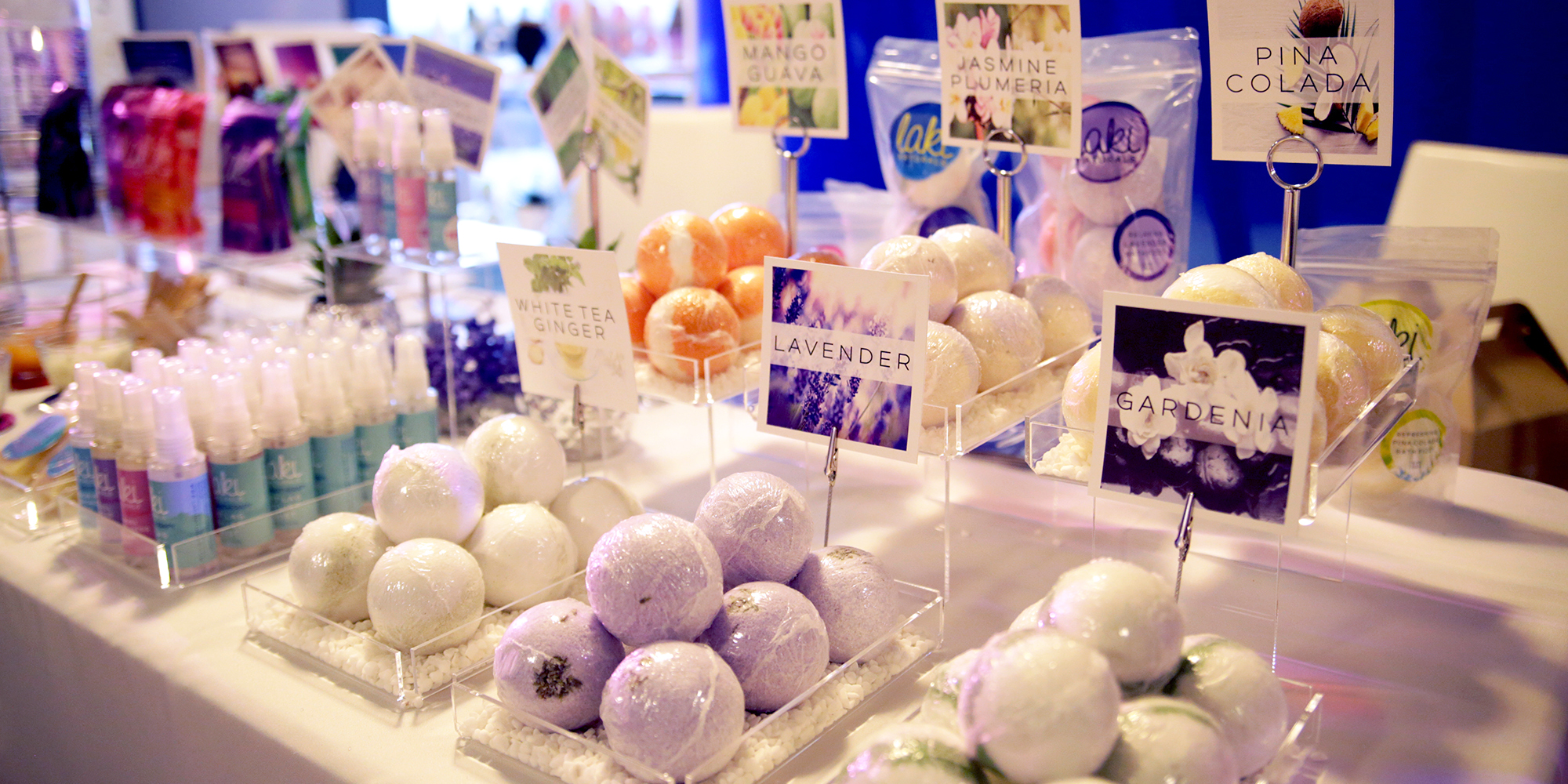 Tiffany Lerman Launches Laki Naturals As An Ode To Hawaii And Her Mother Jackie Collins
Tiffany Lerman's break from the beauty industry is over.
Since selling children's bath and body products company Tiny Tillia to Avon in 2010 and departing three years later, the serial entrepreneur has stuck to accessories from her beachy bag brand Pattern, but Lerman is jumping back into the segment she previously thrived in. She's introduced Laki Naturals, a line priced from $12 to $29 with six scrubs, six bath fizzies and four aromatherapy mists bursting with Hawaiian ingredients such as gardenia, plumeria, mango, guava, kukui nut, coconut and volcanic clay.
"The idea of Laki Naturals is to give you a piece of the island lifestyle to take home with you no matter where you are," says Lerman. "You don't have to be in Hawaii to experience it, and you can do so knowing you are using a product that's healthy for you. It's non-GMO, vegan, and has no petrochemicals, parabens, phthalates, sodium laurel sulfate or artificial dyes."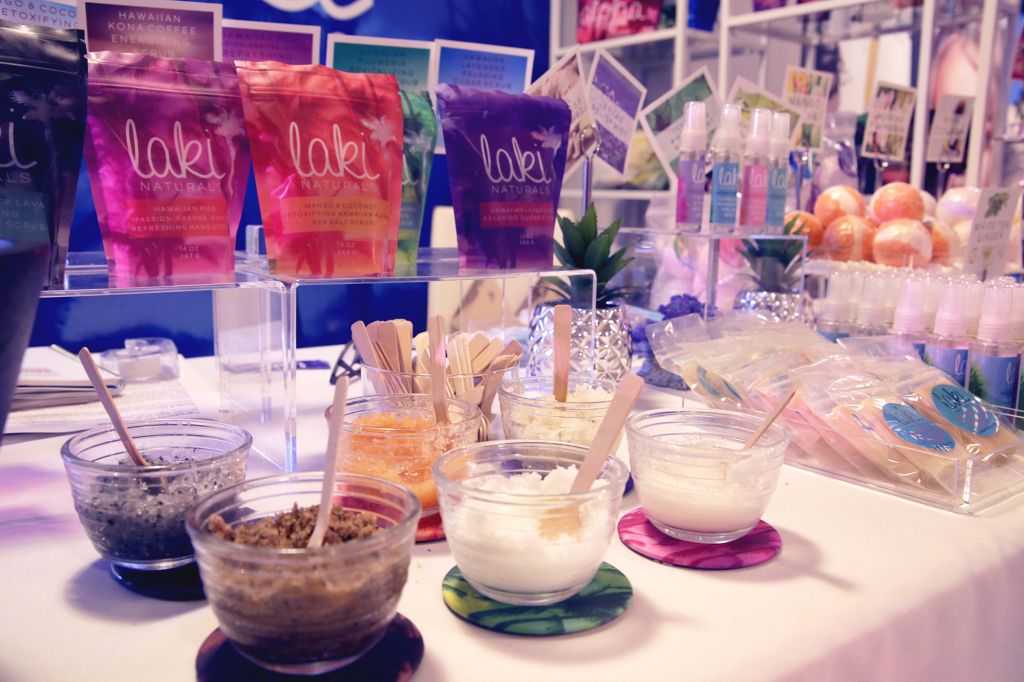 Hawaii is gaining prominence in indie beauty as brands like Lau Botanicals, Leahlani Skincare, Honoa Hawaiian Skincare, Aim HI and Ola Tropical Apothecary turn to its resources for skincare solutions. Lerman isn't surprised it's increasingly in the beauty spotlight. She's felt a special connection to Hawaii dating back to her first trip there at the age of 12 with her parents Jackie Collins and Oscar Lerman.
"I'm surprised it hasn't had more of a moment before. It's really got so much to offer," she says. "Nothing rivals a Hawaiian sunset, a Hawaiian walk on the beach or a swim in the ocean in Hawaii. I've traveled quite a bit, and I've never seen any place so stunning. I think people fall in love with it when they visit."
Laki Naturals' name includes the Hawaiian word for lucky to underscore Lerman's good fortune in being able to harness the state's bounty. The name also honors her mother by alluding to the bestselling novelist's well-known character Lucky Santangelo, the daughter of a gangster Lerman describes as Collins' alter ego. "I had to get her into the business somehow," she says. "I know she's proud of me and looking down at me going, 'You can do this.'"
Lerman poured $20,000 into developing Laki Naturals, which is produced without preservatives in Hawaii. The products have shelf lives of three to six months. The goal is to get the freshest formulas in the hands of customers. "Consumers are becoming much more conscious about what they are putting on their bodies, and I think that they realize that, if it's a cleaner product, they are going to have less time to use it," says Lerman.
The scrubs have the potential to be bestsellers. They incorporate sugar and sea salt from Hawaii. A standout scrub is Laki Naturals' Hawaiian POG Passion Orange Guava Refreshing Hand Scrub that refers to a popular beverage in the archipelago. "Many people feel that, when they use a scrub, it depletes their bodies, and they have to moisturize afterward," says Lerman. "Our scrubs are full of nutrient-rich oils, so they are very moisturizing. You don't have to put on any moisturizer after using them."
Packaging is of particular interest to Lerman, a fan of vibrant prints, and former student of fine art at UCLA and textile design at FIDM. Laki Naturals' exteriors showcase photographs she snapped on vacations in Hawaii. The scrub pouches feature palm trees, and one of the trees is see-through to allow customers to peek inside at the contents. "If you look at the lavender scrub, you can see there are lavender buds in there," says Lerman. "People will know what what they are buying before they take it home."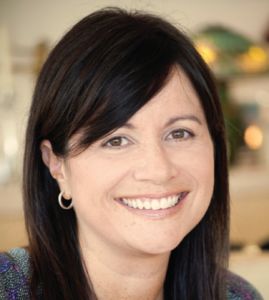 Lerman's objective for Laki Naturals' initial year on the market is to establish strong relationships with retailers. She envisions the brand selling at high-end stores, and singles out Anthropologie and Nordstrom as on her distribution wish list. Lerman notes there are opportunities for Laki Naturals to tap spas and hotels where Pattern has been successful. The accessories brand has entered Hilton, Marriott and Ritz Carlton properties.
A key learning from her earlier entrepreneurial endeavors is not to over-order inventory at the outset. Lerman estimates a few hundred units is plenty to start. "Right now, I'm going to make it when I obtain a PO because I want it to be as fresh as possible," she says. "I think my retailers will appreciate the fact that it hasn't been sitting in a warehouse."
As Lerman embarks on Laki Naturals, she's balancing her efforts to build the brand with spearheading Pattern, and protecting and enhancing her mother's legacy. Collins died of breast cancer in 2015. "Everybody thinks I grew up in Hollywood with multiple nannies and drivers, but my mother had a very successful career, and she picked us up from school everyday and made dinner every night. I do the same," says Lerman, a mother of two. "She always said, 'You have to do what you love.' That's what I'm doing. I do what I love, so I enjoy it. It's not a chore to work."