Touchland Disrupted The Hand Sanitizer Category—And Has Plans To Disrupt Even More In The Future
Long before hand sanitizers became the accessory du jour, Andrea Lisbona recognized the utilitarian product was in desperate need of a shakeup. "Considering millions of people use hand sanitizers on a regular basis, it was actually a bit surprising to realize that the category hadn't innovated in decades," says Lisbona. With her brand Touchland, she's overhauled both hand sanitizers' cloying formulas and their boring packaging to produce a germ fighter that people want to buy, not just have to buy. 
"They have really created something new and innovative in a saturated space," raved Muffy Clince, director of emerging brands at Ulta Beauty, during Beauty Independent's Beacon Awards ceremony on Sept. 30 when Touchland's moisturizing Power Mist was revealed as the innovation of the year. Clince explained that a big factor in selecting a winner for the category was the changing consumer behavior since COVID-19 hit. "That's really important to our shoppers right now," said Clince. She continued, "The brand created not only something that is timely and critical, but a better-for-you product that brings an exciting and innovative experience, truly nothing that my fellow evaluators or I have seen before."
Touchland's Power Mist comes in eight yummy scents (think watermelon, forest berry, mint and vanilla cinnamon) and is priced at $11.95 for at least 500 sprays. Its lightweight mist allows consumers to apply sanitizer evenly to the palms of their hands and avoids the gunky stickiness of gels. Shoppers have been snapping up Power Mist for the holiday season. Touchland's Black Friday/Cyber Monday sales were 4X last year's sales, driven by its Kub dispenser for homes priced at $199 to $249. Businesses such as Equinox, Standard Hotels, The RealReal, Bandier, Joe & the Juice, Sweetgreen and Ritz Carlton are fans of the Kub, too. Beauty Independent caught up with Lisbona to talk about Touchland's product development, retail growth, supply chain challenges and more.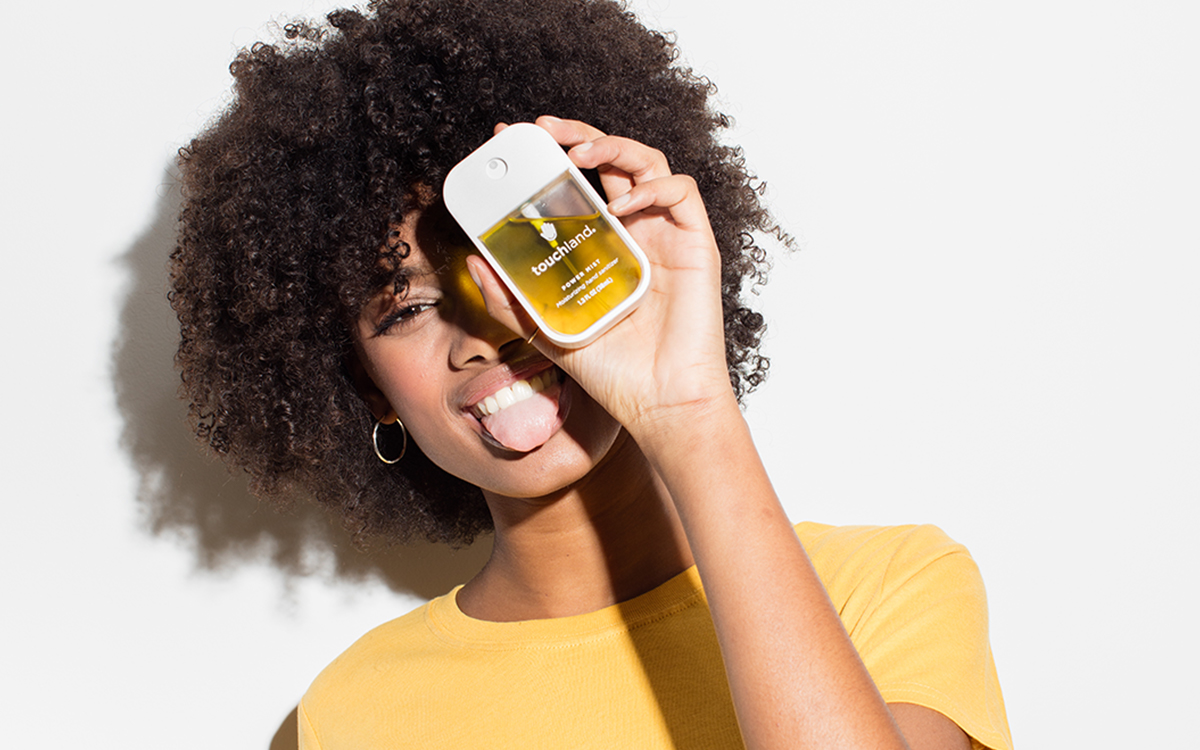 What was the process like developing Touchland's hand sanitizer?
It took a couple of years. We launched in Barcelona in 2014 and took a skincare-forward approach when we decided to start working on this, learning more about all the ingredients that would take care of the skin. This formulation launched in 2018, and we then moved to get funded in the U.S. because it makes up 30% of the global demand for hand sanitizer. Merging skincare with the hand sanitizer world really resonated. When we first started out, we saw so many opportunistic brands, but we were focusing on a long-term point of view. Even now, some sanitizers claim to kill coronavirus, and they don't. It can help prevent it, but, for us to be fair, you have to be informed. We are not trying to gain short-term sales, but to be very transparent and honest with our community.
What is it in the formula that ensures the product doesn't dry out your skin?
Alcohol is a very drying active ingredient, so the mist includes aloe vera, radish root ferment, glycereth-26 and essential oils to moisturize skin and counter the effects of the active ingredient ethyl alcohol. We took almost a year back and forth testing it with different ingredients and percentages to make sure that, when it's on your hand, it's very, very fast absorbing, but, at the same time, that your skin becomes more hydrated with every use. People love the packaging, but, once they use it, they really enjoy the experience and don't want to go back to other hand sanitizers.
What makes Touchland stand out other than the formula?
The secret of success for Touchland is a combination of many elements. Of course, I think that that design is one of the main elements that people get excited about and attracts them to the brand. When they see it, they don't know exactly what it is. It could be a perfume. Then, they see that it is actually a hand sanitizer, which is something that they did not expect. People get compliments about the bottle. They get it out in a restaurant and literally have the people at the next table asking what it is.
As a company, we have been able to create a community to communicate with on a very fast and continuous basis. We learn from them. We've used our social media to grow. We also really focus on customer service. We really care. We not only think about profit, but we have many social initiatives under our umbrella. For example, during the pandemic, since the healthcare facilities were lacking hand sanitizer, 5% of every weekly restock was sent to healthcare professionals. With our new launch [of Kub smart dispensers], we got to know public school teachers who were having to buy products like this for their classrooms themselves. We got in touch with those teachers and activated this campaign where we select schools every week to send dispensers to. It's not for marketing purposes. We just want to do what's right. Certainly, in a year like this where we have a product that can help people stay healthy, we wanted to get involved.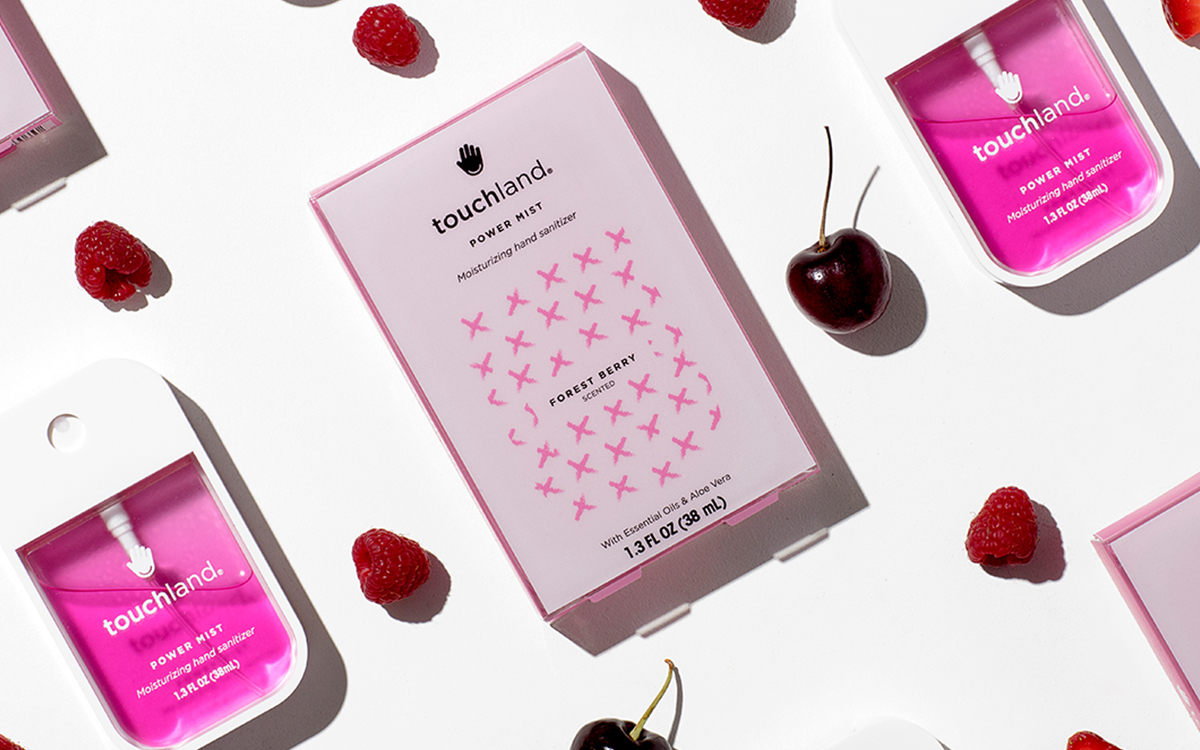 You raised 70,000 on Kickstarter, which was 450% of your goal. Why did you use crowdfunding?
As an entrepreneur, impatience is one of the personality traits I have, and it can be a value. When we came to the U.S. in June 2018, we had to wait on FDA testing. So, while we were waiting, we wanted to get feedback from the market to see if they're going to love the photography and the design. We decided to launch a Kickstarter campaign because we think it's a great source of information. Actually, some of the formula tweaks and some of the accessories were ideas gained from the campaign. The Power Mist shields, for example, was an idea we got on there. We didn't expect to be fully funded in 24 hours. Since they are there before you're launching, these people who contributed feel a part of the brand and its story. It's great when we're on Instagram and see people commenting, "I was one of your backers in 2018." It's a great opportunity for brands to start building a community.
How has the pandemic impacted your business?
It's been a tough year in many ways. Obviously, operating in a pandemic from a supply chain perspective has been challenge after challenge after challenge. We were injecting the molding in China, but, because of the pandemic, we had to move the molding injections to Mexico, where we do the filling. In Mexico, when the pandemic arrived, they closed the factory. We needed to present the case that we were essential to keep manufacturing. There are many external factors affecting your regular supply chain processes. Stateside, we were already on the market and had a lot of success with DTC and started getting requests from retailers. We launched in Urban Outfitters [and] on Revolve. We sold out and restocked in 1,600 Ulta stores. We've seen explosive growth.
One of the challenges is that we basically sold out March 5. We decided to launch a pre-order campaign and from, the very beginning, we were telling customers that there was a 6- to 8-week wait time. Usually, brands wouldn't provide information that would disincentivize people from buying upfront, but we were very honest because we wanted to make sure, if they were buying this for the pandemic, they were not expecting it to make it on time. Even still, we had 1,200% growth. And, on top of that, we had 30,000 or 40,000 people on the waitlist. So, it's been a rough, but incredible year. We've learned a lot. I've dedicated 90% of my time to supply chain because we wanted to make sure that the product was available for everyone.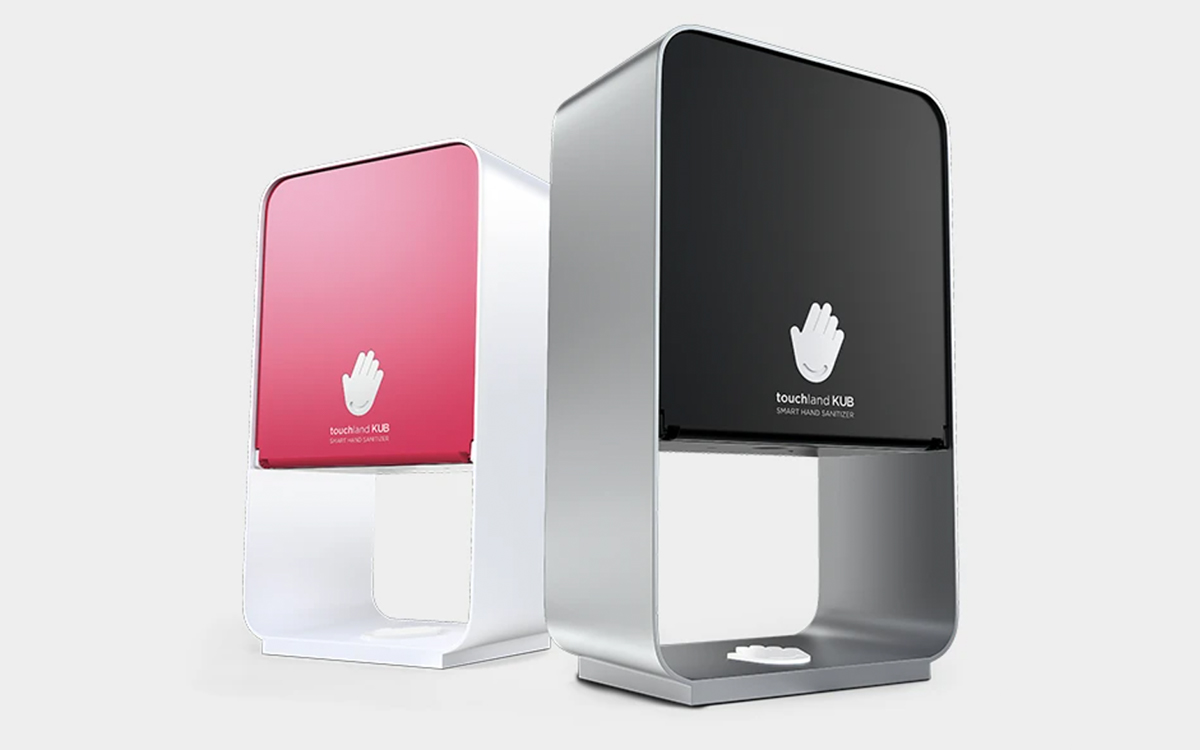 Touchland is sold Urban Outfitters, Liberty London, Ulta Beauty and Amazon, among other places. Do you have any plans to expand the retail footprint and assortment?
We really have enjoyed the experience going into Ulta and, recently, in Target, which is exciting. Both of them are great places where people go to interact with brands. We launched at Neiman Marcus, Bloomingdale's and Nordstrom. Because we have limited capacity, we want to make sure that we select the partners that align with the lifestyle and approach of the brand. We are still getting started. We have many products in the pipeline, new scents and new formats. We're exploring new opportunities with a Touchland vision, taking ordinary moments of your day and, then, elevating these moments. We want to make sure that every product we launch adds disruption within each category. We're disrupting a moment that you've never thought about or you don't necessarily like, but no one was making better.
What advice to you have for your fellow entrepreneurs?
Find the real reason why. I was watching something the other day, and they said there is not a sane person that would go through all of the challenges that an entrepreneur has to face. You only do it because you love what you're doing. So, I think the main thing is not to become an entrepreneur because it's cool, but to have that strong reason why. It's a very challenging path. If something can go wrong, it will. My second piece of advice is to persevere. I would have given up many times if I didn't truly believe in what I was doing. The ones that make their dreams come true are the ones that persevere. I was called the dreamer. Many people were waiting to say I told you so. I'm glad that I worked hard. I wanted to change people's life in terms of personal care. Coming to the U.S, and seeing the market's reaction has surpassed my expectations.