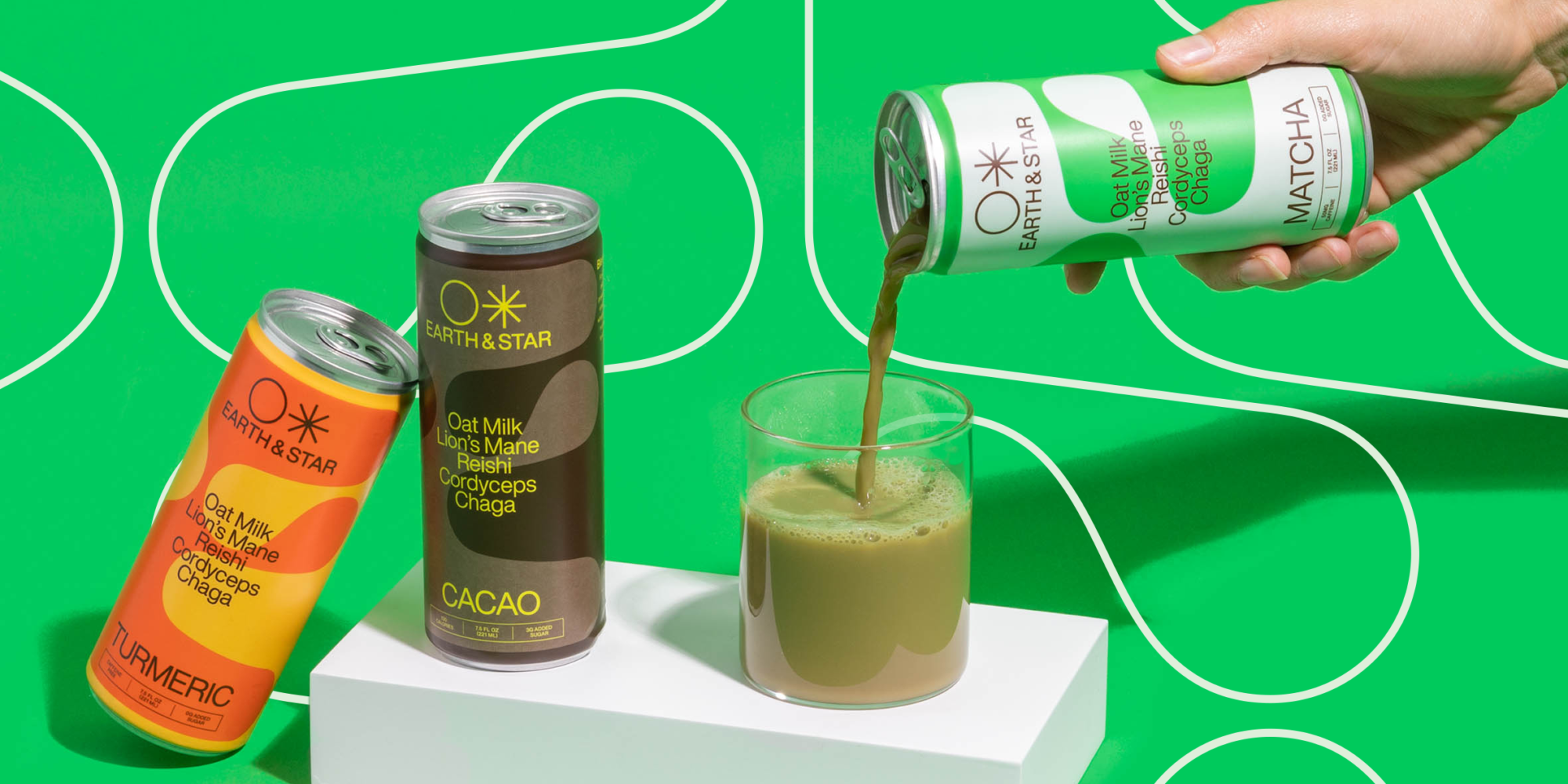 Under The Mushroom Cap: The Formulation Debate Raging Among Wellness Brands
When Erica Huss and Zoë Sakoutis, the serial wellness entrepreneurs behind
Blueprint Cleanse, a company they sold to health food conglomerate Hain Celestial in 2012, were planning their next venture, they knew they wanted to stick with an offering they were familiar with—beverages—
while also making a simple and effective ingredient accessible to a large audience. 
The duo decided on functional mushrooms, and Earth & Star was born with a focus on fungi in 2020. Huss says, "We both had great experiences using functional mushrooms like lion's mane and reishi, but we didn't feel that there was something that had the mass appeal that we would want to see or that would really resonate with a mainstream audience." 
As they developed Earth & Star, Huss and Sakoutis became perplexed by choices made by leading players in the wellness landscape. Research they'd done pointed to ingestibles made with fruiting bodies, the parts of the mushroom that are visible above ground, including the stem and cap, being significantly more beneficial than those made with mycelium, fungi's complex underground root system. Yet, companies like Host Defense, the supplement and health goods manufacturer founded by author and renowned mushroom expert Paul Stamets, formulated mushroom-based products with mycelium. 
"He's one of the leading voices in mushrooms in general across the board, I have a tremendous amount of respect for him," says Huss. "He's using mycelium and people would never even question it because he's Paul Stamets, and I'm like, 'Hang on.' At the end of the day, you have to look at the science, and there's tons of white papers on [the benefits of fruiting bodies]. There's a lot of confusion around this."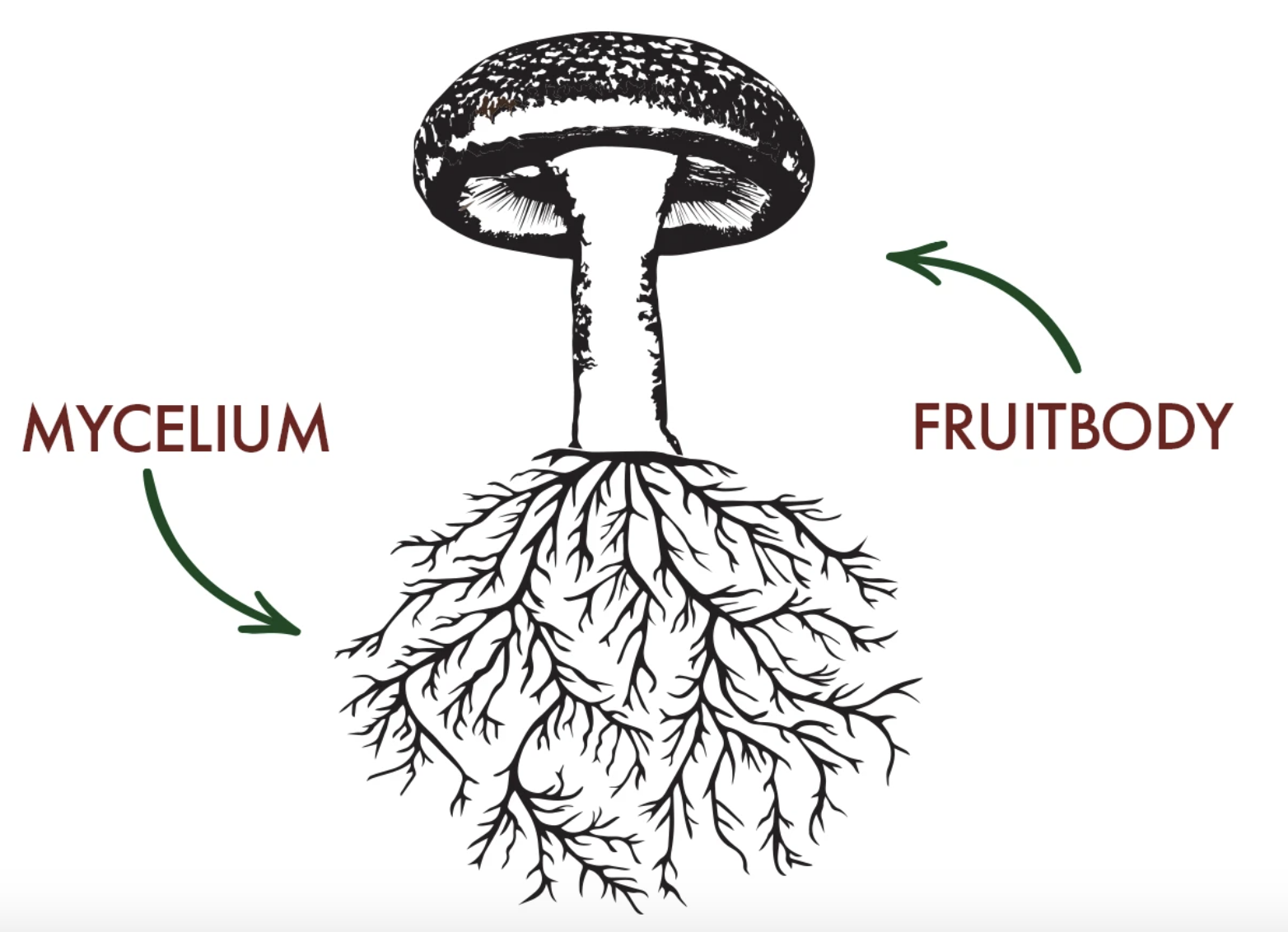 As mushrooms further infiltrate every possible wellness category, the formulation debate is happening across the shroom space. Many brands are broadcasting their choice of using either mycelium or fruiting bodies on their websites and even their packaging, as Earth & Star does, looking at it as an education and marketing opportunity. They're also increasingly fielding probing questions about their formulation choices from savvy consumers that, after doing their own research, have a preference for one format or the other. 
The debate is reminiscent of the CBD discourse—i.e., is full-spectrum CBD better than broad spectrum or CBD isolate?—that was pervasive two years ago among hemp and cannabis brands. The debate had broad impacts on the beauty, wellness and retail industry as consumers judged CBD options and retailers attempted to guide them. Sephora eventually came out with its CBD guidelines, which specified they would only carry CBD brands using full-spectrum extract. 
The mushroom discussion centers around the purity and nutrient density of the various parts of the mushroom. Some wellness entrepreneurs maintain that mycelium-based supplements of resihi, turkey tail and cordyceps are significantly lower in advantageous organic compounds like beta-glucans, triterpenes, ergothioneine and ergosterol, the precursor to vitamin D, than fruiting body-based supplements, and they're armed with mounting scientific proof to defend their position. The studies show fruiting body-based extracts contain four and a half times more beta-glucans than mycelium-based extracts.
Why is there a difference? Because when consumers purchase a mushroom product derived from mycelium, they're buying a lot of the brown rice, or other substrate, in which the mycelium grows, and only a little bit of actual mycelium, the mushroom roots. Mycelium and brown rice aren't separated before being processed. Beta-glucans are polysaccharides, a type of fiber naturally occurring in the cell walls of fungi, grains, and other plants. Brands' claims that mushroom-infused supplements can boost immunity, fight inflammation or keep cholesterol levels in check arise from the beta-glucans in mushrooms.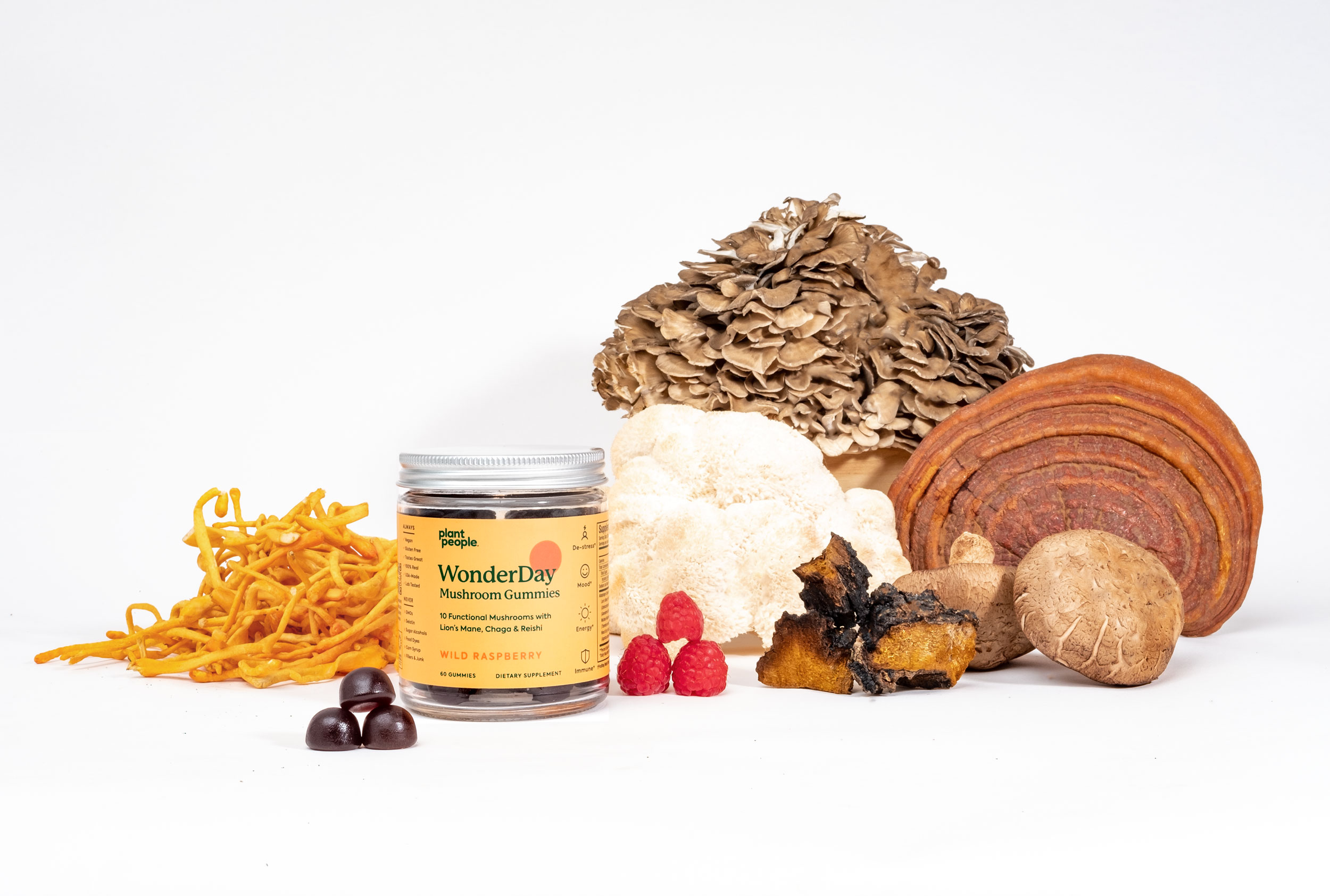 When topical and ingestible wellness brand Plant People made its first foray into the popular gummy supplement segment, it was important to co-founder and former chef Gabe Kennedy to incorporate fruiting body-based ingredients only in the product. The result was Wonder Day, a two-a-day gummy that contains 10 functional mushrooms, including chaga, wood ear, white button and reishi. It was formulated to support optimal mood, immunity, energy levels and digestion. Two gummies pack a total of 2,500 milligrams of adaptogenic mushrooms.
"I think there's a time and place for mycelium, but there is probably more time-tested research around fruiting bodies than there is mycelium," says Kennedy. "And we know that the fruiting bodies contain particular beta-glucans and polysaccharides, and all these things that can be beneficial. It also holds many of the adaptogenic properties which are found in the fats of the mushroom."
Kennedy isn't alone. When mushroom marketplace Multiverse launched earlier this year, its quality standards specified that only dietary supplements using the fruiting body of the mushroom would be carried on its website. Nadine Joseph, whose brand Peak and Valley sells powdered herbal blends for stress, sleep, skin and more, is also an advocate of fruiting bodies. She wrote a blog post complete with footnotes referencing scientific studies on the distinctions between mycelium and fruiting bodies, and why consumers should only imbibe mushroom-infused supplements that formulate with fruiting bodies.
Because fruiting bodies are significantly less plentiful than mycelium, Fraser Thompson, co-founder of Los Angeles smoothie and juice bar Lifehouse Tonics, which also makes mushroom-infused drink powders sold at GNC, explains they're more expensive. The price discrepancy has led some supplement companies looking to capitalize on the popularity of adaptogenic mushrooms to opt for mycelium, even though United States Food and Drug Administration policy states that foods and nutritional supplements that contain mycelium must clearly state as much and "labeling should not suggest or imply that the food contains mushrooms." Kennedy highlights this point by saying plainly that mycelium, "are not even mushrooms."
In general, Thompson believes that his cohort of wellness brands founders are doing the right thing and using fruiting bodies. "Brands are finding the same information about fruiting bodies," he says. "It's not a secret. If a brand really has the consumer's best interest in mind, they end up using high quality products even if it costs a little more. That's what's important, so that's what they're going to put in it."
Thompson identifies the fitness industry as frequently problematic in its use of mycelium. "It's more in the giant tub of protein powder. Some of those products have a different goal, and they're adding mushrooms as a marketing call-out," he says. "I mean, smart brands go where the interest of the consumer is, but these companies where we see a lower quality product being used have a slightly different focus. There are so many amazing brands in the core wellness space that are doing a good job at championing what mushrooms are good for."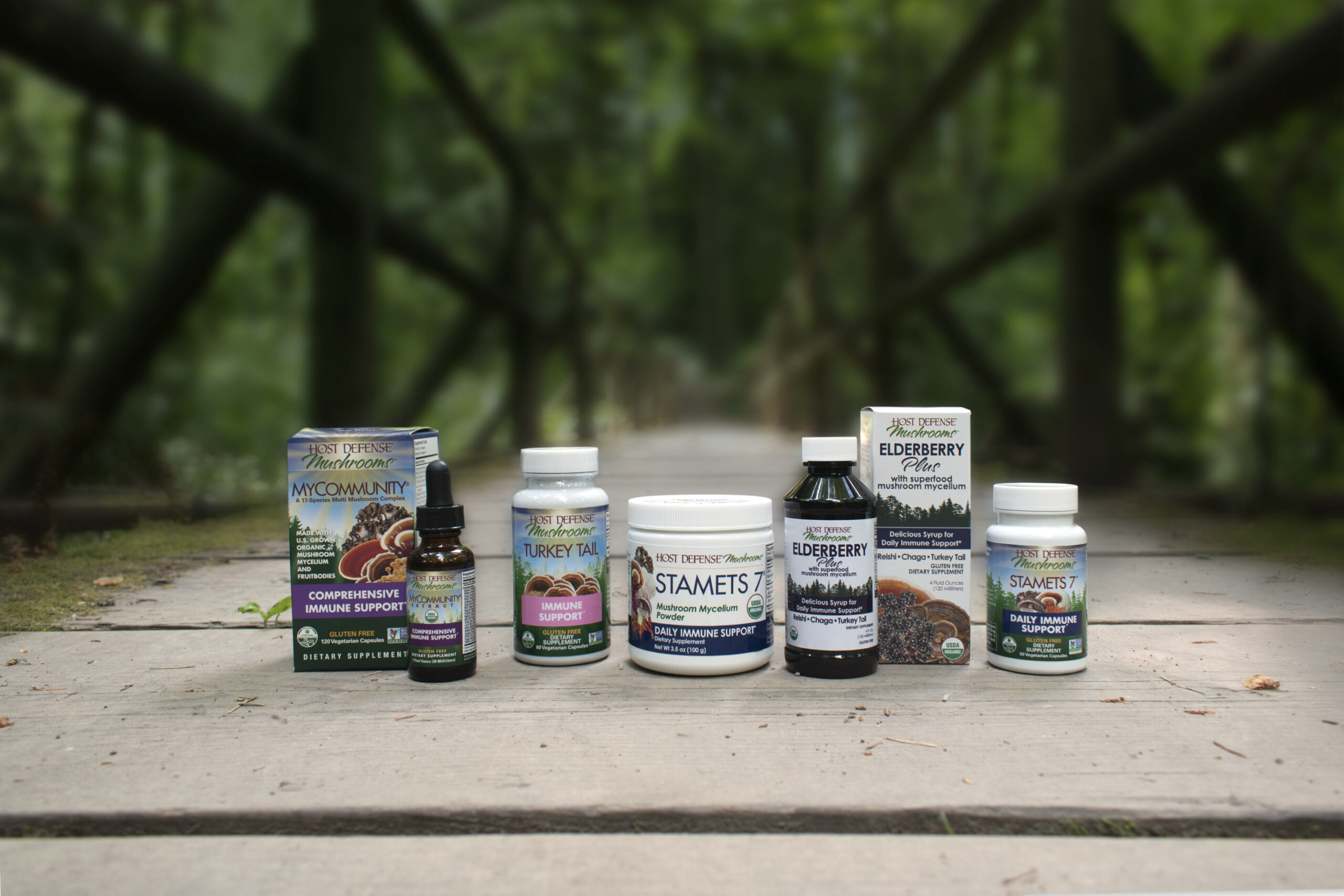 Anyone who's watched Netflix's "Fantastic Fungi" documentary would find it hard to believe that steward of the forest Stamets would seek to deprive consumers of the true magic of mushrooms. So, why does his company, Host Defense, purveyor of dozens of wellness products available at thousands of retail doors across the country such as The Vitamin Shoppe, Whole Foods and Walmart use mycelium and not fruiting bodies in its wellness products? Host Defense believes mycelium-based supplements are just as, if not more, effective than fruiting body-based products. 
"As mycelium consumes the brown rice [it grows in], the rice becomes fermented, and the blend of mycelium and fermented brown rice converts into an entirely new myceliated biomass," says Jerry Angelini, director of education at Fungi Perfecti, maker of Host Defense products. "Using the mushroom mycelium and fermented brown rice provides access to a range of compounds that are not found in fruit body-only products. The mycelium contains a wide range of compounds, [including] beta-glucans and terpenes from the mycelial cells which have been shown in peer-reviewed research to support immune functioning. There are also extra-cellular metabolites secreted from the mycelium as part of its day-to-day functioning that have a range of activity including antioxidant and microbiome remodeling activity."
Angelini underscores Host Defense's mushroom products have been studied in human immune cells as well as human clinical trials with positive results. In the evaluations, they've been demonstrated to support immunity and tissue regeneration. Angelini adds, "Each person will respond uniquely to the wide range of compounds in the different mushroom products. We use mushroom mycelium specifically because it offers a wider range of beneficial compounds than fruit body-only supplements." In March, Host Defense published an in-depth blog post about why it formulates products with mycelium.
Host Defense isn't the only supplement specialist in the mycelium camp. Recent direct-to-consumer entrant Mushroom Design formulates its marquee product, Mushroom Design Daily, with mycelium rather than fruiting bodies. Intended to be a modern reboot of the daily multivitamin, Mushroom Design Daily's capsules contain over 300 milligrams of nine immune-boosting mushrooms, including maitake, oyster, chaga and agarikon, paired with nine vitamins. Mushroom Design co-founder Ashley Southard, who is the founder of health and wellness marketing agency Healer Collective as well, argues more isn't more when it comes to mushroom intake. She suffered a health scare caused by ingesting too much mushroom. At its height, she estimates her intake was about 5,000 milligrams a day, causing inflammation markers that were "off the charts" on her blood work.
"A lot of companies are fearmongering with these beta glucans and more, more, more," says Southard. "It's a marketing tactic rather than an actual concern for the customer's well-being and 100% because people want the most bang for their buck. I don't want to say the word overdosing, but, if they're taking more than they really should be every day, it could increase systemic inflammation, which is counterproductive to longevity."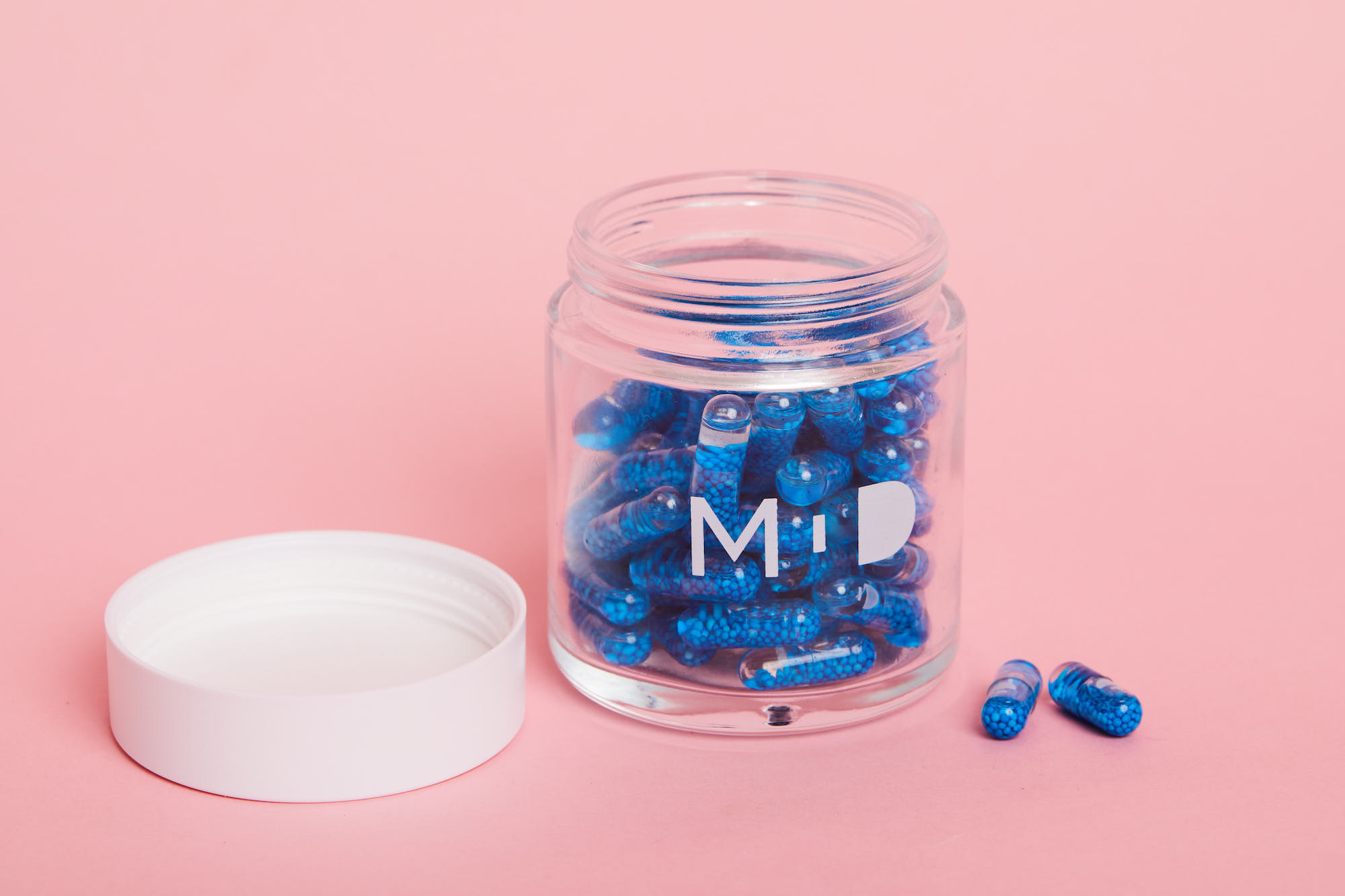 Zach Petrover, chief scientific officer of Mushroom Design, says mycelium has more than enough of the active compounds needed for the benefits customers turn to adaptogenic mushrooms like those found in Mushroom Design's product for. "The fruiting body has a higher concentration of beta-glucans, but the dosage of beta-glucans that we want we don't need to get from the fruiting body," he details. "It's not in our interest for a product that we're going to be giving people to take every day."
Petrover says that mycelia get a bad rap because customers feel that they're being sold "rice, oats or, in a worst-case scenario, sawdust" because mushrooms live on those substances. "Customers feel like they're being shorted because they feel their money is buying the substrate and not the mycelia, but, in order to get the mycelia, you have to have it in the substrate," he elaborates. "Aside from the mycelia having enough beta-glucans to give the immune activation a user would be looking for, it also has almost all of the antibacterial and antiviral components. The fruiting body has almost none of it." 
This debate over mushroom supplement source supremacy will continue until additional research is done on the efficacy of each type of supplement or the FDA passes clearer, more stringent regulation in the nutritional supplement field. If the hemp beauty and wellness segments are any indicator, legal clarity could be a long time coming. In the meantime, consumers are doing their own research and soliciting information from brands on how they formulate their products. 
Lifehouse Tonics has always provided ample consumer education. Thompson says his peers have told him it's borderline excessive. However, he's spotting other companies catching up to him now, due to consumer curiosity. "We have people commenting or emailing us or DM-ing us and asking, '[Do] we use fruiting bodies, are we worried about heavy metals, do we test for all that, and what's our extraction process like?' We're noticing way more of those advanced questions, which is really cool," says Thompson. "People know what to look for, and they're checking in with a brand. 'Are you doing the stuff I'm reading about? It's the right way to do it.' Luckily, we have an easy answer, which is, 'Absolutely, since day one that's been our passion, but we're so happy you asked.'"
KEY TAKEAWAYS
As mushroom-based wellness supplements continue to gain popularity, brand founders are increasingly taking public and vocal stances on whether they formulate with fruiting bodies or mycelium.
Fruiting bodies are like the flower of the mushroom, the parts that are visible above ground, including the stem and cap. Mycelium is the fungi's complex underground root system.
Several research studies show that products made with fruiting bodies are significantly more beneficial healthwise than those made with mycelium.
Many brands, like Earth & Star, Plant People, Peak & Valley, Lifehouse Tonics and others only formulate with fruiting bodies based on this research, and urge customers to seek out only mushroom products that do the same.
Still, mushroom expert Paul Stamet's wellness company Host Defense uses mycelium in its dozens of supplements, and passionately defends its position that mycelium is nutritionally superior to fruiting bodies.
The debate is reminiscent of the "CBD full spectrum extract versus CBD isolate" debate between hemp-based beauty and wellness brands that became more public when Sephora's guidelines stated they would only carry CBD products that contain full spectrum extract.