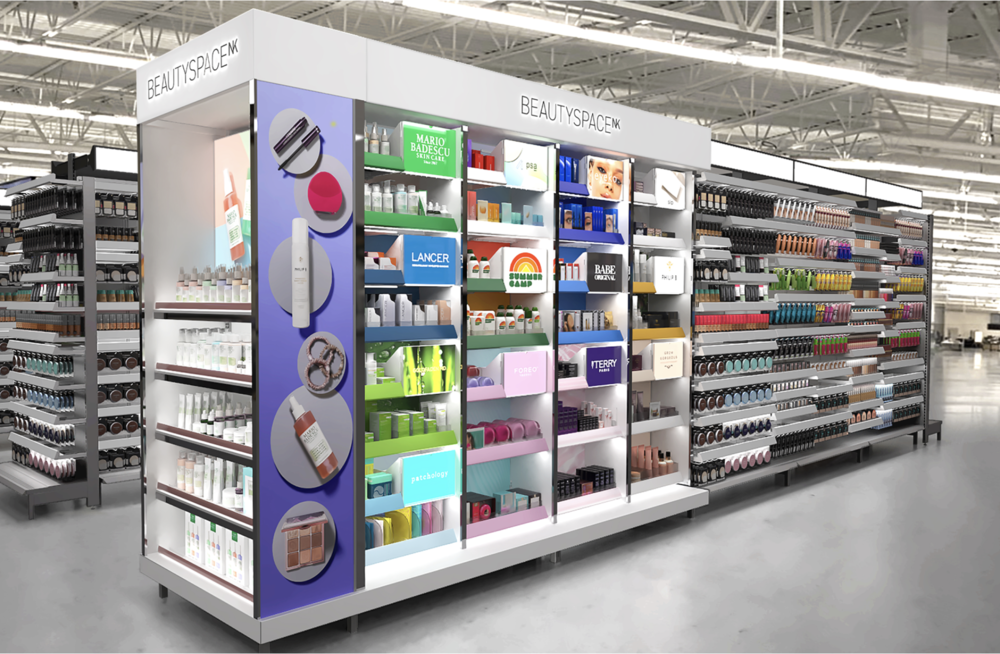 Walmart's Partnership With Space NK: Smart Strategy Or Desperate Move?
Forget blurring the lines in beauty retail. Increasingly, there are no lines.
Perhaps Ulta Beauty or Shoppers Drug Mart are to blame for showing mass can live with class, but, whatever the culprit, mass-market retailers are continuing to bulldoze traditional high-low beauty retail boundaries by chasing strategic partnerships with prestige beauty retail concepts to diversify their assortments and bring in fresh beauty products people pay a pretty penny for. Ulta Beauty's in-store format with Target, and Sephora's play at Kohl's are prime illustrations of this partnership genre, but the most surprising manifestation of it so far may be Walmart's tie-in with Space NK, an upscale British beauty retailer that shuttered eight standalone stores in the United States in 2020.
Walmart's and Space NK's joint beauty concept, dubbed BeautySpaceNK, launches on Walmart's website Monday and will be planted in 250 of its stores in the summer. The concept is kicking off with 600 products from 15 brands spanning makeup, skincare, haircare, and bath and body. The assortment contains domestic and international brands from established and up-and-coming companies, including By Terry, Lancer, Mario Badescu, Philip B, Foreo, Ameliorate and Patchology. By the time the concept hits stores, exclusive brands are slated to enter the BeautySpaceNK repertoire. Summer Camp, a new mineral-based SPF range from the founders of Soleil Toujours, will be among the exclusive brands offered.
Eric Korman, CEO of contract manufacturer The Goodkind Co. and founder of fragrance brand Phlur, speaks for many in the beauty industry when he says the partnership strikes him as "incongruous." He explains, "It seems like Space NK's customer base or at least the people who have awareness of Space NK probably aren't a typical Walmart buyer." He emphasizes that incongruity isn't necessarily bad. In fact, he applauds Walmart's experimentation. "I view experimentation, especially in an organization the size of Walmart, as a good thing," says Korman. "Whether it ultimately works or not, they are going to learn a lot through this process, and that's the only way you can evolve and grow your business."
Jane Hali, CEO of investment research firm Jane Hali & Associates, suggests Walmart is smartly following the money. "Prestige has been outperforming for a while. Walmart rightly wants part of the pie," she says. In 2021, data from market research firm The NPD Group reveals prestige beauty sales jumped 30% to reach $22 billion. Globally, Statista estimates the beauty industry generated nearly $503.6 billion billion last year, a rise of almost 7% from $471.9 billion the prior year.
Walmart's collaboration with Space NK appears to be an answer to Target's and Kohl's' relationships with Ulta and Sephora, respectively, which, in their early days, have demonstrated the power of prestige beauty moves. In its fourth quarter 2021 earnings call, Kohl's reported that Sephora drove "significant beauty sales" during the holiday season and since then has produced elevated traffic levels and a "mid-single-digit sales" boost in the first 200 Sephora in-store shops. In the fourth quarter, its customer acquisition was up 25% and customers shopped across a wide range of prices. Ulta Beauty at Target is adding 250 locations this year to the 100 locations previously opened, and Sephora at Kohl's is adding 400 outposts to the 200 outposts that opened last year.
Korman reasons BeautySpaceNK is a response to Amazon, too. "I think wrongly so, but, five to 10 years ago, there was a belief that Amazon was always mass, where the reality of it was, if you looked at the top 1% or 2% of Americans by household income, all of them were Prime customers and had many Amazon boxes arriving at their houses every week," he says. "Now, everyone gets that, and there are premium products sold every day on Amazon to those top income households. As Walmart tries to catch up, this is another strategic element of lifting their presence with those customers."
Walmart hasn't been idle in the beauty retail race. It's been energizing its assortment, particularly in the past 18 months under the guidance of former merchandising VP Musab Balbale, who's gone on to CVS and has been replaced by Creighton Kiper, with buzzy indie and direct-to-consumer brands like Bubble, Billie, Uoma by Sharon C. and C'est Moi. In 2021, it onboarded 70 brands. Walmart's beauty sales for fiscal year 2021 are approximated to account for 2% of its total sales or $11 billion. (By way of comparison, Ulta's 2021 revenues were $6.15 billion.) Walmart doesn't seem to be pressing the brakes on its interest in indie beauty and has made it a focus of its accelerator program Walmart Start.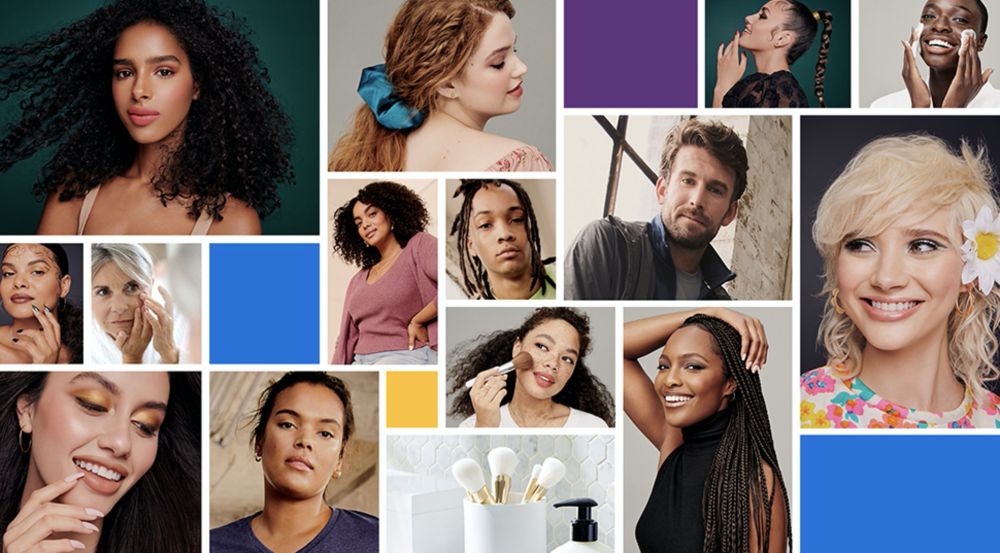 As Walmart ventures into prestige beauty with Space NK, opinion is divided over whether the resulting concept will resonate with the giant retailer's customer base and prod them to trade up to higher priced brands as well as draw new customers to its stores. Walmart shoppers are wealthier than might be expected. A Business Insider article published in January says, "Walmart's average customer is a woman who is 59.5 years old, white, married, and earning $80,000 per year."
Shoppers will have to have discretionary income to pony up for BeautySpaceNK's products. Prices for products in the assortment largely run from $50 to $500, quite a bit more than Walmart shoppers are generally accustomed to shelling out for beauty products. A brand in the BeautySpaceNK lineup, Lancer sells a Clarifying Detox Mask for $80, for instance. At Walmart today, SheaMoisture's Clarifying Mud Mask is about $15, and it's on the upper end of the current price spectrum for masks.
Melissa Chiofolo, co-founder of the retail consultancy firm Beauty Breakthrough, describes BeautySpaceNK as a "win for the customer." She says it's "one more example of how retailers are pivoting to meet the consumer where she shops and how she shops. Convenience is key here, but success will hinge on properly marketing the initiative to the Walmart consumer and providing the level of high touch service required to sell prestige beauty products."
Nader Naeymi-Rad, co-founder of Indie Beauty Media Group, parent company of Beauty Independent and Adit, a service connecting beauty brands to leading retailers, argues that the deal is a "big win" for Space NK. "They have a lot more to gain," he says. "For Walmart, it kind of seems like they got what was left. There's a limited number of beauty specialists that retailers can partner with now. All the bigger players with credibility are taken at this point." He elaborates, "There's a lot of questions swirling around about what customers will actually pay for these products. Many of these brands Walmart shoppers haven't heard of before. What's the support going to be like for the higher price point items? You need educators."
Andrew Csicsila, managing director in the consumer products practice at global consulting firm Alix Partners, views the partnership positively. He details that Walmart holds 20% market share in the mass-market beauty category—Kroger and Publix each have 17%, he says, and Target has around 12%—and because the chain has an enormous array of shoppers, there's a decent segment of shoppers that can afford prestige products. Csicsila says, "In addition, they've got some of the largest share in e-commerce. They're already carrying a range of product assortments in this category at various price points on their e-comm. There's items listed for less than $10 and ones that are north of $100."
As Csicsila indicates, prestige beauty isn't completely foreign to Walmart. The retailer flirts with prestige beauty online. Makeup, skincare, bath and body, and men's grooming are available in a "premium beauty" segment on Walmart's website, although the expensive products are often sold and shipped via third-party sellers. Creed fragrances for over $200 are listed along with moisturizers from Obagi for $50 and retinols from Neostrata for $90.
For behemoth retailer Walmart, placing BeautySpaceNK in 250 stores barely will register on the sales Richter scale. Csicsila figures it's a test run "targeted to areas where spend on health and beauty are at their highest. Those stores are likely going to be spread out in key areas and word of mouth would grow from there." Chiofolo stresses, "Selecting the correct brick-and-mortar locations that align demographically with a prestige beauty shopper will be very important."
Csicsila says, "Walmart already has a lot of international, high-branded products in their portfolio now, so individuals who are already buying these products are likely going to know who Space NK is. They may have to build awareness to start, but Walmart has done their research and scanned their customers to see if this partnership is the right fit for them….It's not just the people currently shopping at Walmart, it's the people buying those high-end products outside of Walmart who can then now come into stores. The key will be, does the consumer see the value in spending a bit more on certain brands or switching brands to try out the new product?"
Not everyone thinks Walmart shoppers will recognize Space NK and the lack of name recognition could be a detriment BeautySpaceNK's success. "Space NK and Walmart together is a bit of stretch. The overlap of customers is probably quite low," says Naeymi-Rad. "Also, I'm not sure if Walmart customers know about Space NK. Walmart is so big that for a partnership to have an impact on their numbers, someone has to bring something huge to the table." Hali concurs, saying, "Space NK is a U.K. concept, which I don't believe most Americans are familiar with. This is a major downside. Added to this downside is that this will not be a shop-in-shop like the others, but will be…a branded endcap and an adjacent aisle."
Manzanita Capital-owned Space NK is a household name in the United Kingdom. Nicky Kinnaird founded Space NK in London in 1993, and it's grown to 70 stores in the U.K. Janet Milner-Walker, founder and managing director of brand agency Bespoke Advantage, says, "It's always been a very edited collection of prestige beauty, very different than a Harvey Nichols, Harrods or Selfridges, which all have much broader assortments. From a customer perspective, you feel like you're getting the best of the best from Space NK buyers."
Space NK's American dreams haven't been realized to date. Despite retail expansion plans for its U.S. retail arm that were operable as recently as 2019, it pulled out of the retail business and chose to concentrate on its wholesale endeavors in the country. Space NK has store-in-store installations at Bloomingdale's and Nordstrom. It also has a similar relationship with Hudson's Bay in Canada as of 2021.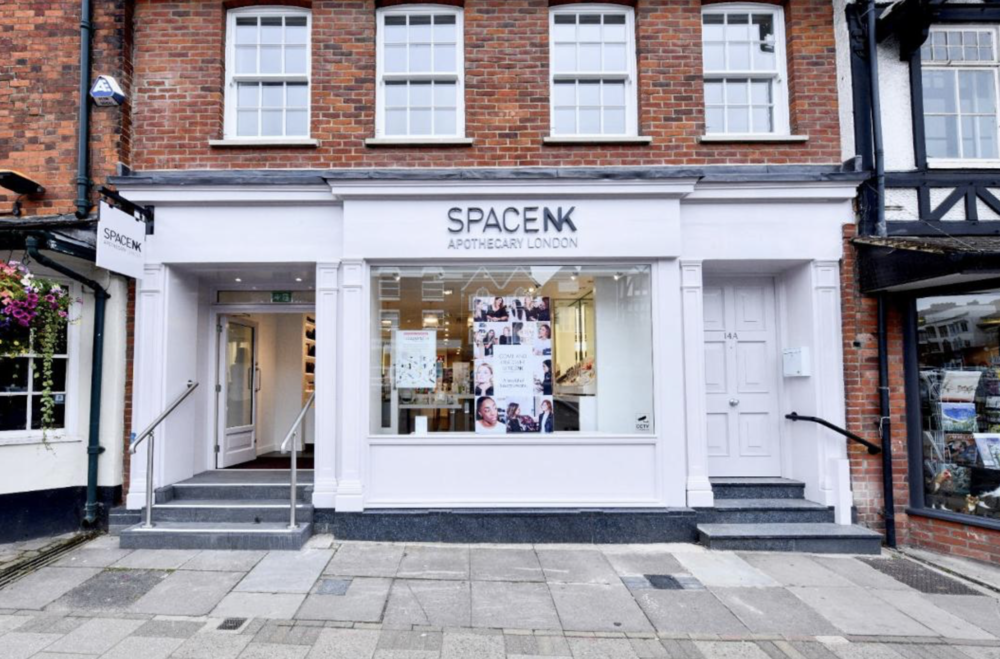 Milner-Walker deems Space NK's Walmart partnership as a logical extension of its distribution path in the U.S. "The U.S. market is completely different than the UK. It's much vaster, for one. A lot of brands find it difficult to service the U.S. market because you need to have different distribution points in the country in place," she says. "Space NK stores in the U.K. are physically quite small. In order for them to penetrate the U.S. market, they'd need to invest much more. Partnering with a department store or grocer in terms of distribution it's a much more sensible route to market."
She adds, "Space NK brings a specialist perspective to Walmart and strong relationships with luxury brands, a lot of which will likely be niche to the U.S. market, but it's the best of both worlds together, a U.K. company that's well-known for curation and a large nationwide retailer with scale. It brings footfall to Space NK, and it brings a specialist's perspective to Walmart's beauty offering."
For smaller indie brands that have secured a place in Walmart's existing beauty portfolio, Chiofolo forecasts that BeautySpaceNK will present more opportunities. She predicts, "It'll bring a greater focus to the beauty category overall." Milner-Walker has a different read. While she doesn't think the partnership will impact future efforts to draw indie beauty brands to Walmart's wider assortment, she prognosticates it could diminish shelf space for brands that have a history in Walmart's beauty selection.
Milner-Walker says, "It'll be interesting to see how much space they've allocated to Space NK or whether they've created additional space. If they've allocated space, where did that space come from? What categories? They would have looked at the business and seen what was performing well and what needed to be delisted."
Csicsila concludes, "They'll definitely be concern from other brands. Portfolios always get shaken up in every category at Walmart…Brands have to continue to prove themselves there, but, if you're bringing traffic and good margins, then you should be fine. If I was brand, I would figure out my competitive advantage over Space NK. There might be a pricing drop to make sure people stay loyal to their product and promotions."
KEY TAKEAWAYS
Mass-market retail giant Walmart and upscale beauty specialty retailer Space NK have joined forces on a concept called BeautySpaceNK that will launch on Walmart's website Monday before rolling out to 250 Walmart stores in the summer.
BeautySpaceNK will feature 600 products from 15 brands spanning makeup, skincare, haircare, and bath and body, including By Terry, Lancer,

Philip B,

 

Foreo, Ameliorate and Patchology.
With prices running largely from $50 to $500, the offerings in the BeautySpaceNK assortment will be much more expensive than beauty products have been at Walmart.
Walmart's partnership with Space NK follows Target striking a partnership with Ulta to put Ulta installations in its stores and Kohl's linking with Sephora for Sephora shops inside Kohl's locations.
The high-low partnerships represent an elimination of boundaries between prestige beauty retail and mass beauty retail that traditionally characterized the beauty industry.
For Walmart, BeautySpaceNK is an answer to Target's and Kohl's' prestige beauty plays. It's also a bid to draw beauty market share away from beauty specialty retailers and Amazon.
If it succeeds, BeautySpaceNK could rev up Walmart's beauty revenues by prodding its customers to trade up to higher priced products and attracting new shoppers to Walmart intrigued by its prestige beauty offerings.
There's quite a bit of skepticism in the beauty industry about whether the partnership will work. One major concern is Space NK's name recognition. Those consumers who recognize and have patronized Space NK may desire a higher touch retail experience than Walmart delivers.
Well-known in the United Kingdom, where it has some 70 stores, Space NK shuttered eight standalone stores in the United States in 2020. It still has in-store shops at Nordstrom and Bloomingdale's.
Another concern is that Walmart shoppers won't be willing or able to pay the higher prices the brands within BeautySpaceNK are charging.
While BeautySpaceNK could provide another avenue for indie beauty brands to enter Walmart, it could also crowd out existing brands in Walmart's selection.