World Of Chris Collins Becomes The First Black-Owned Fragrance Brand At Sephora
Data from The NPD Group shows that super-premium niche fragrance brands doubled their sales last year as the wider prestige fragrance market registered 49% growth. As consumers venture back into the world, they want to smell good and Chris Collins hopes they'll reach for his brand on their way out. He's making sure they have access to it via a new partnership with Sephora.
World of Chris Collins launched on Sephora's website last month, making it the first Black-owned fragrance brand stocked by the beauty specialty retailer. After starting his brand in 2018, Bergdorf Goodman was one of the first wholesale partnerships Collins snagged. "I hit the ground running pretty well," he says. The brand is carried by Nordstrom and Neiman Marcus as well. Sephora is a different beast, though, he says, admitting, "I honestly did not know if I would be ready for Sephora. They're an incredible partner, but it's on a whole other level of dealing with retail." Despite his concerns, Collins figures, "When opportunities arise like this one with Sephora, you have to jump on them because you never know if they may come back around."
World of Chris Collins is easing into the partnership by debuting online. The brand is expected to launch into 184 Sephora stores toward the end of the year. "One of the mistakes is thinking that going into the store is the most prestigious way to announce that you've arrived with this partner," says Collins. "Online is a little less expensive, there's a little less investment involved." He has meetings with Sephora VPs twice a month to address concerns he or they might have. He describes Sephora's team as "incredibly patient," noting World of Chris Collins' launch was initially scheduled for September 2021, but was postponed due to supply chain issues.
Delays brought on by the pandemic stymied the brand back in 2020, too. Back then, he went out and bought machinery in order to fill bottles from his home in Harlem. "That time taught us all a lesson to be ready and to be more independent," says Collins. "When everything ramped back up, I was ready because I had gone through a whole restrategizing of the business to say, OK, that will never happen again."
Collins sees his expansion into Sephora as a way to capture new younger, female-identifying customers. Up until this point, World of Chris Collins' core consumers have been between the ages of 25 to 60 years old and fall into three buckets: Men, women who buy scents for the men in their lives, and women drawn to more masculine scents. Even though Collins describes his fragrances as crossing gender boundaries, he acknowledges there was a dearth of characteristically feminine-leaning options in his brand's original lineup.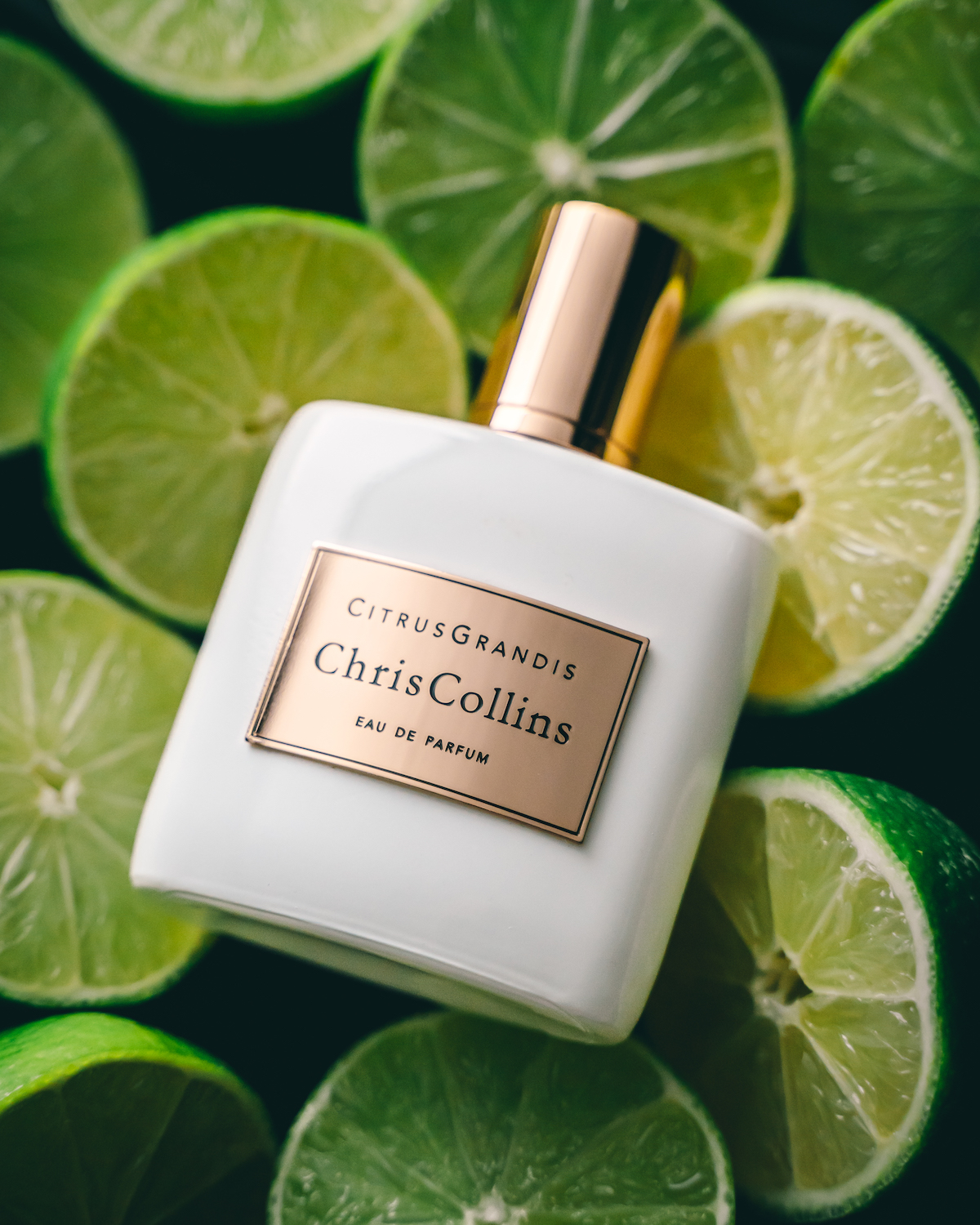 To add feminine-leaning options, he enlisted the help of perfumers and longtime collaborators Jerome Epinette from Robertet Group and Nathalie Feisthauer, formerly of Givaudan and Symrise, to create the fragrances "Long Kiss Goodnight," "Lost in Paradise" and "Citrus Grandis." Collins says, "I took the opportunity to launch some more florals, more lighter, citrusy, fruity scents. These were sparked specifically by my partnership with Sephora." The partnership also expedited the release of Discovery sample sets of the fragrances. Sephora customers can purchase travel-sized versions of the five available products for $25.
Collins didn't enter the fragrance industry to play it safe. He was introduced to the niche perfumery world by French perfumer Kilian Hennessy after working as a Ralph Lauren model for 20 years. His brand kicked off with three stockkeeping units and now has 12. Collins has built the brand with three other team members and his own money.
Hennessy has served as an important mentor for Collins throughout his fragrance career. He's impressed upon Collins that, because there are so few Black people in the fragrance industry, Collins is going to be judged harsher than most people in the industry. "He was absolutely right," says Collins. "I had to make sure that everything was top notch, from packaging to the fragrance story. I knew that I would have to work 10 times harder to prove myself." He continues that the pressure "keeps me hungry, it keeps me working harder."
World of Chris Collins is considering extending its merchandise into the body care and home categories. "I'm a big proponent of if you do something to make money, you won't make money," says Collins. "If you do something because you love it, the money will come. And, you know, I love what I do. I love to create. I'm often asked what's your favorite perfume? And my famous answer is the next one."
Collins is also thinking about opening a World of Chris Collins retail space. In-person meet-ups are particularly important to him as it gives him a chance to connect with customers. His first reaction when bringing on a new retail partner, be it national or international is, when can I come to the store? "I need to be tangible," says Collins. "I need to meet people in the store and talk to them and hear their stories and tell my story. It's kind of been my MO from the beginning and will be my MO for the future."