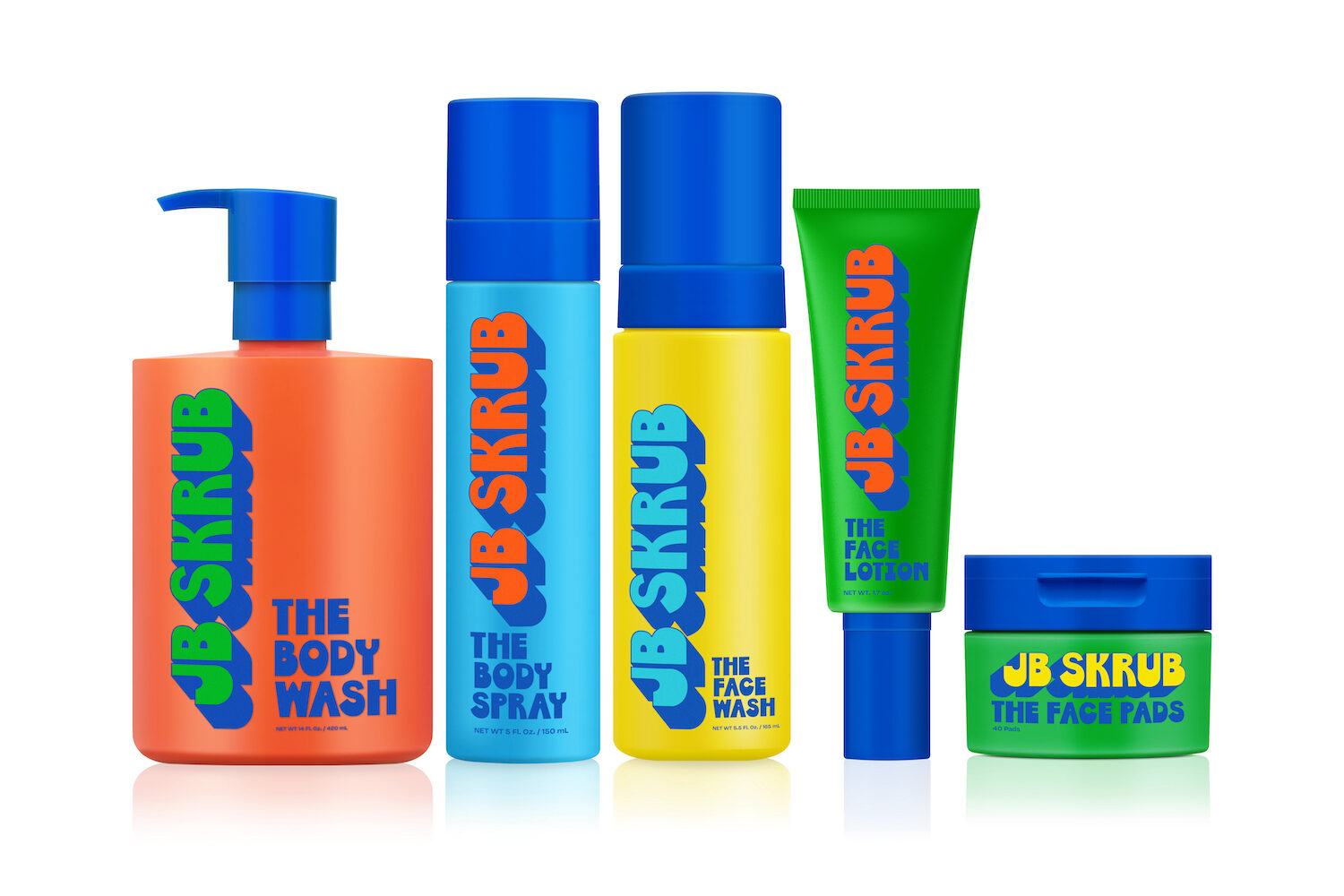 Actress Julie Bowen And Media Veteran Jill Biren Launch JB Skrub With Skincare And Body Care For "Screenagers"
During 16 years as a director at Condé Nast beauty and fashion publications like W, Vogue and WWD, Jill Biren met with hundreds of founders leading up to their brand launches. Many wanted to address tweens, but they never included boys. "I just thought, 'Wow, this is a lost opportunity,'" says the mother of two sons. "You're not speaking to me as a parent nor to my son."
She's now tackling the lost opportunity she picked up on in partnership with Julie Bowen, the "Modern Family" actress and mother of three sons. The duo, who met when their children previously attended the same school, is launching JB Skrub, a body care and skincare brand incorporating both of their initials that's targeting boys between the ages of 10 and 16 years old. "Speaking to them at a young age is our best approach, and we feel like the sweet spot is 12 years old," says Biren. "That's when they start realizing, 'Oh, my friends are smelling.'"
With boy stench in mind, Biren and Bowen first formulated JB Scrub's body wash. Additional products in the brand's five-product lineup are a body spray, face wash, face lotion and toner pads. The body wash has a citrus scent, but isn't as highly fragranced as men's body washes while being a step up from the baby body washes Biren slathered on her sons prior to creating JB Skrub's version. She stresses the natural ingredients in it were selected to be gentle, moisturizing and work to balance pH. Biren says, "It's universal to everyone and will be the product that everyone needs in every one of their bathrooms."
JB Skrub's face lotion is modeled on the gel-like texture of signature South Korean skincare moisturizers. The brand's iteration contains chlorella vulgaris, an algae it touts as protecting the skin from blue light-induced damage. "Generation Alpha has been coined the future 'screenagers,'" says Biren. "They've been using screens their entire lives, so chlorella vulgaris is hydrating, but it also defends against that potential damage, which is a great bonus." Other ingredients in JB Skrub's products are chia seed, green tea, aloe vera, niacinamide and prebiotics with anti-inflammatory and antimicrobial benefits.
For finicky boys, Biren and Bowen were bent on avoiding difficult products in terms of packaging and formulation. The face lotion is housed in a pump bottle rather than a jar for no-mess access and preserving formula freshness. The toner pads are soaked in solution to eliminate the step of applying toner to a cotton pad. "It was necessary for it to be a very quick process, and it's all there," says Biren, mentioning the lid for the pads was an important consideration as well. "We were thinking about how many times the toothpaste cap ends up on the floor of the bathroom. So, we had to search for a flip top for the lid."
"We feel like the sweet spot is 12 years old. That's when they start realizing, 'Oh, my friends are smelling.'"
JB Skrub enlisted packaging distributor Pacific Packaging Components to assist with the packaging. Four out of the five products are encased in refillable components. The brand teamed up with the agency Italic Studio on the design. Sneaker and sports drink brands were inspirations. "We needed something that really would speak to our kids," says Biren. "Bright, colorful, bold colors was the essence." JB Skrub's twist on the spelling of the word "scrub" was suggested by Bowen and Biren's sons. 
JB Skrub is joining a growing group of beauty and personal care brands shaking up how brands aimed at boys and young men look. A few are Insanely Clean, Stryke Club, Young King and Flook. Their aesthetics reflect gen Z's sensibilities and, for personal maintenance-hesitant males, are intended to make caring for their faces and bodies an enjoyable enterprise, not a serious endeavor the requires complete knowledge of ingredient decks.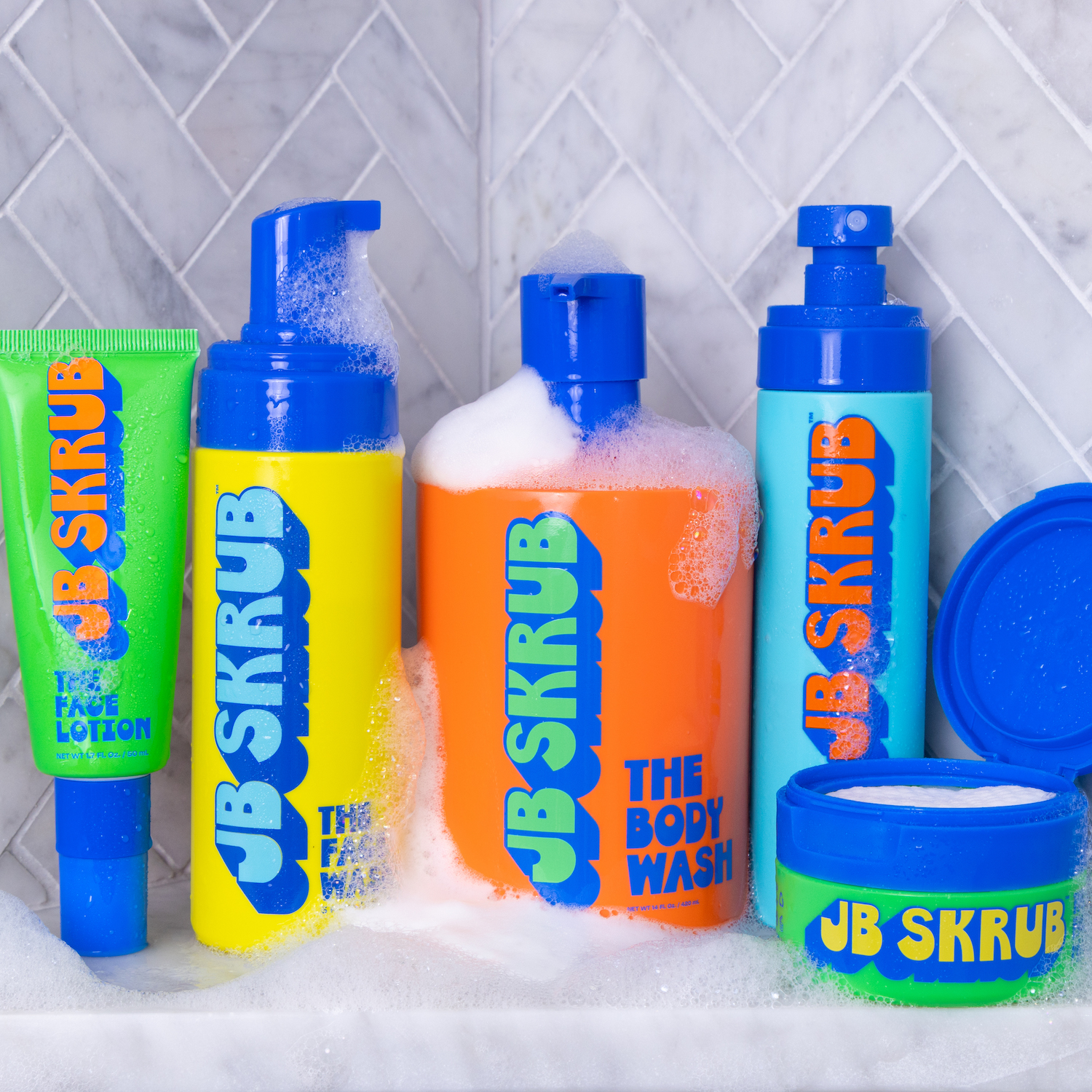 JB Skrub's prices remove hurdles for boys getting into skincare and body care. The brand's products are all $20 or under. "We were thinking about the products that they were using as babies, and they're coming out of using California Baby and Honest, which are in that $15 and $20 price range," says Biren. "We want to be able to make an easy transition for those families."
The pricing is in line with mass-market retailers such as Target, Walmart, and CVS, where families shop and Biren foresees JB Skrub selling in the future. For its initial year on the market, the brand is projected to reach a seven-figure sales total.
Biren and Bowen plan on taking advantage of Bowen's production company, Bowen & Sons, for guidance on JB Skrub's social media. The social media strategy involves divergent tactics for parents and kids. Instagram and Facebook will be key to the former, and TikTok will be integral to the latter. "When it comes to approaching and entertaining our sons, that has to be peer to peer," says Biren. "It is a different approach than many other brands take because they have one audience to speak to."
She adds, "Everything that we're doing is in the spirit of how do we help these young boys feel good about body care, skincare, their personal hygiene and also connecting with the parents who we want to encourage to have these conversations with their kids at a younger age."