Aillea Tests Its Retail Concept Beyond Denver With Atlanta Opening
After quickly establishing itself as a clean beauty retailer to be reckoned with, Aillea is taking a trip to Atlanta for its first store outside of Denver.
Kathryn Dickinson, former vice president of sales and marketing of Vincent Longo, has had her sights set on expansion since she launched Aillea in May 2015. Only six months into its Larimer Square location in downtown Denver, she was scouting the second shop that would go on to open four miles away at Cherry Creek Shopping Center last September. Dickinson then promptly explored a move beyond Aillea's hometown with one to two stores planned in addition to Atlanta within the next six to nine months.
"I want to start building a national presence, and Atlanta seemed like a great city for me. In terms of green beauty, it's underserved right now, and I have a strong connection to a lot of friends that live there," says Dickinson. "It's very much like Denver. It's a sophisticated, health-forward city."
Aillea's 650-square-foot boutique at the Powers Ferry Square retail complex in the affluent Atlanta community Buckhead bows Sept. 22 with some 45 beauty brands that have proven themselves at existing units, including Vintner's Daughter, Moon Juice, Kosas, Indie Lee, Ilia, Kypris, Battington Lashes, Agent Nateur, Osmia Organics, Evelyn Iona, Josh Rosebrook, Kjaer Weis, Honest Hazel and RMS Beauty. Skincare is Aillea's largest beauty category.
I like the smaller cities that are very health-forward. I don't believe in predatory real estate. The whole country is wide open and starving for clean beauty.
Ideally, Dickinson envisions Aillea branching out to more street and outdoor shopping center locations running 600 to 1,000 square feet in areas not saturated with natural beauty stores. She's raised slightly over $1 million in two rounds from friends and family to help finance Aillea's development. Dickinson anticipates she could seek a larger amount to support future stores following another two to three locations or so.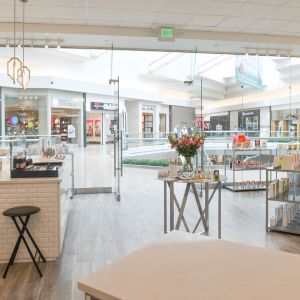 "If I went to New York, I might be the fifth or sixth player in the city. I don't think that's terribly exciting. Not to say that I won't go there one day, but it's not on my immediate radar," she explains. "I like the smaller cities that are very health-forward. I don't believe in predatory real estate. The whole country is wide open and starving for clean beauty."
Aillea's bright and airy design makes ample use of shades of white. Lighting is integral to the stores, and Dickinson exhausted time and money pinning down the right bulbs for makeup application. "Lighting is very important, and it helps with everything from return rates to sales conversions," she says. For Larimer Square, she continues, "I literally spent $1,000 on new light bulbs, and it made a crazy difference in the store. It was probably one of the better investments I made."
Aillea doesn't stock brands wishy washy on clean beauty. Dickinson calls for healthy ingredients on ingredient decks across their assortments. "I have a lot of brands that send me submissions, and I will find fragrance or phenoxyethanol in them. I want people who are committed to growing clean beauty, so they have to be a clean beauty brand through and through," she says. Brands that meet the grade at Aillea also have topnotch packaging and effective formulas.http://packaging
Dickinson, who spends four to five days a week working in Aillea's stores, estimates 85% of Aillea's customers are clean beauty novices. "People have a favorite lipstick they might have worn for the past five to 10 years, and they come in and try to match it, or they want something that works just like La Mer, but has nothing bad in it," she says. "When I hire people, I tell them, 'This is a very high-touch sale. This is not someone coming in, grabbing the blush they've been using for years and checking out.'"
Physical stores play crucial roles in educating consumers on natural beauty and, partially because of that role, Dickinson predicts those dedicated to the segment will thrive even as stores in other segments struggle. "Shopping malls in general have to reinvent themselves and find new ways of doing business. One of the big ways they are doing this – and I see this happening at Cherry Creek – is bringing in smaller, local retailers like myself as larger retailers leave," she says. "Specialty retail still has a place. People want to see, touch and smell their products."