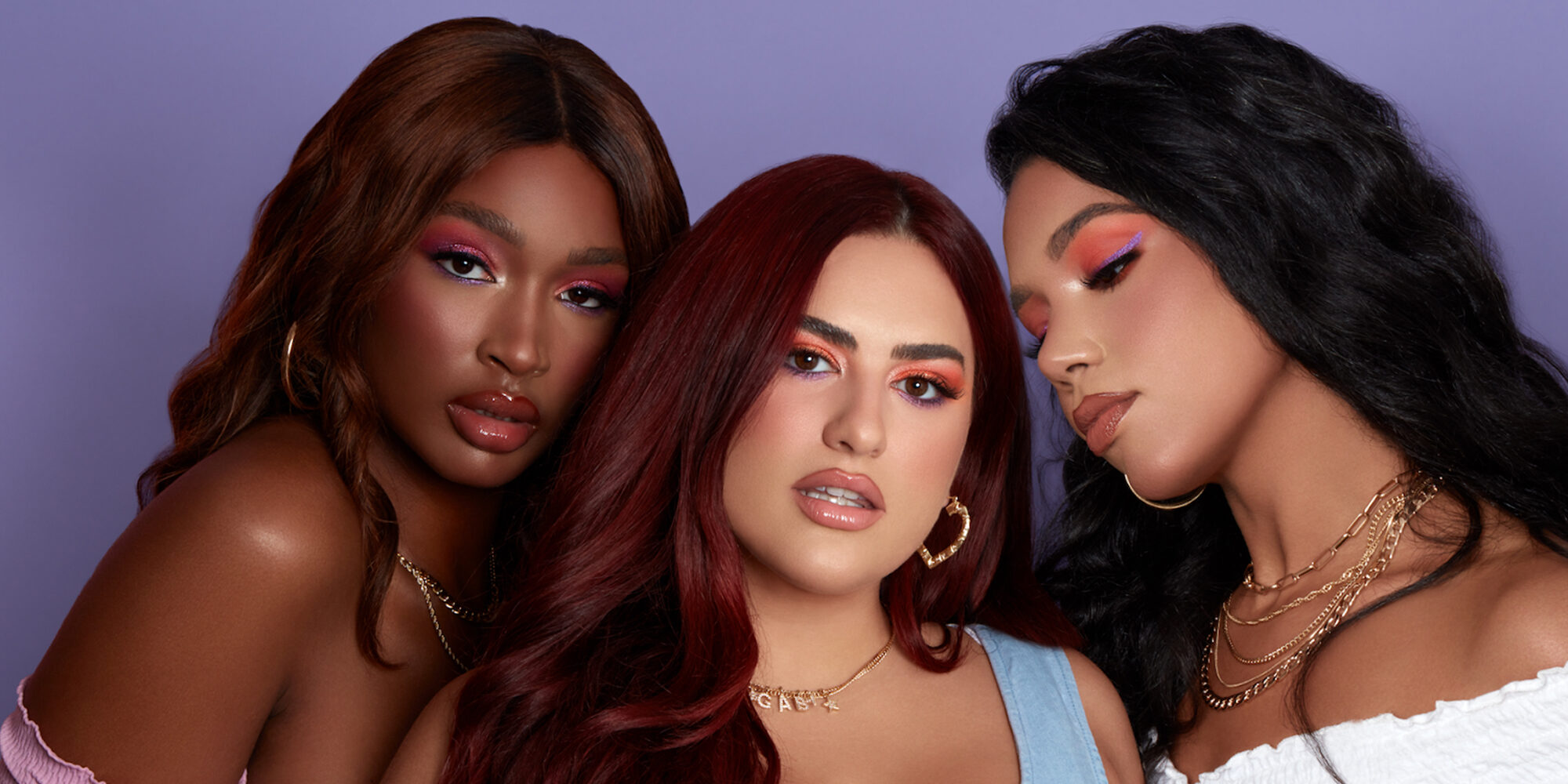 Alamar Cosmetics Launches In Target As Part Of The Retailer's Hispanic Heritage Month Celebration
Two years ago, Alamar Cosmetics founder and makeup artist Gabriela Trujillo made a splash in the cosmetics market with her brand's first product, Reina Del Caribe, an eyeshadow palette celebrating her Cuban roots with eight bold shades.
Now, she's making major waves by launching Alamar Cosmetics' Reina Del Caribe at Target in special displays timed with Hispanic Heritage Month along with two other bestselling products: DesHUDEas Lip Gloss and Brighten + Bronze Complexion Trio. Beyond Target, where the brand has rolled out to 200-plus doors and e-commerce, Alamar Cosmetics is introducing its latest range, Spanglish La Colección, with a brush trio, eye primer and new palette of eight shades.
Since the Hispanic Heritage displays went up at beginning of the month, 20% of Alamar's inventory has sold through, illustrating the brand's strength out of the gate. "It's a great way to start," gushes Trujillo. "Each location left has very little of the complete collection left. We've gotten great feedback and, hopefully, it will lead to a permanent section for us."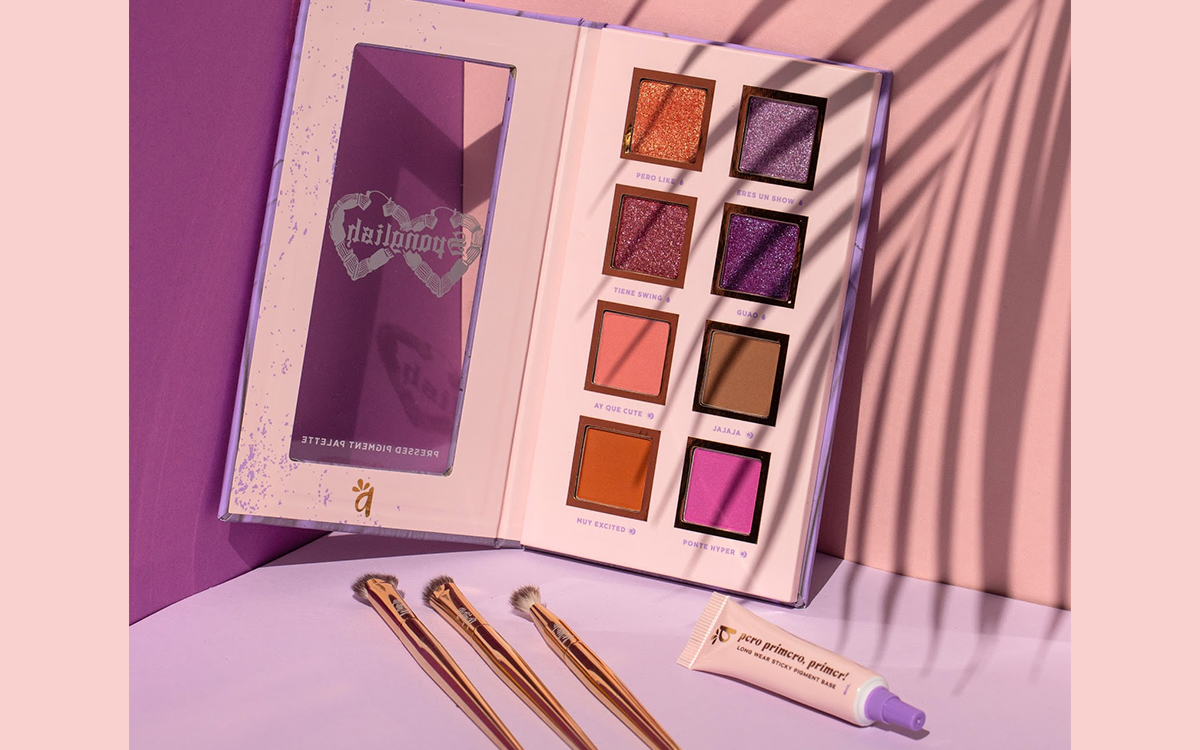 Trujillo initially met with Target earlier this year to explore the possibility of heading to the retailer for Hispanic Heritage Month, which runs from Sept. 15 to Oct. 15. "They had been alerted to our brand and the support we had in our community," says Trujillo. "They were putting together candidates for the Hispanic Heritage Month, so we said, 'Absolutely, can we meet right away?' Off we went to Minnesota, had an hour to pitch, talked numbers, and they let us know a week later."
"Anything can happen if you think it can. You have to have blind confidence in yourself."
In 2018, Target embarked on an initiative to diversify its makeup selection by bringing on brands such as The Lip Bar, Haleys, Coloured Raine, Makeup Geek and Reina Rebelde. To mark Hispanic Heritage Month, the retailer is spotlighting Botanika Beauty and Honey Baby Naturals as well as Alamar Cosmetics. The makeup brand is entering Target as makeup sales have slumped amid the pandemic. Trujillo discloses Alamar Cosmetics' sales dipped in March as lockdowns spread across the United States, but stabilized quickly after that.
"I felt at peace when I saw that Target stayed open. It really made me feel good that I had made the right decision with a retailer that was considered essential," says Trujillo. Alamar Cosmetics' merchandise was changed slightly to suit Target. Trujillo details, "Our palettes had a mirror. It adds value, but, because we were in a physical store, we removed them and substituted a clear window for consumers to see what they're purchasing." At Target, Alamar Cosmetics' products are priced from $14.99 to $28.49.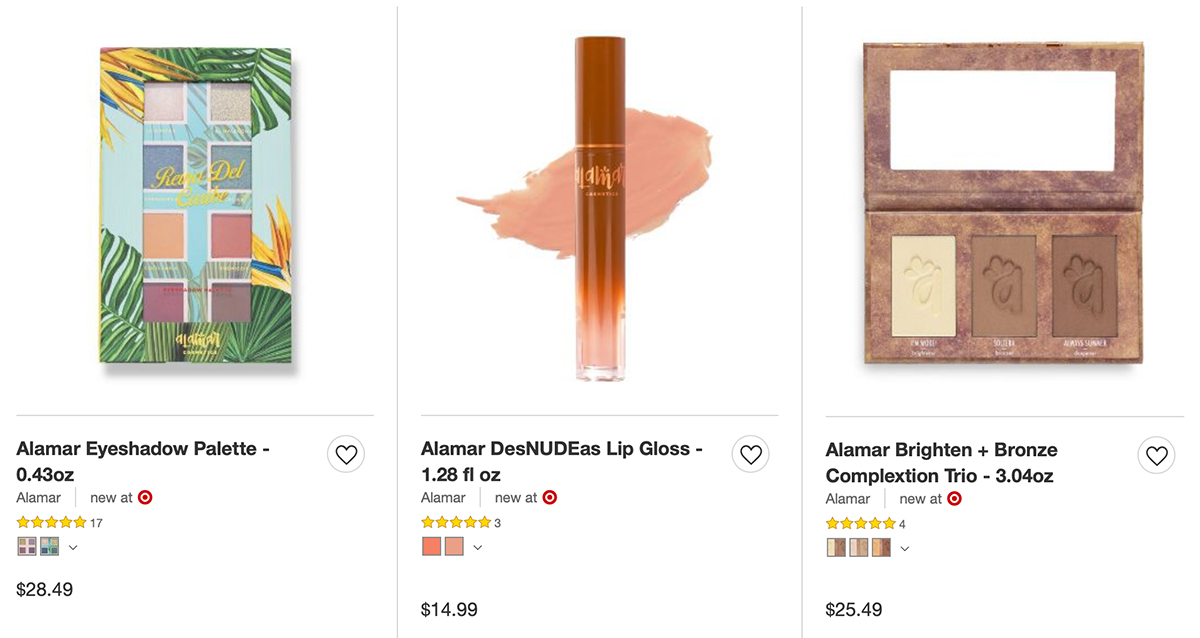 The $28 eyeshadow palette that's the centerpiece of Spanglish La Colección is a vehicle to showcase Trujillo's amalgamated Latin American character. "I wanted a fun color story, very dynamic purple and orange shades that complement each other, but look nothing alike," she says. "That is how my culture is, Latin and American are both very different, but complement each other very well." Trujillo drew inspiration from her memory of Ingles Sin Barreras, a popular English language tape that she explains propelled a Spanglish dialect. The campaign for Spanglish La Colección has a 1990s and early 2000s infomercial vibe.
"The love that our audience has for the brand truly comes from communication."
Aside from relationships with Target and a partnership with beauty subscription service BoxyCharm, Alamar Cosmetics prioritizes its direct-to-consumer platform. Trujillo says, "Right now, it's about working with the relationships we currently have and focusing on our e-commerce sales, cultivating a strong online presence." The limited distribution is manageable for the bootstrapped brand.
Trujillo takes every dollar of profit and invests it into Alamar Cosmetics' next launches. "It's definitely a slower way to do things, grinding little by little, but I want to remain autonomous for as long as possible," she says. At the moment, Alamar Cosmetics' site is slim on stocked products since much has been snapped up during the pandemic. "I didn't think that would happen, but we rely on the money from sales to reorder, so we're catching up," says Trujillo, sharing the site should be replenished by the end of the year and feature updated packaging. In 2021, Alamar Cosmetics will unveil a revamped site.
"I've had my blinders on since I launched, forward forward forward. It works if you do," says Trujillo. To fellow entrepreneurs, she advises, "Work hard and set your mind to it. Exterior voices mess with how you perceive yourself and your goals. The momentum cannot be stopped if you have it. I wasn't born here, but anything can happen if you think it can. You have to have blind confidence in yourself."
Alamar Cosmetics' customers fuel Trujillo's passion for her brand. It has 193,000 followers and growing on Instagram. "We talk to our audience all of the time. We know what they are feeling—our mamis and papis—we're tapped into a friendship," she says. "It allows us to know what they're looking for and what they want to spend their money on." She elaborates, "I'm open on social media and very transparent that I'm doing this myself. It also inspires them to believe they can do anything they want, too. The love that our audience has for the brand truly comes from communication."