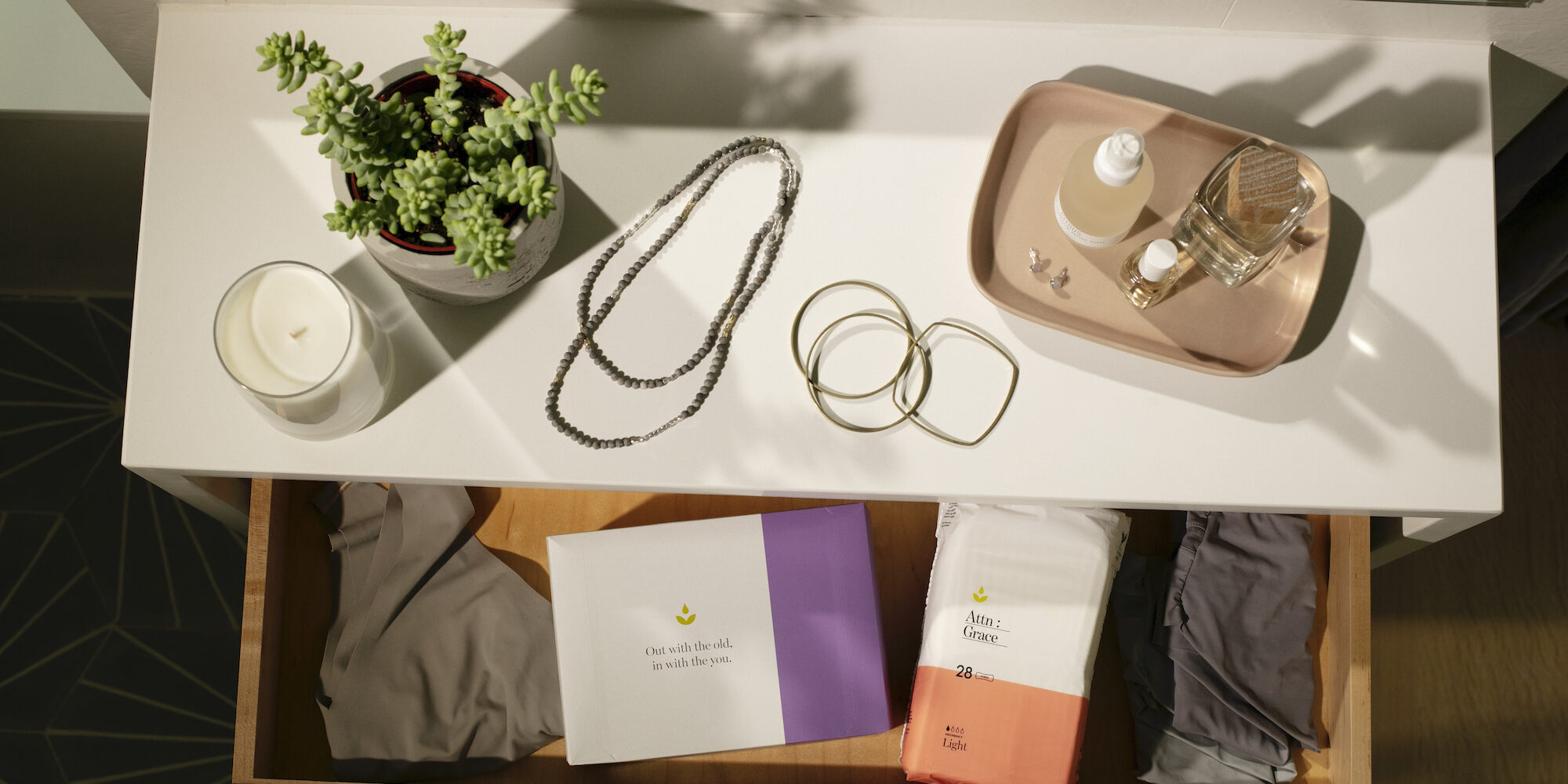 Attn: Grace Doubles Pre-Seed Raise, Collaborates With AARP Innovation Labs
Attn: Grace, a personal care brand disrupting the incontinence segment with stylish, sustainable and subscription-based products for women, has raised a total of $2 million in pre-seed funding with the closure of a second $900,000 round. 
Care/of backer Tusk Venture Partners led the latest round, joined by existing investor Precursor Ventures, backer of the brands Kinfield and Owa, and new investors Joyance Partners and Social Starts. In addition to the new funding, Attn: Grace revealed it's partnership with AARP Innovation Labs, an accelerator that works with startups and investors to discover and scale big ideas that can positively impact how aging people live. AARP Innovation Labs brings deep expertise in the 50-and-over demographic and plans to assist Attn: Grace in amplifying its reach. 
"We were excited to invest in Attn: Grace because of Mia and Alex's unique focus on creating more sustainably designed wellness products and a more dignified brand for older women, a group of people too often overlooked by startups," says Jordan Nof, managing partner at Tusk Venture Partners. "Starting with unique incontinence products that are sustainable and thoughtfully designed, we believe Attn: Grace will go beyond this market to help with all types of aging needs."
Though women older than 50 years old account for nearly 27% of consumer spending in the U.S., they often report feeling forgotten by consumer goods companies and that their evolving needs are going unmet. "Time and time again, we hear women saying, 'I don't feel like any brands are speaking to me,'" says Mia Abbruzzese, who co-founded Attn: Grace with her wife, Alexandra Fennell, in June. "When you're in your 20s or 30s or 40s even, you're used to brands catering to you, not only to your physical needs, but they're trying to align to your socio-political views and missions. Then, you hit a certain point, and I think it happens at different times for different women, but you look up and you're like, 'I'm not anyone's brand darling anymore.' That's not a way that any woman wants to feel."
Attn: Grace is trying to make inroads in a global disposable incontinence product market that was worth $10.4 billion in 2019 and projected to advance at a compound annual growth rate of 7.5% to reach almost $18.5 billion by 2027, according to Fior Markets. In the U.S., the market is dominated by Kimberly Clark and Procter & Gamble, entrenched players that together hold 70% share. Attn: Grace believes it can draw consumers away from the giants by providing better-for-you options not available at drugstores. 
"Women will come to us over and over again saying they've tried every other brand, and this is the first time they haven't had skin irritation."
"A lot of the products use dyes in their top sheets," says Fennell. "The dyes are hugely problematic for people. Also, the top sheet in traditional incontinence products is a synthetic that's derived entirely from petroleum, which is quite abrasive."
In developing Attn: Grace's products to be greener and cleaner than the existing incontinence merchandise, Abbruzzese and Fennell drew inspiration from the sustainable evolution of period care brands propelled by brands like Lola and Rael that use organic cotton in their products. "The need is even more pronounced here because a moderate to heavy user is wearing a pad or a liner or a brief basically all the time, not just a few days a month," says Abbruzzese. "Women will come to us over and over again saying they've tried every other brand, and this is the first time they haven't had skin irritation. That's been a really heartening surprise in the journey."
Abbruzzese, founder of children's footwear company Morgan & Milo, which was acquired by Zutano in October 2019, and Fennell, a former patent lawyer, amassed a 10,000-member pre-launch waiting list for Attn: Grace's collection of high-performance liners, pads, briefs and wipes. Abbruzzese says that brand's initial raise took almost two years and the second raise took about two weeks once the mostly male investors moved beyond their embarrassment over female incontinence and saw the clear consumer demand.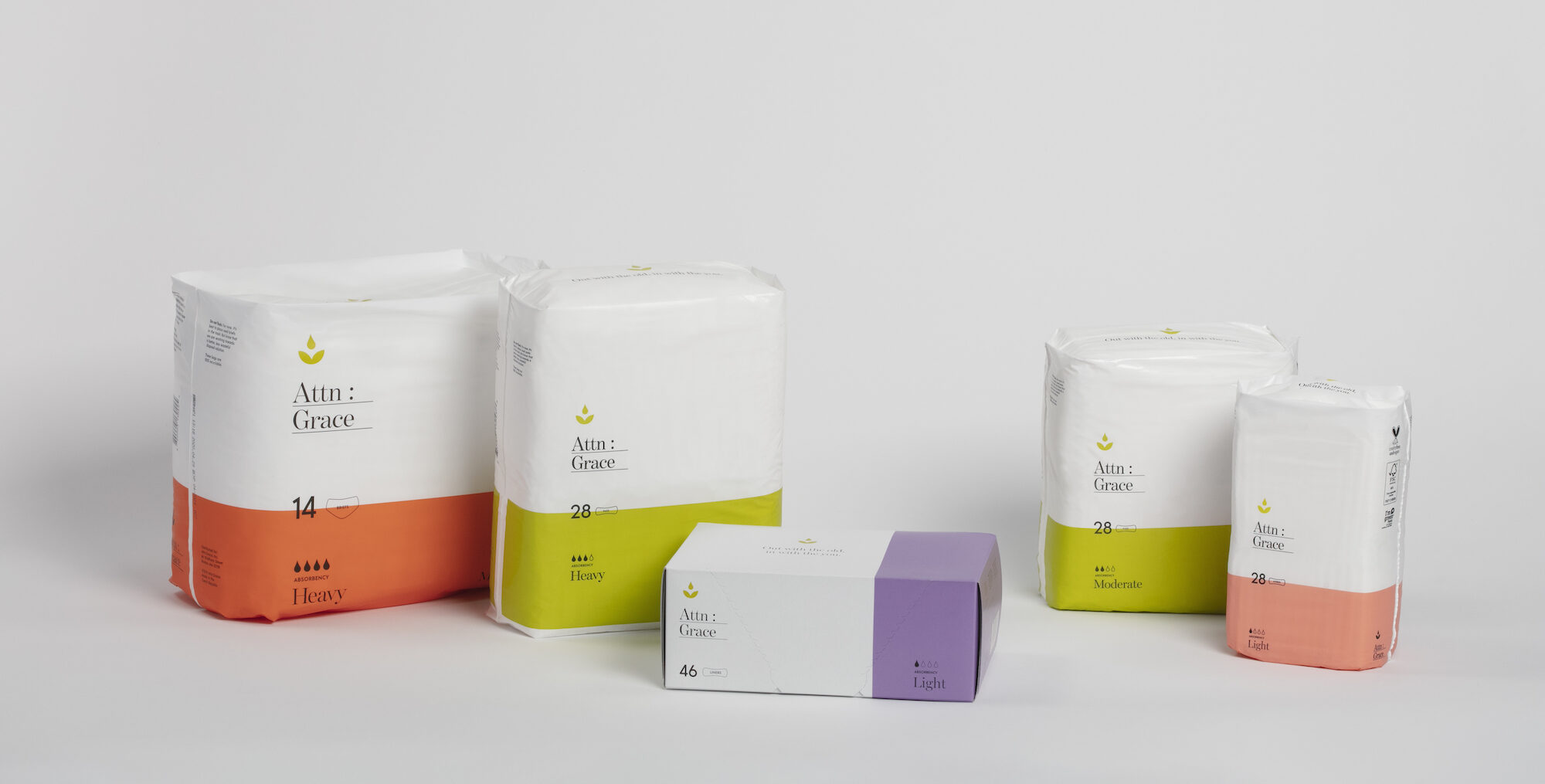 "My brother-in-law, a VC who was the first to give us a check to get us on our way, was like, 'You know, you don't have to do this,'" recalls Abbruzzese. "We just knew it was a good idea. We knew there was an opportunity out there, a woman that needed a more curated, elevated solution to what we were calling the inconvenient truths of aging, and women weren't being considered."
Attn: Grace will remain direct-to-consumer for the immediate future. In the next six months, Abbruzzese and Fennell will turn their focus to shaping Attn: Grace's retail strategy. "Because this consumer needs to have multiple touch points for the brand to resonate with them, we think having a retail offering is going to be really important," says Fennell. "We're working on wholesale partnerships right now as we continue to expand. We're casting a wide net."