Beauty Brand Investors Reveal Key Valuation Considerations
What compels seasoned investors to write a $1 million check, a life-changing amount for most indie beauty entrepreneurs, for one brand versus another?
Last week's Beauty Independent In Conversation webinar on venture capital dug into that question. To do so, moderator Nader Naeymi-Rad, co-founder of Beauty Independent owner Indie Beauty Media Group, asked participants IgniteXL Ventures founding partner Claire Chang, True Beauty Ventures partner and co-founder Cristina Nuñez, Ancora Holdings principal Lori Perella Krebs and Prelude Growth Partners co-founder Neda Daneshzadeh to evaluate three hypothetical brands looking to raise $1 million—Gorgeous Gem, a stunning brand helmed by a passionate founder; Famous Founder, a trendy brand connected to a B-list celebrity and experienced entrepreneur that's racked up 500,000 social media followers; and Incredible Ingredient, a brand created by a doctor centered on a proprietary ingredient—generating revenues of $1 million, gross margin of $350,000, and earnings before interest, taxes, depreciation and amortization of negative $250,000.
Incredible Ingredient garnered Chang's first-place vote, and she ranked Famous Founder and Gorgeous Gem in second and third place, respectively. She struggled with whether to pick Incredible Ingredient or Famous Founder for her leading contender. "Incredible Ingredient has the IP, so that's very attractive to us. [It's] highly differentiated and protectable, but, then, Famous Founder is an established entrepreneur," she said. "Especially in early stage…the quality of the founder really matters." Chang pegged Incredible Ingredient's valuation at $10 million, Famous Founder's at $8 million to $10 million, and Gorgeous Gem's at $6 million.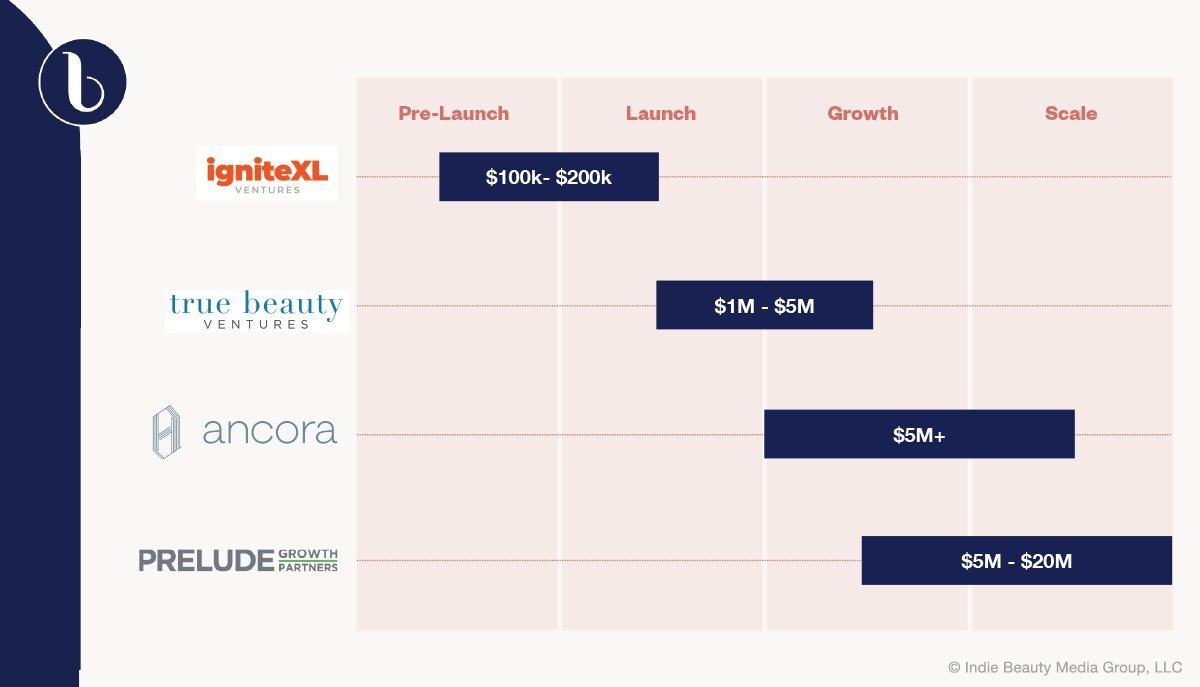 Naeymi-Rad pointed out that many of the founders attending the webinar probably have brands most closely resembling Gorgeous Gem, and Chang spoke to the aspects of a Gorgeous Gem-type brand that would make it an attractive investment to her. She shared, "I'd need to better understand their target audience. Are they targeting a very unique niche market that's underserved, overlooked? If that is the case, that could be interesting, but where's the highly differentiated factor that's going to really help them stand out? It's highly competitive market, so we really want to see that differentiation."
Nascent firm True Beauty Ventures has yet to cut a check, but Nuñez isn't new to the investment world. She's worked with her now partner Rich Gersten, founder and managing partner of True Beauty Capital, three times in the past, including at private equity firms Catterton Partners and Tengram Capital Partners. She explained her role at True Beauty Ventures is "focusing entirely on the emerging early-stage segment of the market and exclusively in beauty, [including] the more expanded categories of wellness and personal care." Nuñez stressed it's difficult to pin down valuations of emerging brands, but she and Gersten have developed an extensive investment criteria filter to keep within certain guardrails when they assess deals.
Similar to Chang, Nuñez singled out Incredible Ingredient as the brand she'd bet on first. Gorgeous Gem was her second-place finisher, and Famous Founder came in last. The nature of the founders was crucial in her decision-making process. "There's a difference between an authentic founder and a famous founder that's just going to give you eyeballs," she said. "For me, that automatically dings the Famous Founder brand versus the other two." Nuñez continued that the three brands' gross margins are two low for True Beauty Ventures' criteria and the beauty industry generally. She elaborated, "When you look at COGS to SRP [suggested retail price], we like to see 10%, maybe 10 to 15%." Naeymi-Rad gave an example of a serum that retails for $100 with COGS or cost of goods sold no higher than $10 to $15, a figure excluding marketing, retail support and discounts.
"I would immediately look to see if it's scalable and what we could do with it."
Nuñez emphasized early-stage brands should concentrate on margin because a lot of the margin they enjoy selling via a digital direct-to-consumer model will be given up once they enter retailers. She underscored the retail cut should be factored in from day one. "Oftentimes, young brands make the mistake of not understanding [extra costs that reduce margin] early on, and they develop products because they want the marketing angle because they think this packaging is fabulous, and they need to have it for aesthetics," she said. "That may work for one product potentially, but, when you're trying to think about growing a line, you'd have to have those COGS in mind early on and at least acknowledge where you want to be from a margin perspective so that you can actually scale profitably."
Compared to Chang, Nuñez's valuations for the three imaginary brands were conservative. Quoting her colleague Gersten that valuation is both an art and a science, she approximated Incredible Ingredient's valuation at $5 million to $6 million, Gorgeous Gem's at $3 million to $4 million, and Famous Founder's at $3 million. "This number is more directional," she said. "I need to understand more about the product and the offering and the story and the tie to why does this brand exist, other than the founder being a B-list celebrity? How does it tie to the product, and why would the consumer care?"
Perella Krebs was bullish on Gorgeous Gem. She said, "I would immediately look to see if it's scalable and what we could do with it because, if she or he is doing it right at this level, what can we do with our services?" Ancora Holdings, which Perella Krebs started with Space NK founder Nicky Kinnaird, grew out of Perella Krebs' observation that emerging founder-led brands don't simply require an infusion of cash to scale their businesses. Ancora Holdings connects the brands it backs with sales, retail, supply chain and finance experts. Vapour and Indie Lee are in its portfolio. Fantastic Founder was Perella Krebs' last choice, but she gave it the highest valuation, at $4 million. "If I were really interested, I would have to at least get in the playing field with them," she said. Perella Krebs' valuations for Gorgeous Gem and Incredible Ingredient were $3 million and $2 million, respectively.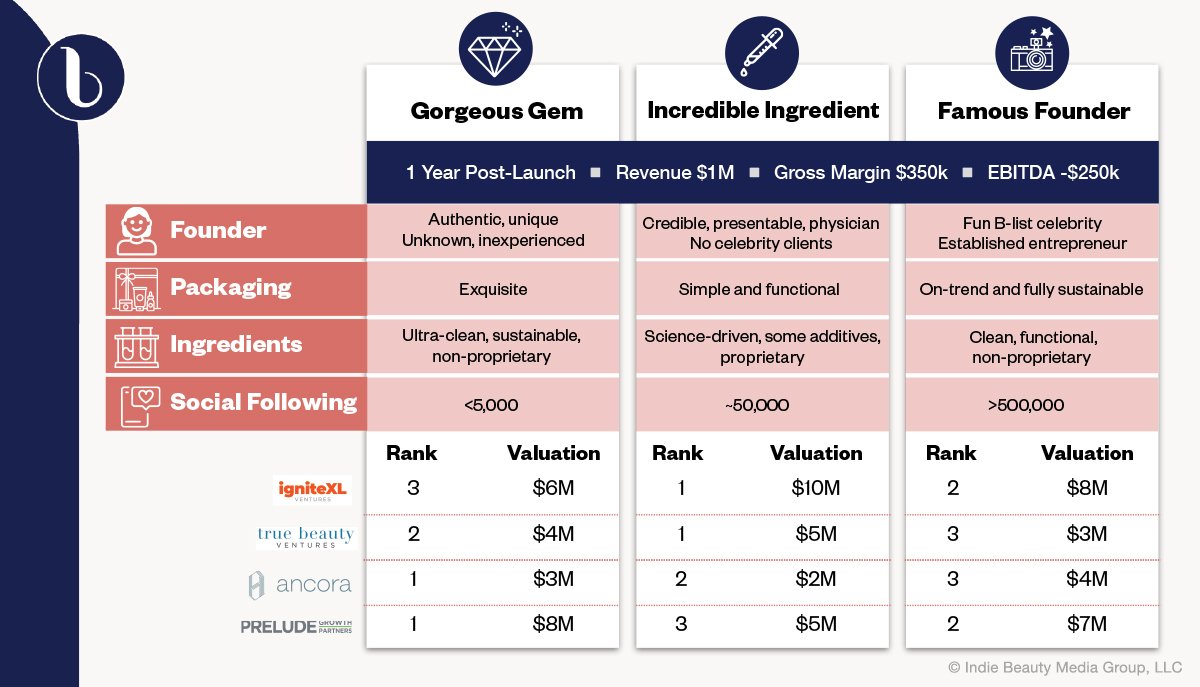 She brought up the significance of a company's capitalization table in structuring a deal. A cap table provides an analysis of percentages of ownership. For Ancora Holdings, the ownership breakdown is important. "Most likely, they have brought in friends and family or other investors along the way, and have also had to give up a portion of their action," said Perella Krebs. "Something we have heard over and over again is that, 'Maybe I gave up too much, too early.' So, that was also part of the dance that we have with them. How do we help them get that back? That helps us to structure what the investment dollars are going to look like."
Lastly, Daneshzadeh's positioned Gorgeous Gem No. 1, followed by Famous Founder and Incredible Ingredient. "Authentic founders, gorgeous packaging, clean, sustainable high quality is exactly where the market is and what consumers are today," she said. "That end of the market is growing faster than any other end…What they need to work on is organic demand." Daneshzadeh founded Prelude Growth Partners with Alicia Sontag in 2018 to be a fund specializing in beauty, wellness and personal care. It recently invested in celebrity makeup artist Gucci Westman's clean color cosmetics brand Westman Atelier, and mask specialist Summer Fridays, a brand from the influencers Marianna Hewitt and Lauren Gores Ireland. WWD reported Summer Fridays was on track to reach $20 million in 2019 retail revenue.
"I hate the gross margin for all of them," said Daneshzadeh of Gorgeous Gem, Famous Founder and Incredible Ingredient. Instead of $350,000, she stated the gross margin should be $500,000 to $700,000. "I would ding them a little for that," said Daneshzadeh. Her valuations were $8 million for Gorgeous Gem, $7 million for Famous Founder and $5 million for Incredible Ingredient. "The key here is how incredible is the ingredient," said Daneshzadeh. "There are lots of ingredients out there. Without knowing more, I'm just a bit more skeptical of how differentiated the science really is. We know in skincare, there are five ingredients that are in every product: retinol, the acids we know. It's really, really, really hard to find differentiated science."