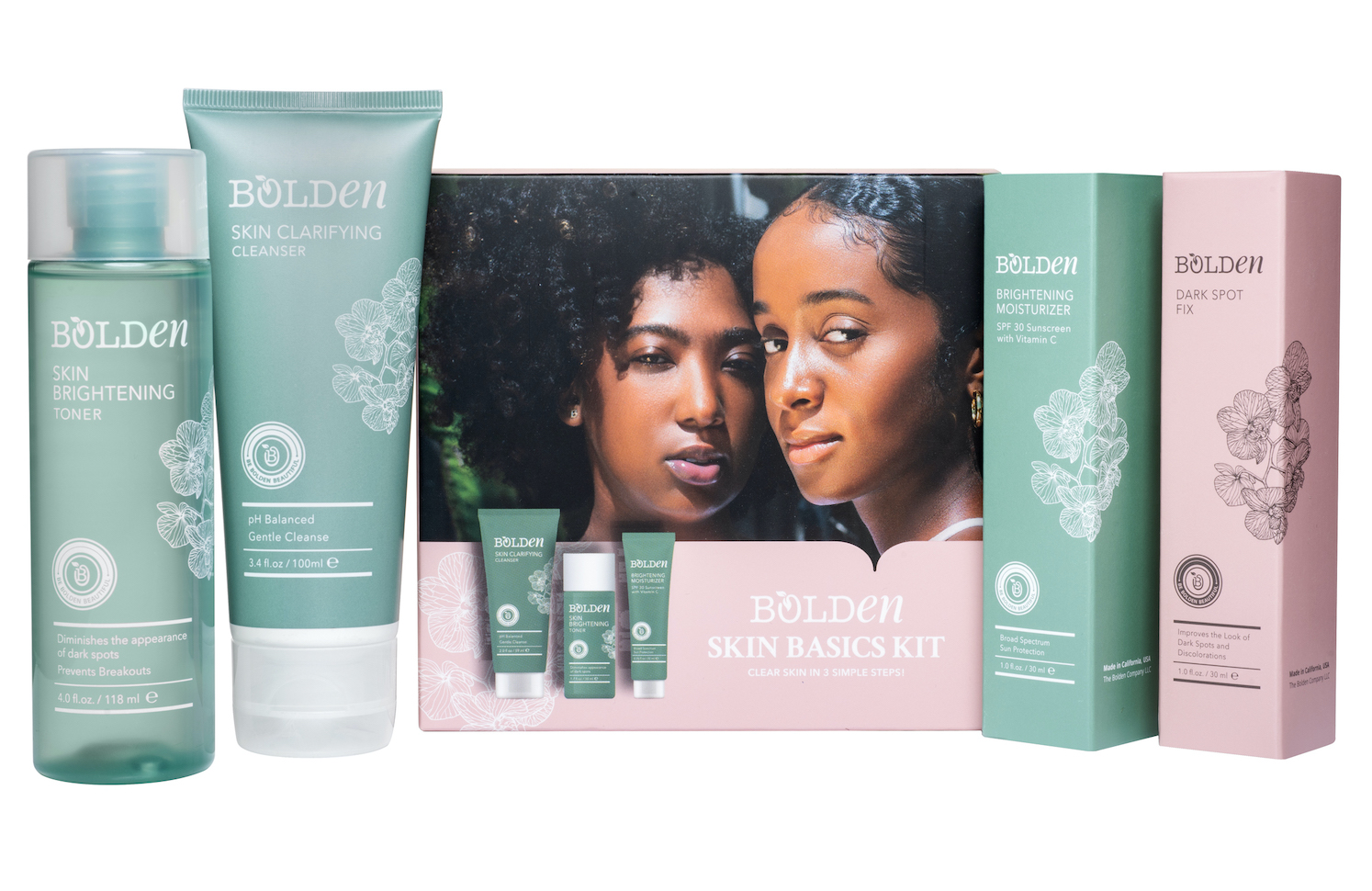 Bolden Skincare Launches Products For Melanin-Rich Skin At Walmart
Walmart continues to expand its assortment of indie beauty brands with the arrival of Bolden Skincare.
Catering to consumers with Black and brown skin, the brand has entered over 1,000 of the massive chain's locations nationwide. Its biggest in-person Walmart presence is in Texas, Georgia, Florida, North Carolina, South Carolina and California.
Bolden products available at stores include Skin Clarifying Cleanser, Brightening Glycolic Acid Toner and SPF 30 Brightening Moisturizer, the bestseller. A new product, Dark Spot Fix, is debuting exclusively at Walmart. A Skin Basics Kit containing the aforementioned cleanser, toner and moisturizer in travel sizes will be available, too. Bolden's products at Walmart are priced between $11.99 and $22.49.
"We make very high-quality skincare products, but at accessible price points. So, when the opportunities came up to partner with Walmart, we were very excited," says co-founder Chinelo Chidozie. "We think it's going to be mutually beneficial for us and Walmart customers, and I think this is a space that Walmart was looking to get a diverse range of products in." Outside of Walmart, Bolden is sold on Amazon and Costco's website as well as at select beauty stores. Direct-to-consumer currently accounts for 80% of Bolden's revenue. Chidozie anticipates that percentage shifting to 50% DTC and 50% wholesale with the new Walmart partnership.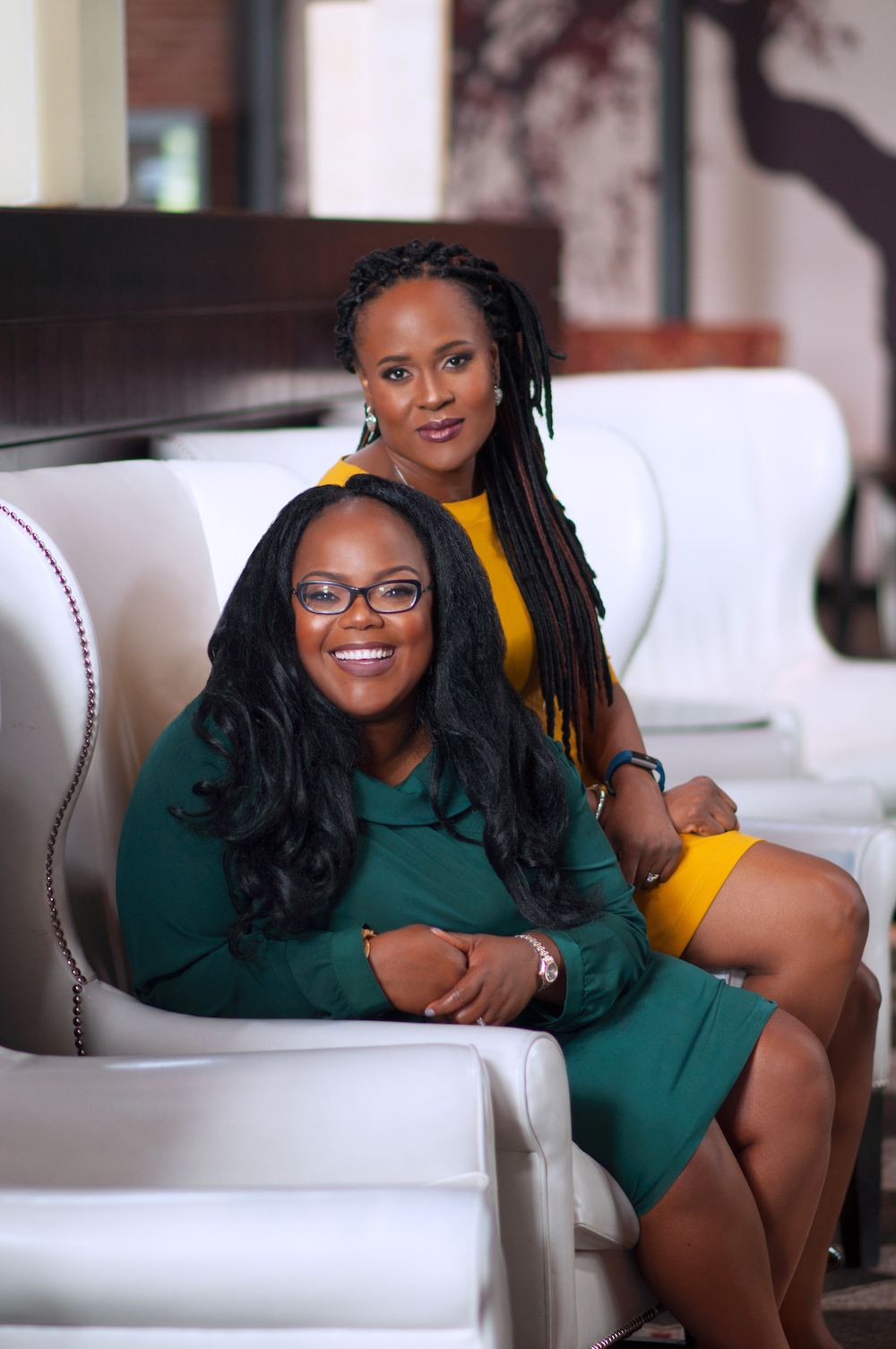 Chidozie launched Bolden with her sister-in-law Ndidi Obidoa in 2015. The brand was an early champion of skincare focused on melanin-rich skin, and it remains a member of a small group of Black-owned skincare brands in mass retail. Among the others are Rosen, Urban Hydration, Kinlò by Naomi Osaka, Undefined and Beauty Bakerie, which has extended from makeup to skincare. In 2019, Bolden broke into Target as a part of the retailer's push to diversify its beauty selection. While that partnership has dissolved, it was instrumental in preparing Bolden for its Walmart relationship.
"We now understand the right strategy with price and product mix and how to successfully launch at a big retail outlet," says Chidozie. The brand also had time to mature and gain customer recognition before its Walmart rollout, adds Obidoa. She says, "We're a little more deliberate given that we have a better understanding of our business, our customers, how she shops and some of the expectations, and I think that has guided us in terms of what we're offering for this partnership."
Bolden had a year to get ready for its Walmart launch. Obidoba says, "That was really helpful, especially in this new supply chain landscape post-COVID. That gave us adequate time to get everything rolling." Bolden's toner was out of stock for a few months at the beginning of the pandemic, prompting the brand to move closer to its production facility. Obidoba says, "Everyone adapted to it [supply chain complication], and it just helped us be a bit more vigilant about the production cycles."
Bolden estimates over 70% of its customers shop at Walmart. The brand's core audience is Black women aged 23 to 50 years old. Obidoba says, "They're very knowledgeable about skincare, they're fully invested in taking care of their skin, and they pay attention to what goes on their skin."
Word of mouth has been the best form of marketing for Bolden. "People trying and sharing with their friends and family have been incredibly important to our growth and in the community," says Chidozie. "They've rallied around us because there aren't many women-owned and Black-owned products formulated to work well on darker skin tones."
Chidozie and Obidoba will host meetups at Walmart stores to connect with customers IRL and promote Bolden's partnership with the retailer. In addition, the brand has collaborated with more than 100 influencers to spread the news and reviews on social media platforms.
Asked about future retail expansion, Odidoba says, "We're taking it one step at a time. We want to have a successful launch and grow with Walmart and then, you know, the sky's the limit."