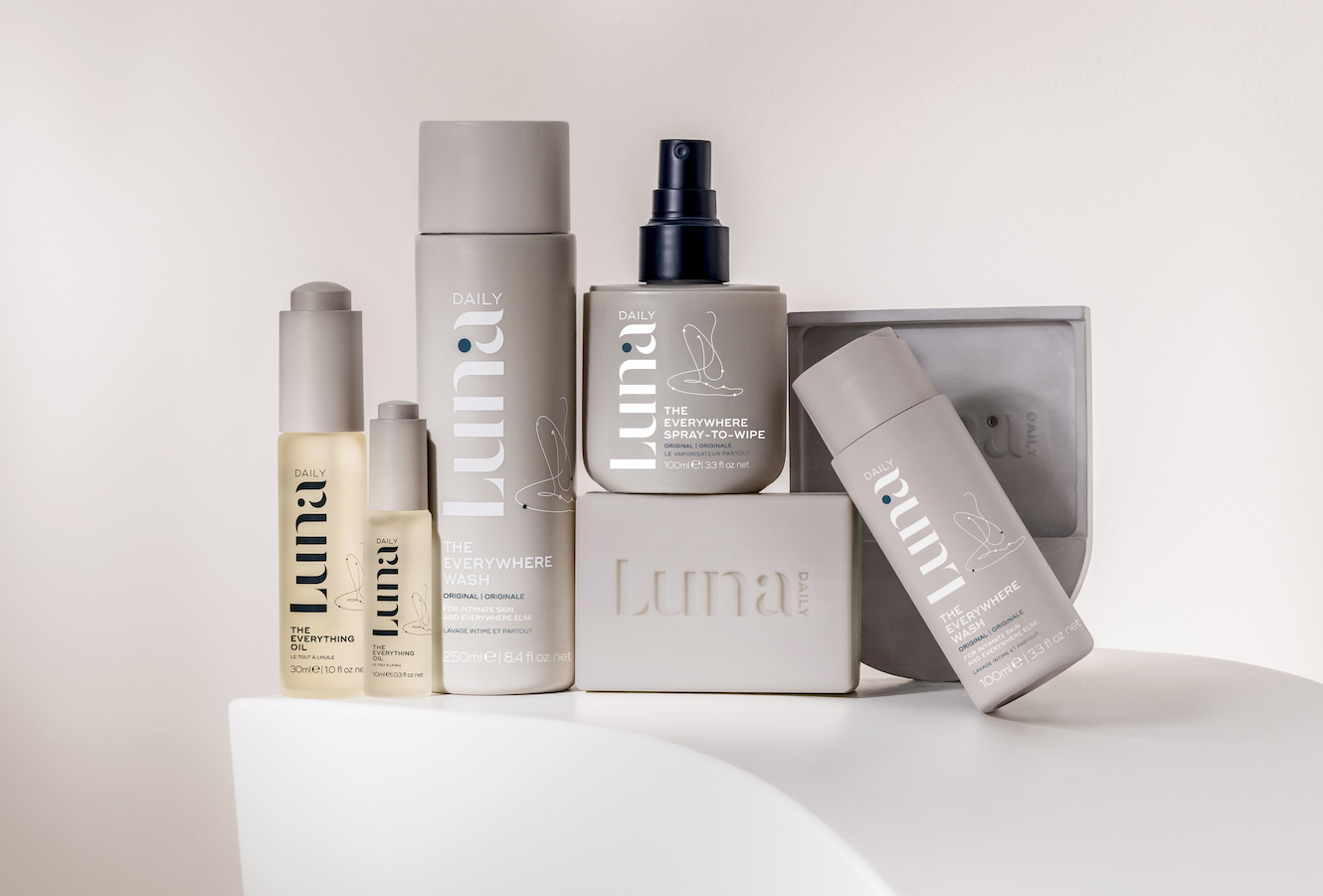 British Intimate Care Brand Luna Daily Raises $3.7M, Readies For U.S. Debut At Sephora
Sephora is deepening the commitment to intimate care and sexual wellness it began in January last year. 
British intimate care brand Luna Daily will launch on the beauty specialty retailer's website April 4 and roll out to over 260 of its stores in the United States the next month. As part of the rollout, the brand will be featured on Sephora's Next Big Thing wall highlighting emerging brands.
Luna Daily's Sephora launch marks the 1-year-old brand's U.S. debut. Founded by Katy Cottam, formerly global head of brand marketing at Charlotte Tilbury and brand manager at Maybelline, it was previously only available in the United Kingdom at esteemed retailers like John Bell & Croyden and Harrods. Luna Daily's e-commerce site is redirecting visitors to the brand's page on Sephora's site in the U.S.
To help support the expansion, Luna Daily has closed a $3.7 million seed round involving British venture capital firms Redrice, Joyance and Velocity Juice as well as angel investors. In 2021, the brand raised a pre-seed angel round.
"Taking the trends we've seen in skincare and subsequently haircare, Joyance sees body care as the next category ripe for disruption, with consumers leading a drive towards efficacious, better-for-you, clean products," says Claire Cherry, investment partner at Joyance. "Within this, we believe intimate wellness will be a key growth area, mirroring a similar trajectory to what we've seen in categories like sexual wellness since we first invested in the space in 2018."
She continues, "Luna Daily is the first brand we've seen targeting the premium end of intimate wellness with high-quality products—a perfect fit for the Sephora customer. We are excited to support Katy and the team in changing the narrative around feminine hygiene and embracing the impact on the health of current and future generations."
An experience Cottam had at 19 years old planted the seed for what would grow into Luna Daily. She recounts, "I'd been studying in India and I came back to the U.K. and was really unwell. I was put on a record number of antibiotics for six weeks, and it fundamentally changed my entire system, my gut microbiome, my skin microbiome. Everything changed from that point onwards."
One of the symptoms Cottam struggled with was thrush. "I can still remember the feelings of shame, embarrassment, confusion with, 'What is this?'" she says. "From that moment onwards, I wasn't able to use traditional gels, body wash or any other products on my intimate skin."
Cottom adds that she "really resented" legacy brands that made up the traditional category of feminine hygiene, a term she eschews, because of their tendency to demonize normal issues. She says Luna Daily is on a mission to revolutionize the category by providing a thoughtfully created regimen that can be used by anyone and for the "head, vulva, knees and toes." 
"To be honest, I've turned down retailers that have wanted to launch us into feminine hygiene," she mentions. "I'm just like, 'If you put me on a dusty bottom shelf next to period products, that's not a reflection of my brand.'"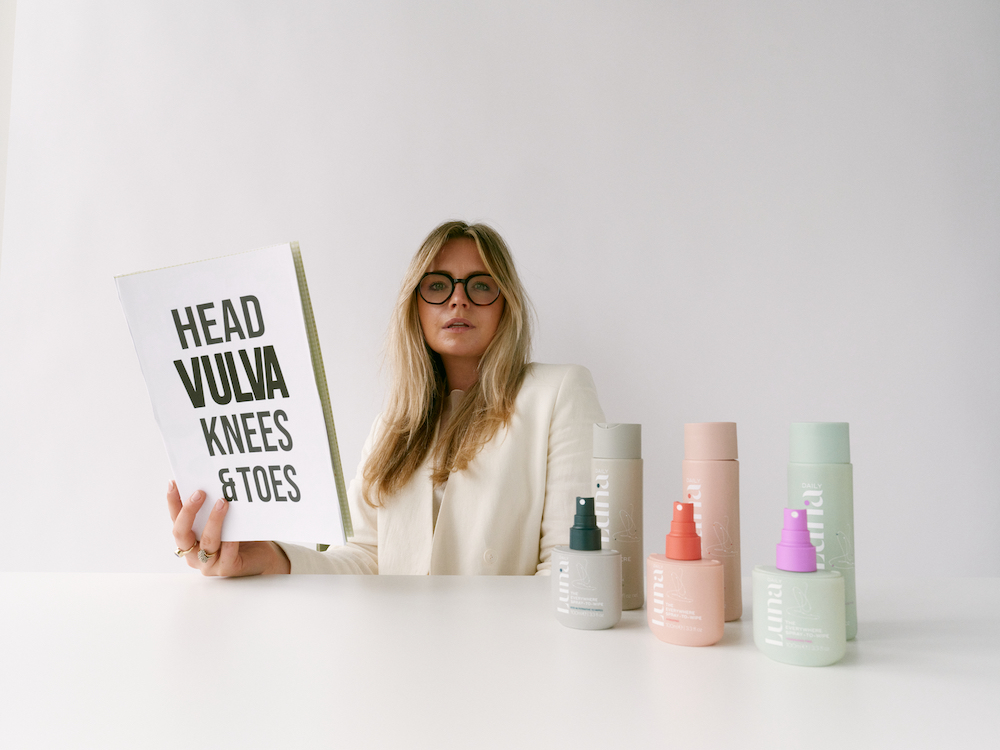 During U.K.'s initial pandemic lockdown, she quit Charlotte Tilbury and set out to develop Luna Daily. The brand's body care designed for all skin, including the most intimate, was formulated with dermatologists and gynecologists to be clean and microbiome-balancing. Luna Daily's vegan products are free from soap, allergens, sulfates and parabens. 
The brand offers three core ranges. Cottam explains they're intended for consumers across "ages and stages," from menstruation through motherhood and into menopause. The Original range is for daily care; the Fragrance-Free range is for sensitive and allergy-prone skin, including including pregnancy and post-birth skin; and the Hydrating range is for dry, dehydrated or hormonally affected skin, including perimenopausal and menopausal skin.
Luna Daily will launch the three ranges exclusively at Sephora U.S. on the Next Big Thing wall, which will incorporate the $16 bestselling hero product The Everywhere Spray-To-Wipe, an eco-alternative to single-use wipes. According to Luna Daily, a bottle is equal to about 300 wipes. Other products in the range are The Everywhere Wash, a $19 gentle cleanser, and The Everything Oil, a $18 lightweight, moisturizing, multitasking oil clinically proven to visibly reduce ingrown hairs, dark spots, redness and bumps.
The Everywhere Spray-To-Wipe will also be stocked in Sephora's Minis and More shoppable section in 60 stores. While Sephora U.S. is enthusiastic about promoting Luna Daily at retail today, Cottam reports it didn't quite start off that way. Early on, she wasn't sure a store rollout was a possibility, but recalls Sephora "fell in love" with Luna Daily—especially Spray-To-Wipe—during a meeting in September and agreed to put the brand on shelf. 
"Every other retailer is now looking at female wellness in a different way because of what Sephora is doing," says Cottam. "The impact globally on the beauty industry and therefore on consumer behavior is so profound because, as a brand, we can only do so much. We need retailers to make change."
It's been a major month for sex products getting physical—in the retail sense. In addition to Luna Daily making its U.S. debut at Sephora, Bloomi landed at Saks Fifth Avenue, Beia entered Neiman Marcus, Dame and Jems will soon arrive at hundreds of Target locations and Contact Sports, an elevated sex shop concept, just opened its doors in Manhattan's Soho neighborhood.