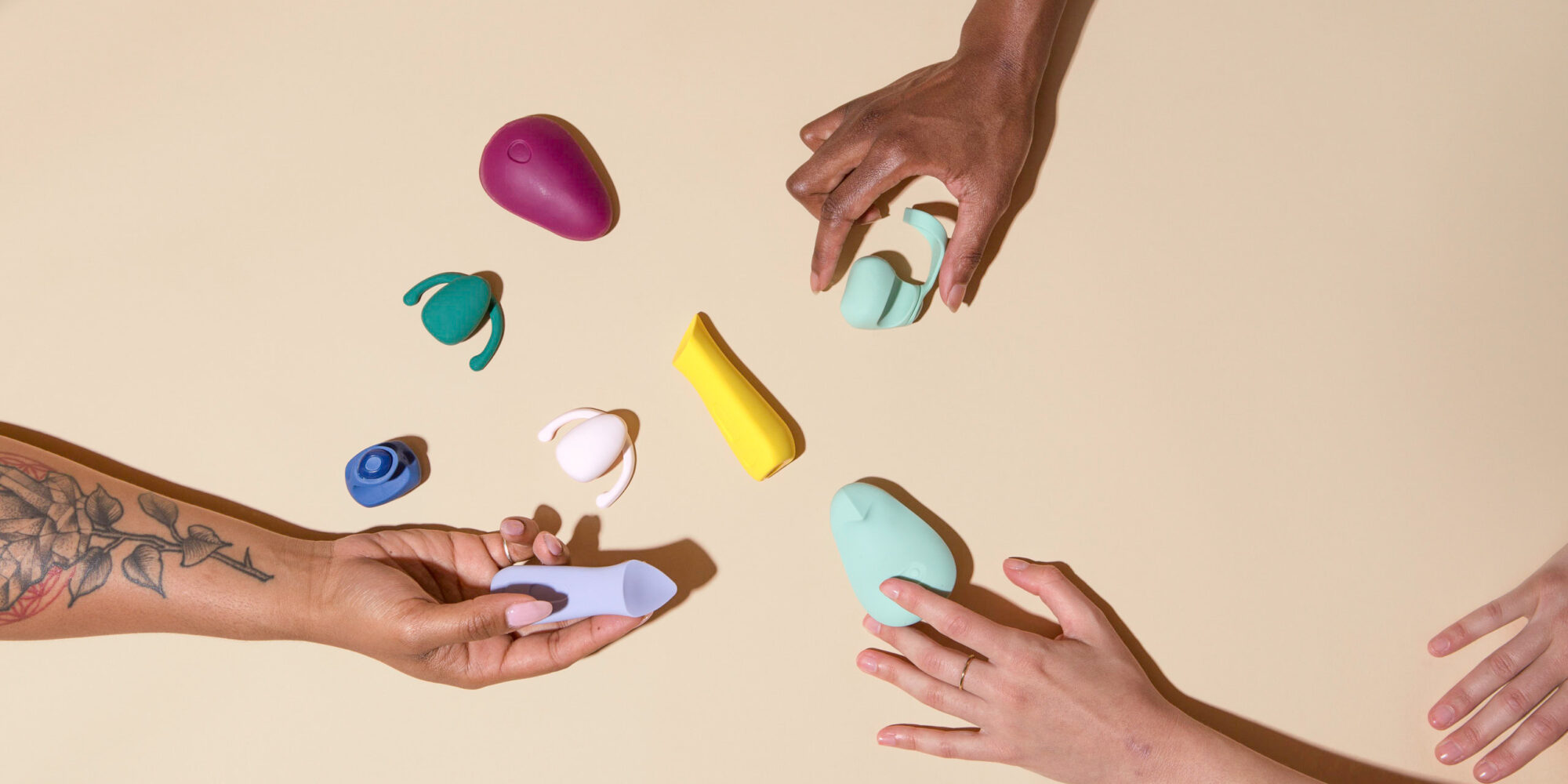 Dame Products' Alexandra Fine On Her Brand's $4M Seed Round, Selling Vibrators In Department Stores And Sex Talk On Social Media
Dame Products has closed a $4 million seed round, marking the sexual wellness brand's first capital raise since drawing $970,000 through crowdfunding campaigns for the launch of its hands-free couples vibrator Eva in 2014 and finger vibrator Fin in 2016. 
The round was led by Miss Grass and Public Goods backer Listen with participation from women-run venture capital firms Chingona Ventures, The Community Fund, Her Capital, HP Reformation Ventures, IgniteXL Ventures and Joyance Partners. Woman angel investors, including Christiane Lemieux, Ashley Hartman, Kirstan Barnett and Sonia Nagar, participated as well. 
"It's been such an interesting ride over the past four years of seeing investors really come around to this space," says Alexandra Fine, a trained clinical psychologist with a sex therapy specialty who founded Dame with mechanical engineer Janet Lieberman-Lu in 2014. "Also, we're very high growth, but we're also profitable, and I think that really started speaking to investors in the past year."
Fine specifies that one of the key reasons Dame chose Listen as a strategic partner was the enthusiasm of its other portfolio brands. "It was important to me to find partners that I enjoyed spending time with and want to work with," she says. "Every company that they had invested in had positive things to say about working with them."
Listen's portfolio spans several consumer goods sectors, including food, beverage, personal care and footwear. Beyond capital, Listen lends brand design support to its investment partners and offers deep experience in direct-to-consumer distribution. "They focus a lot in lifestyle and wellness," says Fine. "They get this category and what I'm trying to do." 
DTC sales have been strong for Dame. Fine shares the DTC channel is responsible for half of the brand's orders and 70% of its revenues. Outside of its DTC platform, the brand has built robust retail distribution, and counts Goop, Revolve, Free People, Cult Beauty and Verishop among its stockists. Dame recently entered upscale department store Nordstrom as part of its Self-Love Pop-In that runs until March 14 in nine locations and online. Dame sold out in less than a week at the retailer. The brand's retail network is due to increase this year. 
"It's really cool to see so many of these retailers reaching out to us now," says Fine. "They're excited about this category, and I don't think it's just that they're embracing this category, I think that we're changing the category in a way that makes it easier for them to embrace it. We're meeting each other halfway."
While retailers are becoming more amenable to sexual pleasure products sitting on their shelves, trying to close the pleasure gap via social media is no cakewalk. Social media networks such as Instagram, Facebook and TikTok are vital for independent brands looking to boost awareness and drive sales, but the companies' policies for sexual-related content can be stifling for brands like Dame with messaging centered on women's pleasure. 
"Reviewing Facebook's ad policy is infuriating," says Fine. "They won't let any advertisements guide or encourage good sex, like you can advertise condoms, but you can't advertise them if they're ribbed for her pleasure. I learned the hard way we can't be reliant on those channels."
Dame focuses on organic content and brand partnerships to gain traction. Fine believes the skill of organically growing a brand is a rare asset today. "I like to think we have something to offer that's really interesting because we have to figure out ways of not using those platforms," she says. "I know most direct-to-consumer brands spend about 70% of their ad budget on Facebook and Instagram. We spend like 2% when we can get on there, if we can find creative ways around the [restrictions]."
The $4 million cash infusion will help finance Dame product extensions beyond vibrators. The brand already makes aloe-based lube Grip and Pillo, a wedge that can used for support in different sex positions, in addition to seven sexual pleasure toys. Arc, a vibrator it launched in 2020, sold out within 72 hours before subsequently selling out three more times. The pandemic has proved to be a boon for sexual pleasure companies including Dame as sequestered consumers' appetite for experimentation swelled. Dame's sales jumped 100% last year over the prior year.
According to a report from Allied Market Research, the global sexual wellness market was valued at nearly $75 billion in 2019 and is estimated to reach $108 billion by 2027, registering a compound annual growth rate of 4.62% from 2021 to 2027. 
"Now is really time to capitalize on the growth we're seeing in the category," says Fine. "I think that I'm positioned right now to go beyond vibrators. We've been doing workshops. We have our lubricant. So, we started to prove that we can be more than just hardware. That's what a lot of this capital is going toward."

The company will continue to build its Dame Labs community, which already boasts over 6,000 members, hundreds of whom test new product prototypes and provide feedback that's tapped in the development process.