Essential Steps For Building A Beauty Brand
When Danish-born Kirsten Kjaer Weis started her brand journey in the early 2000s, she admits she was completely unprepared. While working as a makeup artist in New York City, she noticed a lot of models were dealing with skin issues—from breakouts to dry skin—and decided she'd try to develop cosmetics that wouldn't lead to those issues and was natural. At the time, Kjaer Weis ran across brands on the market with natural ingredient profiles, but she felt poor formulations. "That in essence became an a-ha moment for me," she says. "I realized that there was a white space in the market."
Kjaer Weis didn't just want to create high-performing cosmetics that were clean, she wanted to launch an elevated brand with them. "In the green space, you pretty much knew that it would have to come with a luxury design compromise," she says. "What I thought could be interesting in terms of the packaging was to erase that stigma around what green can look like."
Kjaer Weis was committed to not sacrificing any element of her philosophy. "I had to do these four pillars with an equal amount of emphasis so that the performance was just as important as the ingredient profile as the luxury-slash-sustainability packaging for this to almost become a new category in beauty," she says, adding, "I didn't really know where to start other than I knew I needed to surround myself with people that were able to help me on all of these things that I was unable to do myself."
Seven years later, Kjaer Weis's namesake brand's iconic refillable silver packaging is considered pioneering in the beauty industry, and the brand's place is cemented in the luxury tier of cosmetics. But Kjaer Weis didn't achieve that status without challenges along the way. She shared challenges she faced during a Beauty Independent In Conversation webinar last month on product development and commercialization sponsored by Cosmetic Solutions. For the webinar, she was joined by Rachel Roberts, founder and CEO of Oyl + Water, and Warren Becker, CEO of Cosmetic Solutions. Together, the trio highlighted how to prepare a product for market. Here are key takeaways from their discussion.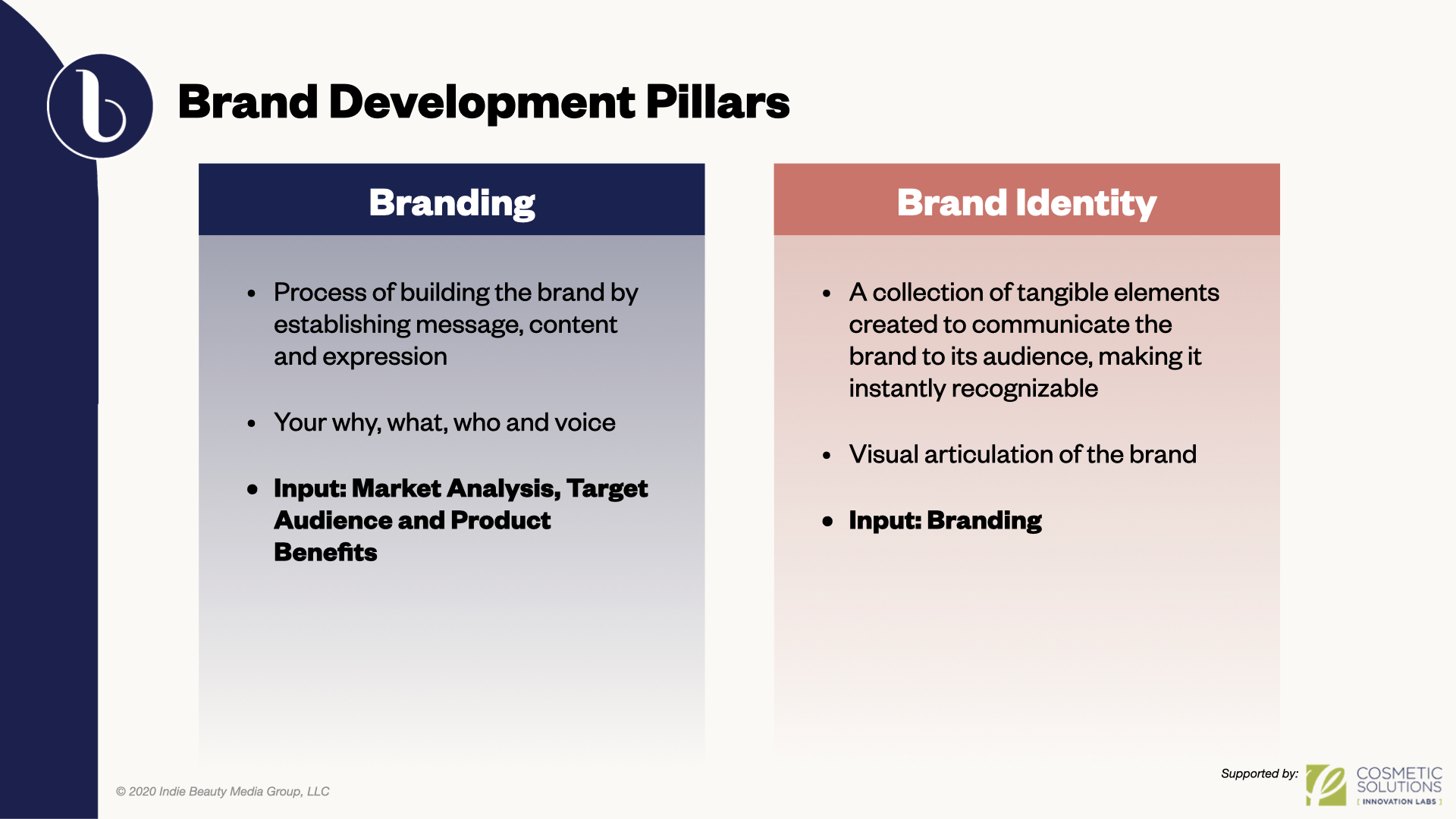 Establish Your Brand, Branding And Brand Identity
Brand, branding and brand identity development are critical to laying a proper foundation for a consumer beauty business. They're each distinctive and serve different purposes. The brand is the company's reputation or what is conveyed to the customer when they're exposed to its product. Roberts explains, "It's the emotional relationship that you as a brand founder have with your customer" and vice versa. At the end of the day, she says, "It really is what the customer says you are."
Branding is the overall message of a company, including its name, personality, voice, tagline and values. It can evolve as the company matures. "You're always going to be working on your branding," says Roberts. "It's basically the management of the reputation of your brand." The branding informs the brand identity, which Roberts describes as "a collection of tangible elements that communicate your brand and makes it instantly recognizable" such as logo, typography and colors.
There are stylized logos (think the Nike swoosh) and word marks that are font-based logos (think Cola-Cola). Most brands go with the latter. Either way, the key is to create a memorable logo that communicates the brand's personality. When it comes to selecting typography, brands typically work with two or three different type sets for header, sub header and body copy. There are downloadable free fonts, paid fonts and custom fonts.
Brands will often choose a serif header with a sans serif sub header, notes Roberts. "The combination is very complementary and tends to work really well," she says. "Sometimes, if you use all serif or all sans serif, it doesn't feel very balanced." She recommends testing out fonts to see what they look like in a range of sizes, weights and styles as well as across various platforms and devices. Roberts says, "You want to make sure you're looking at comprehensive type-set families that are also going to play well with other fonts you choose."
When selecting colors, Roberts stresses it's not about personal preference. Instead, she says, "The colors that you choose really need to communicate your brand DNA." She continues, "You're taking into consideration your target audience, all of the data from your market analysis, even your competitive landscape." Roberts mentions brands that speak to younger generations tend to enjoy analogous colors (she highlights Dunkin' Donuts as an example), but she's partial to neutral with a pop of color. "The beauty of working with this palette is that its gender agnostic, it opens it up a bit more to your target audience," she says. "It's not so specific, and it stays really elevated."
Pro Tip: Turn to experts if possible. "The people who are writing content and designing for brands know this inside and out," says Roberts. "You are in better hands when you invest in hiring them to get that foundation set for you." Furthermore, make sure to conduct copyright and translation checks. Roberts says, "The worst thing in the world is going to print and finding out someone else has your name or that your product name translates to something funky in another language."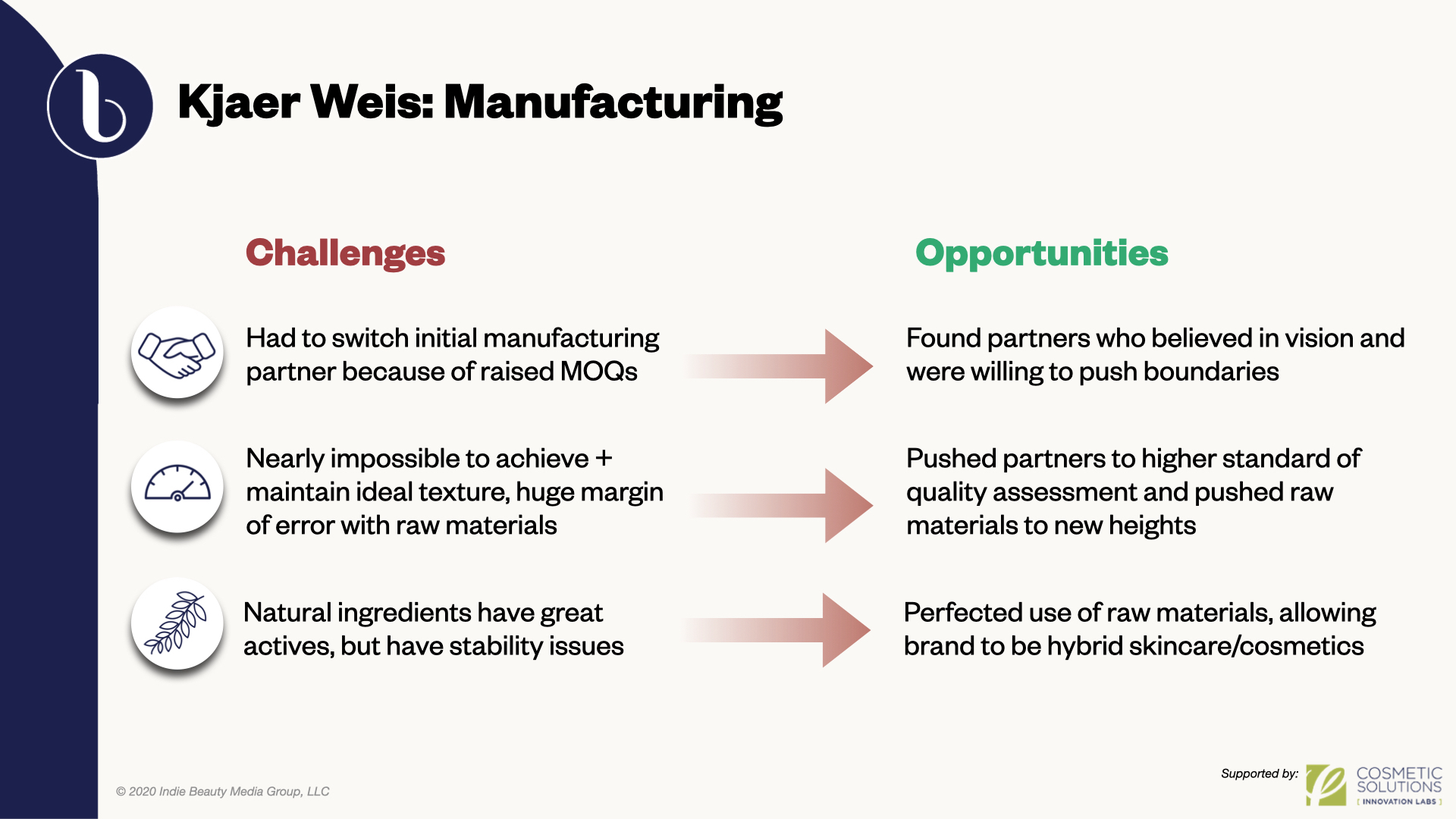 Be Selective About Your Manufacturer 
Discussing manufacturer selection, Becker says, "Think about what you're going to need as a brand today and what you're going to need as a brand tomorrow. You want to make sure your manufacturer has the resources and the scalability to grow with you." Pinning down a manufacturer that will work with a brand at lower quantities can be tough as Kjaer Weis discovered. She recalls, "I found a partner that had agreed to 1,000 pieces, which was within my budget and, then, last minute, they changed that to 5,000 pieces. So, obviously, that has a huge effect on the bottom line." She ultimately switched manufacturers.
After a manufacturer is chosen, the first step involves putting together a bill of materials or "a list of all of the components that are going to go into making your product," details Becker, itemizing it will record the bulk formula, packaging and manufacturing instructions. The next responsibility is procuring materials, a step that's primarily handled by manufacturers unless there are unique materials like hard-to-find ingredients. In the special cases, brands must have a grasp on lead times, costs and quantities. Becker says, "It may go in the formula at 3%, but you may have to buy 100 kilos of it."
Once the process graduates to production, it's critical to be aware of the equipment being used. "We've seen instances where formulas are made in a lab and, then, they come to a manufacturer and the equipment doesn't match up perfectly and there's variation," says Becker. Kjaer Weis has experienced unwanted divergence from product expectations. She recounts, "I got a sample of the production, and I was mortified because all of a sudden this product that I had OK'd and invested all of this money in was all of a sudden a lot drier." The experience led to her pushing her production partner to a higher standard of quality assessment.
When it comes to filling and assembly, it's essential to have knowledge of manufacturing capabilities, run sizes and the complexity of a product's assembly, a factor that will affect the way it's shipped and stored. Becker says to consider whether a product is temperature sensitive and needs to be climate controlled. He asserts, "It's important to understand how the final product gets packed for shipping, the logistics with shipping, and how and where you're shipping."
Pro Tip: Communicate the preferred timelines, but be realistic about what can be accomplished. "We're manufacturing product, we're ordering supplies from multiple vendors, delays are going to happen," says Becker. "It's about how are we nimble, how do we react, and how do we partner together to get over those hurdles that we will encounter?" Kjaer Weis advises brands to be flexible and know what they're willing to compromise on. She says, "If you feel like you're constantly hitting a wall, there might be an avenue for you to try a different way so don't be too rigid."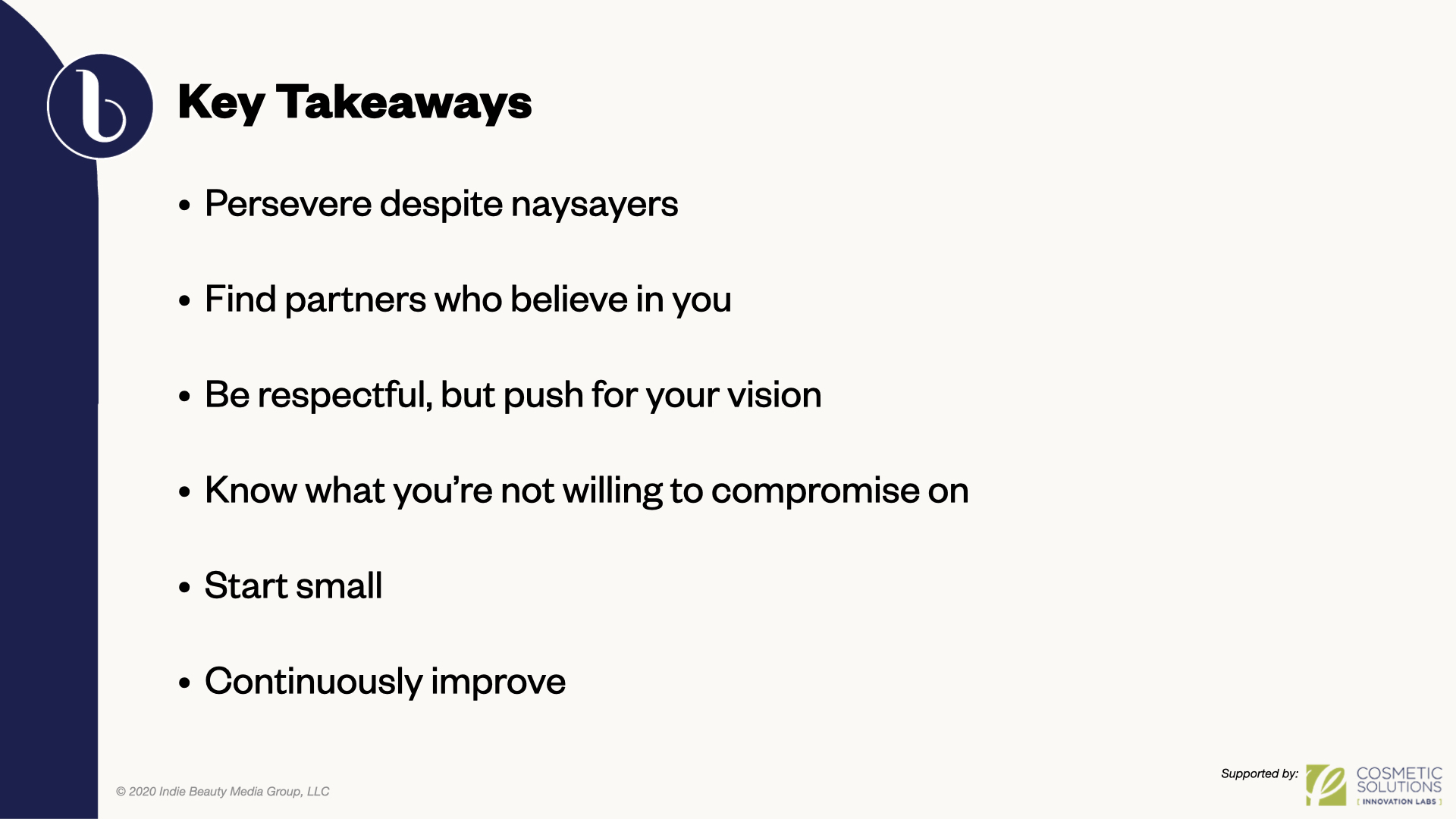 Settle On Your Packaging
"The main purpose of packaging on the highest of high levels is to make sure you're delivering the product to the consumer the way that it was intended to be delivered," says Becker. "You want to make sure you have the form, fit and function." Brands have to determine whether they want to stick with stock packaging that's cheaper than custom packaging and readily available or splurge on expensive custom packaging that has longer lead times, but can help them stand out. Kjaer Weis teamed up with Marc Atlan, designer of Comme des Garçons fragrance bottle she was fond of, on her brand's atypical packaging. She says, "I really had this desire to create something that was custom, that was unique, that wouldn't be stock, that had a minimalist approach to it."
Common packaging options are jars, bottles and tubes. "This is going to be heavily dependent on the type of formula, the consistency of formula, the reactivity of your formula," says Becker. The material is a vital aspect of the packaging. Is the packaging glass, plastic, aluminum or PCR? "You have to consider here the cost, the sustainability messaging and the weight," says Becker, pointing out weight isn't thought about enough in packaging choices. He elaborates, "We've had customers who have wanted to do body scrubs in 16-oz. glass jars, but those are generally used in bathrooms and, if you drop that on tile, it could break."
For Kjaer Weis, the sustainability aspect of her brand's packaging was paramount. "I had seen firsthand myself, working daily artist as a makeup artist, that [the empty products] end up being an enormous amount of plastic that would eventually end up in landfills," she says. "I felt like I had a responsibility." She settled on refillable zamac metal for her brand's packaging to cut down on waste.
Brands have to account for how products are contained, dispensed and sealed. Disc caps, droppers, sprayers and pumps are possibilities. In terms of secondary packaging, what's the decoration and finishing, and how will that alter shipping and storage? What's the complexity of assembly? Becker says, "A multifold, multistep box, from a manufacturing perspective, that's going to have cost implications on the number of touches that it takes to build it and the labor cost to do that."
Pro Tip: Packaging decoration can pose issues, says Becker. He counsels brands to request pre-production samples or renderings of packaging in advance to identify them. "It's easy to see on a computer screen bottle what a label looks like, but, when you actually print it and you see it in the flesh, sometimes it's not as vibrant or it changes," he says. "We see sometimes clear bottles with clear labels and, then, the product inside has a color and that offsets the color on the decoration, and you can't really read the label."