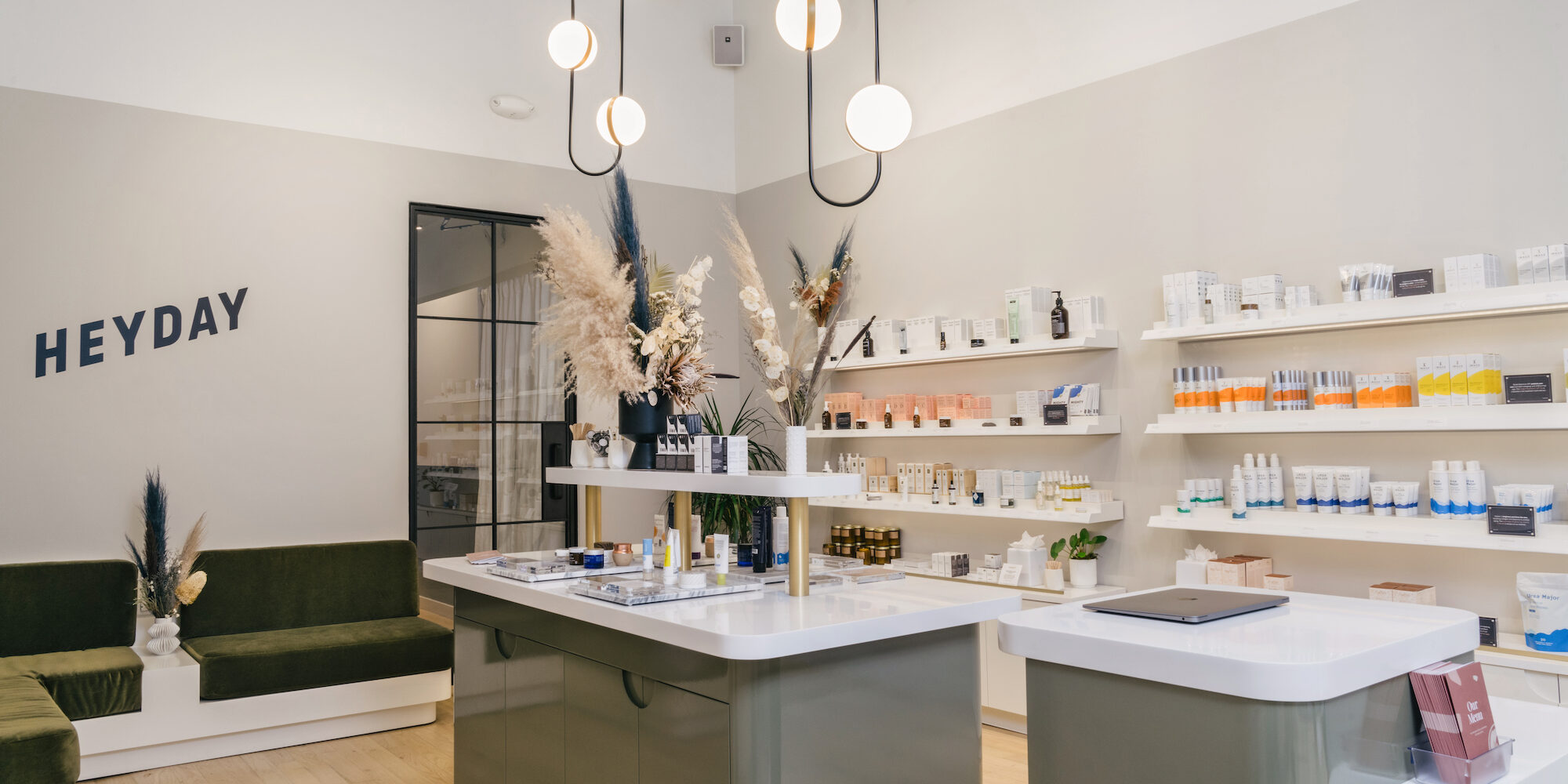 Facial Destination Heyday Raises $20M Series B Round To Fuel Franchise Expansion
Stylish skincare service provider-cum-retailer Heyday has raised $20 million in a series B round of funding.
The round was led by Level 5 Capital Partners with participation from existing Heyday investors Lerer Hippeau and Fifth Wall. Fifth Wall led Heyday's $8 million series A round in 2018. In December 2019, Heyday secured $2.2 million in debt financing. The series B tranche brings Heyday's total funding to over $32 million in the six years since its launch. 
Level 5 Capital Partners, which focuses on high-end wellness and lifestyle businesses like Orangetheory Fitness, CorePower Yoga and Restore Hyper Wellness + Cryotherapy, is joining Heyday as an operational partner and anchor franchisee with a commitment to invest in 40 new doors nationwide over the next five years. Currently, Heyday operates 10 locations in the United States, six in New York City, one in Philadelphia and two in Los Angeles. 
Heyday co-founder Adam Ross, who previously founded direct-to-consumer shoe startup Soludos, says the first crop of new locations will happen in cities like Chicago, Dallas and Houston, followed by Atlanta and Louisville. Heyday will also look to expand its footprint in the markets it's already entered such as Southern California. Level 5 Capital Partners' 40-door investment is just the beginning.
"There is so much opportunity to grow well beyond that 40-unit commitment," says Ross. "We're interested in having Northstar brands like a European Wax [Center], where there can be hundreds of locations across the country. I think there's an incredible opportunity for us to be the trusted brand in skincare." Ross notes that Heyday doesn't want to grow so quickly that execution suffers, and he gives a timeline of about 10 years to bring its franchise plans fully to fruition, which he and Heyday co-founder Michael Pollak have been laying out since 2019. 
Ross and Pollak see franchising as an ideal growth vehicle. The co-founders will be able to focus on higher-concept ideation and strategy for the Heyday brand while Level 5 Capital Partners will oversee the day-to-day operations of the franchise business, including managing the franchise owners. "Given how high touch a concept like this needs to be, I think it's so important for the person who is owning it and running it to be true stewards of their team, their customers, their community," says Pollak. "Word of mouth has been just tremendous for powering our business. When you decentralize that and make that more local, I think there's a big win, and it puts us [Pollak and Ross] in the position of continuing to innovate."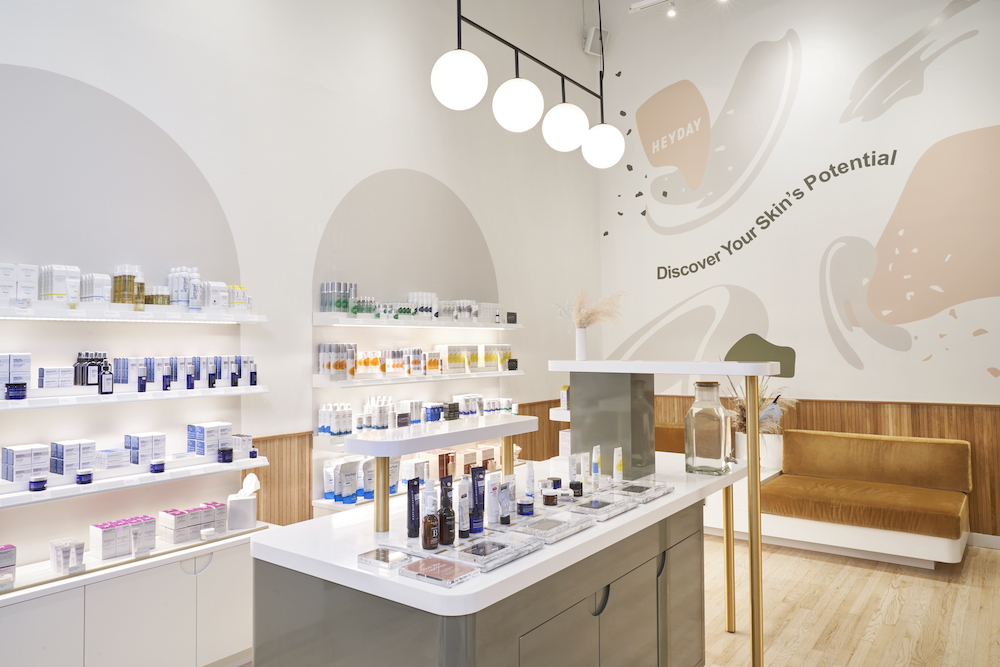 Ross's and Pollak's ultimate goal is to democratize the skincare market. "I think we could look to examples where Drybar freed the blow dry from the salon as the first chapter," says Ross. "With Heyday, we said, 'It's time to free the facial from the spa.' We wanted to position the facial in something that is very unintimidating, gender-neutral design, a very different space to democratize something that's been unaffordable or unattainable to so many people for so long. In doing that, we're out to target a much younger demographic that views skincare and skin health as part of their overall self-care routine." Heyday's Chief Development Officer Sean Bock previously oversaw all franchise-led growth at Drybar before joining the Heyday team last year.
The pandemic has been a tumultuous time for the beauty service sector, and Heyday has had to navigating highs and lows over the past year. In March, soon after stay-at-home mandates went into effect, Heyday closed all its locations and laid off 300 workers—all of its service location employees. The company quickly pivoted its focus to the digital space. In July, it was reported by Vogue Business that Heyday's online sales grew a whopping 724% following a website revamp, including a skin quiz offering product and service recommendations.
Many of Heyday's online sales have come from its treatment clients. Now, with seven of its current locations back open, Pollak shares that, pre-COVID, 30% of its customers were new. Today, it's still over 20%. "That was super surprising to us," he says. "We were thinking mostly people who knew us well [would come in for treatments], but we've seen a lot of new people, even in this period. We're hopeful that we're now more than halfway through this pandemic, and we'll come out strong. Part of the excitement around this fundraise and what we can do is revisiting those foundations and building a technical backbone for the company that'll help us as that demand continues to return."
Heyday carries 40 brands on its e-commerce website and in its locations. Among the brands are indie darlings like Herbivore Botanicals, Maya Chia, Pai Skincare and its own line of facial care tools. While Heyday carries a handful of spa staples like Eminence, most of the brands it sells at retail and uses in its backbar are a departure from the traditional spa fare. The brand roster is part of how Heyday reinvents the spa experience. 
"Over the last five years, spas have adopted this more-is-better approach, more convoluted amenities and fixtures and things like that," says Ross. "This has resulted in a high fixed-cost base and an increase in prices. So, I'm actually pretty bearish on the future of the multi-service spa. I think it's slightly outdated. I think customers have never been more discerning and increasingly focused on value proposition. You've got to do one thing and do it well, and we're huge proponents of specialization."