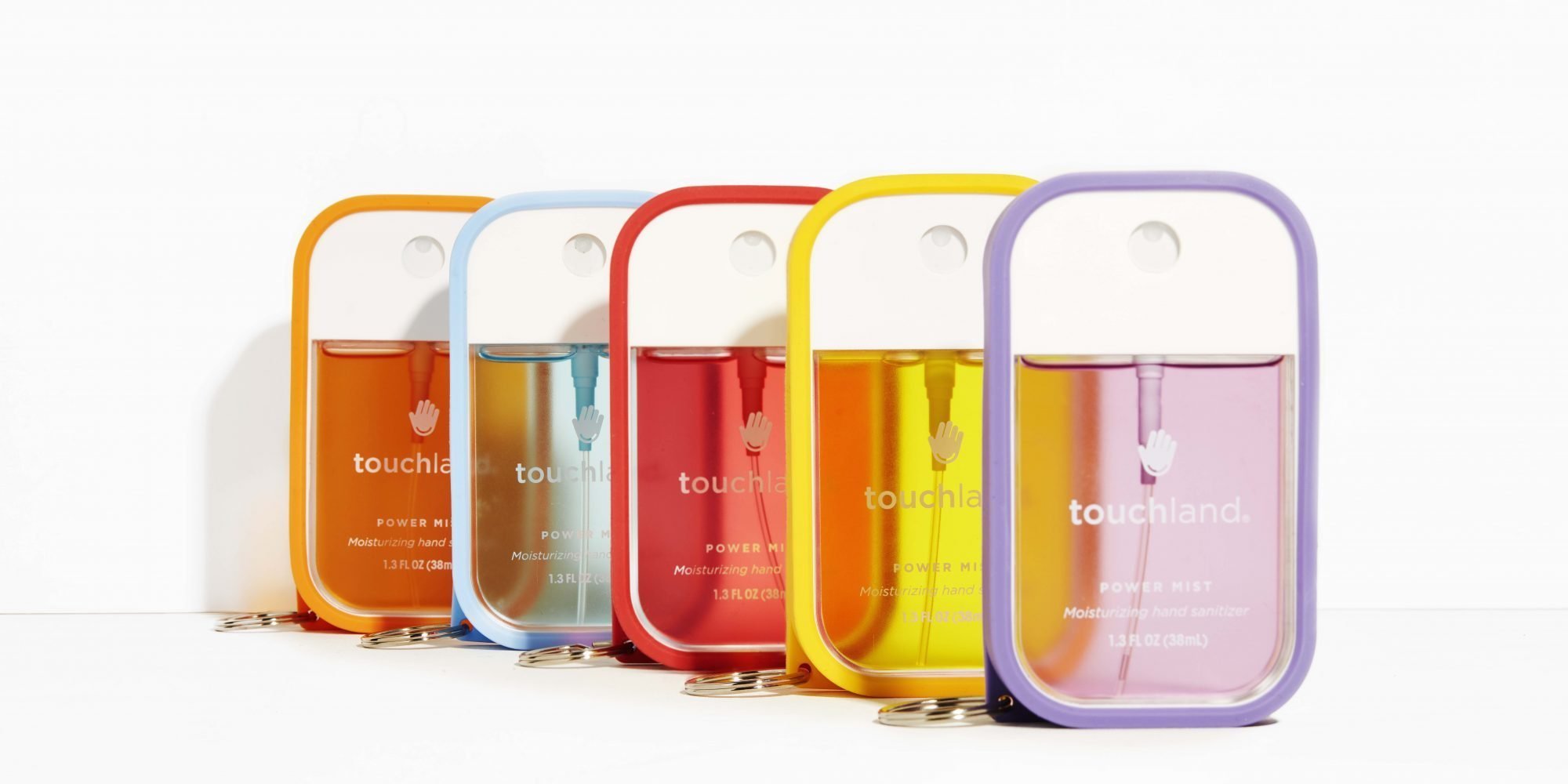 Hand Sanitizer Startup Touchland Is Making Killing Germs Cool
To Andrea Lisbona, hand sanitizer should be much more than a cheap commodity.
The founder of Touchland is situating its super sleek germ fighters squarely in the beauty segment with hydrating formulas, subtle scents, shelfie-worthy Apple-esque design, premium pricing, and distribution at Urban Outfitters, Liberty London, Sephora Mexico and Amazon. The emerging brand's elevation of the lowly personal hygiene product to the first step in beauty routines has quickly resonated with consumers, and it's crossed $1 million in sales in less than a year.
"We're the hand sanitizer that makes your skin happy and pleases your eyes. We're the hand sanitizer that took all the bad things about hand sanitizers out and turned it into a great experience that goes beyond the main functionality," says Lisbona. "Millennials look for brands that want to make a difference beyond main functionality, and I think that's why they're very engaged on social media with us."
Lisbona learned a lot about what's wrong with hand sanitizer before deciding to improve the product. As a 24-year-old in 2010, she started to distribute an array of hand sanitizers in international markets and saw how people responded to them. They'd complain the alcohol-heavy items smelled similar to Vodka, spent several minutes waiting for them to dry and tampered with them on store shelves.
In response, Touchland created a fast-evaporating mist rather than a gel or foam. The mist includes aloe vera, radish root ferment, glycereth-26 and essential oils to moisturize skin and counter the parching effects of the active ingredient ethyl alcohol. It comes in eight fragrances—aloe vera, mint, citrus, vanilla, cinnamon, lavender, forest berry and watermelon—concocted not to be cloying like some hand sanitizers. The mist's packaging is sealed to prevent meddling prior to purchases. Touchland's pocket-size hand sanitizers are priced at $11.95 each for 500 sprays, an amount Lisbona estimates provides 20X the doses of the typical gel hand sanitizer. The brand dedicates 5% of profits to sanitizing solutions in developing countries.
"We're the hand sanitizer that makes your skin happy and pleases your eyes. We're the hand sanitizer that took all the bad things about hand sanitizers out and turned it into a great experience that goes beyond the main functionality."
Touchland tested its products in 2015 to gauge reception. The reception was excellent and suggested the brand would generate strong demand. To meet the demand, Lisbona realized she had to erect significant infrastructure. In 2017, she partnered with Zobele, which works with Procter & Gamble and Unilever, to produce Touchland's merchandise. The leading personal care manufacturer has poured $1 million into the hand sanitizer brand. In addition, it's received $800,000 from an undisclosed entrepreneurial family office, and amassed nearly $70,000 via Kickstarter. Lisbona maintains a 69% stake in Touchland.
"The main struggle that most consumer product startups have is manufacturing and scaling. To launch a product, you have the same expenses as a multinational with a smaller structure, and 95% of startups that try to launch their products fail," she says. "With its 4,500 employees and financial capabilities, Zobele can help us face the problems that are incredibly difficult for startups."
Once production prepared for scale was established, Touchland began to sell on its website in November last year. Since then, the brand's e-commerce platform has averaged month-over-month sales increases of 19%, and its sales surged 125% from May to July. Beyond its site, Touchland set out to assemble a distribution network of fashion, beauty and lifestyle destinations. While Lisbona says the brand could have pursued drugstores such as CVS and Walgreens at the outset, it's holding off on them for now to solidify its positioning as a high-end beauty player.
Instagram is solidifying Touchland's beauty positioning, too. User-generated posts featuring Touchland put it next to products from Glossier, Milk Makeup, Ouai, Tatcha and Herbivore. Currently, Lisbona runs the brand's social media highlighting those posts and disseminating jokey beauty memes. To boost exposure, Touchland is instituting a program of ambassadors called Mistologists that receive product and engage regularly with the brand. Even without the program, the brand has seeded its hand sanitizers to around 1,000 influencers and gained on social media. There are upwards of 110,500 Instagram posts tagged with #handsanitizer. Of the first 50 posts containing the hashtag, 20% spotlight Touchland's products.
"We are the Apple, Nespresso and Dyson of hand sanitizer."
On Instagram, Lisbona also gives the brand's audience a behind-the-scenes look at its operations. Touchland let its followers know when it had a meeting with Target, and Lisbona shares that revelation sparked one comment per second encouraging the retailer to stock the brand. She reports the retailer and Touchland couldn't agree on pricing and category location. "We have to work harder to prove that we are not a hygiene product, that we are a beauty product," she says. "When it is the right time, we will go back and find a spot in there."
Lisbona views Touchland's distribution potential as extremely broad. Mass retailers may be a part of the picture in two to three years, and the brand could reach airports, cruise ships, gyms and more. Its distribution extends outside of retail venues to businesses with a dispenser format it calls Kub. WeWork and Joe & The Juice are among the businesses that have picked up Touchland. At the moment, its business product accounts for 15% of the brand's revenues. Lisbona believes both of Touchland's distribution arms can stretch globally. Asia and Europe are its main targets abroad. To support worldwide expansion, the brand is fundraising again.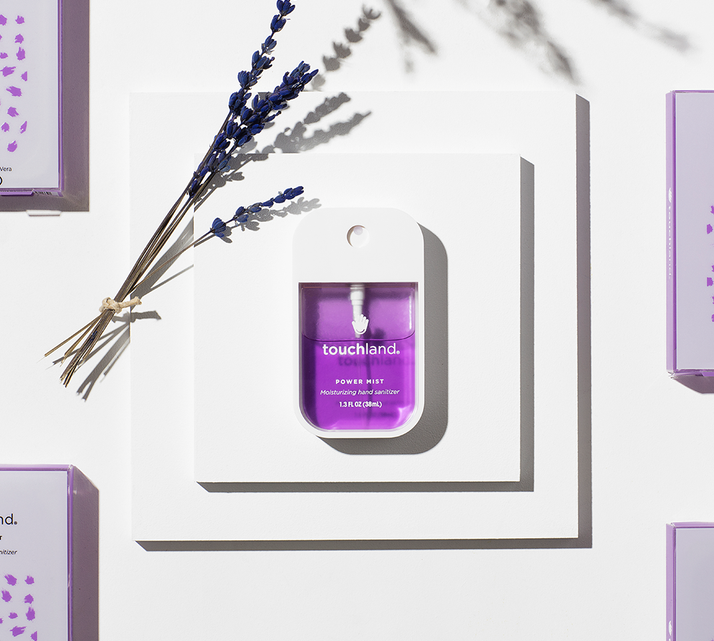 Touchland isn't the only startup attempting to remake the hand sanitizer sector. Olika and Merci Handy are shaking it up as well. Lisbona asserts Touchland's millennial relevance—its core customers are 20- to 40-year-olds—and social media prowess distinguish it in the field. "We are the Apple, Nespresso and Dyson of hand sanitizer," she says. "That's going to bring a new wave of companies aspiring to do the same. It's a very tricky market. I've seen a lot of brands come up after Touchland. It's about the product, the packaging, the mission, the vision and the retailers."