Essential Intel From OG Essential Oils Guru Hope Gillerman
In 2008, the year doTerra started, Hope Gillerman was trying to break through to beauty shoppers at Henri Bendel with her essential oil blends line H. Gillerman Organics. She had a tough task. The recession was shrinking discretionary incomes. Customers, not to mention retailers, weren't embracing the concept of essential oils. Nearly a decade later, the fortunes of essential oils have completely reversed. Direct-sales companies such as doTerra and Young Living are popularizing the therapeutic compounds nationwide for family first aid, and wellness-savvy consumers on the coasts are flocking to them as components of holistic health. "It's reached a cumulative mass," says Gillerman, author of Essential Oils Every Day. The mass acceptance has been largely positive, but it's had a few downsides. Gillerman walks Beauty Independent through the main sticking points of the essential oils business today.
QUALITY CONTROL
The proliferation of essential oils has led to the spread of suspect essential oil products. In a sea of essential oils, it can be extremely difficult to distinguish the good from the bad. "Unless you actually break down the chemical structure of the essential oil, you have no proof of its authenticity," reveals Gillerman. "You have no proof that of what's in the bottle. Moreover, you have no proof that it hasn't been adulterated." She singles out organic certification as the primary quality differentiator in the essential oils field. "You've got to show the paperwork from seed to bottle," she explains. "When you eat organic food, you know it's non-GMO. You know it's been raised without chemicals, and that all kinds of standards have been adhered to. It's the same thing with essential oils." In developing her own essential oil formulas, Gillerman also finds the therapeutic results of organic essential oils outweigh non-organic alternatives. "Organic essential oils are more expensive because they're so much more potent," she says. "You still win because you don't have to be slathering them on. A little but goes a hugely long way."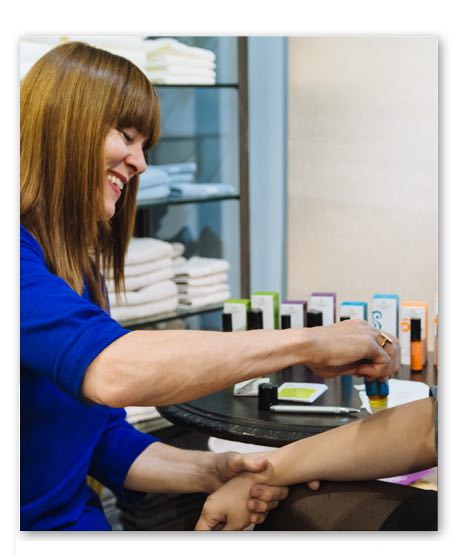 THE EDUCATION ELEMENT
Essential oils are both tricky and terrific because they require education. Most people's mothers aren't teaching them essential oil usage similar to how they teach skincare or makeup habits. The lack of knowledge means consumers have a slew of questions about essential oils. "It's actually wonderful because it gives you an opportunity to engage with your customer," says Gillerman. "They want to connect. They ask, 'What do I do with my kids? What do I do when I'm pregnant?'" Because consumers are seeking information, spa services during which they spend time with well-trained aestheticians can be fruitful for essential oil guidance. Gillerman estimates her formulas are slipped into spa services for about a dollar a treatment. H. Gillerman Organics has partnered with spas at the Carneros Resort and Spa, Wynn Las Vegas, and select Four Seasons and Ritz Carlton properties, to name a few. Gillerman recoils when her blends are mixed with inferior massage creams that kill their scents. She instructs aestheticians to apply essential oil blends unsullied to specific areas of the body for maximum impact. "Essential oils work better when you have a clear intention," says Gillerman, emphasizing, "You decide what's the most important area. You're the healer."
THERAPEUTIC MISUNDERSTANDINGS
The biggest misconception of essential oils is that their benefits begin and end at their scents, according to Gillerman. She stresses "essential oils are more than just a pretty scent." Due to their small molecular sizes, they arrive in the bloodstream through the skin. "You're going to be absorbing it through your skin, which is over a 24-hour period, and you're absorbing it by inhaling it, which is instant," says Gillerman. "Essential oils are the most concentrated form of herbal medicine. Most essential oils are vasodilators. Most are muscle relaxers. Most are antiviral and antibacterial. Some are antifungal and anti-inflammatory." In the present frazzled, technology-fueled culture, the stress-busting abilities of essential oils are gaining importance. Gillerman singles out peppermint essential oil as a rising star in the compendium of essential oils because it addresses mental fatigue. "Peppermint is the new lavender," she says, only half joking. Another common misconception is that citrus oils are universally stimulating. She calls lemon, lime and grapefruit essential oils "happy oils," orange oils "nature's antidepressant" with a knack for calming, and bergamot "the queen of citrus oils" that can elevate mood and help sleep.
FUTURE FOCUS
"Climate change is going to wreak havoc on this industry," warns Gillerman. Already, she's faced ingredient shortages and is convinced they're worsening. Gillerman advises brands with products containing essential oils to be extra careful about sourcing. They should aim to avoid situations where ingredients they depend upon are available one day and gone the next. Gillerman identifies backup ingredient suppliers if she's aware of potential issues with an ingredient in order to keep her blends as consistent as possible. Going forward, she forecasts the essential oils movement will only grow, leading to intensified sourcing problems and maturing messaging around essential oils. Gillerman believes brands that have historically turned to essential oils for scents will increasingly highlight their healing attributes. "What's amazing about essential oils and why more people should use them in products is they're actually changing brain patterns," she says. "So, it's almost like you are creating your customer when they use the product."