Hyper Skin Founder Desiree Verdejo On The Responsibility She Feels To Succeed As A Black Beauty Entrepreneur
If you've seen any recent list of Black-owned beauty brands, Hyper Skin features prominently. The attention put the brand on the radar of beauty consumers who didn't know about it before, and it promptly sold out. But founder Desiree Verdejo's support for Black representation in the beauty industry started well before the present moment. Prior to launching Hyper last year, she operated the store Vivrant Beauty in Harlem from 2015 to 2018 to showcase brands created by women, people of color and locals. We wondered what it's been like for Verdejo to transition from store proprietor to skincare entrepreneur, and guide her brand in the midst of the pandemic and Black Lives Matter movement. Here, she tells us how she's done it.
The reason I wanted to open up a beauty store was twofold, part of it was personal. I had always been interested in beauty. I had acne-prone skin since maybe I was 11. I definitely have always been skincare-obsessed. In beauty, I was really excited by what I saw as it related to Black women creating their own lane. At that time, there were these really beautiful brands, mostly natural hair brands, that I found really motivating like Mielle and The Mane Choice. There were these beautiful brands being developed, but I didn't feel like there was a retail space that was consistent with them. I was excited to curate those brands and bring them all under the same roof.
Retail is hard. Brick-and-mortar is very expensive. We, fortunately, were getting a lot of business traction online because of social media, press and our own digital marketing efforts, even though the story was focused on the store in Harlem. There were other issues, but, if I had to highlight one high-level thing that justified moving away from Vivrant Beauty, it's that it's easier to tell the story of one brand. I would get lots of press, and I was always sharing someone else's story and the business doesn't always come back to you when you do that. It felt good to support those brands, but financially it didn't always seem like the best investment.
The whole time that I was working on Vivrant, it always made sense to me to make a line. I was like, "Oh, we sell a lot of red lipstick, we should have a Vivrant lipstick." I was thinking of modeling myself after what I saw retailers like Sephora doing, creating their own in-house brands that really truly reflect their bestsellers. We made some things of our own, and it always made sense from a margins perspective to continue to do that, but I certainly didn't plan to get into the lab and create skincare.
While running Vivrant, I was pregnant. My skin's always been crazy, but it was especially crazy during that time. I think when your skin is great, you're like, "Oh, that's a beautiful daffodil oil serum." When you have a skincare concern—under eye circles, hyperpigmentation, acne—you really hyper focus on rectifying that issue. So, I was not impressed by what I saw. I didn't see anything that spoke to my issues. I didn't see enough women of color. I didn't know if the brands that did speak to my issue were thinking of me based on their imagery and branding presentation. I just felt like, "Wow, I need to create something here," for myself first and foremost.
When something bothers you, you're motivated to tackle it. It was affirming that I spent years in a store speaking to people from all walks of life and hyperpigmentation was the No. 1 issue that people came into the store talking about. Once I got into my research, that was definitely confirmed. Globally, whether we're talking Latin America or India or Black women in the United States, hyperpigmentation is the No. 1 issue for brown skin women. It took me about a year and a half to fully develop everything. Then, I just kind of sat there and was like I don't know how we're bringing this to market. Because of limited resources, it took me awhile to figure out how we could launch in a way that truly told the market who we are. Ultimately, I decided to focus on our hero product, our serum.
"Being a Black-owned business, you realize you're better off when there are other successful Black founders in the markets that you're trying to penetrate."
We launched at holiday, which is a congested time to launch, but, for us, it felt like people were more willing to shop. We had what I would consider a successful launch. Then, there was COVID-19, which allowed people to notice us more because they were more attentive to social media and emails. They're home and not necessarily going to their go-to retailers, so they were more open to trying a product from a website. We brought on a digital marketing person and tightened up our paid social scenario by that point but, strategy aside, we definitely noticed the most traffic for our site after the murder of George Floyd and the movement of Black consumers and our white allies really realizing the absence of Black people in certain spaces and the need to support Black-owned businesses. That uptick has been our greatest thus far.
We sold out quickly, and we'd already moved to fulfillment just because we were growing in that direction anyway. If we hadn't, I'm not sure how we would've processed the amount of orders that we had. One of the things that we had to do was increase our order size, so that was expensive and definitely puts a lot of pressure on us to maintain the same level of customer interest. The level of orders we have been able to retain because we really focus on email marketing. Our social media following doubled. Our email list tripled. We love text message marketing, and that list also tripled. That puts the onus on us to continue to engage with those customers and market to them in various ways. Because we had such a high level of traffic and we were sold out, I pulled back from posting ads to acquire new customers, but have increased our targeting because people can find you and forget about you. We really want to stay top of mind.
I've been very focused on being a digital-first brand, but we've had lots of outreach from a range of retailers. It's at a time when I'm actually open to moving into retail, so that part has been amazing. There are some retailers where it's an easy relationship to begin because their requirements are not very hefty, their infrastructure's not so grand that you can't navigate it. But there are retailers where, if they are pushing to bring more Black-owned brands to their shelves, it needs to be more than a pledge. They need to bring the brands on but, in order to make sure everyone is successful at the end of the day and the consumer gets what they want, there needs to be resources behind those commitments: connections to investors, education, maybe introductions to people in the supply chain. Our supply chain manufacturers might not be able to satisfy the demands of a large retailer. I think there needs to be a full foundational level of support if there's truly going to be lasting change.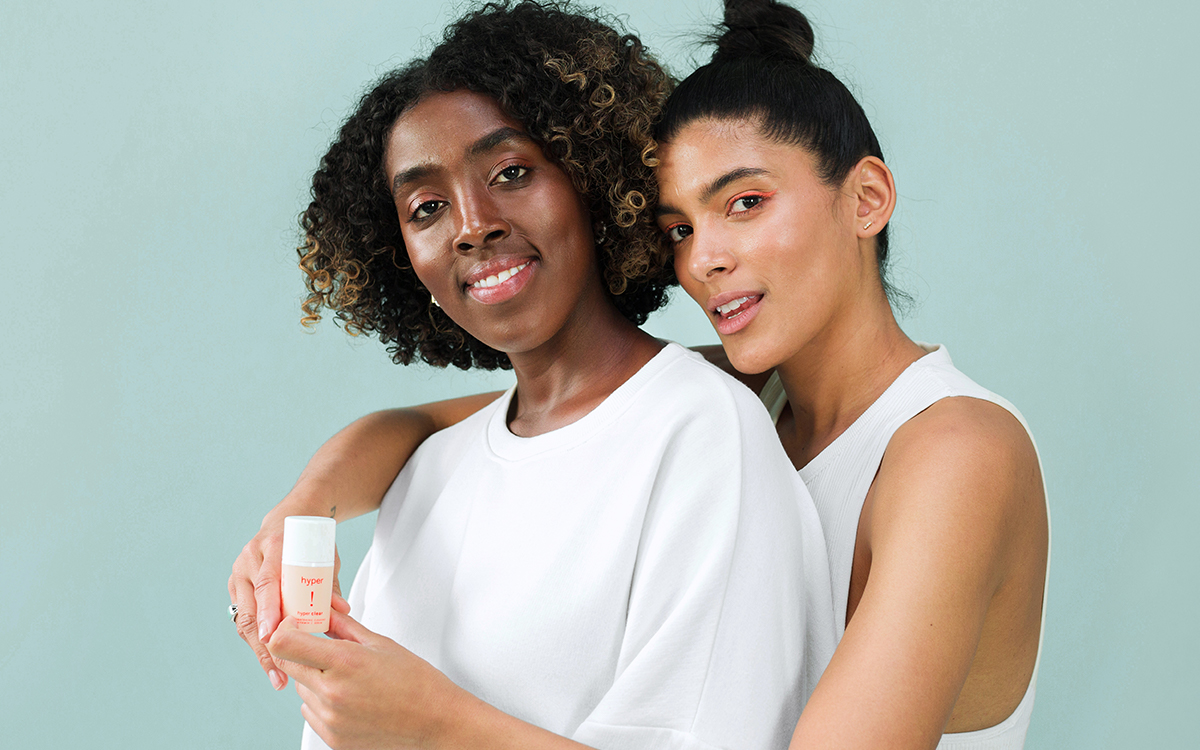 It needs to be known that less than 1% of Black women-owned businesses receive investment. It's inconsistent that brands are not getting investment, but that they would succeed on the shelves of numerous retailers or be able to multiply their inventory in a way that this market is now demanding. It's not a recipe for success. All of the things need to be aligned, and everyone that's a key player in the market knows that because that's what's done for the brands that we know the names of. I think that needs to be the case for Black-owned brands as well if there's really truly a desire to see them succeed and be accessible to all consumers.
Successful businesses have political power in this country, and I think that the customers motivated right now are saying, "We want Black people to have more power." People don't want me to just sell more products. I feel a responsibility to make the most of this support. And I'm a Black mother, a Black wife, so I definitely feel personal obligations. You feel the need to use your platform to speak up more, to buy Black. I've always been a conscious shopper, and my first business was based on uplifting Black brands, but sometimes you can get a little lazy. I definitely feel re-motivated, reminded to uplift other Black-owned businesses. Being a Black-owned business, you realize you're better off when there are other successful Black founders in the markets that you're trying to penetrate.
As for the future of the brand, our first six months were really intense. One thing our customers made very clear is that they get who we are, and they're excited about us filling the void that's been in the market. We're definitely responding with more product launches this year and, obviously, continuing to be incredibly inclusive in our story and in our development process. I think we'll always be digital first— launching and, then, entering COVID has made me feel really confident that that's the route for us—but we are looking at retail partners that are strategic for us. So, we're growing in terms of our distribution, growing in terms of our product launches, and exploring the retail arena in a COVID economy. I'm exploring the investment arena as well and a little nervous about it. We launched self-funded and, now, we have a strong sense of who we are and so do our consumers.