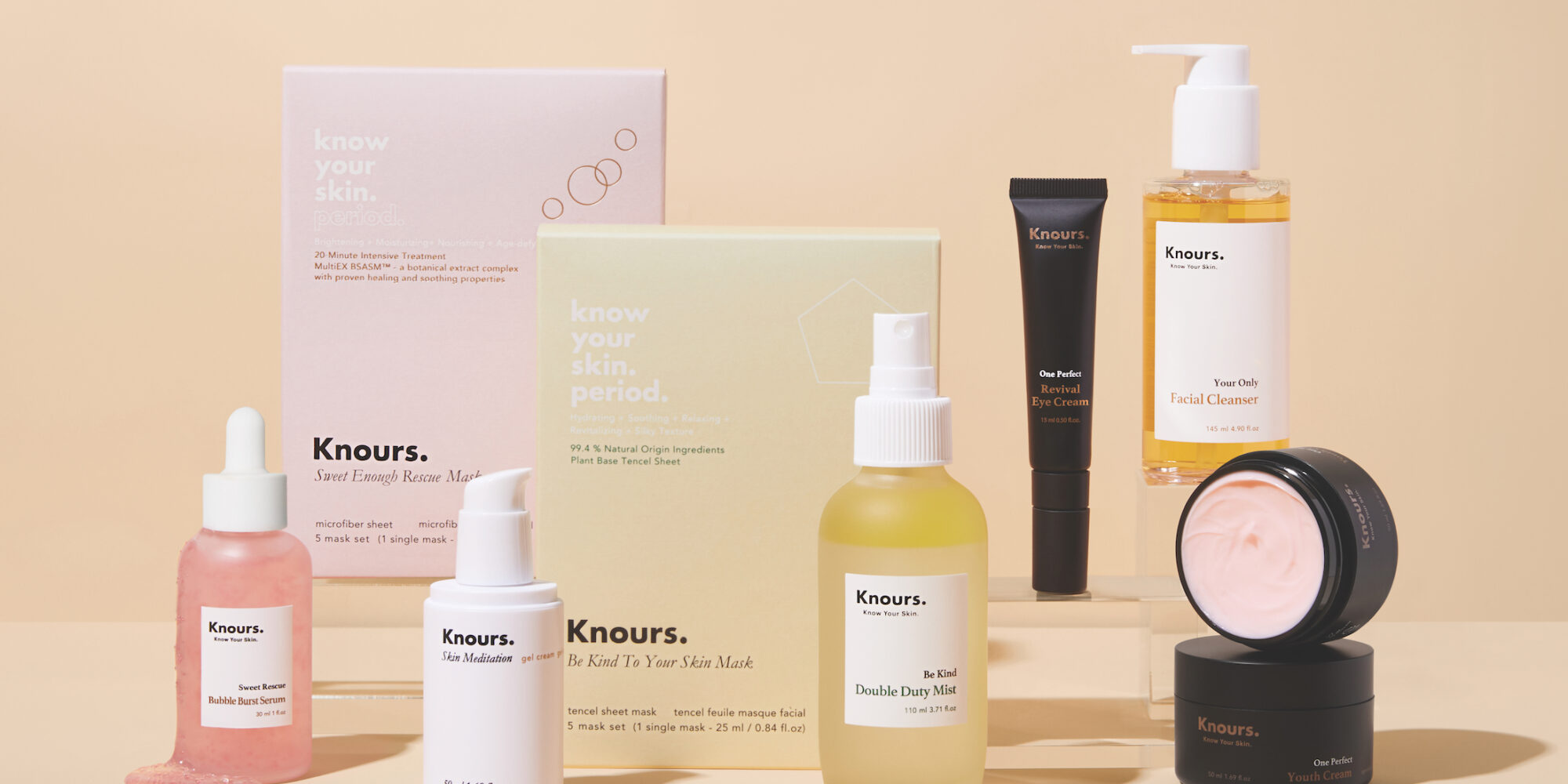 K-Beauty Brand Knours Hits Refresh To Hone Its Focus On The Hot Hormonal Skincare Category
Hormones influence girls' and women's bodies in many, many, many ways, from their mood to their skin. When it comes to impacts on their skin,

Knours

is out to be a companion to support it as girls and women reach life's most significant milestones.

To fortify its role as a skincare ally in coping with hormonal changes, the brand has completed a $100,000 refresh to its packaging, website and product collection.
Launched in the spring of 2018, Knours was early to the booming segment of skincare catering to consumers going through hormonal fluctuations. Specifically, its original focus was on skincare products designed to meet the different skin needs that arise during the menstrual cycle. Soon after its launch, Knours secured partnerships with several large retailers, including Bloomingdale's, Urban Outfitters and Anthropologie. It also managed a robust Amazon business.

Two years in, though, the brand hit what marketing director Cheryl Kim describes as a "slump." She elaborates there was a realization brewing that its focus was too narrow. "And maybe people who are looking for products that are targeting hormonal acne want something stronger and more effective," says Kim, who was brought on at that time and has spent the last several months leading Knours' rebrand. "We thought that we needed to expand our reach to include women of all different hormonal cycles. Menstruation is not the only thing women deal with hormonally. There's maternity, pregnancy, there's menopause. [Knours founder and CEO] Julie [Chon] herself went through all three of those cycles."
Knours' overhaul centered on the three life stages Chon and other women experience: menstruation, maternity and menopause. Its existing products are now and new products will be categorized into one of the three buckets to address specific skin concerns.
Hormone fluctuations engendered by the three life stages often are broadcast on skin with conditions like acne, hyperpigmentation, rosacea and dryness. Knours' purpose as a hormone-conscious skincare brand is to encourage women to know and appreciate their bodies and skin by embracing and celebrating the various hormonal phases and their effects.
Knours' existing collection consists of a cleanser, face mist and two sheet masks priced from $20 to $48 for full-sized products. Over the next year, the brand will introduce several products, including One Perfect Youth Cream, a face cream for menopausal women already available on the brand's website. The $48 cream contains Knours Komplex, a proprietary blend of sea buckthorn, Mexican giant hyssop and passionflower extracts formulated to help overcome the consequences of stress, and lack of sleep and stamina on skin. 
Future offerings include a serum, eye cream, gel cream and a body product, all retailing for under $50. "The body product will be a skin elasticity product specifically targeting pregnant women," explains Kim. "It will be clean and natural enough for moms to also use on their babies." A new mom, Kim is especially excited to build out the maternity range. "Having witnessed the different things that happened with your body and ultimately your skin during pregnancy, I wanted to help the brand be a place where women can see that you don't have to fix these issues," she says. "You just need to make sure you're not disrupting things on the inside further."
Knours' blog and social media will serve as education hubs for the brand. Every month on the blog it will address an umbrella topic in-depth that will speak to a particular demographic of women or girls to engage them with information about what's happening internally and the ramifications for their skin. Kim says, "We want to facilitate conversations about each of those journeys that women have during specific cycles in their lives."
A main goal of the rebrand is to enable further retail expansion. Prior to the refresh, Kim says the brand received feedback from retailers that its product offerings should better reflect its story and target consumers. With the rebrand complete, Knours will make a major retail push over the summer. Kim points to Credo, Ulta Beauty and Whole Foods as distribution targets. Expansion to Europe and Hong Kong is on the to-do list, too. Currently, Knours' revenue is split 70% direct to consumer, 30% retail.
Chon began her career in beauty as a distributor of Korean beauty brands. In 2017, after members of her family faced severe health struggles, the entrepreneur began researching the toxins found in consumer goods like food and beauty products. Chon discovered that toxins can impact hormones and possibly lead to health problems. She created Knours as a safe and effective skincare routine that any woman could use without fearing hormonal triggers.
Chon is among a growing cohort of founders that have seen the slower pace of the past year as an opportunity to refurbish their brand in an effort to amplify its unique proposition. Brands such as Pai, Cocokind and Codex made adjustments to increase transparency, and Holifrog refined its color palette and graphics to better convey its products' prestige price point. Other beauty sector rebranders include CBD specialist Betoken, formerly Good Jane, legacy health food store skincare range Heritage Stores, and EO Products' accessible Everyone personal care line.