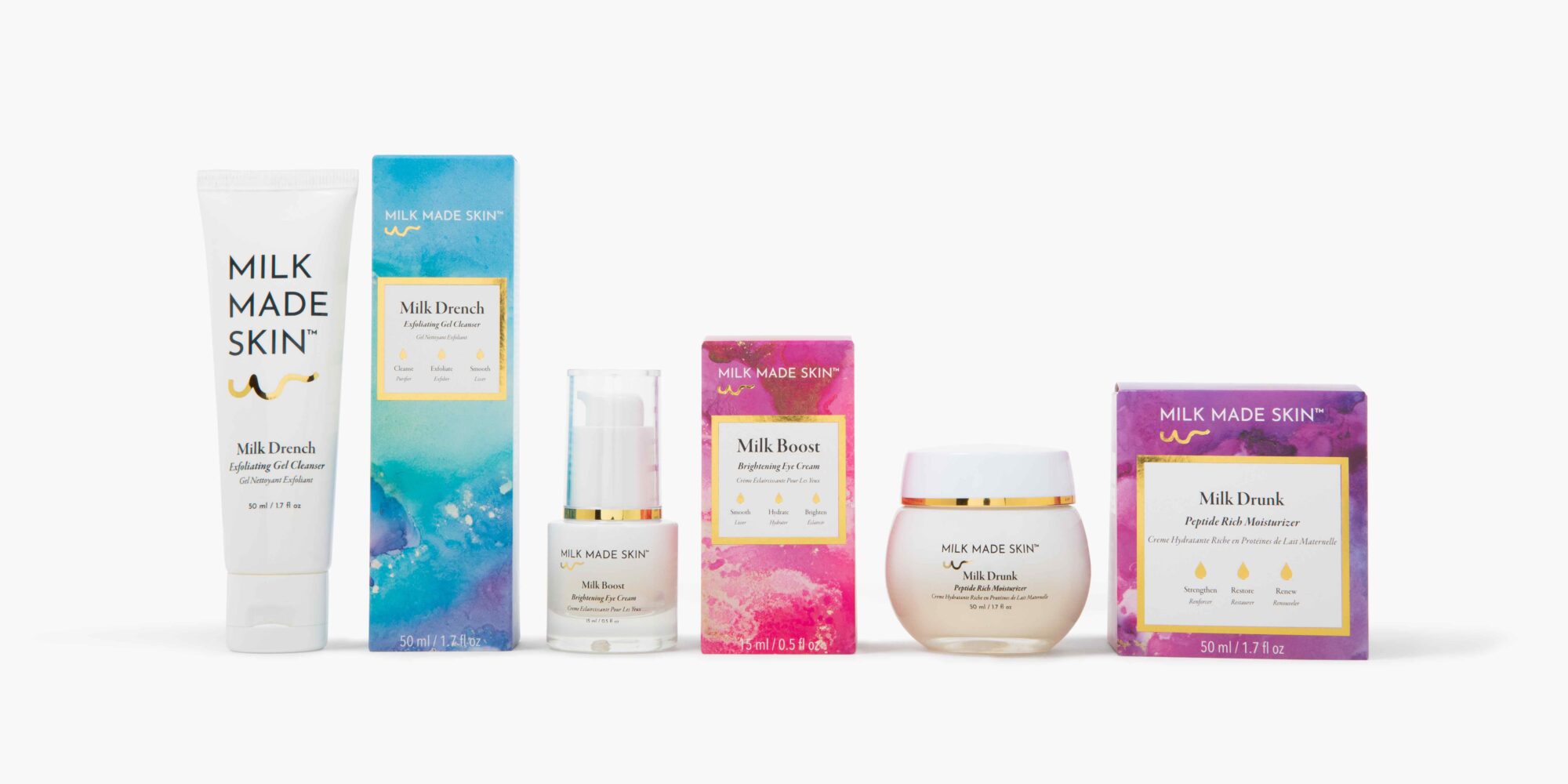 This New Brand Harnesses The Power Of "Liquid Gold" Breast Milk To Reinvigorate The Skin
Following seven years of infertility struggles, Sarah Shafer had her daughter Evie in 2016. "We really thought for a long time it wasn't going to happen for us. She was this miracle," she recalls. "I just wanted everything to be perfect for her, and I was breastfeeding her. She had very sensitive skin with blemishes and acne. Breast milk is known as liquid gold, and I started putting it on her face, thinking it can't hurt. I was like, 'Oh my god, this works.' How is this not a thing?"
Others are increasingly asking the same question. In an interview last month with the magazine Nylon, singer Halsey, mom to a 1-year-old boy, gushed that breast milk is "the best skincare ingredient ever because it's so full of antioxidants and good fats and stuff that speed up the healing process."
According to Your Baby Club, an online community for new parents, Google searches for "breast milk soap" have skyrocketed 3,600% in the last 30 days as people hunt for recipes to whip it up DIY-style to calm irritation, rashes and acne. For similar purposes, the spa chain Clean Your Dirty Face created the breast milk facial.
Still, although goat milk and colostrum, a fluid secreted shortly after birth, have appeared in wellness and beauty products (Armra's Immune Revival supplement, Beekman 1802's Bloom Cream daily moisturizer, Little Seed Farm's soaps and Biologique Recherche's Colostrum VG serum, for example, feature either goat milk or colostrum), breast milk- or breast milk-inspired skincare products have been relegated to chatter amongst curious moms and at-home concoctions—until now.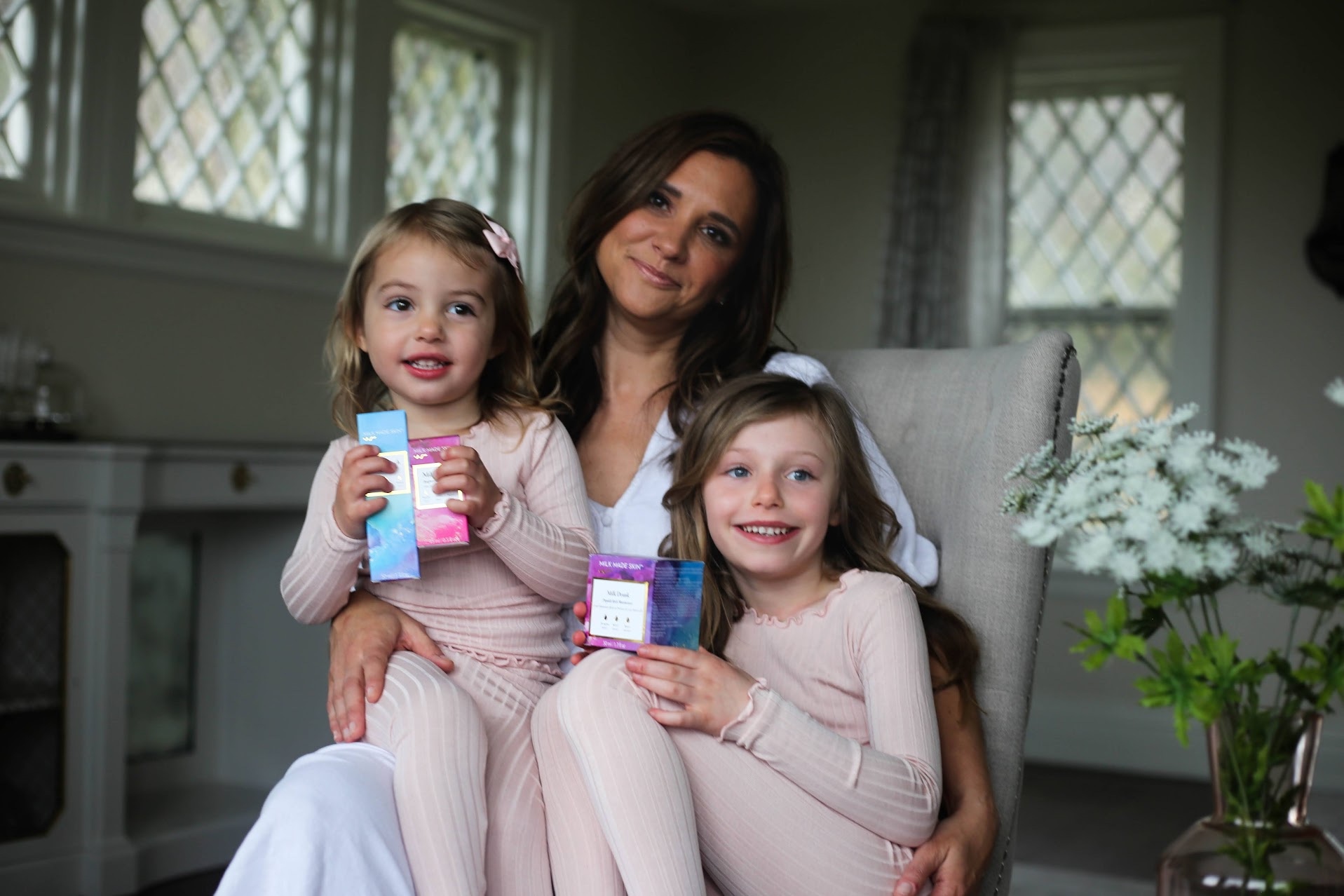 Shafer is making breast milk a thing in skincare by launching Milk Made Skin, a new brand that doesn't have breast milk in its three debut items, but mimics it with lactose, proteins, essential fatty acids and vitamins A, B and C in what it calls the milk peptide complex. The complex is designed to share breast milk's power to hydrate, smooth and firm skin while addressing wrinkles and boosting elasticity. The complex is paired with recognized skincare ingredients such as bakuchiol, niacinamide, squalane and willow bark extract in Milk Made Skin's formulas.
"There's not breast milk in our products, but what I did was work with an amazing chemist and said, 'This is what breast milk is, how do we come up with our own complex and add in amazing skincare ingredients?' It's going to help your skin with restoring it," says Shafer. "I'm 43, and my skin changes every year as I get older because of hormones. I'm getting a lot more age spots—and I don't like it. I wanted something to battle them."
Housed in colorful boxes decorated with art by Jamie Kushner Blicher, aka Glitter Enthusiast, using in vitro fertilization (IVF) needles, Milk Made Skin's three debut products are $89 moisturizer Milk Drunk, $69 brightening eye cream Milk Boost and $20 exfoliating gel cleanser Milk Drench. Initially Shafer considered releasing a single product—the hero product Milk Drunk—but settled on three to offer comparably affordable options. She anticipates turning Milk Drunk into a higher end product franchise in Milk Made Skin's assortment. All the products are intended to be straightforward and effective for women in their 40s without a ton of time for complicated skincare routines.
"We sort of get left out. There are so many menopause brands for women 50 and above, and there are influencer brands for people in their 20s and 30s, so I feel like I'm in a nice niche," says Shafer. "It's serious skincare, but I'm not a scientist. I want to be known as the woman behind the boobs. We are the only one really talking about the boobs. You have to find a way to find the light in some of the harder things in life. I'm hoping to take a fun spin on it."
"It's serious skincare, but I'm not a scientist. I want to be known as the woman behind the boobs."
Along with its serious skincare Milk Made Skin has a serious mission. In the midst of developing the brand, Shafer established the Fertility Dreams Foundation with her husband Zach. The foundation is supported by a percentage of Milk Made Skin's product proceeds and provides grants to families for expensive IVF treatments.
"They are about $30,000 every time you do it, and we did it seven times," says Shafer. "It's crippling. We were 31 years old when we started, and we had been married a year and a half. We had no money. We reached out to our parents. We put everything on credit cards. You can't ever prepare yourself that that's going to happen, but it doesn't discriminate."
Fertility Dreams Foundation and Milk Made Skin plan to celebrate the successful results of the IVF treatments they fund and tap into communities of people dealing with infertility to spread the word. "We are not only a brand, but we are a really special brand that has our own foundation and mission that's all tied together as one—and they're going to be a part of that. They will see a family having this baby, and they are a part of that," says Shafer. "It's what is going to make us stand out."
What also makes Milk Made Skin stand out is Shafer's behind-the-scenes experience in retail and home shopping. She was in merchandising at QVC and buying at Anthropologie and eBay before founding Greer Marketing Group, an agency assisting brands with the ins and outs of the home shopping landscape. Her clients have included Drybar, Fresh, St. Tropez, T3, Curie, Sara Happ and Nutribullet.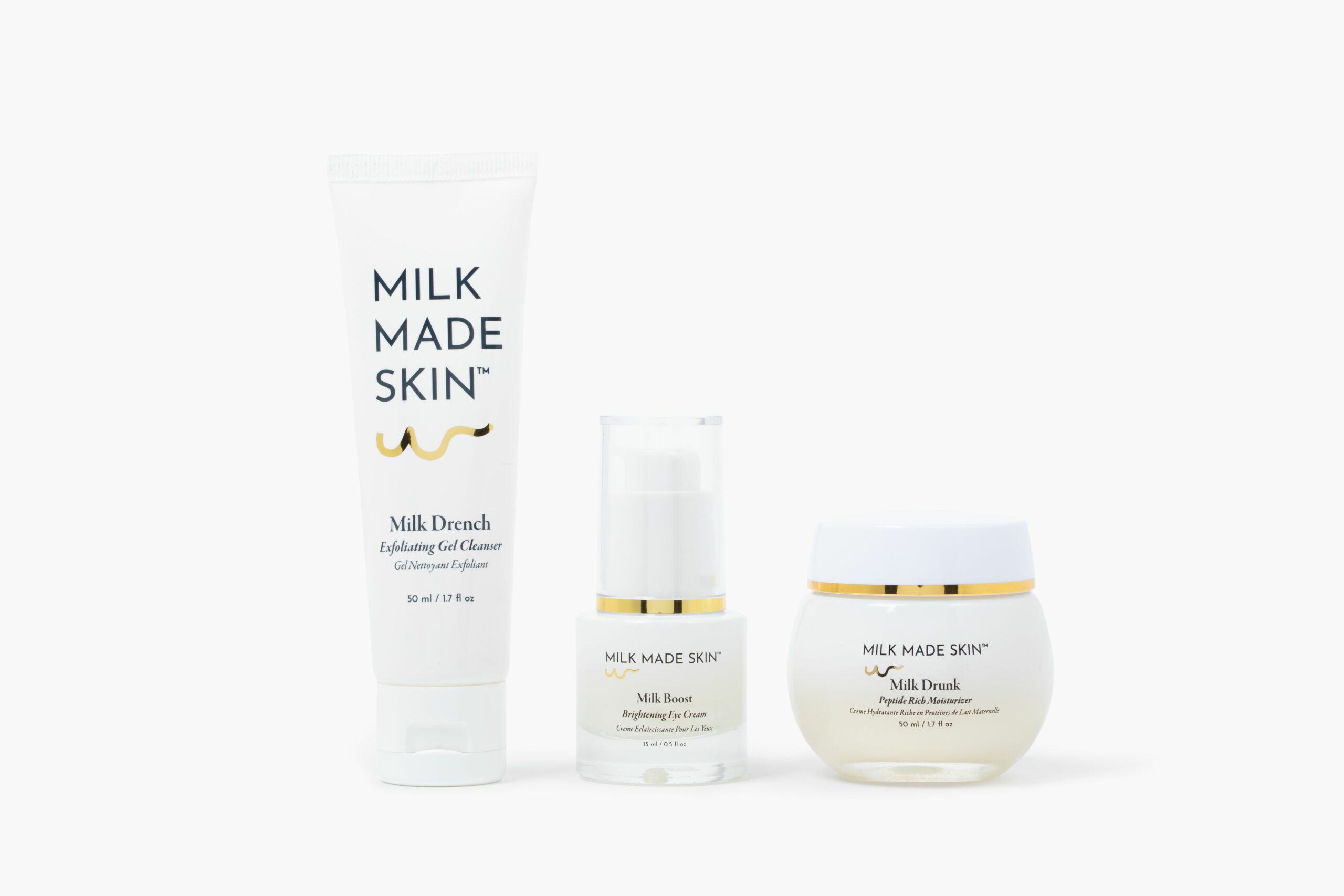 Together with a private investor, Shafer and her husband poured $350,000 to $400,000 into Milk Made Skin. She's not in a rush for the brand to jump into retail or home shopping distribution. "Investors want to see consistency. We want our customers coming back every month and to be interested in our content and what we have to say. I'm not naïve. I know we're entering a very competitive market, and I'm going to spend a year or two building a solid foundation," says Shafer. "Hopefully, by the end of year two or three, there will be substantial growth, and we will try to scale to big dollars and retailers."
Shafer isn't unambitious about her year-one sales goal, however. She believes Milk Made Skin can close in on $1 million. Additional products and Shafer's can-do attitude and personal story will be integral to it attaining that goal. A fourth product is expected by late this year or early next. Milk Made Skin is sticking to skincare and body care for the foreseeable future, and Shafer lists serums tackling dark spots on the face and body, and cleansing pads as on the brand's product roadmap.
Before Milk Made Skin sells those products, Shafer will be busy promoting its current lineup. She's primed for events and whatever else is required to raise awareness of her brand and the journey to motherhood that informs it. "I don't have an influencer background," says Shafer, who's juggling two children—she had her second daughter, Libby, in 2020—and entrepreneurship. "It's going to be my feet on the ground pushing this and getting dirty with it to put products in people's hands. I'm going to be DMing people and getting samples out there."