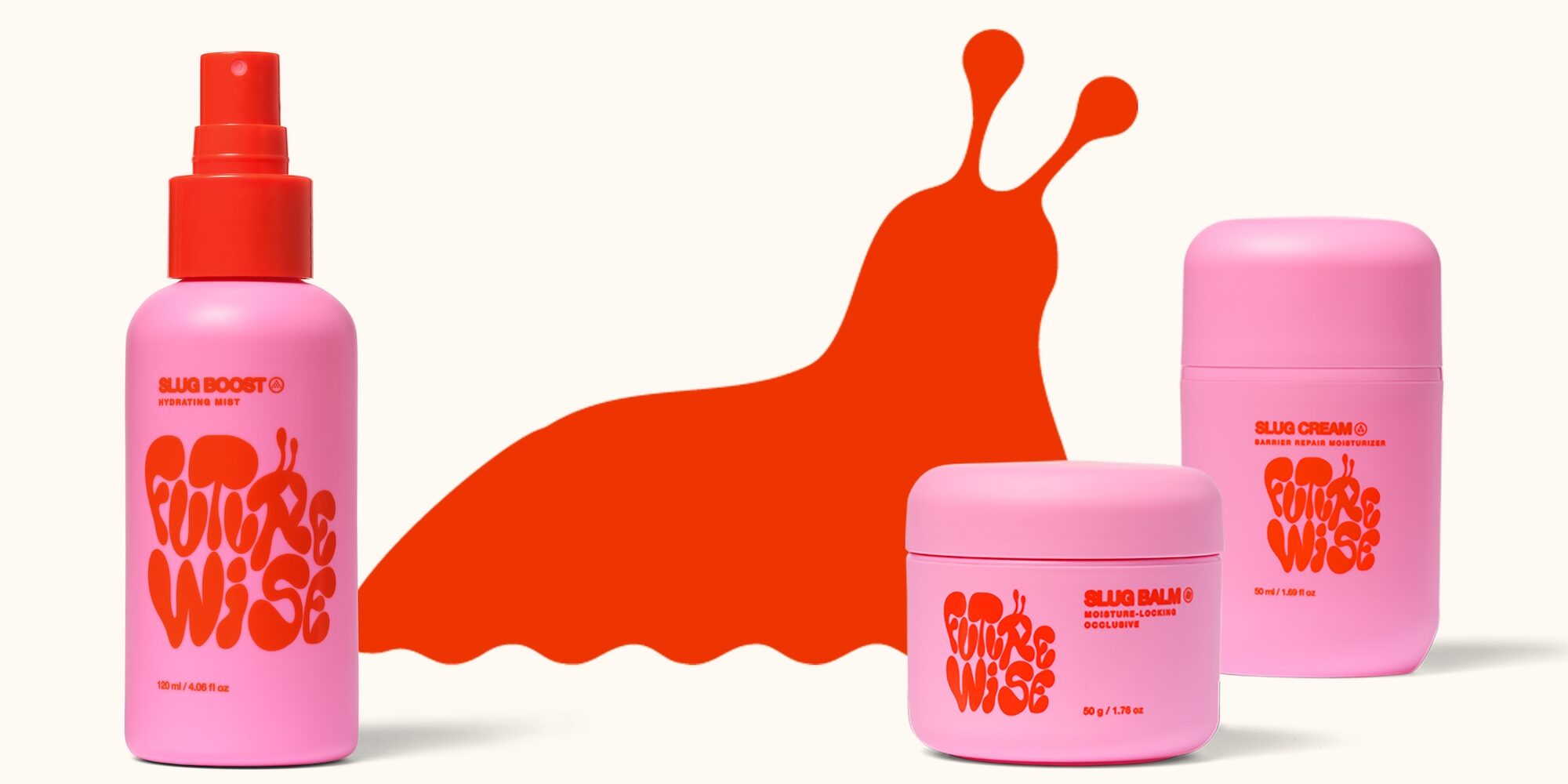 New Brand Futurewise Gives Slugging The Modern CPG Treatment
Slugging has a splashy new startup dedicated to it.
From the brains behind acne patch brand Starface—co-founder Julie Schott and co-founder Brian Bordainick—along with co-founder Sara DeCou and co-founder Janet Park, a former investment banker at Moelis & Company, have teamed up to create Futurewise.
Its slugging system consists of three products: $22 Slug Boost, $24 Slug Cream and $24 Slug Balm. Slugging is a practice that involves slathering the face or body with an occlusive substance such as Vaseline to retain moisture and nourish the skin, and the brand's products are chock full of humectant and emollient agents.
"We're focused on foundational skin health, which we think is really important regardless of where you are in your journey, whether that's skincare or otherwise," says Park, co-president and GM of Futurewise. "We're helping to achieve healthy and hydrated skin through the first-ever system of products dedicated to slugging."
Slugging has a long history. The New York Times described the products employed to do it as cheap staples from "grandma's medicine cabinet," but it's become a viral phenomenon in recent months as beauty editors and influencers picked up on its effectiveness. Park says, "The practice itself has been around as far as the 15th century when Native Americans used petroleum jelly cosmetically. Since then, it's become a household practice within the Black community as well as other communities of color. Before it blew up on TikTok, it had its own story."
The story Futurewise is telling about slugging isn't somber. As Park emphasizes and its imagery indicates, the brand has a sense of humor. Its packaging is vibrant pick and red, and campaign features models with dewy skin and lots of nods to slugs. Park says, "We are building a world that is cheerfully absurd, where self-expression meets self-actualization, and where we can hopefully be a beacon of joy and optimism for people who want to chart their own path."
DeCou, co-president of brand and creative at Futurewise, says the branding sought to connect with the in-between feeling of not being a kid and not feeling like an adult either. "Futurewise came from this idea of a slow and inviting space for reverie and moving forward at a pace where you can take your time without the expectation of needing to have it all figured out," she says. "The branding is meant to be reflective of that. It isn't perfectly put, serious, symmetrical or centered, but it's fun, and we hope it serves as a little reminder of that with each use."
While the brand and its products are designed to be enjoyable and accessible for all consumers, it's expected its customers won't be the youngest of the gen Z set. "As they're seeing changes in their skin, their relationship with their skin is developing this focus on foundational skin health and longevity," says Park. "We think will resonate with a slightly older audience."
Schott and Bordainick launched Starface in 2019, dissolving shower sheet brand Plus in 2021 and morning-after pill brand Julie in September this year. Futurewise is a separate company from them. Explaining her decision to join the brand, Park says, "I've long admired people who build really strong brands and have always wanted to be a part of the creation process. So, this has been kind of a long time coming for me, and I'm really grateful to be working with such a strong team to be on this journey."
Similar to Starface and Plus, Futurewise is starting off in direct-to-consumer distribution and will weigh retail options as they emerge. Starface and Plus expanded from DTC to stores, and are available at Target. Starface is in Walmart, too. Futurewise declined to discuss the amount of money required to get it off the ground or first-year sales projections. "Retail is always going be a possibility," says Park. "So, as we go on, we'll continue to think about where it makes sense for us to get into the hands of our consumers and go from there."
Slugging's recent popularity led to Futurewise, but the brand is encouraged by its lengthy history that it's not an ephemeral trend. "We feel like it's very efficacious and will be something that stays in people's routines and bathrooms for a long period of time," says Park. "We want to make sure that people understand how it's beneficial rather than getting sucked into the virality of it."
And Park notes slugging remains far from mainstream—and Futurewise aims to make it so. Park says, "Right now, it's still a little bit of a niche thing, but, if we were able to really expand our messaging and reach to get to a wider audience to adopt slugging, I think that would be amazing to see."