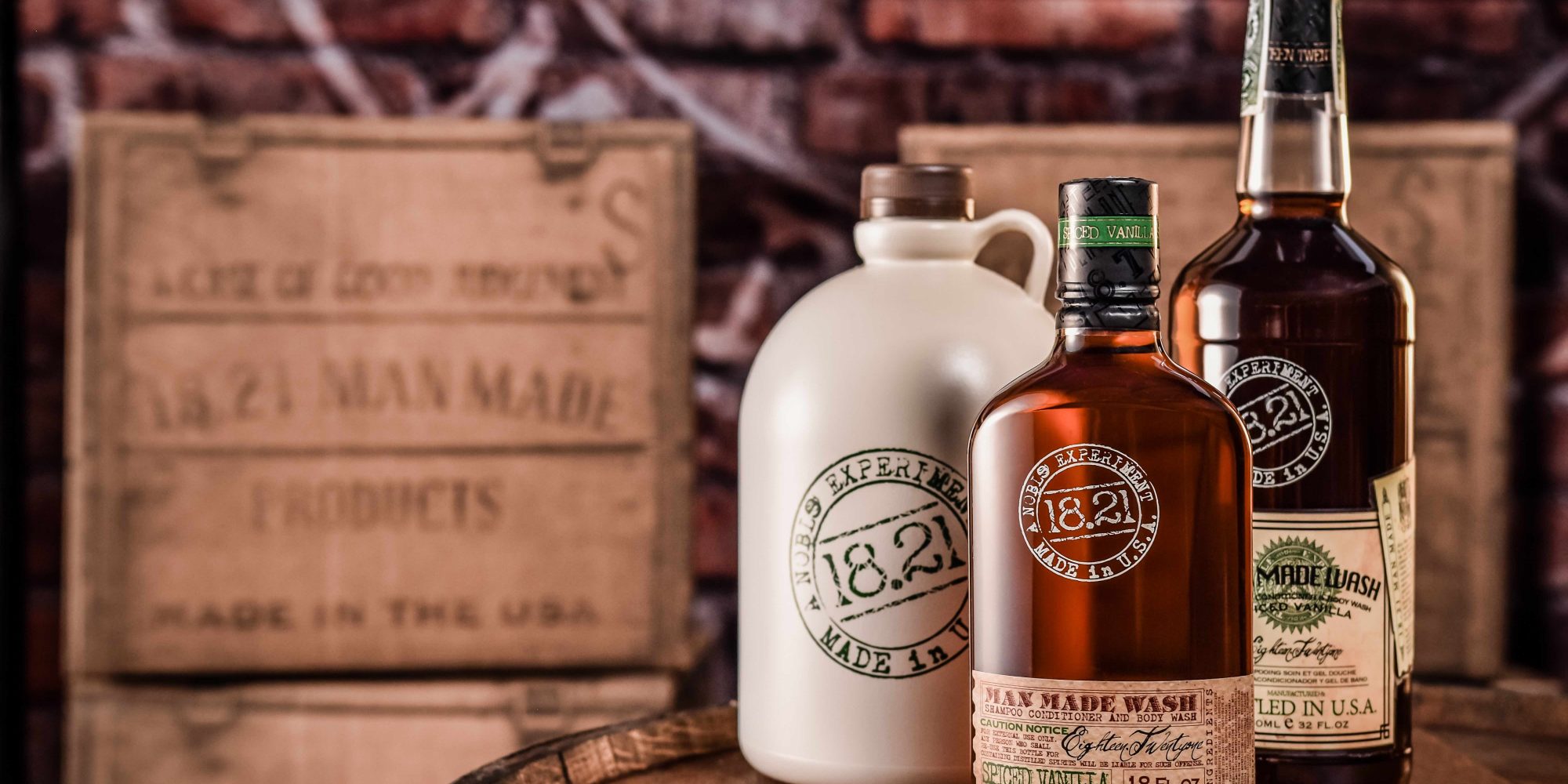 New World Natural Brands Enters The Growing Men's Market With The Acquisition Of 18.21 Man Made
Established last year, the burgeoning beauty holding company has added 18.21 Man Made, the grooming brand inspired by the Prohibition that puts its bestselling wash in a whiskey bottle, to a stable of upstarts that includes Nügg, Suki Skincare, Baetea and Baebody. Terms of the deal weren't disclosed.
"We are really starting to hone in on brands that fill gaps within the portfolio now. With the men's category outpacing the growth of the industry, we realized it was an area we needed to be in," says Kim Ryan, vice president of brand and product strategy at New World. "18.21 is the perfect fit as they deeply understand their male consumer, their motivations, how they want to be talked to, interact and purchase."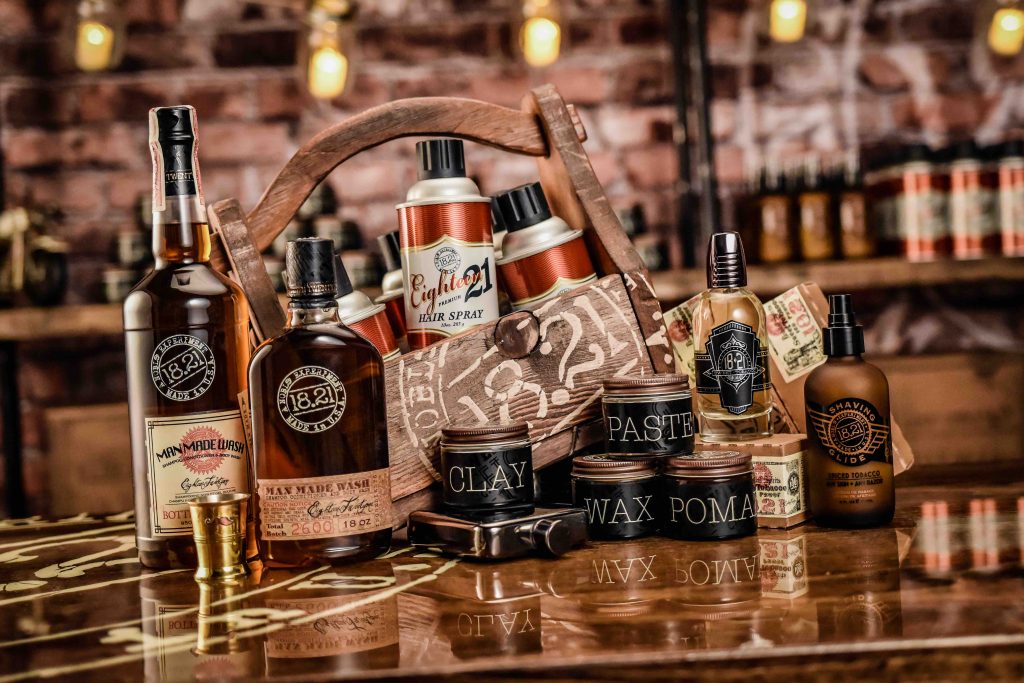 Veterans of the professional haircare industry, 18.21 Man Made co-founders Aston LaFon and Angel del Solar met while working at salon haircare brand Enjoy. In 2012, they joined forces to form distributor Credible Culture to spread premium haircare brands Verb and Reverie to Texas salons. Two years later, fueled by the belief that men were ready to upgrade their hair products, they shifted course to 18.21 Man Made. Del Solar's brother David is a third partner in the brand.
Prior to the New World acquisition, LaFon and the del Solar brothers built 18.21 Man Made's distribution network to more than 5,000 salon, gym and retail doors without investment. The brand has broken into Macy's, Ulta Beauty and Life Time Fitness, and discovered Amazon to be a productive platform. LaFon shares Amazon is responsible for about 35% of its sales. 18.21 Man Made's assortment spans 12 products priced from $24 to $80. After the wash, pomade is the strongest seller. Sweet tobacco is the brand's signature scent.
"We are really starting to hone in on brands that fill gaps within the portfolio now. With the men's category outpacing the growth of the industry, we realized it was an area we needed to be in."
The 18.21 Man Made team connected with Tom Ryan, vice president of business development at New World, and its COO James Watt at Indie Beauty Expo New York last year. The parent company of the trade show, Indie Beauty Media Group, owns Beauty Independent. The meeting was fortuitous because the brand was running up against constraints many emerging brands face preventing it from maximizing opportunities presented to it. In the period between the initial meeting and the acquisition, LaFon notes 18.21 Man Made's sales doubled.
"None of us has a history of scaling a business to let's say $50 million. We have taken the business from the truck of a Prius to a warehouse, have earned customers like Ulta and Macy's, and are doing $4 million a year in business, which is great as an indie brand, but there's a lot of gentlemen out there. How do we speak to all these guys? We had limited capabilities and to expand the team takes cash flow," says LaFon. "New World and the investors behind it have a history of taking micro businesses and scaling them to be large businesses."
Over the next 100 days, New World CEO Shannon Curtin, a recent hire who ascended the ranks in the beauty departments at Walgreens and Walmart before a two-year stint as senior vice president and general manager of Coty's consumer division in North America, will guide 18.21 Man Made through the integration process. She details elements of its operations such as logistics and formulator partners will be assessed to determine improvements New World should execute. The creative component of 18.21 Man Made will remain in the Dallas, where the del Solars live. LaFon lives in Austin. New World is headquartered in Chicago.
On the distribution front, Curtin says 18.21 Man Made will aim to go deeper in its existing accounts, pick up further strategic partners in the United States, and bolster its international reach. Already, LaFon estimates a quarter of the brand's revenues are from international sources. It's available in a dozen countries. Among them are Australia, Belgium, Bulgaria, Poland, Luxembourg and the Netherlands. In 2020, 18.21 Man Made is expected to enter India.
"We help founders. When you get to a certain point in your growth journey where you need extra hands while still bringing soul to the brand, that's when we come in."
The brand began primarily in haircare, and is broadening its product perspective to tackle items used every day by men and specific concerns they have. In October, it released an aluminum-free solid gel deodorant stick. In the first and second quarter of 2020, respectively, 18.21 Man Made plans to launch a dandruff wash, and a travel product functioning as a shampoo, conditioner, body wash and shaving cream.
"Head & Shoulders is a very popular product. People in my business like to make fun of it, but the reality of it is that it sells more than all of the professional haircare brands combined. Certainly, there's a need for it, and consumers are looking for that type of item," says LaFon. "It's obviously important for them to solve the issue, but it doesn't feel particularly great to go buy that item. It's kind of like buying toilet paper. It can be embarrassing. We want to solve your problem, and also make a dandruff wash that's cool and works. It will be featured in our traditional whiskey bottle with a great aroma."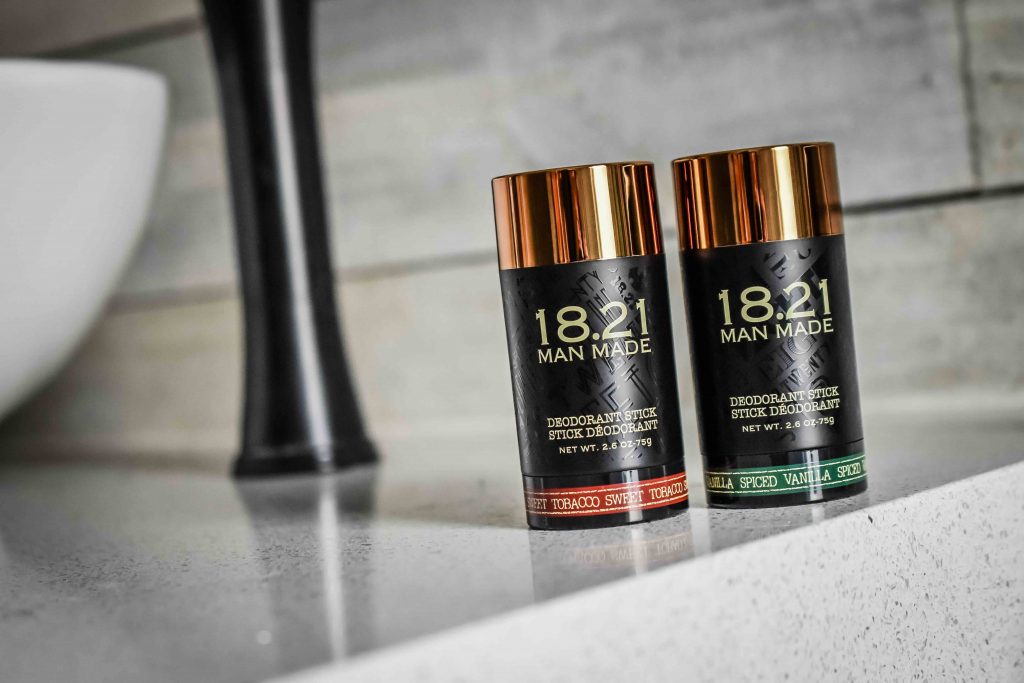 New World remains in active acquisition mode, according to Curtin. She suggests it could purchase at least one brand in 2020. The company focuses on brands positioned as clean and sustainable that have compelling founders. New World welcomes the involvement of brand founders post-acquisition. Nügg founder Conny Wittke has stayed on board at New World in a brand-building capacity following the sale of the brand she created. Janet Chan, a former marketing and branding executive at Revlon, Kevyn Aucoin, L'Oréal, Trestique and OKU, has been appointed vice president for brand at Nügg.
Speaking of 18.21 Man Made, Curtin says, "This is a brand with a big personality, and we will continue to look for brands with big personalities. It has a great founder story, which is a common denominator across the brands in our portfolio. We help founders. When you get to a certain point in your growth journey where you need extra hands while still bringing soul to the brand, that's when we come in."