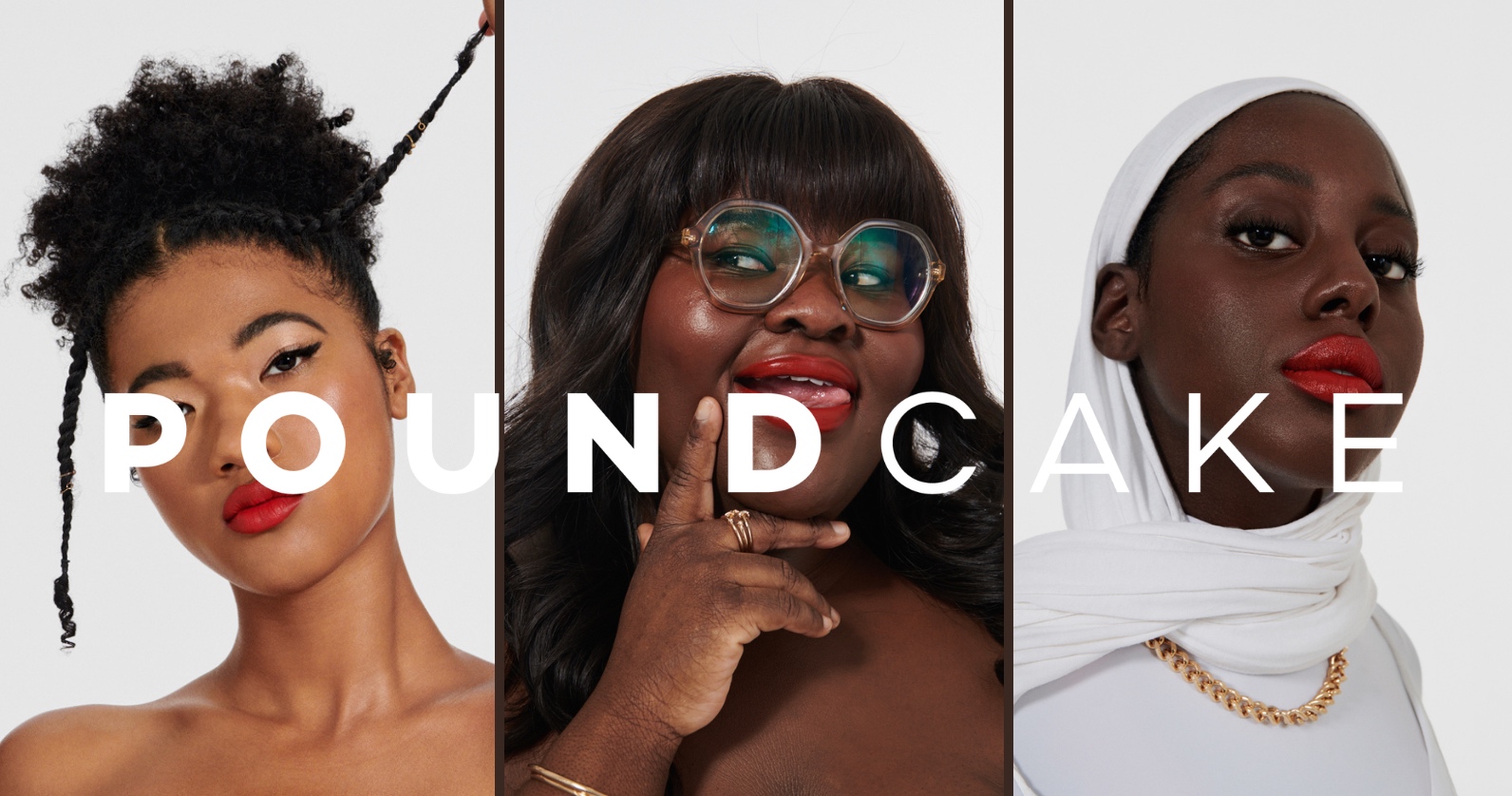 Pound Cake Does For Red Lipstick What's Long Been Done For Foundation—Create The Right Match For Consumers' Skin Tones
How can a woman find the perfect red lipstick if red lipsticks haven't been made for her in the first place?
That's a question that fueled Camille Bell to start Pound Cake, a new cosmetics brand rejecting the notion of universal shades (who are they universal for after all?) to help women of color buy the right red lipstick for them and, later, all kinds of makeup products. It kicked off last week with $20 liquid lipstick Cake Batter in five red shades—neon red Maraschino Cherry, berry red Strawberry, blue red Raspberry, true red Red Velvet and deep red Red Bean—created specifically for a range of skin and lip tones. They sold out in 48 hours.
"There's a stigma in the Black and brown community that Black women don't look good in red lipstick, especially darker skinned women. I wanted to challenge that stigma," says Bell. "Part of the reason why folks don't feel comfortable wearing red lipstick is because a lot of cosmetic companies don't think of us when they make reds. We come in various skin tones and undertones and, then, we have different lip tones which can definitely affect the way a color shows up."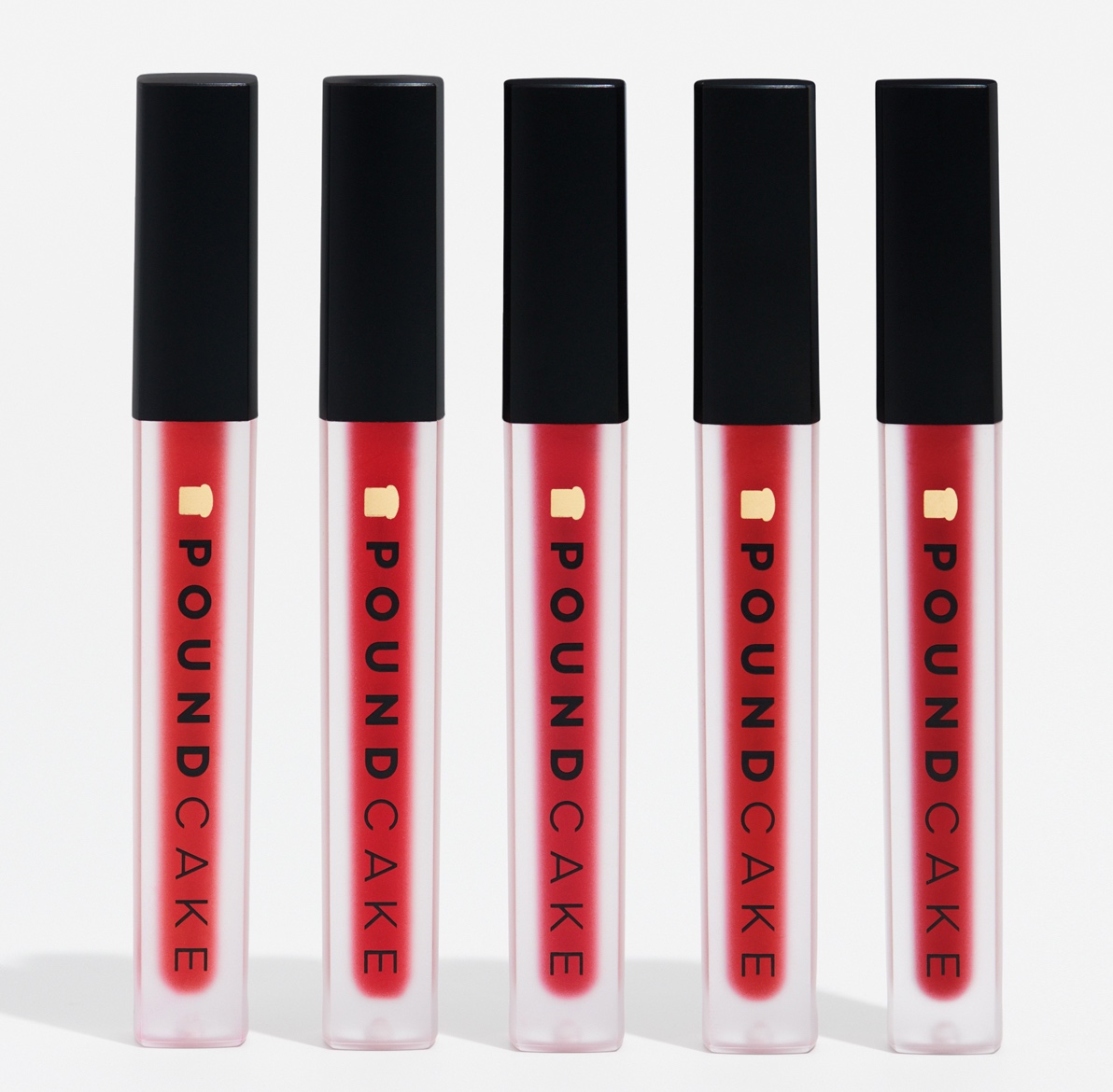 Bell doesn't understand why those various skin tones have been a huge deal in the foundation category, but generally haven't been a huge deal outside of the foundation category in the makeup market. "The same way we approach foundation, we need an array of shades for other products as well," she says. "With darker skinned folks, some will have a dark bottom lip with a pink top lip or some folks will have a brown lining around their lips, so that can all affect the way a color will appear. That's what we wanted to address."
Raised with a strict upbringing, Bell wasn't able to wear makeup growing up, but, as soon as she went to college at Temple University a decade ago, she relished being able to explore and apply beauty products. "I was known around campus to always rock a red lip," she says. On a trip to Sephora to stock up, Bell was checking out the multitude of products and swatched a blush to extremely disappointing results.
"The same way we approach foundation, we need an array of shades for other products as well."
"It just dissipated into my skin even though the color was extremely vibrant in the case. It was just evident this wasn't made for me," recalls Bell. "I remember speaking to some friends who are my complexion and darker asking, 'Hey, do you have this problem?' They responded, 'Yes, all the time, especially with lipsticks.'" To verify the issue was broader than her friends, Bell surveyed 300 people. Nearly 100% of them agreed that they often encounter products that look dissimilar on their skin from what they look like in the packaging.
Translating the foundation shade-matching concept to red lipstick wasn't easy for contract manufacturers. Bell says, "To be frank, the cosmetic formulation process for us has been hell." The process began following an Indiegogo campaign in 2017 that raised $20,522—Pound Cake previously won the Fox School of Business Innovative Idea Competition and was a Glossier grant recipient last year—and provided the brand enough cash to pay a manufacturer to produce merchandise. Pound Cake sunk $7,500 into its initial manufacturer only to get product revisions that failed time and time again. Either the color or the consistency was off.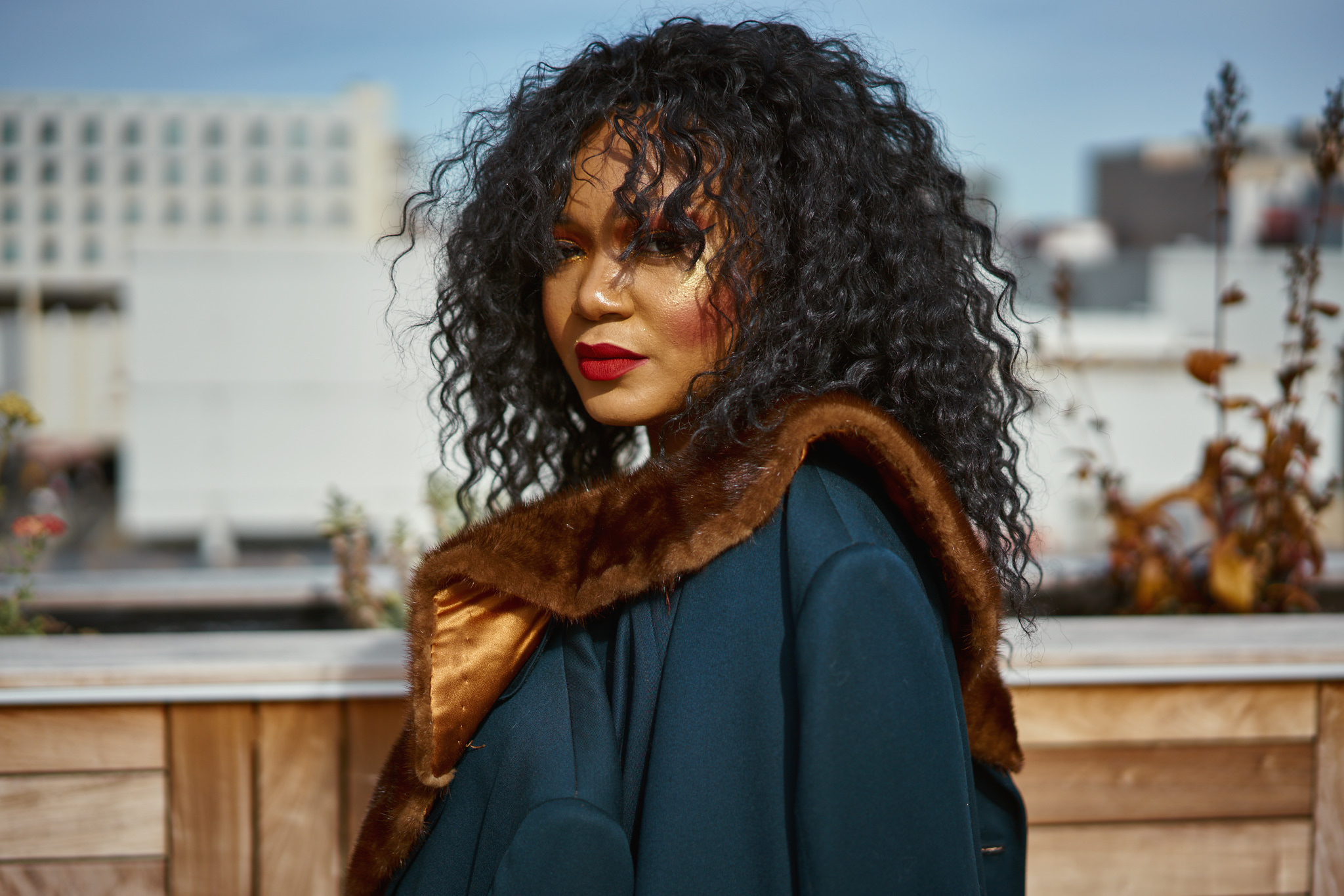 With a formula Pound Cake owned in tow, Bell moved on to a second manufacturer—and her experience wasn't much better. The chemist overshot the colors and, then, in September last year, the manufacturer informed Bell that it had taken on a larger client and decided to drop Pound Cake. She'd blown nearly $4,000 working with the second manufacturer and didn't have anything to sell. Finally, a third manufacturer properly executed Bell's vision. In total, she estimates it cost $60,000 to bring Pound Cake to life.
The brand's Cake Batter shades are formulated with rich, deep, warm, medium and light skin tones, and deep brown, brown, light brown, dark pink and pink lip tones in mind. "Each of these lipsticks is designed to show up as a classic red on different lip tones, so everyone can achieve the same dope, vibrant shade," says Bell. She describes Cake Batter as "crème matte," and vegan, clean and cruelty-free. The lipstick smells like vanilla and is expected to last for seven to eight hours. It has vitamin E and avocado oil for moisturization. Pound Cake has already won an Allure Best of Beauty award for its Cake Batter shade Maraschino Cherry. "I feel really good that we didn't compromise on what we wanted," says Bell.
"I feel really good that we didn't compromise on what we wanted."
On Pound Cake's website, there's an online quiz to direct shoppers to the lipstick that makes sense for them. The site has tons of visuals of women with and without the shades on to convey how they look on the lips. Pound Cake also plans to reach out to writers and influencers to spread the word about its products and its mission that Bell proudly declares is "pro-Black, pro-fat and pro-queer." Search engine optimization and email marketing are important components of Pound Cake's marketing, too.
The brand's name is a dissenting play on the term "pancake makeup." Bell explains, "We have cake represent all the things that are problematic with the beauty industry, and we want to destroy that. So, we said, 'Why don't we pound cake and offer a new type of beauty product?'"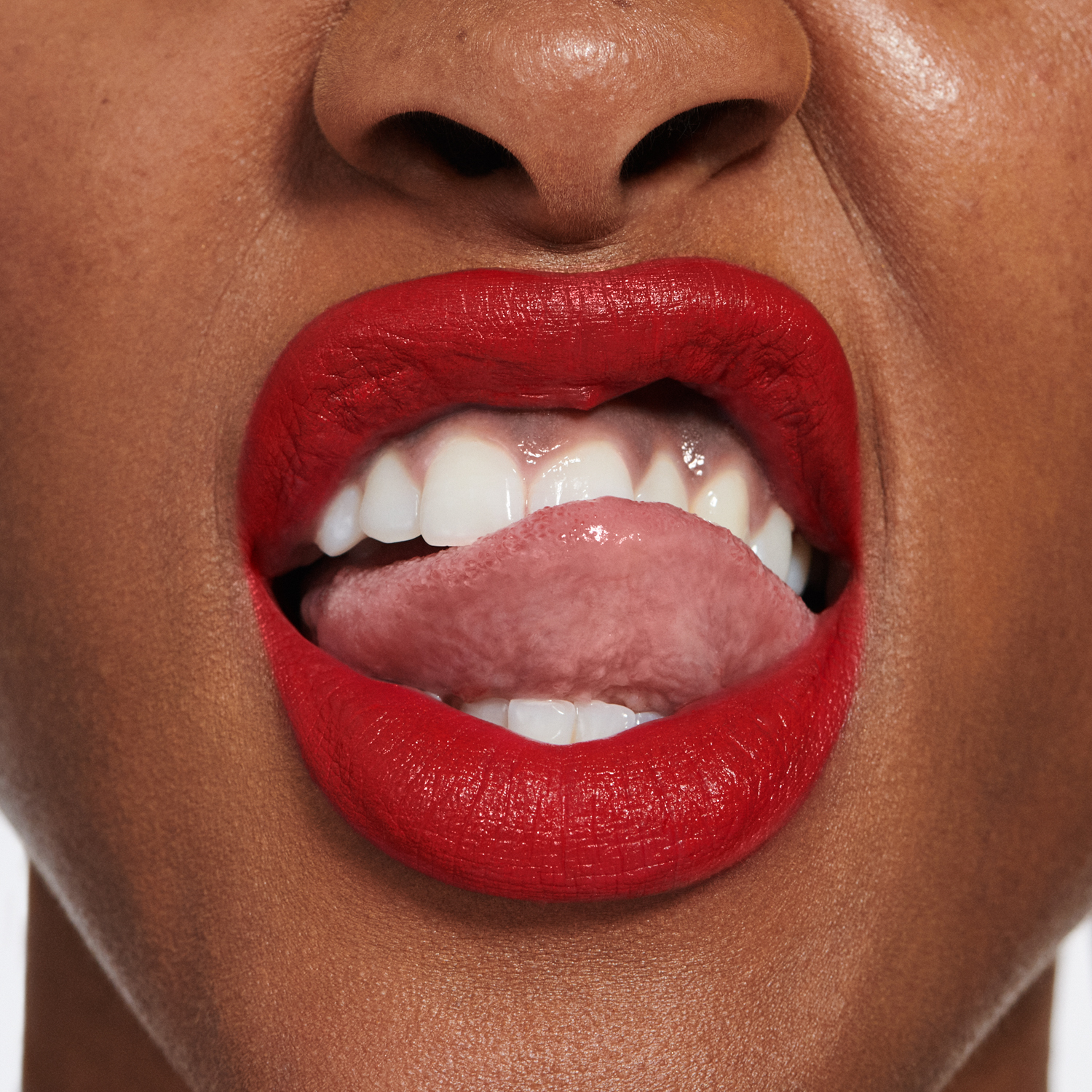 In the future, Bell hopes to secure distribution in Ulta Beauty or Sephora, where Pound Cake could "pound" the blush dilemma that was a crucial motivator for her launch of the brand. For now, however, Pound Cake is in direct-to-consumer distribution and aims to break into the six-figure sales arena next year. Blushes and eyeshadows are among the products Bell is considering adding to Pound Cake's assortment, but she emphasizes she's interested in learning what its customers are seeking from it to guide product development.
"We have bootstrapped this entire thing so far. We have no investment capital. What I see is us having our own Pound Cake storefronts. I also want to be in retailers and not just have color cosmetics, but potentially skincare and see if we can have some sort of beauty technology," says Bell, whose co-founder at Pound Cake is her boyfriend Johnny Velazquez. "We want to go to the moon."