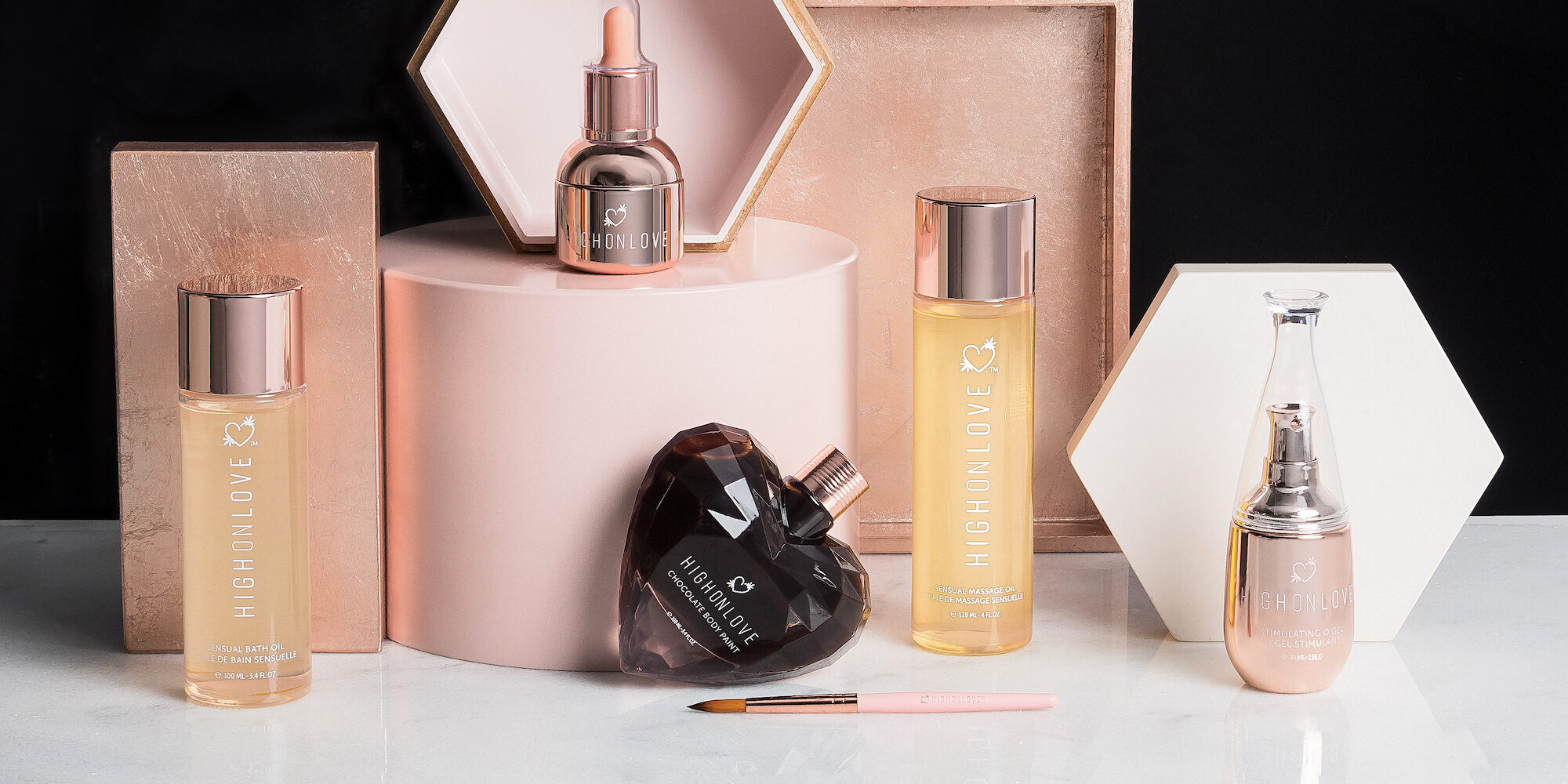 Sexual Wellness Specialist High On Love Launches THC Line, Creates Joint Venture
The 2-year-old sexual wellness cannabis brand has inked a deal with Rose LifeScience, a cannabis producer and distributor backed by larger cannabis company Tilray, to spread its products worldwide. The deal allows Angela Mustone, founder of High on Love, to retain the trademark for the brand. She and Rose LifeScience will split ownership of High on Love evenly. Both companies are headquartered in Québec.
"It's exactly what I wanted because I'm very much hands-on," says Mustone. "I like to do everything from thinking about stuff to bringing it to market, so I did not want a licensing agreement that was going to have something with my High On Love name on it that I wasn't going to be part of it." 
High on Love is already building its brand outside of Canada. It's launching THC versions of its bestselling cannabis seed oil-infused sexual health products in the Colorado market this month. While California is largest cannabis market in the United States, High on Love is entering Colorado because of a partnership with Boulder-based cannabis processor and manufacturer WHT LBL, which was able to score immediate distribution for the brand at 700 dispensaries in the state.
High On Love's THC range will feature the brand's hero product, Stimulating O Oil, with 300 milligrams of THC. Mustone has also created pre-rolls that will contain a weed strain called Good in Bed. In addition, she's introducing a THC-infused lip product to High on Love's Colorado lineup. The brand's assortment includes Lip Gloss for Couples with cannabis seed oil, which is designed to plump the lips and enhance foreplay by increasing sensitivity in the body's intimate areas.
The $22 lip gloss is known for its distinctive bedazzled rose gold tube. However, in Colorado, High on Love had to adjust the packaging because THC products are required to be child-resistant by law. Mustone looked into making the original eye-catching tube compliant with the law, but the price for it was too steep. She exclaims, "It was $50,000 just for the mold. Another company wanted about $100,000. I was like, 'Are you crazy?'" In the end, Mustone moved forward with a lip balm instead of a gloss that has shatter, a cannabis extract combining weed plant materials and solvents, and is housed in child-resistant glass.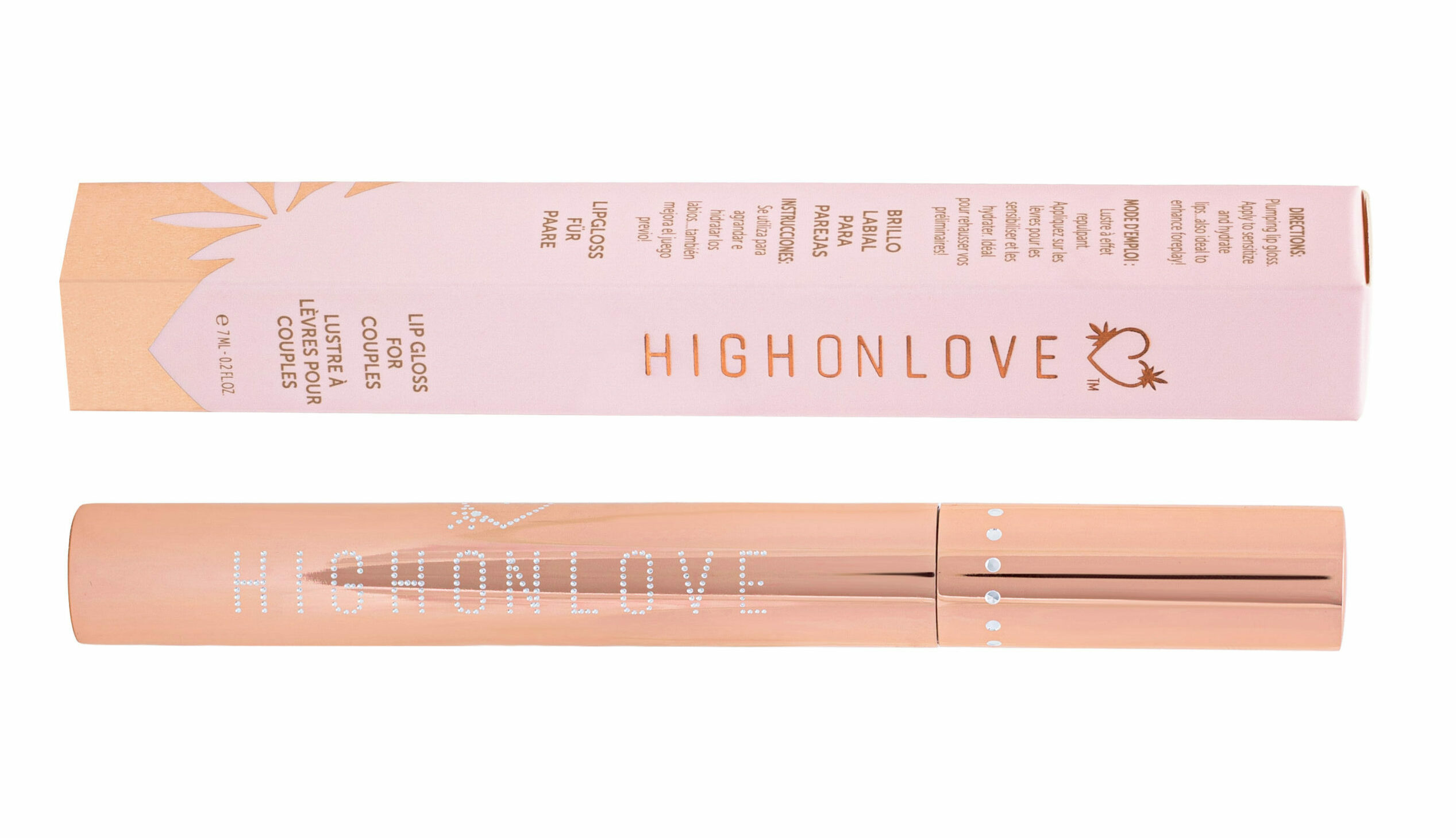 This year has been a rollercoaster for Mustone and her brand. High on Love's sales were down 85% at the beginning of the pandemic in the spring before picking back up in the summer. High on Love has faced production delays due to manufacturers focusing on hand sanitizers. To help buoy the brand's sales, Mustone has been safeguarding timely deliveries by airfreighting merchandise.
"Pre-COVID, production could be a couple of weeks. Now, we're looking at six to eight weeks. All the carriers are charging huge premiums," says Mustone, noting airfreight that previously cost $3 a kilo is up to $10 a kilo. The founder has pre-booked 2021 purchase orders for High on Love's Stimulating O Oil from its lab to ensure it has inventory. She says, "That's my No. 1 bestseller, and I've never had of stock."
COVID-19 has had a positive impact on High on Love's retail footprint. The brand secured distribution with Urban Outfitters, and other retailers Mustone hadn't had much success pitching prior to the pandemic have been reaching out to her to carry her brand since the pandemic took root. "Before, they said my stuff was too expensive, but, now, they want expensive stuff. Now, they want luxury and premium because people are not spending money how they used to. They want something that is extra special," she says. "I'm not going to complain. I did see an increase in sales, and I'm very pleased with that."