The Grommet's Unusual Form Of Commerce Spotlights Small Guys
The Grommet calls its model citizen commerce and even trademarked the term. Behind the concept are individuals using their hard-earned dollars to support fellow individuals who happen to have created cool products. The products on The Grommet aren't just any cool products, though. They're cool products that have gone through rigorous reviews that only a miniscule percentage survive. "We create a space that consumers can trust. They know we're very particular about our selection," says Ayana Blue, a senior discovery manager at the e-tail platform Ace Hardware acquired last year. "We do a service to consumers and makers by educating consumers about products. There are some products that don't sell themselves on the shelf, and they need a place to come to life. That's a big reason why makers come to us. They want us to highlight the unique features of their products because they know their products may be hard to understand without context." Beauty Independent spoke to Blue about the content that supplies the context, the vetting process for products, beauty's role in The Grommet ecosystem and the item that makes at-home pedicures much easier.
What is The Grommet?
The Grommet is a discovery platform focused on innovative and new-to-market products created by independent makers and small business owners. We have two customers: One is the small business owners or inventors. We want to position ourselves in a way where they want to and can sell their goods on our platform. Our goal is to find brands or products that we deem as having high potential. They're typically from early-stage companies, and we help them be successful by introducing them to our audience. We also have an end consumer who is really interested in new-to-market products and gifts. They know us for having unique finds.
Where does beauty fit into the selection?
We cover about 16 different product categories. Beauty and personal care falls within our top 10 categories. It isn't one of our leading categories, but it's definitely an area where we have seen interesting growth. Beauty and personal care can be anything from an all-natural makeup product or deodorant to a lotion, facial cleanser or new beauty and personal care technology like Elvie, a pelvic floor strengthener. We have a product by Stedi Pedi that's a foot stool to assist people doing their own pedicures. A lot of women can relate to having to pull up their feet and being in an uncomfortable position. This product helps with that, and makes things a lot easier and organized.
Is there another beauty and personal care product performing well?
There are a handful that are really driving up sales, and what we look for to grow a category is innovation in a particular product, maybe it has a health benefit or is a problem solver. One product that falls within health and personal care is from Bite Helper. After you get a mosquito bite, you use it as a warming treatment, and it relieves irritation. Over the last quarter, a mirror by Spotlite HD has done really well. When you are doing your makeup, it mimics natural sunlight. It's beatifically-deisgned and very compact. It has a nice carrying case that you slip the whole thing into, so it's great for traveling. Women are buying it for themselves, and they're also buying it as gifts. We want unique product stories, but we look at products from a gifting perspective as well.
How many beauty and personal care brands does The Grommet sell?
In beauty and personal care, we have about 250, and a brand can have multiple products. The size of the category on a product basis is about 7% of our total catalog. In the last year or so, we've seen some really successful products launched in the category, so we have a good understanding of what works well for our consumer. We continue to identify innovation in the category, and we will see it grow.
What are you looking for when you consider products?
What we are looking for is products that speak to our values. Is there an interesting entrepreneur on the other side? Is the product following a beauty trend? For example, if charcoal as a main ingredient is popular right now, do we have something for that? A lot of people are looking for all-natural deodorants. We've seen success in that area with a product called Nfuse. It's an all-natural deodorant that our consumers say a lot of great things about. For us, it's about identifying what's getting press within a category, what's innovative in the category, finding what may be the best products in that category, reviewing and testing the products ourselves, and seeing how they resonate with our consumer.
How should brands get in touch with The Grommet?
We have an online portal where makers can apply to The Grommet. It's a good way for us to vet with a few quick questions whether or not a product is a good fit. We ask the maker for links to their product – we want the highlights of the product – and to tell us their story. Price is really important as is what logistical option they would prefer, drop-ship or fulfillment. What are they capable of doing? Maybe the product is not ready, and it's in a prototyping phase rather than a market-ready product or, in asking about the price point and MSRP, we can identify that the price is too high or too low for the category. We won't see success with a $5 product because it costs more to ship the product than the product costs. From a business perspective, has the small business owner thought about economies of scale? Do they have a built-in margin to develop a wholesale relationship?
When they apply, we will say, "Thank you for your interest in us, maybe this isn't a good fit," or we will say, "This is really interesting, we would love to learn more." At that point, a discovery manager like myself will reach out to inquire more deeply about their business model and request samples. Once we have the samples in-house, we go through an in-depth review process. It starts with a deep conversation with the maker. We have a list of questions we go through, and a lot of the questions are to gain an understanding about where the product is made and learn about the story behind the product. What's the reason the maker invented the product? Is it something that's patented? Is it the maker's design?
We want to know about their bestsellers and where they're currently selling. Another criterion of ours is we don't want to feature products that a consumer can get in their everyday large big box store. We are not the place for someone if they've reached that level. It's kind of case-specific, though, because maybe they haven't hit it huge in the mass market yet, and they're building up their branding. We also try to stay away from products with a discounting strategy that go after discounters or maybe there are seasonal selections of products, so styles change rapidly.
The other aspect of our job is scouting. We follow influencers, sites like Indiegogo and Kickstarter, and gift guides. We go to trade shows and are looking more at international opportunities where we bring products to the States. That's a way where we can work with established companies that have longstanding histories and a lot of experience in their business. We will reach out to people who we think are interesting, and doing something cool and innovative to get them on board.
How long does the review process take?
About two to three weeks. We talk about what a partnership looks like and will learn from them the business terms that they can fulfill on their end. The other thing we want to ensure is that the product works the way it says it's going to work. As a company, testing is really big. We encourage all of our team members to test products, and we are very thoughtful about who tests products. We will closely track if a person is really interested in beauty care products, is very connected to the industry and will have insights to share. In beauty and personal care, if it's an all-natural skincare product and different skin types might react differently, we would try to get at least three to four people to test it out. It can depend on how many samples someone sends us.
It's very hard to make the cut for The Grommet, right?
Yes, it's hard to get on The Grommet. We are selective. We want to make sure a product is ready. The percentage of all that is reviewed that ends up as Grommets is 3%. When they make the site, they're officially a Grommet.
Is there a time of year that's the most advantageous for a brand to contact The Grommet?
We scout a lot of our products for the fourth quarter in the summertime. So, the short answer is probably summer, but there are gifting opportunities all year round. Mother's Day, Father's Day and graduation are huge times of the year for us. It's kind of like a second Christmas, and we start planning for that in January.
One thing that's really unique about our platform is the one launch a day. We provide a high level of visibility to one brand a day, and we are very strategic about our calendar placement. That product will live on our home page that day and be the focus of the daily email that day. It's a huge opportunity for a maker to get their product in front of a large group of people who are potentially interested in the product. Our main goal is to help them convert and make money.
Why would a brand chose drop-ship over fulfillment by The Grommet or vice versa?
A brand might choose drop-ship if they want to be able to control the entire experience for the customer. They might choose drop-ship because maybe their packaging is glass, the product is a perishable good or has a specific expiration date, or it needs to be maintained in a controlled environment that our warehouse is not able to maintain. There was a product we launched called ViaBuff. It's a very high-quality loofah body scrubber with a sponge material that caters to skin type. We had that drop-shipped because it was easier for customers to have a customized experience that way.
For fulfillment, sometimes we take the product for the simple fact that we work with small makers, and it may be only them or perhaps they have someone helping them part-time. So, if they get 100 orders a week, they may not be able to manage that, but they may be able to fulfill a $7,000 purchase order by sending it to us in two weeks. To deal with the day-to-day orders and manage their business may not be possible. We have the capability to ship orders for them, and we take care of the logistical aspects. In general, we favor fulfilment. It's a lot easier for us to control inventory and make sure we're in stock.
Who is the core customer for The Grommet?
Our consumer is predominantly female. We don't necessarily have an early adopter, but a fast follower. She's not afraid to try something new, but she wants somebody else to maybe vet a product or experience it first.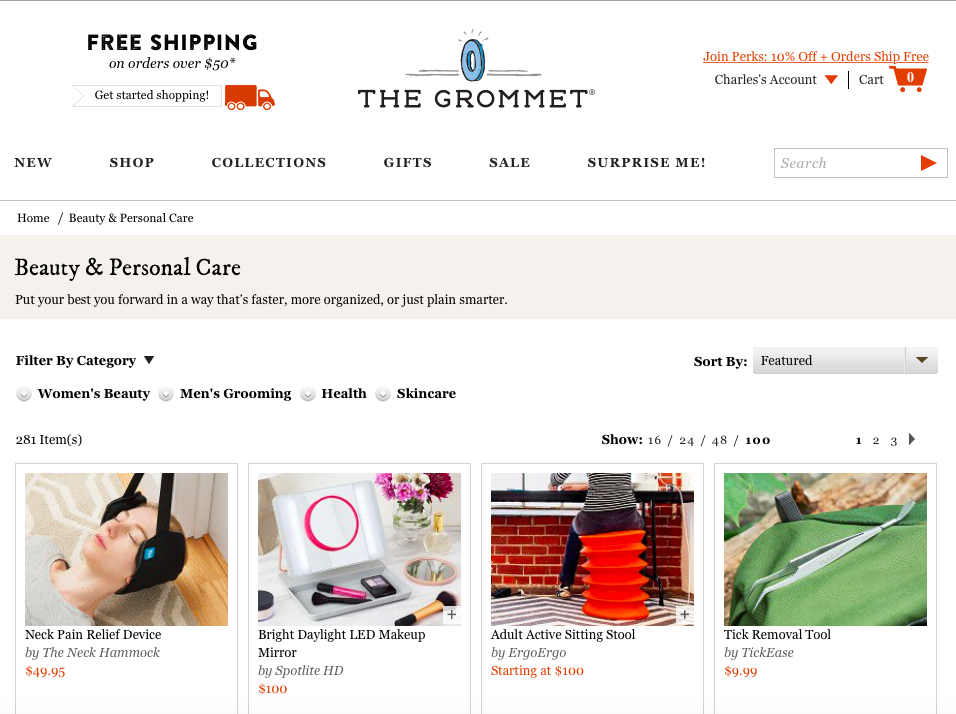 Content is a crucial part of The Grommet. Can you tell us about the content?
That is the biggest differentiator between The Grommet and other sites. We have our own in-house media team. We dedicate quite a few hours a week to planning videos and executing on stories we want to tell. Our process for that is that we have a discovery team member that works with the maker to gather insights from them, what language they use to talk about their products, what assets they have, either videos or photos, and what press there has been about their product. We gather as much information as possible to create custom content that will live on our site. We incorporate the maker's voice and The Grommet voice. We don't want other e-commerce platforms to have the same content as us. We want our customers to look at our content and know it's from us.
There's a sale section on the website. What's the approach to sales?
We are not a discounter. We do have a sale section because maybe a maker is going out of stock, or we invested in a different SKU and they are no longer moving forward with the version we had stock in. Sale items are typically funded by the maker. We talk about what that opportunity could look like for them. We have the sale section because some people shop sales, but it's not part of our business model to have sales.
What are growth opportunities for The Grommet?
We are coming up on our 10th birthday. We have a side of our business where we service B2B called The Grommet Wholesale. It's a team that manages about 12,000 gift shops and large brick-and-mortar relationships, and guides buyers to products that are really unique and innovative to have in their stores. The team also represents a lot of brands at trade shows. Last year, we were acquired by Ace, and that's introduced us to a whole new consumer base, including the women shoppers at Ace. People know Ace as a hardware store, but it's much more than that. There are individual store owners that really take pride in their businesses, and they often have really unique products outside of the hardware category. There are gifting opportunities for makers to be in that space. Ace is looking to bring innovation into their stores, and we are proud of that relationship. It's been an amazing partnership.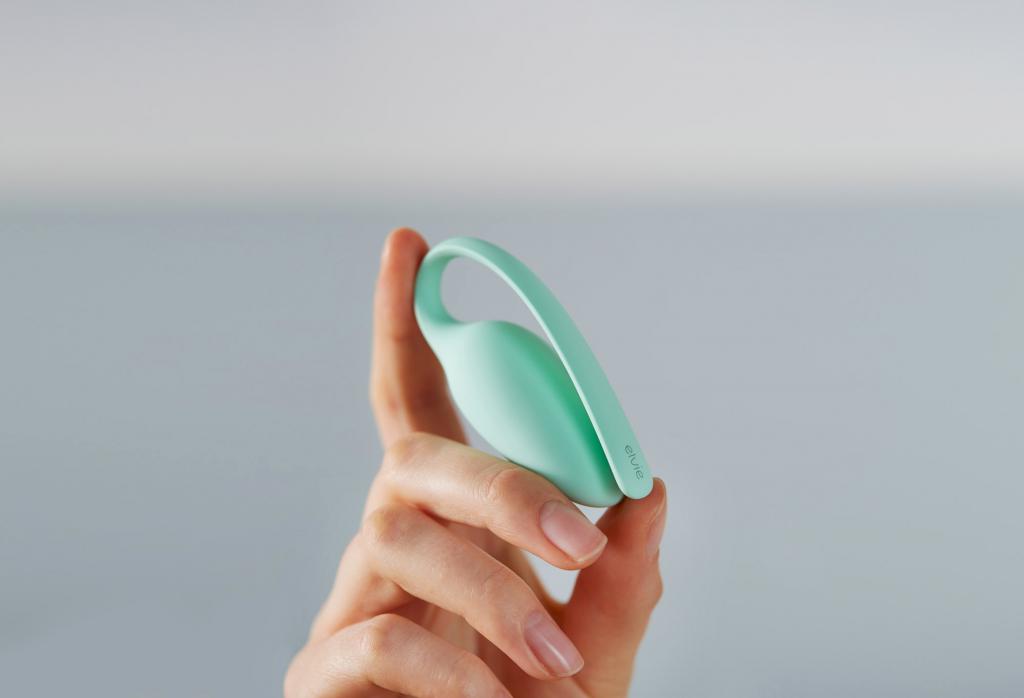 What's it like to be in your role?
It's very cool and fun. On a personal level, it's inspirational to be talking to business owners and sharing their stories. I also spend a lot of time identifying what is trending, and what I can find that will be interesting to our consumers and keep our assortment unique. Those are the things that excite me. The other aspect of my role is that I am a liaison between our buying team and the creative team. We work with the creative team to enhance product stories. Are we using the product correctly and using the right language to describe the product? Are we positioning the product appropriately? I help make sure our messaging is consistent. Every day is different, but it's always busy.