Curator Quentin Smith Partners With Régime Des Fleurs Founder Alia Raza To Launch "Climatic Skincare" Brand Topi
Even if you know nothing about Topi, a cursory glance at the packaging will lead you to assume its creators have impeccable design pedigree—and you'd be right. 
The new "climatic skincare" brand is the latest endeavor from Quentin Smith, former Cooper-Hewitt curator and founder of chic beach recreation gear specialist Artemare, and Alia Raza, founder of high-concept luxury fragrance line Régime des Fleurs. Artemare has collaborated with Goop and André Tomes Balazs' The Sunset Hotel on items like a $500 custom retro skateboard, and Régime des Fleurs is known as much for its stunning and singular perfume bottles as for the scents held within them. With Smith at the helm and Raza as creative director, Topi is elegant, elevated and tasteful—from its outer boxes to its formulations.
The brand debuts with two vegan, unisex face products—Sun Serum and Snow Serum—formulated to defend the skin from environmental aggressors that are constantly in flux. They're housed in artwork-adorned black and white glass bottles designed for Topi by frequent Régime des Fleurs collaborator Klee Van Schoonhoven and priced at $95 each for a 30 ml. size. Smith says he and Raza aimed to keep the price tags under the triple digits, but still have Topi be aspirational. "People sometimes feel comfortable paying a little bit more for something if it's going on their face because they associate a higher price with a better result," he says. "It was a little bit of business, a little bit of marketing and also just a bit of who I wanted to reach."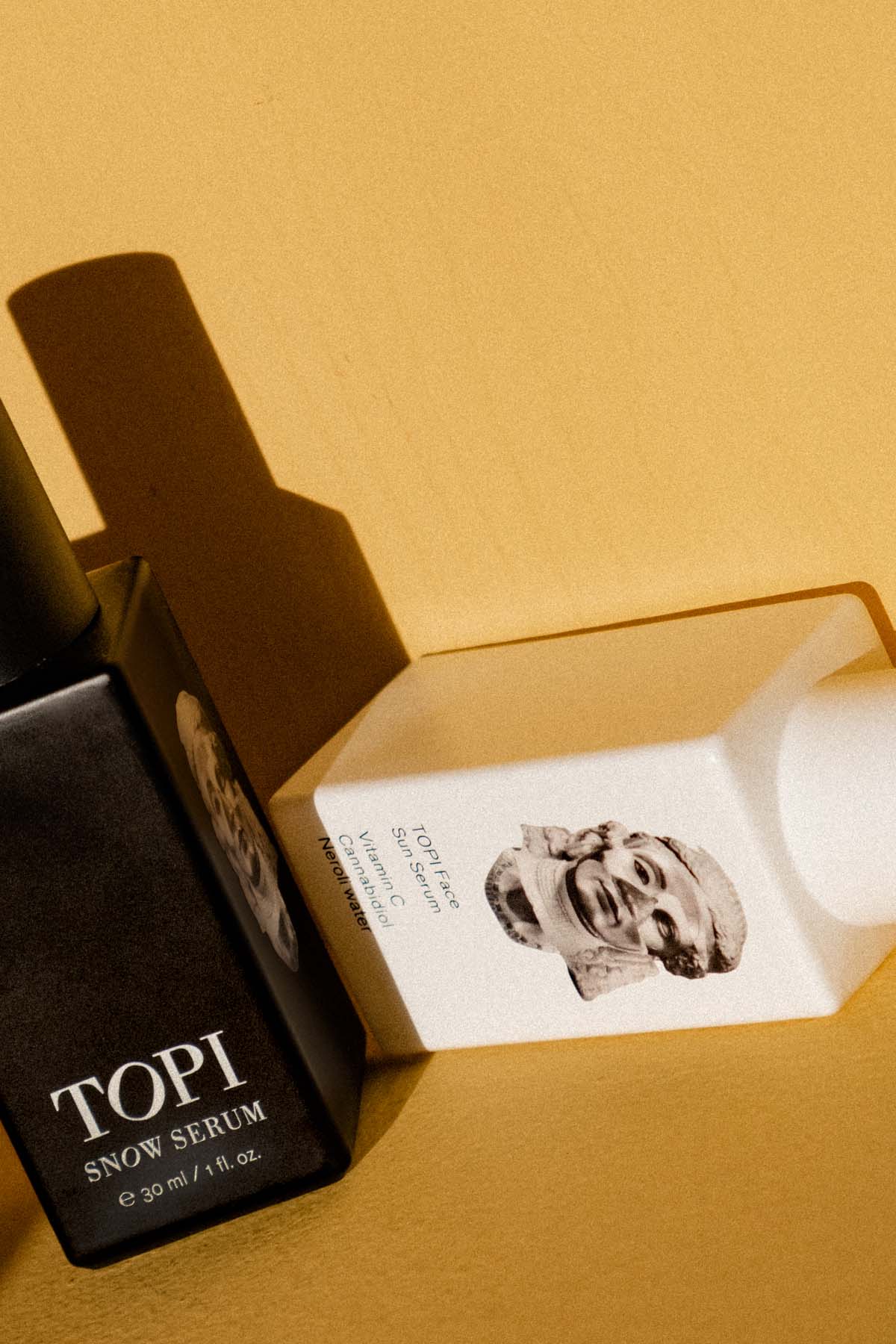 Raza and Smith have bootstrapped Topi, just as Raza has thus far bootstrapped Régime. Smith praises his filmmaker-turned-beauty entrepreneur co-founder's "encyclopedic knowledge when it comes to plants and flowers and how to combine them" as one of the many reasons he was excited to partner with her. He adds, "I wanted it to be a very straightforward, almost minimal approach to skincare because I'm not someone who likes to go through a 12-step routine. My lifestyle is really a part of the brand concept. We both travel a lot. I find myself probably on a plane at least twice a month. So, I wanted something that would address the issues that I was finding I was having with traveling and being in different environments."
Topi tackles the skin woes Smith—and many other frequent travelers—experience with pared-down, actives-packed ingredient decks. The brand is committed to every component of the formulas being ethically sourced and wild harvested. The oil-free Sun Serum contains vitamin C, gotu kola sea buckthorn and neroli flower water, while the more nourishing Snow Serum features niacinamide, squalene, rice bran and rose flower water. Smith and Raza vetted 35 versions of the serums before landing on the final formulas. Through early consumer feedback, Smith discovered that many people are layering the thicker Snow Serum on top of Sun Serum.
Both products have 300 milligrams of CBD, but Smith points out that Topi is not a CBD brand. "We used cannabis because it was an ingredient that addressed inflammation," he says, noting not all of Topi's products will have the hemp-derived cannabinoid. Future offerings will be released at a measured pace. Topi will concentrate this year on promoting Snow Serum as temperatures drop. Within the next six months to a year, it plans to unveil three additional Topi products intended for the skin below the neck.
"In a market that is so crowded, there's so much noise, we thought the best way to differentiate ourselves was to be very specific and to be very focused," says Smith. "That's really how our minds work anyway. When you're working at a museum, you're literally looking at one object, and you're talking about it, you're writing about it. You're thinking about it in terms of who designed it, where it came from, what year was it designed? What is it made out of? Very much focused on the detail of a particular thing. You'll see that play out as the brand grows." A travel kit, with enough Sun and Snow Serum for one to two days is also forthcoming.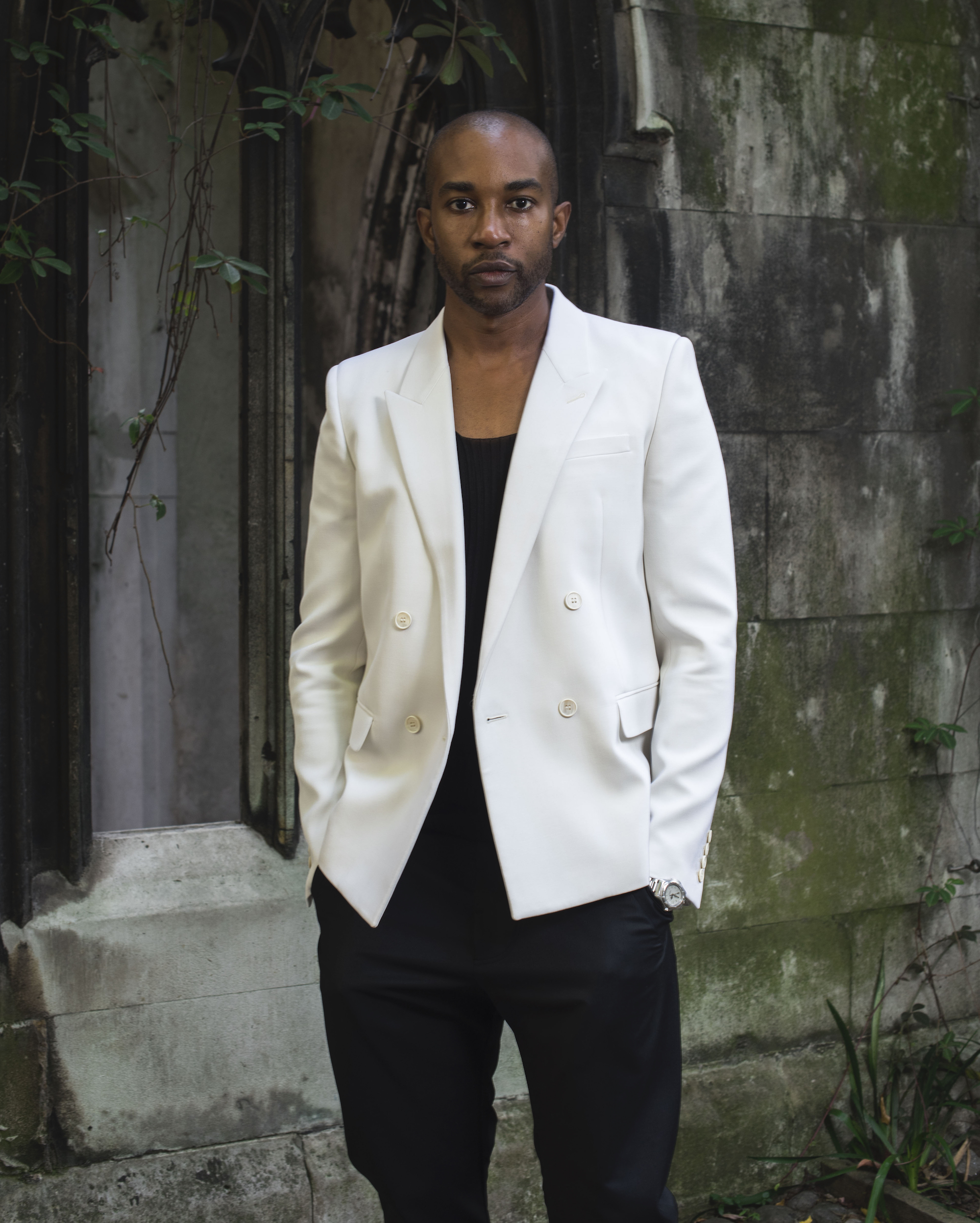 As Topi builds its distribution, it's expected there will be a fair amount of overlap with Régime des Fleurs' retail partners. The brand has already entered The Real Real's physical retail locations in three cities. The luxury resale destination has assembled a beauty offering in the last few years under its Curated by TRR collection, which includes new home, art and beauty merchandise. Among the beauty brands at The Real Real along with Topi are Fur, Kahina Giving Beauty, Mara, Lanshin and Dr. Lara Devgan.
Because The Real Real carries Régime des Fleurs, Raza has forged a strong partnership with it. "We do pretty healthy business with them in terms of Régime," she says. "They buy a lot of candles and a lot of fumes, and they sell them both in their stores as well as online. That's our first big retail partner that we chose to go with [for Topi] because of my relationship with them, and I believe in them and in what they're doing in the resale space."
Artemare's goods available at upscale hotels, and many have expressed interest in picking up Topi. "A lot of the hotels that I'm working with, they're like, 'Oh, skincare for travelers. We'd love to have that in our shops,'" says Smith. "We're still in the very early stages, but there've been a lot of talks about doing collaborations and work with hotels."
First up, though, is the debut of Topi's long-term collaboration with Joshua Tree surf shop-cum-art gallery Album Surf. Topi is creating custom packaging for its products, which will be sold at Album Surf.