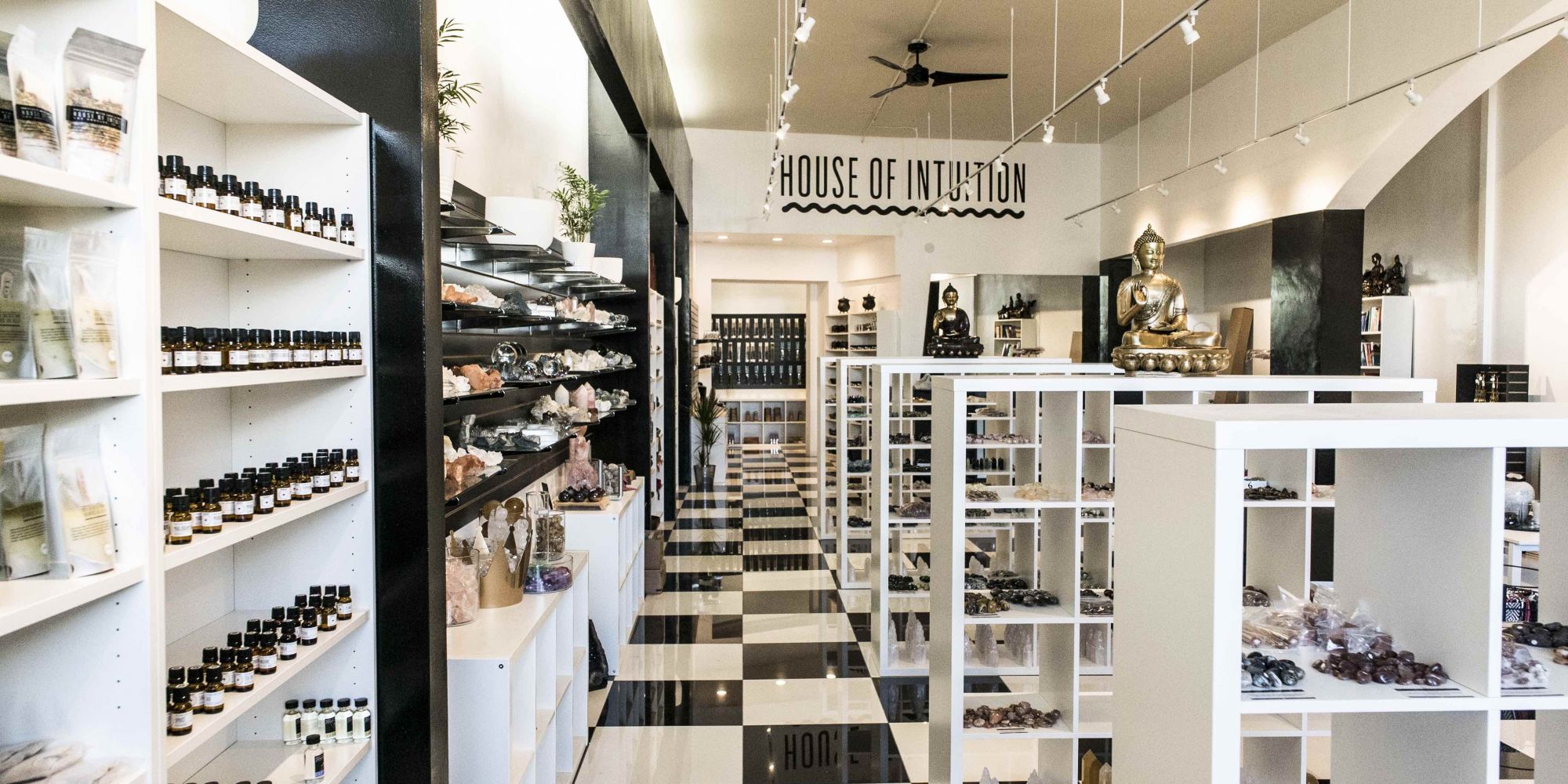 Metaphysical Mecca House Of Intuition Adds Beauty Department And Fourth Location
At House of Intuition, growth is in the cards.
The Southern California metaphysical retailer has opened its fourth and largest shop in Santa Monica, Calif., and a beauty division helmed by Jade Taylor, former beauty director at Nylon magazine. In addition, it's embarked on a collaboration with The Ritz-Carlton Spa in Los Angeles, premiered a video platform called HOI.TV, and enlarged the House of Intuition beauty product portfolio with face mists and body polishes.
The 2,000-square-foot Santa Monica store has a practical reason for being – it's easier for customers on L.A.'s Westside to visit than House of Intuition's 1,200-square-foot Echo Park, 700-square-foot Highland Park and 1,800-square-foot West Hollywood locations – and a spiritual reason for being. House of Intuition co-founders Alex Naranjo and Marlene Vargas, who are partners in life and business, turn to spirit guides to affirm their retail strategy.
"House of Intuition's first storefront in Echo Park was done in a very unconventional manner for a new business. The usual entrepreneur starts a business with a clear plan and strategy in mind, but, for us, it was going to a Tarot reader and asking for guidance about a dream we had to help others by opening up a spiritual shop. The obvious answer was yes, and here we are eights years later following that same intention as we expand," says Naranjo. Vargas continues, "We also happen to be two very savvy business women. We just can't deny our unconventional approach to how HOI has become such a success."
Taylor joined House of Intuition in October to build the retailer's beauty merchandise, and pick brands for its foray into third-party indie beauty and wellness products. She, Vargas and Naranjo are big believers in featuring small, ethically-sourced, handmade, and female- and LGBTQ-owned brands in the beauty and wellness assortment.
"When you think of a beauty section in a store, it's most likely curated for female buyers (think: millennial pink everything), but our beauty section is really geared for everyone. Most of the product offerings are unisex/genderless, and there aren't just external beauty products available, but also wellness products like teas, herbal tinctures and supplement powders," says Taylor, noting House of Intuition's beauty motto is, "Beauty is a self-love ritual."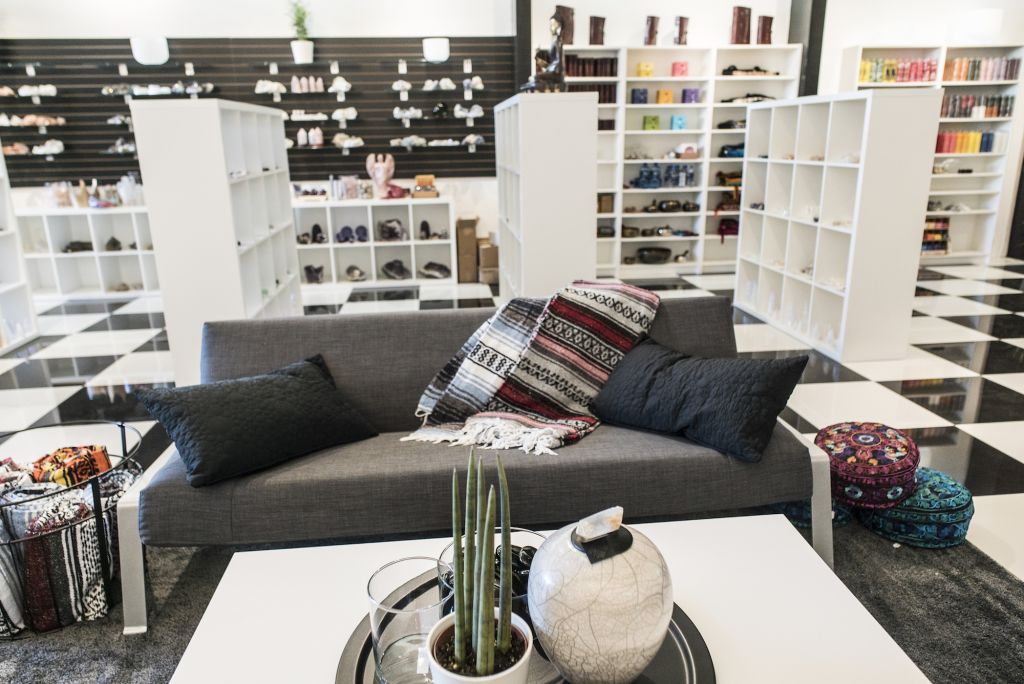 Aquarian Soul, Wooden Spoon Herbs, Under Aurora, and Fat and the Moon are early entrants in the beauty section that's kicking off at the Santa Monica location. Taylor says, "We were really careful not to over-order too many of the same product lines because we didn't want to confuse the customer especially since this is our first time selling other brands at HOI."
House of Intuition cultivates different online and offline assortments. "An in-store client gets to experience the vibrational energy of walking into the space whereas the online client gets a box packed with heavy cardboard and bubble wrap to protect their precious sacred items," says Naranjo. "Our online store — being that it's a global service — is very successful, but it takes more hours and labor to keep it a success."
For The Ritz-Carlton Spa, House of Intuition developed the Rose Quartz Mani/Pedi Treatment, Jade Facial Treatment, Chakra Balancing Massage and Custom Clarity Package, a service that incorporates three crystals customers take home after, for $80 to $450. For its own beauty collection, the retailer recently launched Crystal Body Polishes in amethyst, rose quartz, jade, opalite and citrine options. It will soon launch Arcana Skin Mystics face mists designed for various skin types and inspired by five arcana archetypes in Tarot decks: the Magician, the High Priestess, Strength, The Moon and The Sun.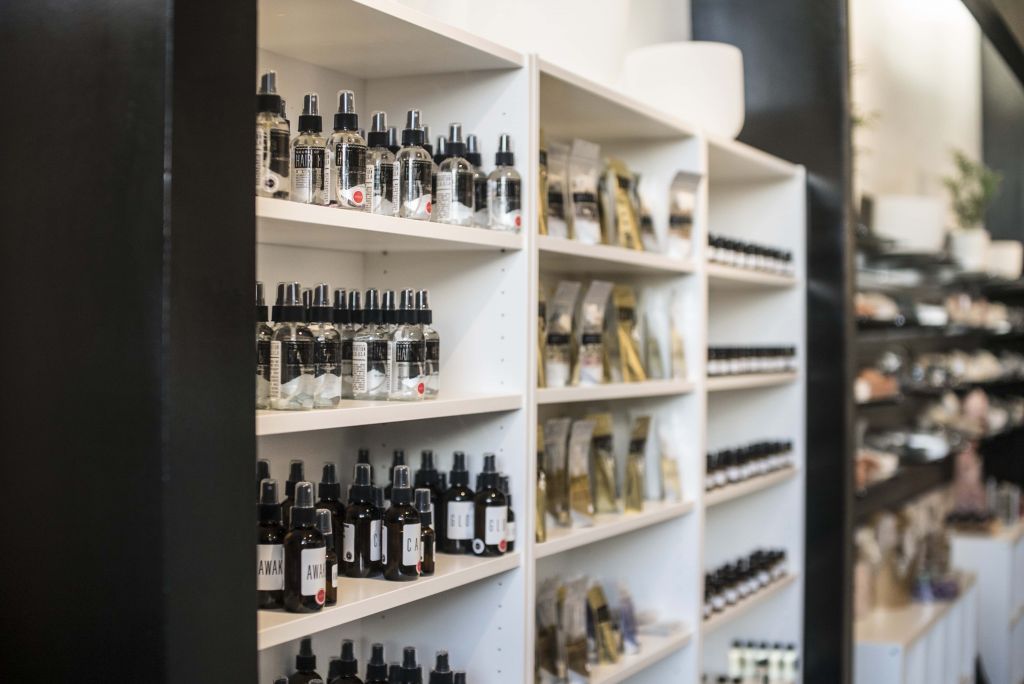 "These multilayered ideas make a beauty ritual even more special because the customers not only know exactly what's in the products, but how and why they were made, and with what kind of intention," says Taylor. "If you think about it, there are millions, if not billions, of beauty products in the world that are made with little or zero intention behind them, mostly because they're being manufactured somewhere overseas by an army of robotic machinery and/or severely underpaid and mistreated employees. It's the exact opposite at HOI. All of our products are handmade with love and magic."
House of Intuition's expansion comes in a day and age when what was once considered new agey is increasingly commonplace. "It's hard to deny that metaphysics has been more popular within the collective's interests in the last few years, and we've definitely seen that shift firsthand," says Vargas. "Our customer isn't someone we'd like to define because we see spirituality as something so sacred and special to each individual, and it's a unique relationship only they have the right to define for themselves. You can assume that many people who make the conscious decision to visit House of Intuition are likely interested in spirituality, metaphysics or alternative healing."
House of Intuition's metaphysical mission isn't finished. The retailer is planning on more stores, and Vargas and Naranjo are in discussions with potential partners aligned with House of Intuition's philosophy to extend the enterprise via licensing. Naranjo says, "This new chapter is very scary, but HOI is bigger than both of us, and we intuitively know this is the best choice for our sacred place."