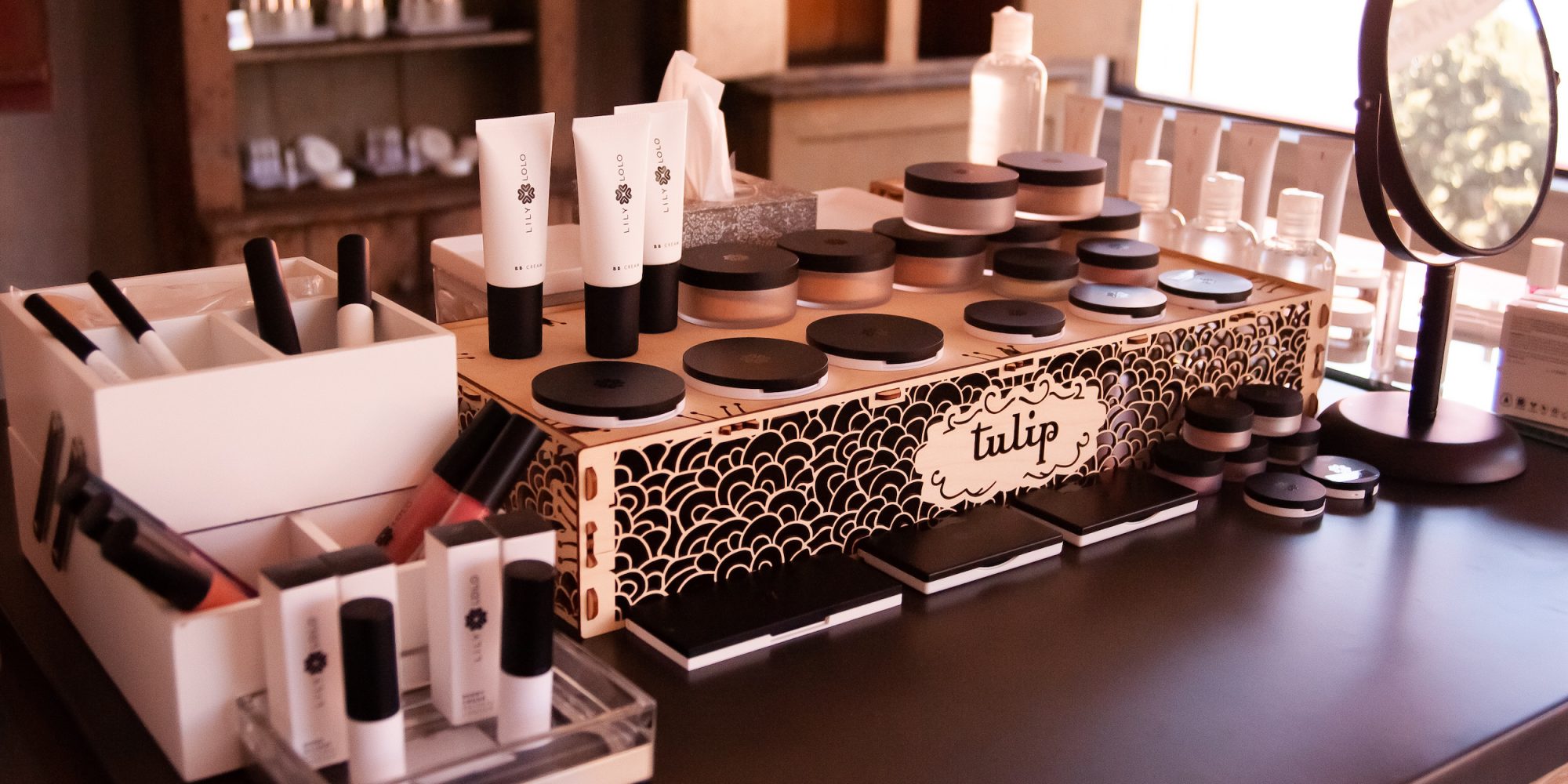 What Retail Apocalypse? Indie Beauty Shops Spread Across The Country
The entrepreneurial bug that's bitten beauty and wellness brand founders has spread solidly to the retail sector.
In the last few years, independent beauty stores have popped up in cities across the country, and existing concepts have expanded. Many emerging beauty retailers adopt a hybrid model offering services and educational programs along with shopping experiences. As department stores struggle, these niche players are executing events, adding personal touches and providing unique offerings to distinguish their concepts from big-box chains and compel consumers to buy products from them, rather than Amazon Prime.
"There is definitely room for small, niche players [like] Space NK potentially, but those players need to bring a differentiated proposition, whether highly experiential, specialized, engaging or with a well-curated assortment, and they are very far from being comparable to Ulta in terms of footprint," says Tatiana Perim, consumer and retail practice principal at A.T. Kearney. She adds brick-and-mortar purchases aren't going anywhere in beauty. Perim says, "E-commerce is becoming more important, representing more on the mix of business, but retail stores will continue to represent the majority of sales in the long-term."
Stateside, most of the rising niche beauty shops have no intention of becoming the next Space NK. They often provide a selection of emerging beauty and wellness brands in geographical areas where those products aren't widely found. These single-door shops and chainlets are benefitting as department stores lose their luster as beauty discovery destinations and shutter locations.
"We expect the large majority of shoppers impacted by [department] store closures to switch to alternative brick-and-mortar locations, with proximity likely to be a major factor, alongside choice and price, for many consumers," says John Mercer, head of global research at Coresight Research. "This suggests opportunities for brick-and-mortar specialist stores to capture new shoppers and drive additional purchases." Beauty Independent spoke to a handful of such specialist retailers about their businesses and growth prospects.
Bright Body: Bright Body is a new entrant on the Richmond, Va., retail scene. Founder Gabi Day started as a formulator and broke into brick-and-mortar in October. "It all started with my own, in-house line of hair, skin, and body, Bright Body," she says. "I live with multiple chronic illnesses and, during my most recent flare-up, I was focused on giving my immune system as much of a break as possible. I started reading the labels on all my personal care products and realized I could do better. I set out looking for a brand that only uses Environmental Working Group safest-rated ingredients, and found that brand didn't exist. So, I set out creating that brand myself, beginning with 18 months of learning cosmetic chemistry."
Since launching Bright Body in October 2017, Day was bombarded with skincare and wellness questions about products outside of Bright Body's offerings. Customers sought her input on what makeup, sunscreen, bar soaps and bath bombs to buy. "I realized one day I'd love to have a shop where all those things can live together with Bright Body products as the backbone," says Day. "The fact that my hometown of Richmond didn't already have a retailer for clean beauty presented a unique opportunity in this health-conscious, eco-friendly, loyal-to-local region."
Day poured $22,000 into the approximately 765-square-feet shop in a short period to cover the build-out and inventory. Day saw the space in June, signed the lease in July and opened Oct. 1. The location includes a small, open kitchen-style production area where Bright Body goods are handcrafted. Day says, "It's vital to align your business with the community in every sense of the word, from an understanding of your unique market to a service-minded approach with customers and the greater community. For Bright Body boutique, that means stocking local goods, partnering and cross-promoting with local businesses who vibe with what we're doing, and giving back to nonprofits that align with our ethos. I firmly believe that if you give to the community, it will give back to you."
Trellis Beauty: Tracy Gori introduced Trellis Beauty to Raleigh in March of last year. The store's collection of clean beauty addressed an unmet need, and customers demanded more. Earlier this year, Gori more than doubled her shop's footprint from 825 to 1,710 square feet. The expansion is part of her plan to grow the shop's service revenue. The extra square footage allowed Trellis to build the country's first Beauty Steam Bar, a collaboration with the brand SkinOwl.
"Currently 15% of our total business, we plan to double services in the first year, projected to be 50% or more of our business in the coming years, keeping a healthy retail business as well," divulges Gori. "We also needed the additional space to host our well-known Skin Parties. We average five to 10 [a year] currently with projections to double that in the first six months."
The expansion cost around $15,000 to complete, and Trellis received some financial assistance from the Lafayette shopping center it's located in. In addition to skin and makeup services, the store offers customers hundreds of products from over 30 brands, including Fitglow Beauty, Indie Lee, 8 Faces and Ursa Major. On the Trellis ethos, Gori shares, "We are strongly focused on creating experiential retail, which is something the consumer is craving in the beauty segment. It's not just about carrying 100 brands anymore. We are moving into more of a tightly-curated retailer that brings the brands to life with services, events, parties. Our innovation in services along with our education-first company philosophy has highly contributed to our major growth in the last year. Our new space is bright, fun and welcoming, which adds to the wow factor."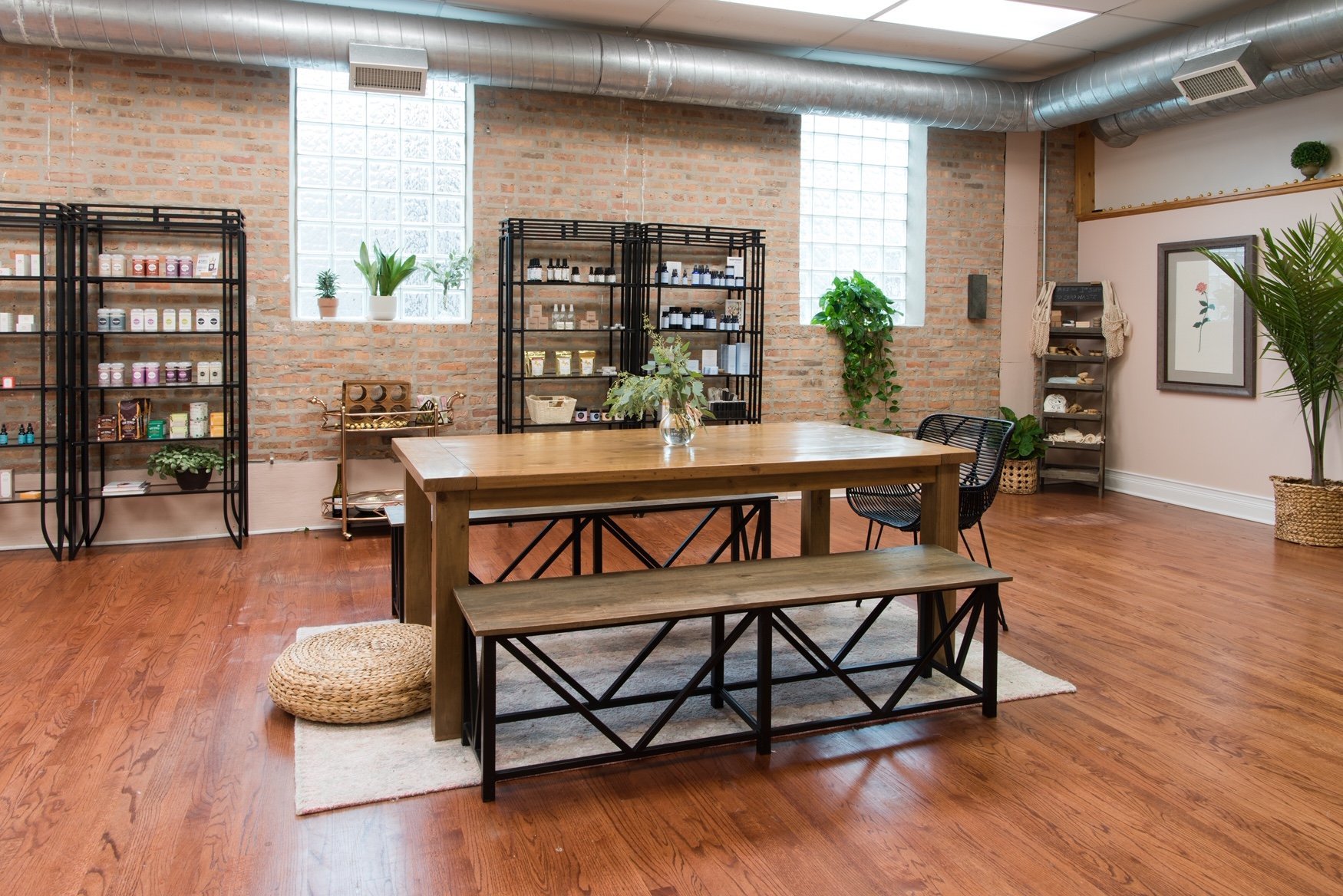 Lena Rose: Jenny Duranski opened Lena Rose in the Chicago suburb of Albany Park in late 2016. The spa and retail space providing treatments featuring nontoxic, organic beauty brands grew at a steady clip, and Duranski quickly realized Lena Rose would outgrow its 900-square-foot home. "We [had] one treatment room, and I wanted to increase our service menu and be able to accommodate, multiple groups or couples and do special events," she says. The Lena Rose team also expanded from three to 10 employees in a year. Duranski recently opened a second Lena Rose location double the size of its first store. 
Duranski describes Lena Rose's business model as "a spa with retail," and it's revenue breakdown has been 70% service and 30% retail. Along with a second treatment room enabling the addition of energy work, body scrubs, body wraps and more to the spa menu, Lena Rose's new door boasts a dedicated classroom for workshops and events, a relaxation area complete with a café and an enlarged retail area. In the enlarged retail area, Lena Rose carries brands like Moon Juice, Osmia Organics, Bkr and Humble.
Soon after opening the second location, Duranski concluded operating two locations one bus stop apart was less than ideal. "We ended up closing our Manor location to operate out of this larger and more streamlined space," explains Duranski. "It has so much more foot traffic and local shops to collaborate with. We've added events. We launched Lena's Lab, an interactive DIY beauty workshop where customers come in and learn how to make their own products, from clean fragrance to a cleansing oil to a cream bronzer." She reveals that Lena Rose will soon launch a bath and body care line with three stockkeeping units. 
The aesthetician-cum-store owner bootstrapped the spa opening with her business's cash flow and proceeds from a summer sale. The scrappy entrepreneur shares the expansion cost $20,000. "I've done all the drywall patching, I've done all the repairs and I run all of them. I'm pretty handy, which comes in handy. It keeps costs low, but, it's a lot of time and energy," says Duranski. "I am hoping at the next location I can afford to hire and do a $100,000 buildout, and have everything designed and look amazing."
Duranski has high hopes for the future of Lena Rose's place in the Chicago retail landscape as it becomes known not just as a green beauty spa, but as a destination beauty retailer like Merz and Credo. "We're still trying to build a market and gain customers here as people become more aware of local green and clean beauty businesses," she says. "One thing we do see an influx in is demand for spa services. Since we incorporate our retail brands into our service menu, clients can experience a relaxing Maya Chia or Fitglow facial after falling in love with the brand no matter where they bought it."
Beauty Heroes: Former spa director Jeanne Jarnot launched Beauty Heroes five years ago as a subscription clean beauty discovery service. In the summer, she extended it from a digital venture to a physical presence with Beauty Heroes' debut store in the San Francisco suburb Novato, Calif. Jarnot spent $100,000 constructing the1,200-square-foot location that houses services, merchandise and a content creation nook. The store features clean beauty, wellness and lifestyle products ranging in price from under $10 to $200. Brands carried in Beauty Heroes' IRL location include premium clean beauty skincare favorites like Laurel Whole Plant Organics and Kahina Giving Beauty as well as up-and-coming clean lines like Free + True Skincare.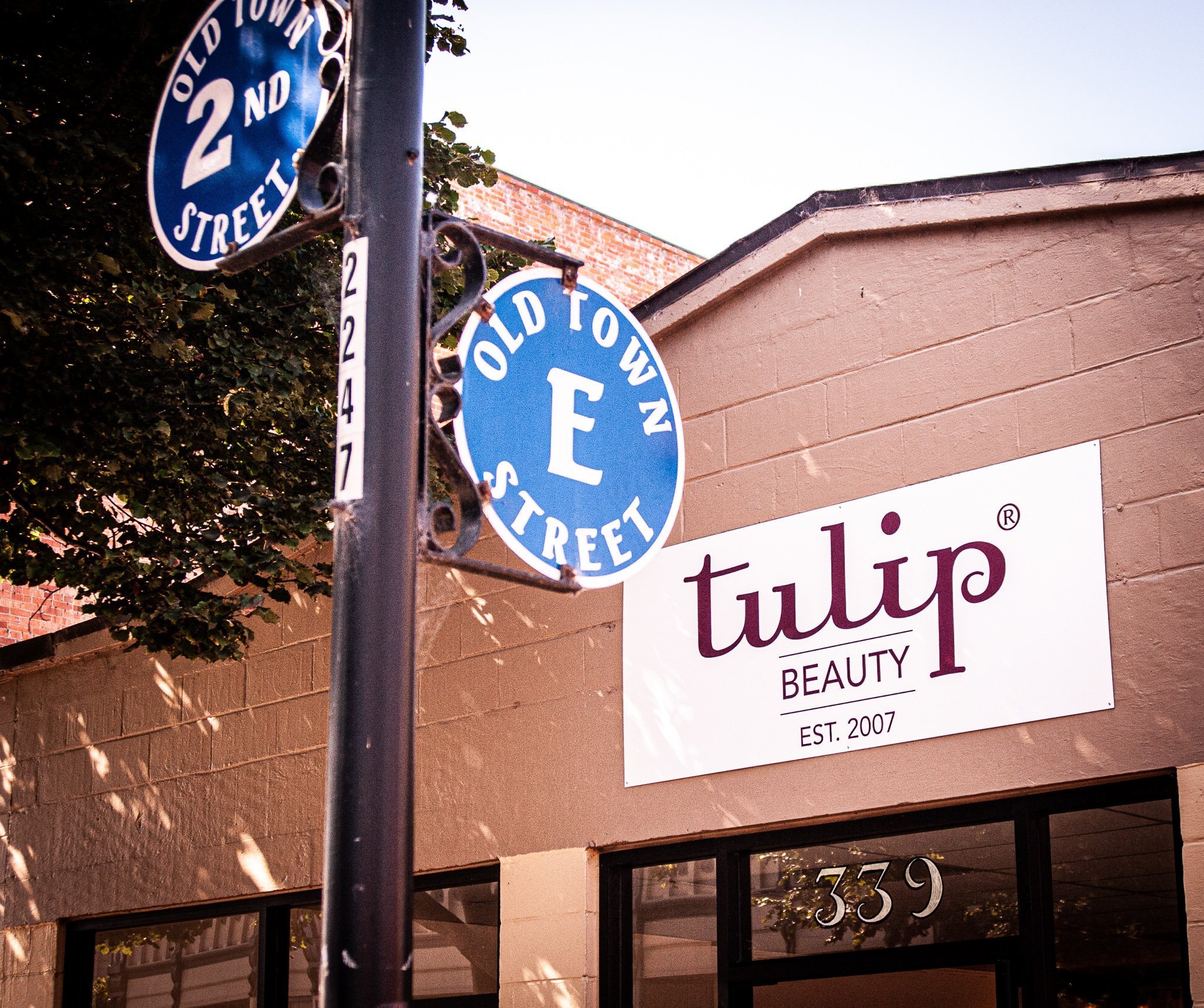 Tulip Beauty: If anyone is still questioning whether CBD beauty is here to stay, the opening of several CBD-centric retailers like Standard Dose and Come Back Daily may calm their doubts. 
Victoria England, founder of CBD product purveyor Tulip, is the latest contender in the CBD retail landscape. In August, she opened the 680-square-foot Tulip Beauty location in the heart of California's cannabis industry in Humboldt County stocking 30 clean beauty brands, most of which are selling products with containing cannabidiol, the non-psychoactive molecule from the hemp plant. There are a few brands in its assortment that are sans CBD like Ere Perez and Lily Lolo.
The marquee brand in the store is England's own 75-product strong Tulip fragrance, skincare and wellness range. And Tulip Beauty's location isn't only intended to retail it and other clean beauty brands. "We have an entire building for manufacturing, HQ offices and retail under one roof," says England. "The city of Eureka is very excited to support us because of the tourism element. People love that all of our Tulip brand products are made on site."
Tulip Beauty carries a mix of beauty, wellness and lifestyle items, including Satori Wellness CBD teas, jewelry, crystals, candles, incense, ritual and altar materials, books, tarot and cannabis accessories like rose quartz and amethyst pipes. England shares it cost $50,000 to $75,000 to ready the store for customers. "I felt like it was a small investment with a lot of return," says England "We already have a huge following and brand recognition in Humboldt and all of Northern California because of our Whole Foods accounts. People are very excited to use our CBD products because we offer something more like a beauty product and not just a wellness product. What I have created is a bright open space where people come in and get inspired."
England elaborates that having her own brick-and-mortar location has been a dream since she launched the Tulip product line over 12 years ago. "I think people want a more personalized experience," she says. "They need help making choices, and they appreciate a smaller quieter space to be heard in. We have a scent bar, and being a perfumer company originally makes people very excited to come in and play."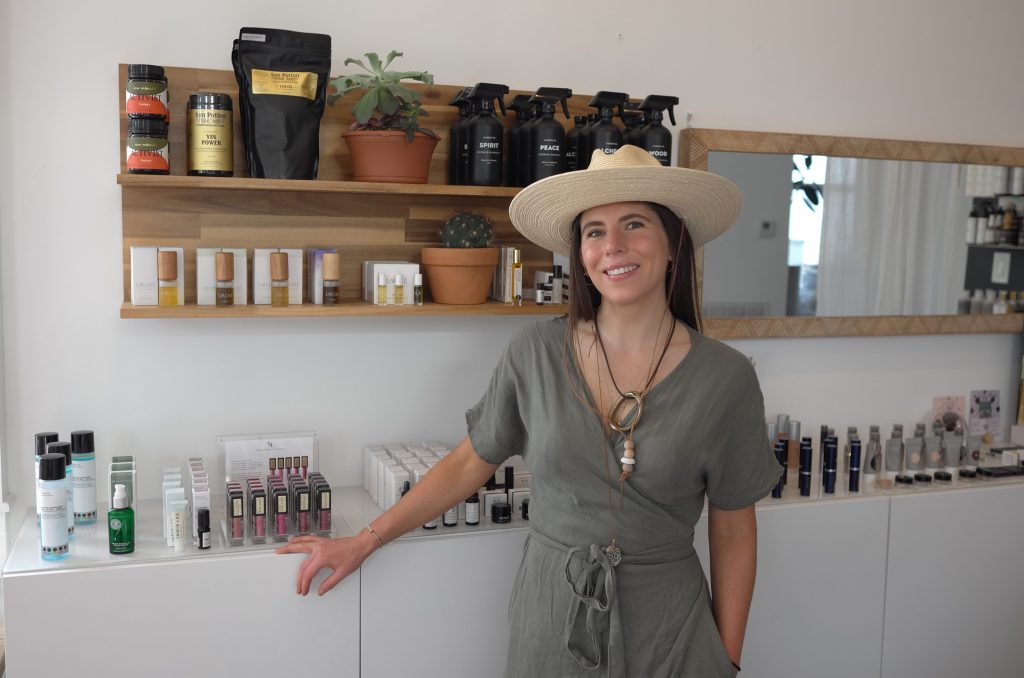 Vibrant Market: Ever since she was in junior high school, Lauren Trostorff was a health nut. She was early to an interest in veganism, detoxing and supplements.
But her enthusiasm for wellness didn't immediately turn into a career. After college, she left her native New Orleans for New York to intern at Carolina Herrera, Diane von Furstenberg and Ralph Lauren. Not satisfied in the fashion industry, she returned home to work in interior design, but that also wasn't fulfilling her. She remembers, "An employer that I had in interior design was even telling me, 'You are so obsessed, you should do something in health.'"
In 2017, Trostorff finally followed her passion, and held several beauty and wellness pop-ups, culminating with a two-month temporary location at Union Market in Washington, D.C., in the summer of 2018. Shortly after the Union Market pop-up, Trostorff opened the shop Vibrant Market in November last year in an 800-square-foot second-floor space above the juice bar Raw Republic in New Orleans.
"Vibrant Market is a wellness, beauty and lifestyle store where we believe what you put on your body is just as important as what you put in your body. It's a place where you can take control of your health and find resources for that," she says. "It's where biohacking meets the best of what nature has to offer."
The shop carries a diverse array of around 70 brands, including Aether Beauty, Activist Manuka, Cocokind, Kari Gran, Ecobrow, Vital Proteins, Erbaviva, Sappho New Paradigm, Raw Elements, Province Apothecary, Ora Organic, Shiva Rose, One Love Organics, Maya Chia and Osea. Skincare is currently the leading revenue-producing category. Among Vibrant Market's bestsellers are Osea's Hyaluronic Sea Serum, Maya Chia's Supercritical Omega-3 Chia Seed Oil, One Love Organics' Vitamin C Moisturizing Facial Serum, Sappho New Paradigm's CC Cream and Ecobrow's Defining Wax.
Trostorff's ambition is to plant an expansive Vibrant Market outpost on the major thoroughfare Magazine Street. She envisions it as an all-encompassing wellness and beauty destination with cryotherapy, yoga, a smoothie bar, infrared sauna and much more. Trostorff says, "It was a frustrating process not to have my full concept right away, but it was a blessing because our current location has been helpful in getting customers talking about Vibrant Market."