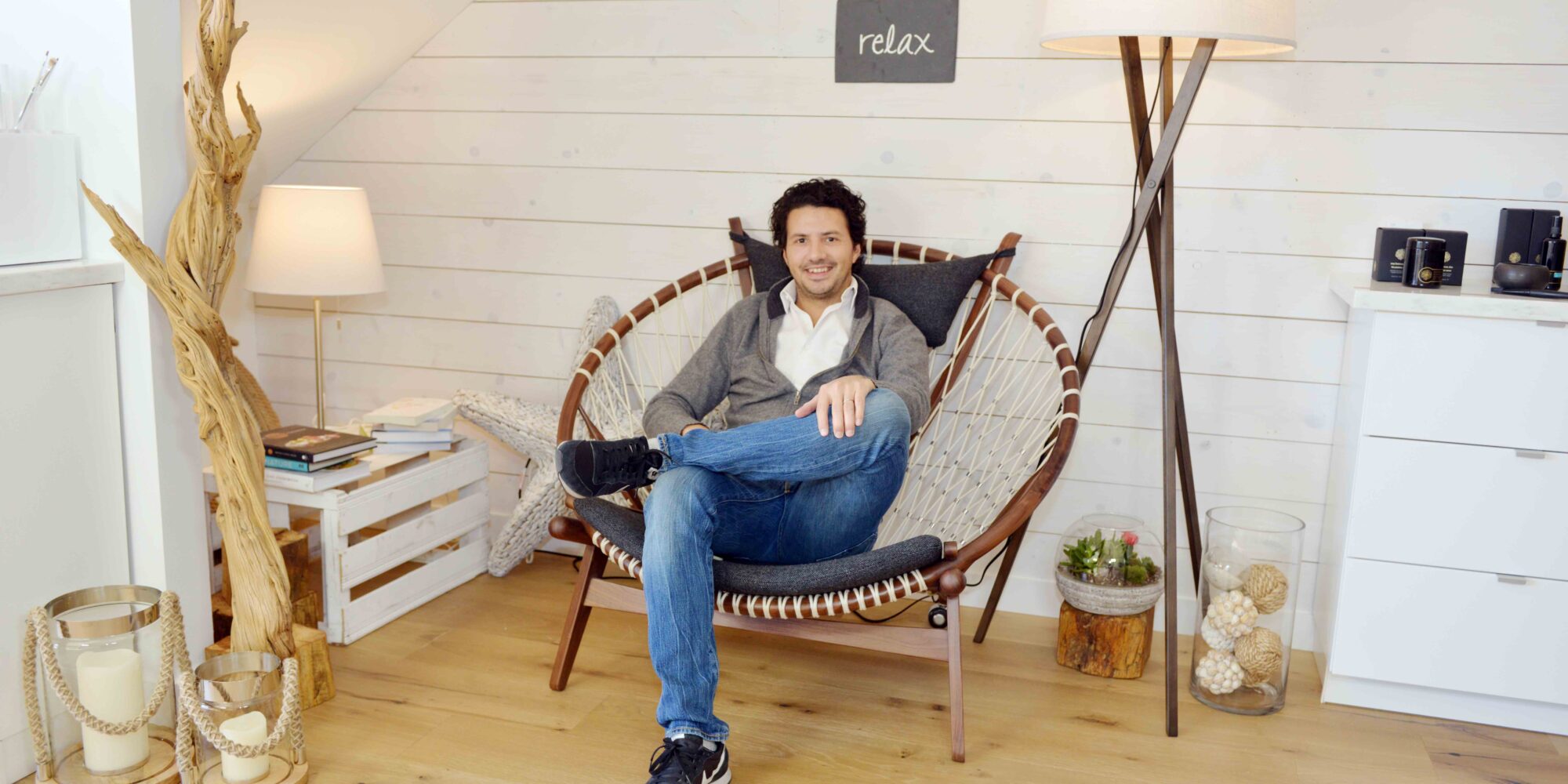 The Detox Market's Romain Gaillard On Consumers' Interest In Sustainability, The Threat Of Amazon And Clean Beauty's Next Big Trend
Romain Gaillard has a habit of calling the category his retail company, The Detox Market, specializes in green beauty. It's a language quirk that gives away its origins early in the trajectory of clean beauty, now the dominant term. Launched as a pop-up in 2010, The Detox Market, Beacon Awards winner for large indie retailer, preceded its closest clean beauty competitors such as Credo, Follain and Aillea, and clean beauty programs at chains like Sephora and Target. But The Detox Market hasn't become tired in its comparative old age. The retailer is at the forefront of e-commerce, diversity and sustainability efforts. Earlier this year, it acquired e-tailer Clementine Fields, launched a Sustainability Starts Now initiative to become a carbon-negative business by 2025 and committed to transforming its assortment to include at least 20% brands owned or founded by people of color. Today, Gaillard says, "Scaling up digitally is the No. 1 goal literally of all the clean beauty brands, and that's something we are really good at. Our focus is digital, and we have been growing very fast digitally." Beauty Independent talked to him about laying the groundwork for The Detox Market's digital growth, whether the clean beauty brand explosion will fizzle, the threat of Amazon and the future of physical retail.
What were you doing before The Detox Market?
I grew up in Paris, and I moved to the U.S. 17 years ago for an internship in tech. It was supposed to be a six-month internship. A lot of things I've done started as something I thought would be temporary. I continued for another six months and moved to London for another six months. I went to LSE [London School of Economics] to study accounting and finance after the internship. In the program, 99% of the people ended up in investment banking. In a program like that, the second you start, they tell you you need to get ready for investment bank interviews. The big investment banks like Goldman Sachs, Morgan Stanley and Lehman Brothers at the time hired from LSE. In investment banking, the No. 1 goal was to make money, and that didn't resonate with me, but I prepared to interview at one of the key investment banks. They contacted me and were like, "You should be proud you've be selected for an interview." They gave me dates, and I was going to be traveling. A woman at the investment bank was like, "Nothing is more important than an interview at this bank," but I said, "Forget it. It's not for me."
After I was done with LSE, I joined the San Francisco company I had been working at before, and I ended up working in Toronto for them. I spent a year there and went back to San Francisco. Then, I co-founded a security software company. We were building solutions against new types of malware. I also co-founded an app that helped you share and save web searches. We launched at about the same time as Evernote. We were obviously not as successful. I loved San Francisco, and I loved the people I worked with, but I wanted to get out of tech.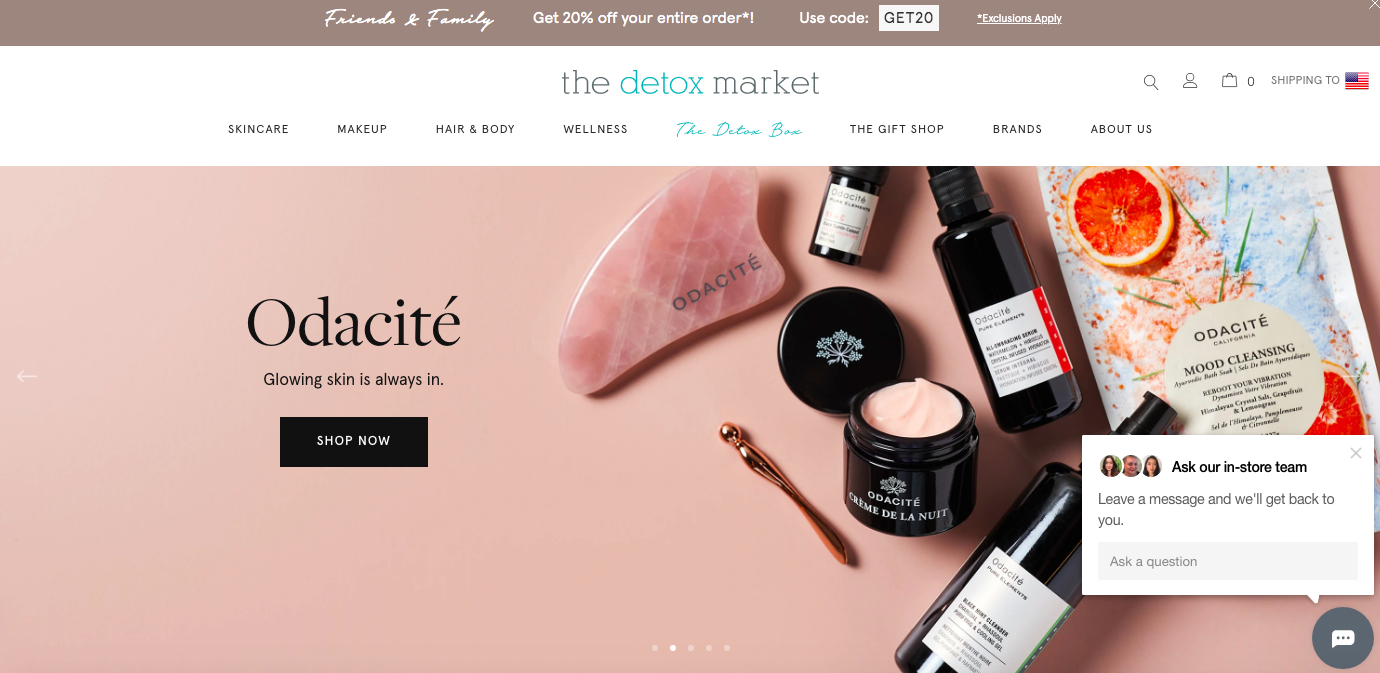 How did The Detox Market come about?
[Odacité founder] Valerie [Grandury] is a family friend who I've known for a long time. I knew her before and after her cancer, and she completely changed. Her lifestyle was so different before. When she started telling me about the changes she made, I began to do research and found an amazing new generation of brands. You had Odacité, Rahua, RMS and Honoré des Prés. My idea was to create a pop-up with the best of beauty, but health and wellness as well. I thought health, beauty and wellness were going to merge together, and you had to take a look at them from a holistic perspective. You can't just think about beauty products, you have to think about what you eat, what you drink, how much you sleep and how you take care of yourself.
In the first pop-up in 2010, we had a matcha tea bar inside. We were serving cold-pressed juices. We were selling air filters as well. It was a very cool concept, but I had no goal of scaling it up. We had the lease for two months, and I kept extending it because we were having fun. We started becoming part of the Abbot Kinney community, and I was very animated by the mission. I decided to take the pop-up and go to different cities and engage in a conversation about green beauty. We went to San Francisco in 2011, and we also opened our Hollywood location on Beverly Boulevard. All of that was at the same time I was getting married. That was probably the worst decision I have ever made. We scaled from one to three stores at the same time I was getting married in another country.
Why did you feel you could turn it into a real business?
I felt it was logical that this market was going to boom. It made absolutely no sense that people would spend a lot of money on expensive products that were full of cheap chemicals. Those clients were the same people shopping at Whole Foods, going to yoga and drinking cold-pressed juices. I felt like I wanted to really tell that story. The following year, in 2012, we opened in Toronto. We partnered with a Canadian couple and found a building that was 4,000 square feet. We had a naturopathic clinic with two doctors, a cold-pressed juice bar and a yoga studio. We were getting a lot of press, and influencers really liked what we were doing. I got close to the brand founders, and we were all on a mission, but the market didn't exist. The goal for the day was probably what it is in two hours now. It wasn't until 2014/2015 that it clicked. That's when we started blowing up.
What I'm very proud of is that we went through this very difficult time, and we never cut corners. We never changed the banned ingredient list to make it easier. We stayed clear about what we were trying to achieve, and we started really growing after that. In 2018, we opened the flagship in New York. We continued to open stores in Toronto as well. Now, we have six stores.
Even before the pandemic, online sales were at least half of The Detox Market's business. How did you build the online presence?
With COVID, it's a huge amount of the business. We started a Shopify store in 2011. We are one of the oldest Shopify customers. Very early on, we wanted to have an e-commerce presence. What is interesting about our growth in e-commerce is that we did it without investing a lot of money. For us, it's a matter of time. We have a very solid customer base of people that have been shopping with Detox for a long time. We operate our own warehouses, so we don't depend on a 3PL. That's an important part of the experience. The shipments come from Detox team members.
To grow on e-commerce, you either spend a huge amount of money to grow fast, but mostly you aren't going to grow with customers that are an extension of your store base or you grow with customers that stick with you and it takes longer, but you grow with a solid base of customers that are an extension of your client base in the store, and that's how we did it. I'm very thankful to the influencers, bloggers and press that talked about Detox over the years because they've been a huge part of building the company. We have also invested quite a lot in original content. It doesn't have a fast return on investment. It's this long, almost painful thing you have to do, and it's very hard to put a clear ROI on it, but it sets you up as an expert. We shoot all our visuals in-house. We have a studio and a team dedicated to that. To attract and incentivize customers to switch from conventional to green beauty, you need to have elevated content.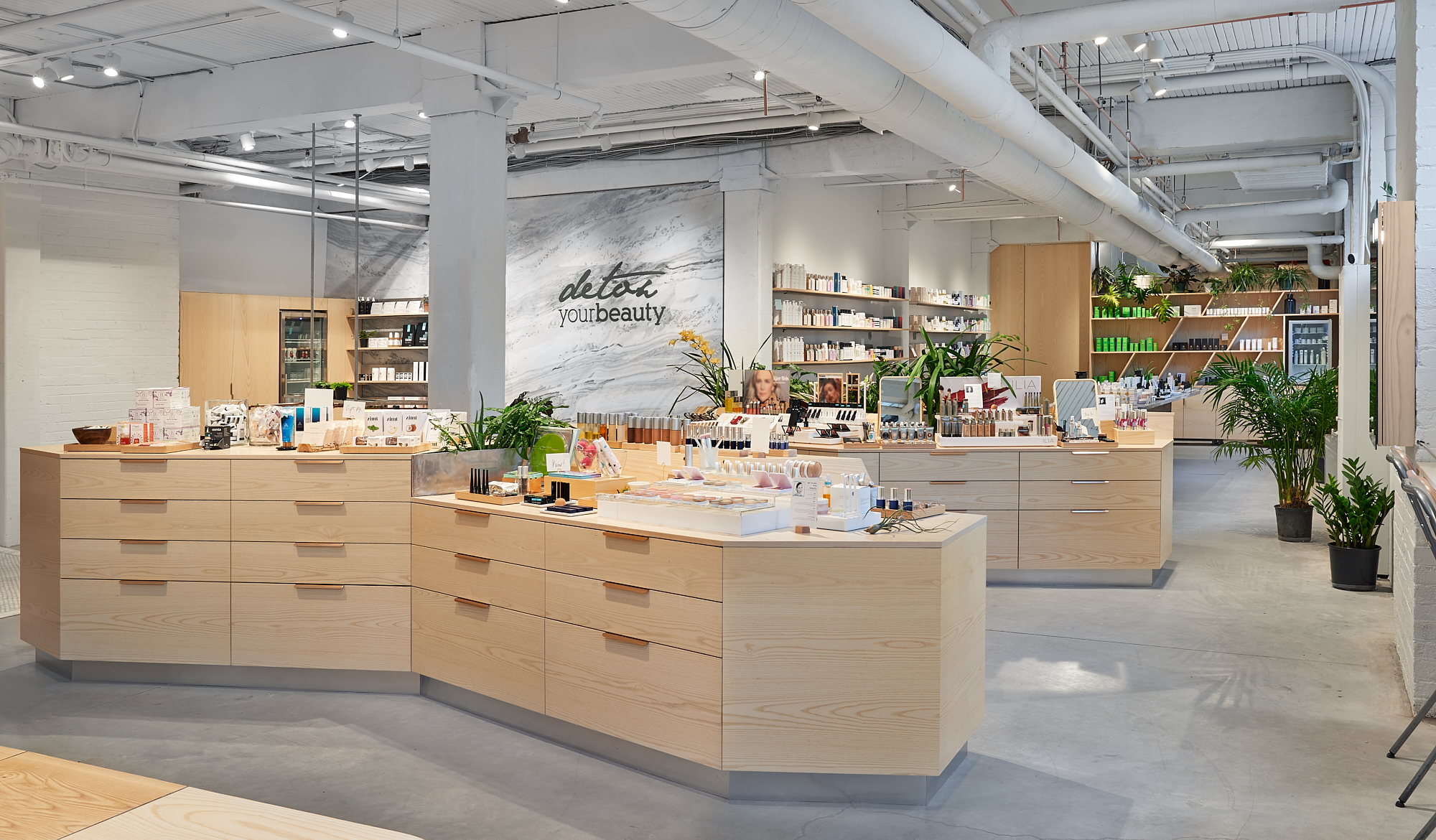 How has the brand universe changed since The Detox Market started?
A lot of the brands we selected in the first few years are still around and are the key drivers of the clean beauty movement: Odacité, Josh Rosebrook, Tata Harper, Osmia, Vintner's Daughter and Innersense. They are still small brands when you compare them to L'Oréal, but they are the more anchored clean beauty brands. After them, we saw a big boom of brands. We see at least three new brands a day that are clean. Some of them are VC-backed. They are much more professional than brands we were seeing a few years ago. In this new generation, the vast majority of new brands are clean. I don't think anyone launching a brand today doesn't care about the ingredient list. In the future, every new brand will be clean.
Our battle isn't only about brands being clean. You're clean, that's great, but what do you have in your products? Are you removing a bunch of parabens, but not changing the core of the formula? There are positive and negative ingredients. A lot of people understand the negative ingredients, but you need to look at the positive. What's in the product, and what are the concentration levels? A product that has a higher concentration of acai oil, for example, can be a game changer versus another product that has a very small percentage of the oil.
I think now we will see some brands from the first clean beauty wave exiting, which means scaling up significantly—W3ll People has exited—and some staying independent. With the new brands, there is less of a founder story. When you tried to do a clean skincare or makeup brand in 2010, everyone was laughing at you. The new brands are professional in how they're approaching the market, but they are missing the strong founder story that to me is a very important part of a line. Brands need someone with a clear vision for them.
Do you think there will be a slowdown in the pace of new brand creation?
I'm not sure. In every crisis, you have people losing their jobs and trying to develop lines. It's so easy now to launch a line. You can do a website on Shopify for a couple thousands of dollars, and you can do a run of private-label products. I'm not saying they're interesting lines. But, if you want to do it, it's never been as cheap. There are many new brands, but I think we will see a lot of brands that don't make it, and I think we will see investment slow down because there are so many brands. But, when brands disappear, they don't really disappear. In apps, we called them zombie apps. They are still there, but no one is really taking care of them.
Since The Detox Market launched, several retailers entered the clean beauty segment. Did any competitors particularly scare you?
The thing that keeps me awake at night is Amazon. If there's a retailer my size or smaller, I think we help each other. The Sephora's and Ulta's of the world are on a completely different scale. When Sephora did Clean at Sephora, I didn't fear it. I liked the fact that they got into it because that was a validation of what we were doing. It's helping the entire ecosystem, and we continued to grow. My biggest concern is Amazon because it's not adding any value. They are not communicating about clean beauty. They are not trying to educate anyone. They don't care. They are basically just trying to convince people to purchase a product again. That, to me, is what we are competing with.
More clean beauty brands are on Amazon now. How do you deal with that?
The way I deal with that is that we are trying to ship the same way. We ship everything same day and, usually, customers get it in two days. If you are in California, you get it next day, and it's shipped in beautiful way. We have very high standards when it comes to operations. It's just another experience. The world where you buy everything on Amazon is not the world we should live in. It's going to be very detrimental for a lot of companies.
At the beginning, no one wanted to be on Amazon, but, then, Amazon was like, "Hey, you should be on Amazon because, if you're not, other people will sell your brand on Amazon." Their argument was that you should control your brand. Eventually, when they control more and more of the market, they increase the percentages of what they take from brands. When you talk to big brands, they tell you it's harder and harder to make money on Amazon because you need to increase your advertising on Amazon and there are fulfillment costs. So, it may not become profitable when you add up all the fees.
Isn't distributing at a traditional retailer like The Detox Market costly, too?
The huge difference is that, being at Detox Market, you get visibility. You don't get visibility being on Amazon. Amazon is going to be a strategy for a lot of brands. For retailers, what we do that Amazon doesn't is invest in the brands to give them the visibility that's very hard for them to get otherwise, and we give consumers our expertise and advice on them. That's what we want to do.
After the Black Lives Matter protests demanding justice for the killing of George Floyd and police reform, you embarked on an initiative to make The Detox Market's brand roster more diverse. Tell us about that.
This time was obviously a big eye-opening time for the U.S., for the beauty industry and, at a niche level, for clean beauty. It forced us to look at things we never looked at before. For example, how many BIPOC-owned brands we have. We hadn't looked at that because it wasn't criteria for selection. What we saw with the analysis is a clear lack of representation of BIPOC-owned brands in the industry at and at Detox Market. Detox Market was doing better than the industry, but that was clearly not enough. We needed to do much better. We started to think about how we could have an impact on our small space. We aren't Sephora. We are Detox Market, and we are trying to inspire people to follow what we do.
We committed to increasing BIPOC-owned brands, and we have started to do that. We are onboarding brands every month or two months. We also decided to help those brands be more visible. It's great to add brands to your assortment, but, if you don't actually give them visibility, it's a very hard environment. Some of them don't have marketing budgets to promote themselves. So, we decided to invest in them to make them visible. That's how we came up with the plan of spending $1 million in the next four years to promote BIPOC brands.
Another thing we did which I'm very excited about is The Launchpad. We selected six brands we are going to work with over the next year. We selected only six because we wanted to really spend the time to help them. We have assigned one key person at Detox for each brand, and we are meeting with them every two weeks. Every month, we have a master class on subjects that offer guidance to entrepreneurs. Last month, it was how to pitch a buyer, and we did it with Stacia [Prince] from Cult Beauty and Elena [Severin, director of brand partnerships at The Detox Market]. Next month, we are doing funding 101 with me and Michael Toure, [founder and CEO of Toure Capital]. In two months, we are doing how to pitch the press. As a brand, though, you want to be on the home page of Detox Market more than getting advice. So, we are not only giving advice, we are onboarding them.
What money have you raised?
We raised a tiny bit 10 years ago to get proof of concept and, then, we raised a little bit four years ago and, again, a little bit two years ago. We have been raising I would say small amounts when needed. Because we have been bootstrapped, we never depended on a huge injection of cash to achieve our goals, and that's very important to us. We want to run a tight ship. Retail is tough, and we have seen a lot of retailers going down, raising tons of money and not making it. We want to continue growing, but do it in a conscious way.
Sustainability has been a big focus of The Detox Market. Does it impact consumers' product purchases?
For some people, yes, absolutely. For most people, it's part of the equation, but, if you look at a pie chart, convenience and efficacy are still No. 1. For me, it's a necessity. It's something that all retailers and brands need to be doing something about period, and we shouldn't expect to be gaining more customers for it. I don't think someone would say, "You know what, I am going to go to Detox Market because it's carbon-positive," but it definitely keeps people loyal to a brand. It's not a message that's instant. Sustainability takes a second to understand. When we did [Sustainability Starts Now], we had so much support from customers and the press. The team was excited about it, too, and that's very important.
What pandemic-era changes to shopping behavior do you think will last?
Physical retail is going to be complicated for a very long time because a lot of beauty retail is based on playing with products. My forecast is retail is going to be pretty dead for the next 18 months. In 2022, it might get better. As a result, everyone is looking at digital obviously, and we will see some amazing innovations digitally. The shopping experience is going to be so much better. Brands have been investing in customer service. We have doubled our team of customer service representatives. AI will be key in beauty, and there's going to be lots of innovation in makeup online. We are seeing that already with augmented reality. We also added Hero, which has video capabilities. I think more videos will populate e-commerce. Right now, you go to websites and see static imagery. Is that really helping you select products?
From a category perspective, makeup was having a hard time before COVID, and COVID accentuated that. So, makeup as a category was shrinking while others—skincare, body care and wellness—were booming. Until things come back to some type of normal, I think that will continue. Makeup will come back. It's all cyclical. My take is there is going to be a time when the pandemic is over and, when that happens, a lot of people will want to go back and enjoy life, and go back to makeup and dressing up.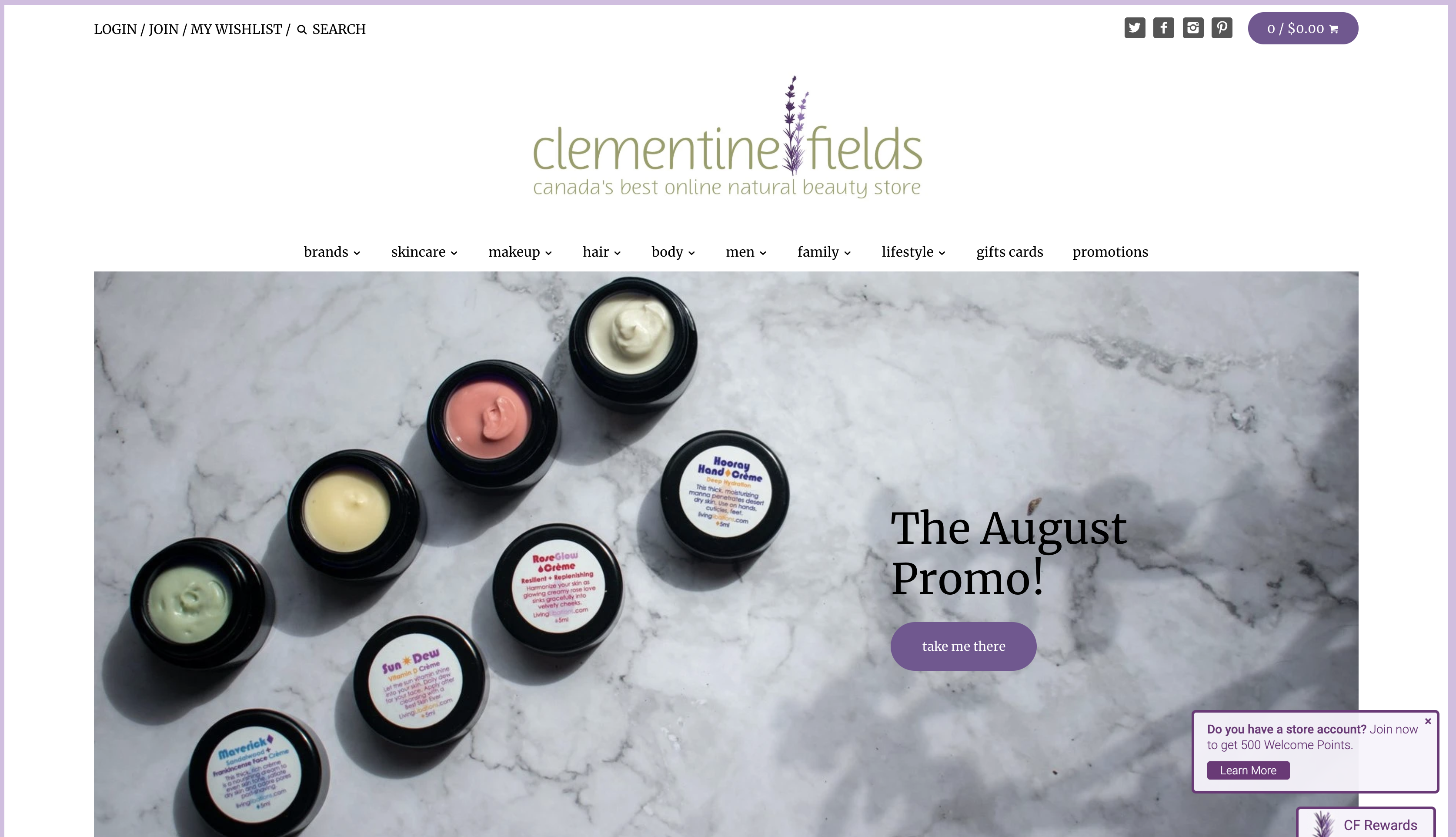 What do you think we're going to talking about in the clean beauty segment next year?
I think mental health and wellness is something we are going to be talking about a lot. The premise of Detox Market was detox your life, and it included detox your beauty, detox your body, detox your home and detox your mind. I think detox your mind might be the most important thing for beauty. It will help you sleep well. It will help give you confidence, and confidence is one of the most important things for beauty. Detoxing your mind goes from meditating to the ability to face your fears to how you deal with others. The pandemic has had such an impact on everyone's mental health. We don't even understand how it's impacting us not to see people in the office, and have casual encounters with people and hug them. I think mental health and beauty is going to be a big trend.